Mobile is a Game Changer for Search Engine Optimisation (SEO)
27 January 2013
12:22 PM

Markus Karlsson
Cost
optimisation
Position
Search
search engine optimisation
seo
Smart
Social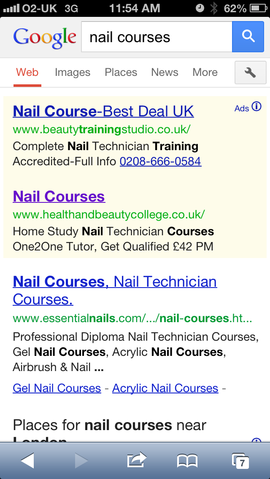 The above screen capture tells you everything you need to know about why it's no longer enough to be in the top 10 on Google, as the world goes mobile. You now get 10 times as many referrals by being No.1 than you do by being number 2, and that ratio gets bigger by each position down the ranking.
66% of Search Screen is Paid-for
It also highlights the immense power that Google now has with search placements, when two out of the three top search results above the fold on mobile are now paid-for. There's no way that Google can justify taking up so much of the screen space on mobile with paid for listings, and it goes a long way towards devaluing the SEO efforts that millions of companies are investing in.
What's interesting is that if you use Google's own search app on the iPhone you typically only get one ad shown, and you get a completely different set of results than if you use the main iPhone Web search. What is noticeable that Google sites, such as YouTube videos rank much higher on the Google app search results than they do in the general web search results. It means that in the app 80% of the initial screen is either paid for, or a Google property.
Winner Takes All
The world of search engine optimisation has entered an era where the winner takes all, where being the top ranked entry now can cost a factor more than it did previously, and where different entry points to the Google search engine give different results. It also means that increasingly the way to get the top rankings is to engage fully with all of Googles initiatives, whatever the cost.
The Alternatives
It also means that many companies will get a higher rate of return when investing in social engagement, more direct online sales and smart affiliations.
Google has to be very careful with how it evolves the paid-for search marketing over the next couple of years, or it could see a big dip in its earnings as companies no longer try to compete in the winner takes all gamble that is Google Search.