Affino 6.0.16 Mindmap
16 July 2012
6:07 PM

Markus Karlsson
Affino
Control
Pricing
services
Start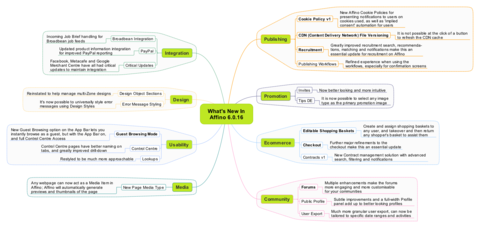 Affino 6.0.16 is not about a small number of key updates, instead it's about the overall improvement in Affino's quality with this release as hundreds more rough edges are smoothed out, including a lot of complex long-standing issues. It's an exciting release as it raises Affino's quality level yet again to the highest level yet.
There are however three headline new features in this Affino release: The Cookie Policy / EU Privacy Directive Bar is a key update and legal requirement for retailing in the EU; Editable Shopping Baskets (Carts) is a major step forward as it allows for a higher level of customer services; and the Guest Browse mode means that you no longer have to log out / use a second browser to view your site as a guest.
The Control Center is now going to be more intuitive and faster with improved browser tab names and highlighted drill-downs. Dozens of control interfaces have also been improved, in particular the Lookups.
Every step in purchasing products has been improved, again, from better product searches; improved pricing and product information presentation; improved shopping baskets; further refinements to the checkout; improved product and order management and product imports / exports.
Both the Funding and Recruitment Platforms also see dramatic improvements and are now fundamentally more effective than they were previously.
Every Affino site will benefit from this release which adds a lot of polish to the Affino 6 experience and is the final major Affino 6 release as we start work on Affino 7.