Affino Congratulates Winalot, Zenith and Immediate Media for Winning the Commercial Partnership of the Year Award at Today's 40th PPA Awards
30 June 2020
6:48 PM

Stefan Karlsson
2020 PPA Awards Winner
Commercial Partnership of the Year Award
Coronavirus
Covid-19
Immediate Media
PPA
PPA 40
PPA Awards
TTG
Virtual Event
Virtual PPA Awards
Winalot
Zenith Media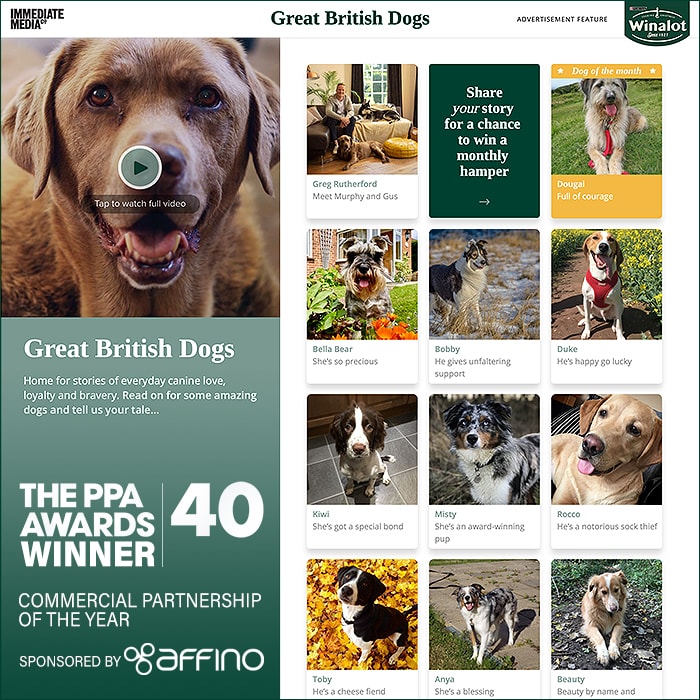 Affino was incredibly proud to have participated in this year's 40th Anniversary PPA Awards. Held virtually for the very first time because of the Coronavirus pandemic. So instead of the usual venue of the Ballroom at the Grosvenor House Hotel on Park Lane - this was a more casual affair attended via screens!
Any concerns about the running of the event were dispelled as soon as the Awards broadcast started rolling, and while there were some roving eyes and obvious instances of people reading from autocue we members of the Affino Team actually really rather enjoyed the event. Compere as such for the occasion was PPA Managing Director Owen Meredith, with the introductory address made by Tom Bureau, CEO at Immediate Media - who seemed to be up for half the awards.
Light relief on this occasion was provided by Lucie Cave, Editorial Director of Bauer Media - who took on the role of sort of 'Red Carpet Correspondent' or more properly 'Social Media Wrangler' where she presided over the incoming Tweets - in particular the two audience award categories for Best Team Photo and Best Dressed Attendee - with special emphasis on clashing upper and lower-half attire!
In any case we felt that we suitably presided over the Commercial Partnership of the Year Category as this very aspect - that of partnership and ongoing collaboration is core to our own business. We have been tweeting out all the Shortlist Finalists over these last few weeks to congratulate them for reaching the final stage - each one would have made a worthy winner.
---
Event Partner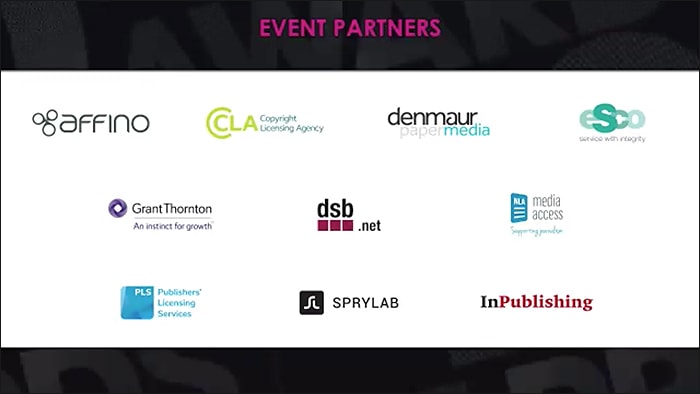 Affino was proud to be able to step up and help support the Media Industry with our sponsorship and partnership at this year's seminal 40th Anniversary PPA Awards.
---
Awards Presence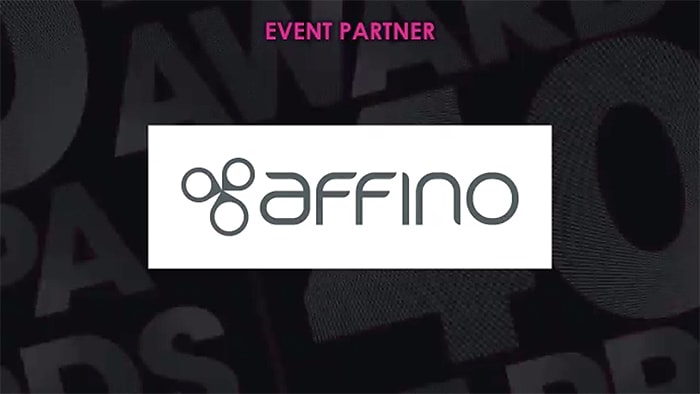 In many ways Affino had its strongest presence yet at a PPA Awards Show - with the Affino branding appearing in frame several times during the proceedings, and appearing consistently in the banner ticker at the base of the Live View Awards Page.
---
Commercial Partnership of the Year Category Sponsor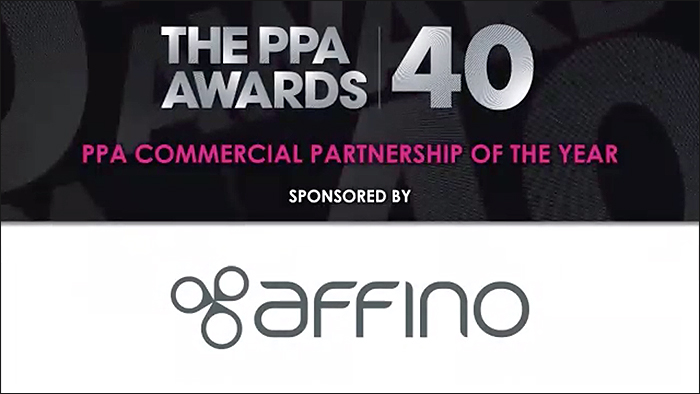 We felt that the category we presided over this year was particularly apt as it very much reflects the nature of how we at Affino conduct business on a collaborative partnership basis.
---
Commercial Partnership of the Year Shortlist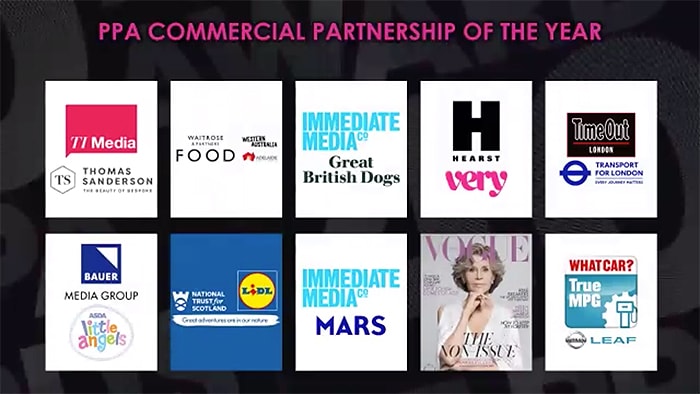 With 10 formidable finalists on this year's Shortlist the category was incredibly tight and nigh impossible to predict a winner in advance. We congratulated each of the Shortlist finalists separately courtesy of social media in the weeks running up to the Awards Ceremony.
---
Finalists Are Announced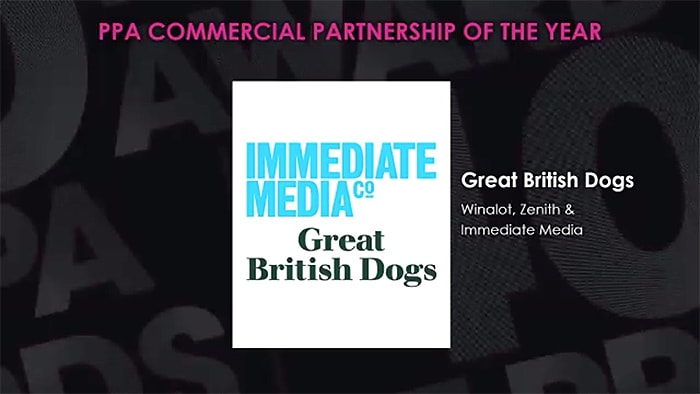 The nominee roll-call part of these awards was particularly well done - and whoever did the voiceovers here was well chosen for the task.
---
CEO Markus Karlsson Announces the Winner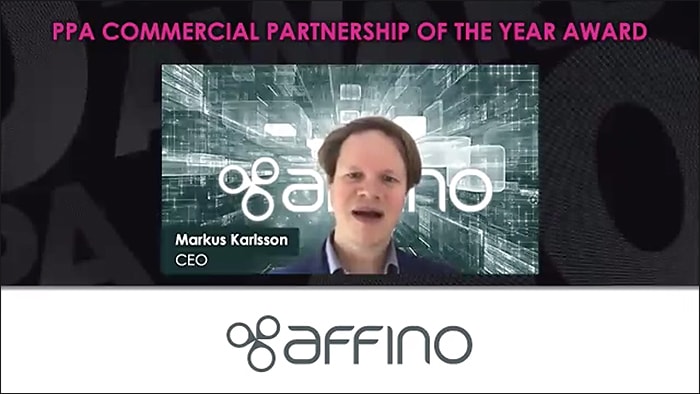 CEO Markus, sporting proper 'lockdown hair', gave a confident performance with no roving eyes, and no need for autocue! A lively delivery!
---
And the Winner is ................. Winalot, Zenith and Immediate Media for the Great British Dogs social media experience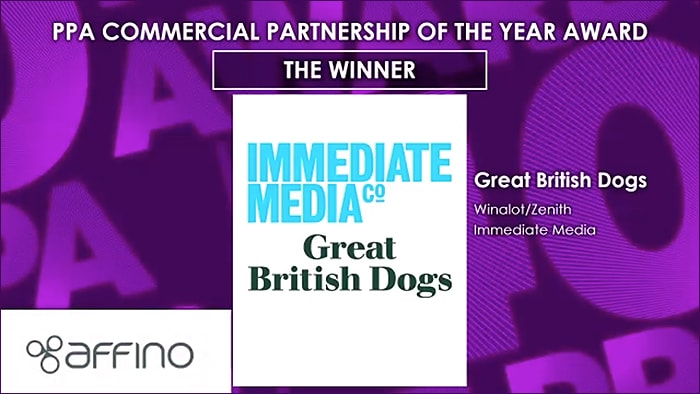 A pretty ingenious collaboration where Winalot encouraged dog owners to submit social media videos of everyday canine love, loyalty and bravery - in return for some doggy treats! (Actually a hamper full of doggy treats!). The Great British Dogs site is up for posterity now - and this is most definitely a campaign with legs ..
---
Side Note - Congratulations to Pippa Jacks at TTG Media for Winning Team Leader of the Year!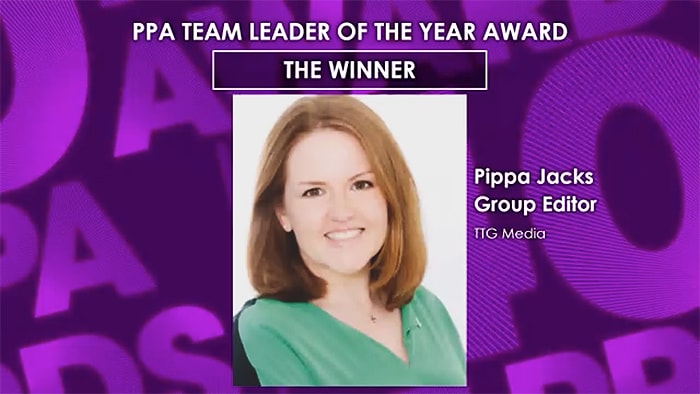 We are always delighted to see our Clients do well, and TTG has certainly been on a roll of late - having just picked up a brace of awards at the recent Campaign Publishing Awards. So well deserved congratulation to Pippa Jacks, and commiserations to her colleague Sophie Griffiths this time around - who was a really strong contender for Editor of the Year. Also commiserations to Ocean Media Group who were a strong contender for Campaign of the Year with their very topical Inside Housing 'End Our Cladding Scandal' campaign.
---
Final Thoughts
The event barely lasted an hour - which has to be some kind of record. Obviously there was no Comedian compere on this occasion and no monologues really or waiting for people to come to the stage.
We thought the event production really was exemplary in most ways and had just the right mix to maintain interest. If there is another of these at some point in the future the only thing we would recommend is the provision of a common backdrop for announcers - as that would have just added another level of polish and continuity.
Overall we don't think it could have gone much better - Well done to the PPA - and Congratulations to all the Winners and Nominees!
---
40th Anniversary Awards Ceremony Recap!