YouTube challenges MTV's Music Video Hegemony with a chart of its own
14 May 2011
10:48 AM

Stefan Karlsson
Beyonce Knowles
Duran Duran
Justin Bieber
Katy Perry
Lady Gaga
Little Boots
Michael Jackson
MTV
Music Video
social media
youtube
YouTube Music Video Charts
YouTube Top Music Charts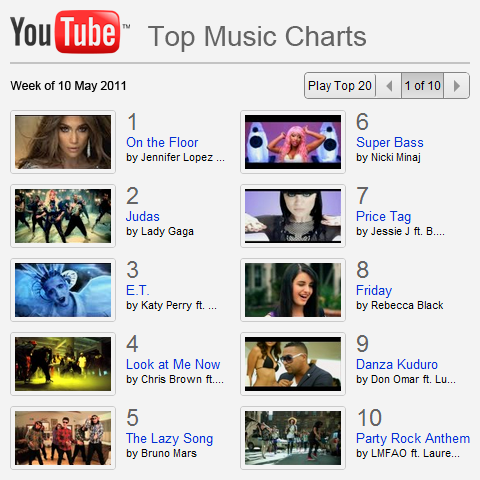 As MTV continues to move further and further away from its original roots in music video, and become more of a mainstream programme production company, the door has been left open for another to seize the lead in Music Videos.

I have written several times before about YouTube's relatively recent role as a springboard for new and up-and-coming musicians. A smart pop promo increases the chances of success exponentially for pretty much any song or track. It used to be the case that MySpace was the key springboard for a musician's career, yet nowadays it is the visual appeal of YouTube which appears to hold more influence. One of my favourite pop musicians of recent years - Little Boots, owes much of her success to regular video updates on YouTube, as does teen pop sensation Justin Bieber.

A very average song can have its appeal totally transformed by way of a stylish or quirky music video. Back when MTV started out in the 80's, Video certainly did kill the Radio Star. Nowadays its more likely that Video Creates the Radio Star. The most popular of the current slew of pop performers Lady Gaga, Katy Perry and Beyoncé Knowles all take best advantage of slick production and direction, enhanced by eye-popping visuals and smart choreography.

In its heyday, MTV was instrumental in the success of many of the bands of the day, both Michael Jackson and Duran Duran benefitted tremendously from high production value pop videos shown day and night on MTV. It would seem that YouTube is now the definitive MTV - it's only fitting that they have the most definitive Charts for this medium too.