BBC ends Big Weekend live coverage with a bang - great and varied set from Lady Gaga
15 May 2011
11:19 PM

Stefan Karlsson
BBC
BBC Big Weekend
BBC Radio 1
BBC Radio 1's Big Weekend
Carlisle
Coachella
FaceBook
Lady Gaga
Live Streaming
Music Festival
Online Event
social media
social networking
Swedish House Mafia
Tinie Tempah
Twitter
youtube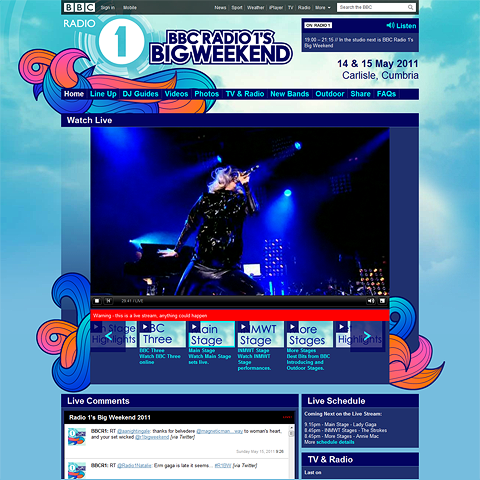 As I often do, I caught the odd snippet of live coverage of the first of the big summer festivals - BBC Radio 1's Big Weekend, this time from Carlisle. I made sure I 'tuned-in' online for the main headline act - Gaga, and I was not disappointed as she played most of her hits, plus a smattering of new material, some jazzy numbers, a couple of ballads and a latin track - Lady Gaga entered in heavily pregnant guise inside a gold coffin, nice touches included dedication of 'Orange Colored Sky' to Will and Kate; highlight was current personal favourite Gaga track 'Judas' right at the end.

Other highlights included a commanding performance by Tinie Tempah and a masterclass in proper dance music programming and sequencing from those 3 funky Swedes - Axwell, Sebastian and Steve (SHM) whose clever edits and mashups were included in the following tracks:

01. Swedish House Mafia vs. Tinie Tempah - Miami 2 Ibiza (Swedish House Mafia Intro Edit)
02. Ting Tings - Hands (Edit)
03. Style of Eye - We Are Boys
04. Arty - Around The World
05. Swedish House Mafia - One w/ Rune RK - Calabria
06. 2000 And One - Spanish Fly (Butch Remix) w/ Calvin Harris - Flashback w/ Calvin Harris - Awooga
07. Axwell vs. R.E.M - Heart Is My Religeon (Blake Jarell Mash-Up)
08. Pendulum - The Island (AN21, Max Vangeli & Steve Angello Remix)
09. Steve Angello pres. Who's Who - Yeah
10. Hard Rock Sofa & St. Brothers - Blow Up (Thomas Gold vs. Axwell Remix) w/ Adele - Rolling In The Deep (Acapella)
11. Axwell - Nothing But Love (Remode)
12. Depeche Mode - Personal Jesus (Eric Prydz Remix)
13. Steve Angello & Alex Metric - Open Your Eyes (Tim Mason Festival Dub) w/ Depeche Mode - Personal Jesus (Acapella)
14. Alesso - Dynamite w/ Daft Punk - Around The World (Acapella) w/ Sebastian Ingrosso - Kidsos
15. Swedish House Mafia feat. John Martin - Save The World [John Martin Live]

This really was one of the best club sets I have heard in a long time, quite brilliant from start to finish.

As far at the live coverage goes, BBC are still best with providing in-depth content, in and around the live performances with off-stage antics, interviews and accoustic performances all featured - as well as archived videos from most of the artists featured.

YouTube's coverage of Coachella, had a couple of great innvovations which would have been nice to have seen on the BBC site - the ability for fans / viewers to do 'Shout-Outs' by way of Twitter and Facebook posting panels, which included the relevant hashtag subject.

What I saw of the broadcast was flawless though - continous and high quality, congratulations all round; would be nice to see some innovations next year though!...