Why Apple's Ping Social Network is likely Doomed
13 October 2010
7:17 PM

Stefan Karlsson
AOL
apple
Apple Ping
Censorship
Gizmodo
iPhone
iTunes
Prohibition
social media
social networking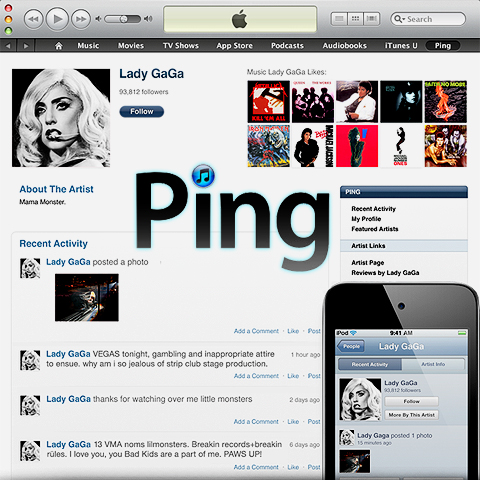 A recent post on Gizmodo has brought to my attention all that is wrong with Apple, and how Apple has no understanding of Social Networking or Social Media. The company has posted a series of guidlines / restrictions for artists using their Ping Social Network - including the prohibition of using external links or linking to the artist's main site!!!

What planet are Apple on?

I'm totally flabbergasted that Apple have such little understanding of the current dynamics of Social Networking - and equally - their target market - the artists themselves. What artist is going to bother using Ping when it comes with the following restrictions:


iTunes Content Policies:
Videos, photos, and text posts should not contain pornography, hate speech, racism, nudity or any references ot depiction of drug use.
Posts should not include advertisements or links to site outside of iTunes
Post should not contain links to other content providers.
URLs should not be included in the About section of your artist profile. This includes official artist Website URLs. URLs can only be posted in the Event feed.
Only upload photos and videos that you have a legal right to share.
For the Music I Like section of your artist profile, we recommend that you don't pick the same album mutliple time, and that you don't pick only your own music. Fans are eager to find new music that their favorite artists are listening to and downloading.
Do no create your artist profile until yo are ready to make a post or two. Fans will be far more likely to follow you if they can tell that your profile is active
It looks like Ping is totally dead in the water before it had a proper chance to develop.

The AOL Network fell into decline for many of the same reasons - inflexibility, prohibition and restriction. Rock and Roll IS Sex, Alcohol, Drugs AND Rock and Roll. What is Ping aimed at? Choral Societies?

This is one of the dumbest moves in the recent history of Social Networking - let's have some further opinions on this matter then ... please post your comments below!