Affino Funding Platform rounds off the perfect professional film community site - Filmutea
03 July 2012
11:10 AM

Stefan Karlsson
Affino
Affino Funding Platform
Crowdfunding
Film Making
Film Production
Filmutea
funding
funding platform
Jobs Boards
PayPal
Professional Network
recruitment
social commerce
social media
social networking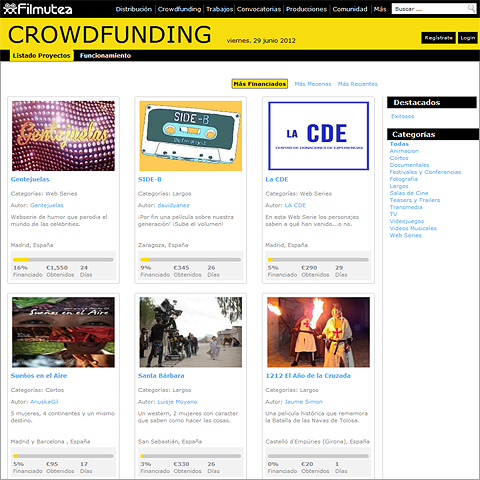 We're very proud of our relationship and collaboration with founding Filmutea members Robert and Gemma, whom we've been working with for the past 5 years. The intention was always to create the very best Film-Makers Resource - providing everything you might need to create motion picture magic.
The core of the site has long been the Jobs Boards, Classifieds, Events and Community - which help film makers network in order to find the cast, crew and equipment they need to produce their films.
Affino's new funding platform is the icing on the cake really - allowing film-makers to secure the capital required - through crowdfunding. The Funding Platform works along similar lines to Kickstarter - where members of the public can sponsor the production at different levels - each of which is usually recognised by some degree of reward or acknowledgment. Funding is enabled via PayPal transactions, and there are extensive settings and workflow profiles to handle the various projects posted. Typically the company that provides such a service (Filmutea in this instance) takes some form of commission - either a fixed rate or percentage of total collected.
Filmutea's holistic approach is summarised by it's current top level site structure:
Film Distribution | Crowdfunding | Jobs Board | Conferences / Festivals | Productions / Projects | Community
For us at Comrz this is the perfect showcase for Affino's full Social Commerce capabilties. In our opinion, this is one of the most rounded / complete professional networks on the Web, and the business model is incredibly strong - both for the service provider and service consumers. Currently Filmutea is targeted at Spain, and has 43,000 members; 19,000 Job Offers; nearly 6,000 Film Courses listed, and has its first major production under its belt.
If you are making films in Spain, this is your perfect launchpad. We look forward to seeing Filmutea expand into more territories in the next year or two. For anyone interested in creating a profitable professional social network, this is an excellent benchmark for how to do it.