May The Fourth Be With You! Looking forward to a Year or two in Star Wars Audiovisual Entertainment
04 May 2021
10:40 AM

Stefan Karlsson
Disney
Disney+
LucasFilm
May the 4th be with you
May the force be with you
May the fourth be with you
Star Wars
Star Wars Day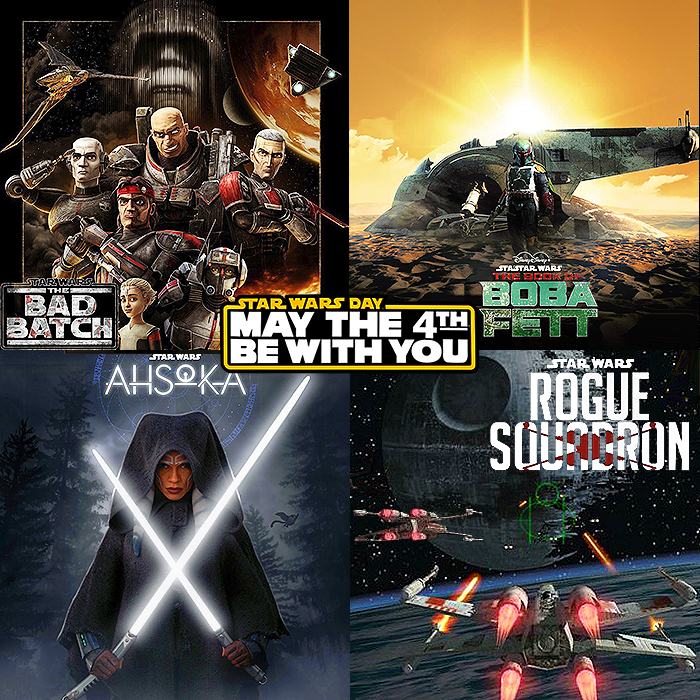 For a change I will be skipping the usual Star Wars Merch - Lego, Figurines and the like. Instead I am focusing on the wealth of forthcoming Disney / Lucasfilm / Disney+ content - where no less than 15 New Franchises have been announced, as well as the continuation of the well-loved Mandalorian Series. It will be interesting to see how that pans out with the essential side-kick Groku displaced from the main narrative.
In any case there are some fantastic new TV series and Films forthcoming - some for which the details are a little scant - but all of them highly promising - including the brand new series 'The Bad Batch' which airs this very day on Disney+.
Here follow the essential Movers and Shakers - with a few pertinent facts on each!
Make sure you bookmark this article - as I will be updating with relevant trailers as and when those materialise.
The one series that hasn't; been announced yet is one on my favourite current Star Wars character - :Dr Chelli Lona Aphra and her homicidal torture droids! I hope Disney and Lucasfilm see fit do to something smart with that franchise soon! :
---
Star Wars : The Bad Batch [Animation TV] - New to Watch on Disney+ Today May 4th!
A sort of continuation of the Clone Wars Animated Series - Clone Force 99, also known as the Bad Batch — a group of elite clone troopers with genetic mutations that were first introduced in Star Wars : The Clone Wars, take on a daring mercenary missions in the aftermath of the Clone Wars. There will be 16 episodes in the first Season - alas - one at a time in the same fashion as is now common with Disney+ series.
---
The Book of Boba Fett [Live Action TV] - December 2021 on Disney+
Interestingly the new Boba Fett series will be another stand-alone series and not Season 3 of the Mandalorian as many initially assumed. This will obviously hark back to the Boba Fett narrative from the Mandalorian, but will take it's own path on from there. With Boba evidently having taken command of Jabba the Hut's criminal empire!
---
The Mandalorian Season 3 [Live Action TV] - TBA on Disney+
There's lots of interesting theories as to where Mandalorian is headed next - especially in the wake of Groku having gone his separate way with Luke Skywalker and thus likely displaced from the main narrative. Nothing official yet from Disney / Lucasfilm - but I do believe production has started on the series - so will filter though any pertinent updates when they are officially announced.
---
Ahsoka [Live Action TV] - TBA on Disney+
Ahsoka made such a massive impact with her appearance in the Mandalorian that everyone is looking forward to her stand alone series. This should hark back to her roots within the Star Wars Rebels Animation Series and feature her many encounters with Darth Vader no doubt.
---
Rangers of the New Republic [Live Action TV] - TBA on Disney+
This is another Mandalorian spin-off which touches on the various Rangers characters that inhabit the Star Wars Universe - characters like Cara Dune obviously. This is expected to be somewhat episodic and will follow individual Ranger Stories from the various different parts of the universe.
---
Andor [Live Action TV] - 2022 on Disney+
The Rogue One prequel series is centered on Diego Luna's rebel spy, Cassian Andor. Set prior to the events of that film - during the formative years of the Rebellion - the 12-episode series will see Cassian, alongside returning characters like K-2SO (Alan Tudyk) and Mon Mothma (Genevieve O'Reilly), set out to restore hope to a galaxy in the grip of a ruthless Empire.
---
Obi-Wan Kenobi [Live Action TV - TBA on Disney+
The forthcoming Obi-Wan Kenobi series sees Ewan McGregor back in that key role. It will likely feature the history of all those the far hidden years leading up to Star Wars IV A New Hope episode. So expect some action with Sand People / Tusken Raiders, Tauntons and other Tatooine natives! Production apparently started last month.
---
The Acolyte [Live Action TV] - TBA on Disney+
Russian Doll showrunner Leslye Headland's forthcoming Disney+ series - for which she will write and executive produce. It is billed a mystery-thriller that will take us into a galaxy of shadowy secrets and emerging dark sides power in the final days of the High Republic era. Which is hundreds of years before the Star Wars prequels in the golden era of the Jedi. It was previously reported that the series will feature a female protagonist.
---
Rogue Squadron [Feature Movie] - December 2023 in Theatres and VOD
The next Star Wars Feature Movie set for the big screen will make history as the first in the franchise to be helmed by a female director - Patty Jenkins of Wonder Woman fame. This will introduce a new generation of Starfighter / X-Wing pilots as they train up and earn their wings. This will obviously be influenced by the many books and computer games under the same banner. I guess something along the lines of a Star Wars Top Gun!
---
Untitled Taika-Waiti-Helmed Production [Feature Movie] - TBA in Theatres and VOD
After his fantastic directorial turn on the Thor Raknarok Movie and his own brilliant cameo as Rock-man Korg - there's no doubt that Taika will be perfect at the head of his own Star Wars franchise. He has already directed the season 1 finale of The Mandalorian, along with voicing the bounty droid IG-11. He will be co-writing the screenplay with Krysty Wilson Cairns who also scripted parts of the 1917 Movie.
---
Lando [Live Action TV] - TBA on Disney+
Another great and well-loved classic Star Wars character is to get his own franchise - while it's not clear yet who will reprise the role of Lando Calrissian - the galaxy's smoothest and most charming scoundrel - Bill Dee Williams of old, or Donald Glover - who portrayed Lando in the recent Han Solo movie. I do hope there is lots of action set in the wonderful looking Cloudy City, This series will be helmed by Justin Simien of 'Dear White People' fame.
---
Star Wars : Visions [Animation TV] - TBA on Disney+
Disney / Lucasfilm will expand its Star Wars canon beyond CG animation with forthcoming Animation Series Visions, supposedly a collection of 10 short films which Celebrate the Star Wars the galaxy through the lens of the world's best anime creators, and offers a fresh and diverse cultural perspective to Star Wars. The films will be created by leading Japanese anime studios, the specifics of which are to be revealed.
---
A Droid Story [Animation TV] - TBA on Disney+
Disney's Lucasfilm Animation will team up with Industrial Light & Magic to create a new adventure for R2-D2 and C-3PO. A hybrid of animation and visual effects, the epic journey will introduce a new hero to be guided by the beloved droid duo on a mission known only to them.
---
Untitled Rian Johnson Trilogy [Featured Movies] - TBA in Theatres and VOD
Rian Johnsson has been given the green light on three further Feature Movies - even though reviews for his Last Jedi effort are very mixed. I personally much preferred Gareth Edward's take for Rogue One. Possibly there was too much studio interference with Last Jedi to make it fully coherent - in any case there's were certainly interesting and promising vignettes within that somewhat muddled affair. I believe the focus here is to explore new and interesting characters from the Star Wars Canon that have yet to have a significant narrative arc on screen - hopefully Apthra can be accommodated somewhere within all of that!
---
Untitled Kevin Feige Production [Featured Movie] - TBA in Theatres and VOD
Under Kevin Feige's direction, the Marvel Cinematic Universe became the biggest movie franchise in history. Now, the uber-producer and head of Marvel Studios will make his way to a galaxy far, far away to develop a new film alongside Kathleen Kennedy. No firm details have been released yet on the likely subject matter - while it's bound to be somewhat action-packed!
---
Untitled J.D. Dillard Production (Rumoured!) [Featured Movie] - TBA in Theatres and VOD
Disney / Lucasfilm is ever approaching new and exciting voices to fill out its slate. Director J.D. Dillard (who helmed Sleight and Sweetheart and more recently an episode of HBO's The Outsider) and writer Matt Owens (Agents of S.H.I.E.L.D.) are developing a new project, Details are very scant at the moment - and it's unclear thus far as to whether this will be a Live Action TV Show or a Full Feature Movie - still very early stages - we will no doubt find out eventually one way or the other!