Affino and TTG are Participating at the Campaign Publishing Summit on December 9th
01 December 2020
10:32 AM

Stefan Karlsson
Affino
Campaign Magazine
Campaign Publishing Summit
TTG
TTG Media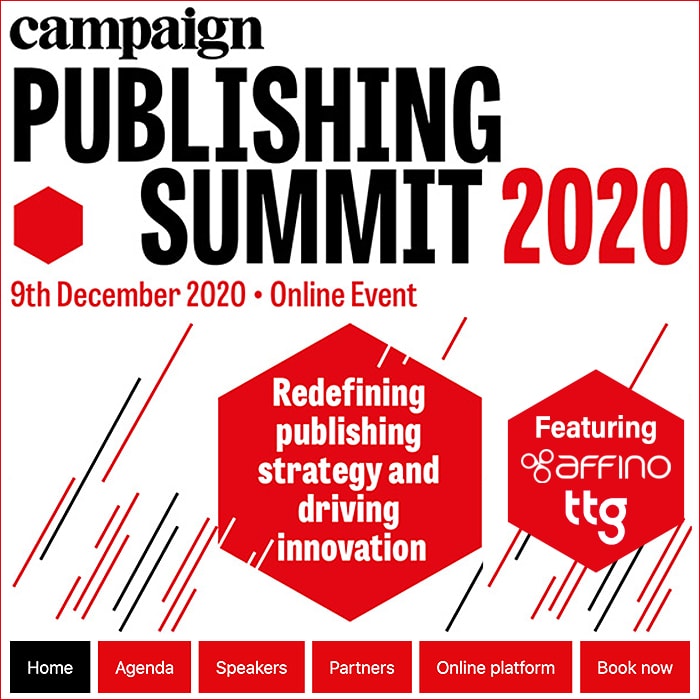 A number of the best minds in the publishing industry will be presiding at next Wednesday's Campaign Publishing Summit Event - including our good friend and ally Daniel Pearce, CEO of TTG Media, and our own CEO Markus Karlsson.
The Publishing Summit bills itself as 'Redefining publishing strategy and driving innovation' and we at Affino are certainly right in the frame for innovation and leading-edge publishing strategies alongside our clients.
Dan is part of the 11:00-11:40 Leader's Panel - "Crisis or opportunity? Digital innovation in the world of print and live events"
While Markus sits on the 14:55-15:40 Discussion Panel - "Is this the end of the ad-funded model?"
TTG have had another incredible year in the face of extraordinary adversity for the Travel Industry. They've won a number of accolades and prizes this year but deserve so much more. The core team of Dan Pearce, Pippa Jacks, Sophie Griffiths, Matt Roclawski, Dan Heath and Steve Hinds are changing the face of what's possible for Digital in collaboration with Affino.
While Markus has a lot to contribute about the future viability of the various Advertising Models - and how they stack up against Subscriptions and other more native and Subscription-based approaches.
We hope you can join us all at the Campaign Publishing Summit - while of course we will produce a follow-up on notable points and any significant trends and learnings from the Event.