10 Oct 2010 5:02 AM

Popular

Comments

Profile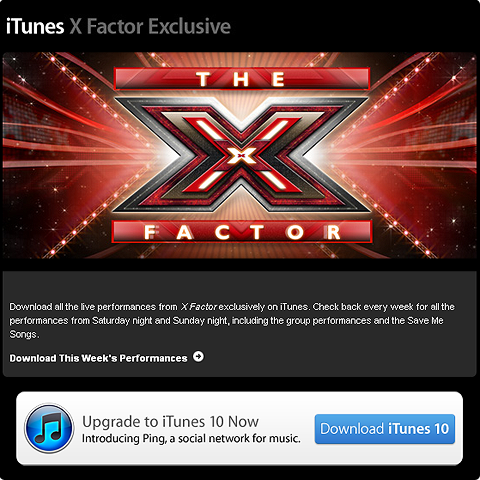 Simon Cowell has obviously been keeping one beady eye on Glee 's success in releasing show music via iTunes . Glee just recently surpassed the Beatles in achieving 75 Billboard Top 100 hits - the Beatles amassed 71 in circa 30 years, Glee has achieved its success in under 2 years.

An email has just comes through from Apple announcing that all of tonight's live X Factor performances are available for download - for the princely sum of £0.99 each. For trial purposes I downloaded my favourite performance of the night - Aiden Grimshaw's beautiful version of Tears for Fears' 'Mad World' - which is all of 2:17 minutes long. The price point is exactly the same as the Glee singles, but for me this is somewhat of a rip-off. In my recent 'The Increasing Internationalisation of Media' posting, I suggested a price point of £0.59 as being the correct, acceptable pricing point for a single - this is 20 pence lower than the current regular price of £0.79. There are all kinds of clever Internet applications which can capture the track from the live broadcast and render it as an MP3 track for free. This is just a typical case of corporate greed taking advantage of the less savvy consumer.

At least with Glee what you get is a fully studio-recorded version with proper post-production mixing and proper mastering. All professional musicians will tell you about the key importance of mixing and mastering the recording to a high standard. For X Factor we are simply getting audio captures from the live broadcast - with audience noise etc. included. However much a fan of X Factor I might be, I am slightly put out by this sly opportunistic move by the show producers. The standout Glee tracks are performed under studio conditions - mostly with brilliant arrangements, and performed by talented professionals. Most of the X Factor output is far far below the quality of what comes out of Glee . That said, the Aiden Grimshaw track was of perfectly acceptable quality for playback - I just find the cost of the track way too high.

If software developers Rovio can take several months to produce the highly addictive game 'Angry Birds ' and sell this for £0.59 how can the music or entertainments industry justify £0.99 for re-cycled snippets of TV content? The maths of t...

Add Comments
|
permalink
|
email this
|

|





31 Jan 2010 9:53 PM

Popular

Comments

Profile
Tags:
apple
,
blogs
,
community media
,
Media
,
MySpace
,
player
,
social media
,
youtube
,
music
,
MP3 Player
,
Audio
,
Affino
,
iPhone
,
Amazon
,
iTunes
,
HMV
,
Spotify
,
BBC
,
iPod
,
Play.com
,
Tower Records
,
Juno
,
Phonica
,
Boomkat
,
HTFR
,
Decks.de
,
HHV.de.
,
Rough Trade
,
Discovery Records
,
Piccadilly Records
,
Normans Records
,
Music-Non-Stop
,
Discogs
,
GEMM
,
Napster
,
Beatport
,
Pandora
,
MySpace Music
,
Lala
,
Rhapsody
,
Grooveshark
,
Google Apps
,
Levi's
,
Glee
,
Vimeo
,
Metacafe
,
Dailymotion
,
MTV
,
Musu.tv
,
Music.com
,
Muvids.com
,
Opendisc
,
MusicDNA
,
CMX
,
MXP4
,
AllMusic
,
MusicBrainz
,
Music-Map
,
Metacrtitic
,
Last.fm
,
Bjork.com
,
Digital Music
,
MP3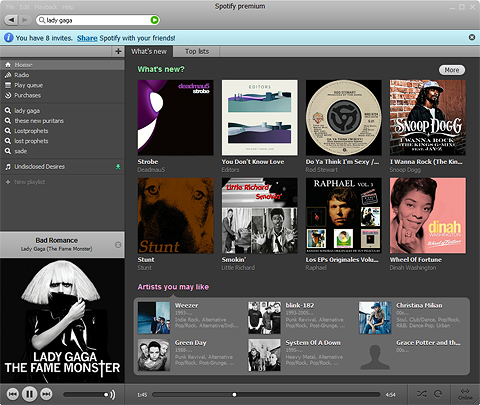 The Future of Music Retail - Introduction
2 Significant music-related things happened for me in 2009. Firstly, I signed up for the Premium version of streaming service - Spotify ; secondly, I finally succumbed to Apple and bought into the iPhone smartphone. I have several discarded MP3 players and iPods which have somewhat fallen into disuse as I found it a burden to carry around so many devices. The fact that the iPhone comes with iTunes / iPod functionality means that I now always have a subset of my music collection with me (circa 300 albums). However! Neither Spotify or iTunes combined come anywhere close to meeting my broad musical tastes - they just don't quite cover the range. Moreover, I am still quite captivated by solid formats; I like the ownership of something tangible, the smell of freshly printed vinyl sleeves, the artwork and cover notes. So I end up syncing playlists on Spotify for offline use, buying some music from iTunes , but still largely buying CDs for albums and Vinyl 12"s for singles. In the meantime, the Internet has evolved a vast array of Music-related services, as we will see:
Solid Format Online Music Retail
If you are buying traditional music formats online, you are most likely buying from either Amazon or Play.com or HMV or even Tower Records . All have excellent retail catalogue functionality, with Amazon setting the standard for enhanced features, related recommendations and notifications. The holy grail for Online Retail really is automated cross-selling - that is to say - encouraging discovery of like artists and music by way of recommendations and notifications. Most sites now feature 'Customers who bought / liked this also bought / liked this ...'. You are encouraged to set and refine your preferences, with which the site builds a profile to send you notifications for related offers. I use a number of dance specialists sites, including Juno , Phonica , Boomkat , HTFR , Decks.de and HHV.de ; niche music sites Rough Trade , Discovery Records , Piccadilly Records , Music Non Stop and Norman Records ; moreover, I also use specialist music marketplaces (think of them as dedicated eBay-like retail platforms) - Discogs and GEMM . These are my key resources for buying music, and because of my broad tastes, I often end up using upwards of 20 different retail...

Add Comments
|
permalink
|
email this
|

|



Subscribe to feed

Subscribe by email
Recent Visitors