20 Jan 2012 3:05 PM

Popular

Comments

Profile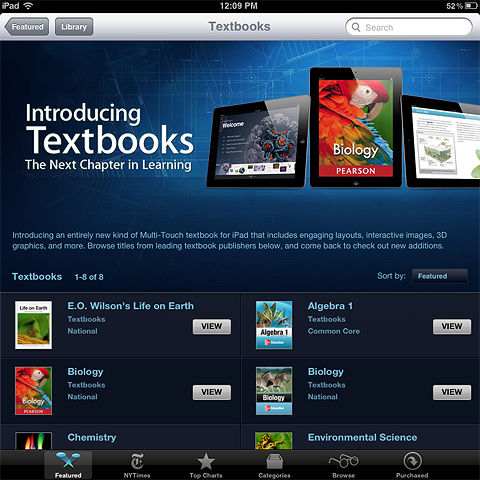 Yesterday's Apple Education Event (iBooks 2) was essentially all about the iPad's increasing role within the realms of education. I already own a number of educational-type Apps on my iPad which I believe had a significant impact on this evolution - Touch Press's 'The Elements' and 'Solar System' as well as Transworld Digital's 'The Magic of Reality' are all superb types of a new interactive forms of learning - the latter is closer to the new standard that Apple has introduced with its digital 'Textbooks' - actually just an updated standard of its iBooks format.

These new 'Textbooks' are essentially interactive books with inline media and other games and interactive puzzles included within the flow of the books, as well as built-in tests, glossaries and clever indexes and bookmarks / study cards.

The Key Features are as follows:

Thumbnail Index - essentially a visual plus text overview index of the key parts of the textbook

Integral Videos - inline Videos and animations within context

Interactive Animations - animated timelines, puzzles and the like bring an added tactile dimension to learning - which of course aids memory

Study Cards - Highlighted passages of text and notes will automatically turn into ordered and indexed study cards - to aid revision

Custom Glossary - Each textbook will have it's own explanations / descriptions of key terms

Quizzes and Review Questions - Instant Quizzes built into the end of each chapter - to aid memory recall

For content creators, Apple has provided a new 'iBooks Author' Mac OSX App - wich allows anyone to create their own enhanced interactive textbook in this format (in fact any iBooks can be created like this) - the App is free and is available on the Mac App Store.

Apple has also produced a specific iPad App for Higher Education called 'iTunes U' - which is already being used by universities - Duke, Stanford and Yale to provide large parts of their curricula in this format.

Apple has once again really stolen the march on its competitors! I had expected Amazon to have made some ground with its Kindle offerings, but truth be told - E-Ink is great for reading regular books, but it's way too laggy to provide a full interactive environment along the lines of the iPad. A friend of mine has the latest Kindle Touch -

...

4 comments
|
permalink
|
email this
|

|





18 Jan 2012 7:40 PM

Popular

Comments

Profile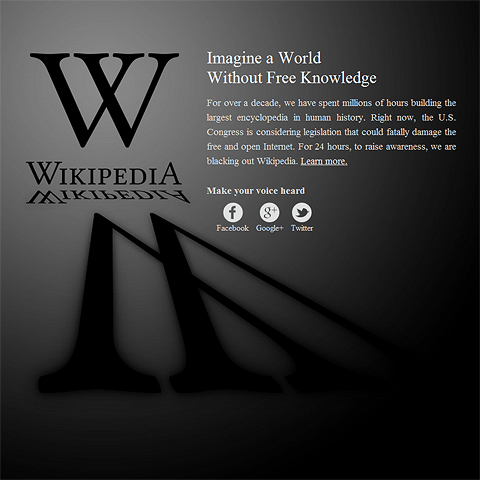 Wikipedia and Reddit were blacked out today in an attempt to highlight to Internet Users - the serious likely impact of this legislation on the basic rights of freedom of the typical netizen.

These 2 new bills - Stop Online Piracy Act (SOPA) and Protect IP Act (PIPA) - are in the process of passing through the House of Representatives and the Senate respectively. They would end up giving Copyright Owners way too much power in shutting down and commercially crippling any site/s they choose to target - fairly or unfairly. Copyright Owners already have the Digital Millennium Copyright Act (DMCA) to effect similar actions - in enforcing take-down notices, and there are already numerous cases where the DMCA legislation has been abused - even though it does require a degree of due process.

SOPA and PIPA are far too broad and far reaching in their applications, and would end up a weapon of censorship and restriction - closing down and curtailing the open and organic nature of the Internet. The legislation requires no court order to force a take-down notice, and can be so broadly applied that any vague 3rd party reference to another allegdly suspect site can result in an injunction against the referring party.

The problem with the Internet at large is that so many of the daily services we use are based / legislated from the USA - Google, Facebook, Twitter, Wikipedia - what with Social Content Contribution - any one of these could easily end up with potentially disputed copyrighted material and be forced to shut down.

UK citizens should be far more worried than most, as has been seen by the recent extradition case of Richard O'Dwyer - a UK citizen who has actually broken no UK or European laws with his UK-based links website - but is still being extradited to the US for summary judgment and punishment.

I'm certainly not a fan of piracy, but totally understand why it happens, and this draconionan legislation will not be the cure. The vast majority of media companies are overly greedy and totally out of touch with reality - and are almost as much a part of the problem as the pirates.

I can buy a pretty decent gaming app on the Apple App Store for just 69 pence - a venture which has taken several months to produce and contains sound and vision, and creative flare, and typically involves a significantly sized project team. Yet for a new sound file - 'single&

...

6 comments
|
permalink
|
email this
|

|





12 Jan 2012 12:42 AM

Popular

Comments

Profile
Tags:
FaceBook
,
MySpace
,
social media
,
youtube
,
SoundCloud
,
Spotify
,
MTV
,
Lana Del Rey
,
Björk
,
Azealia Banks
,
Frank Ocean
,
Michael Kiwanuka
,
Niki & The Dove
,
The Weeknd
,
Future of Music Online 2012
,
Internet Music
,
Music Online
,
2012 Music Trends
,
New Artists for 2012
,
Key Sounds for 2012
,
2012 Album Release Schedule
,
Rustie
,
Araabmuzik
,
Oh Land
,
Vanbot
,
Katy B
,
Adele
,
SBTRKT
,
Rihanna
,
Music Apps
,
Turntable.fm
,
Music-Sharing
,
Mix-Tapes
,
Adrian Lux
,
Amanda Mair
,
Charli XCX
,
Clement Marfo & The Frontline
,
Delilah
,
Emeli Sandé
,
Ronika
,
Euro Dance
,
Retro
,
Alt Folk
,
80s Electropop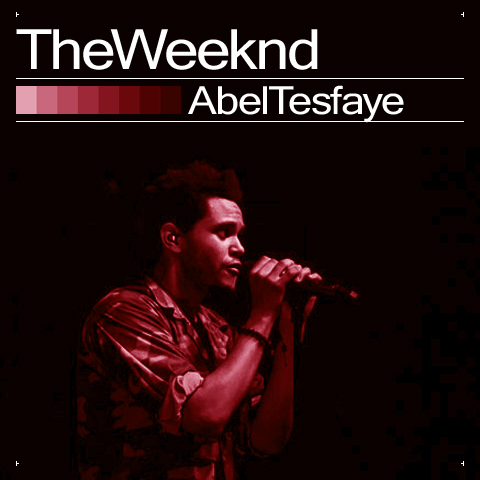 (Note that this post will be updated regularly throughout 2012)
My Top 10 Albums of 2011
(Note - SBTRKT was missing from previous end of year listing)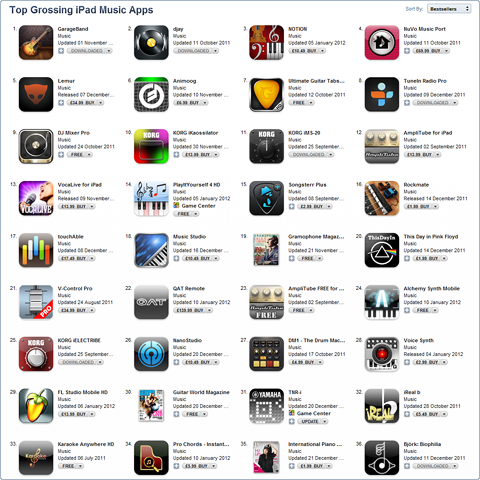 11 Musical Trends for 2012
Some artists will move away entirely from Album releases; Rihanna is currently the most successful singles artist (47.5 million downloads since 2005), and I believe several artists will move to just releasing singles and then compilations of singles rather than proper albums
YouTube will continue to grow in relevance as a music discovery resource - it is after all the new MTV
Artists will embrace more technology in their music delivery - in a similar vein to Björk's Biophilia - expect to see more interactive albums and artist / album apps
2012 sees a make or break renaissance for MySpace - but is it too late to take on YouTube, SoundCloud, Spotify and Facebook - which have each taken over a part of MySpace's key areas of expertise / influence?
We will see more apps - in both internet and tablet-based form - to allow even easier music production / collaboration and remixing, along with simpler, fully-integrated music publishing and distribution platforms
2012 will also see more entrants into the group sharing / interaction category of music - along the same lines as Turntable.fm
A leading electronic musician will employ Kinect-type technology into their core music-making and performance activities
There will arise at least one new significant music-sharing platform, with a very innovative means of revenue generation / sharing which holds enormous appeal for both musicians and fans
Spotify will strengthen its position as the leading music streaming platform - with yet further apps and integrations
Music unit prices - i.e. median album and single prices will be streamlined further in 2012
We will see even more free-to-download mix-tape type albums - DatPiff could become a household name!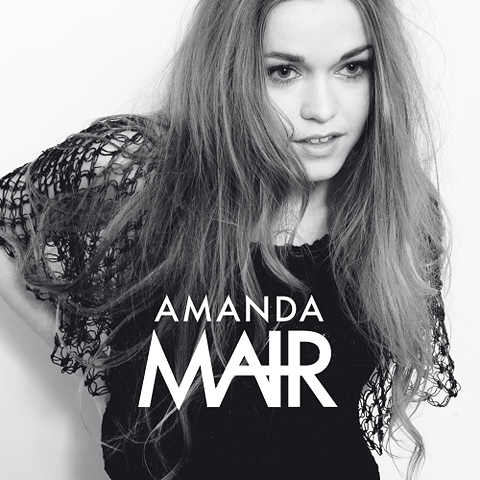 11 New Artists for 2012

(Note that I consider Frank Ocean, Skrillex and The Weeknd to be significantly active in previous years and thus not properly eligible as 'New' in 2012, the same could be said

...

30 comments
|
permalink
|
email this
|

|





10 Jan 2012 11:30 AM

Popular

Comments

Profile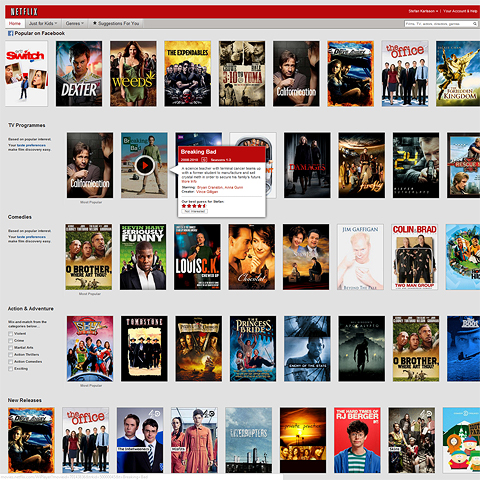 I've been waiting a while now for the arrival of Netflix on these shores, so was it worth the wait?

When I received the initial email invitation, it's poor quality made me unsure as to whether this was some sort of phishing effort. This was not helped by the very basic Netflix holding page presented to UK users.

In any case, I had been waiting a while for this so I dipped my toes into the 30 day free trial. You have to enter you credit card details during registration, which will likely put off some users, but I triangulated the security certificate to be sure. Once registered, you get presented with a very elegant browsing interface, not a million miles from the one for iTunes films, but much the superior in my opininon - especially how it pops up detail information when you hover over the film / programme image.

I caught up with 'Gone Baby Gone' - a film I had not got around to watching yet, but had always wanted to see. The whole experience from browsing, to selecting and watching is truly slick, simple and elegant. For those worried about signing up via Facebook - for everything you watch, you get the option to not share to Facebook - so that you can continue to watch trashy TV and movies without exposing your viewing choices to friends and family.

Currently, the only thing that really counts against Neflix at the moment is the rather slim selection of video available. Like many other users, I expected there to be a lot more US TV Series. Also - you don't get the very latest films or TV - it's mostly a series or two behind. But great if you want to catch up with films and TV you missed when they were initially releases - a couple or so years ago.

The £5.99 all-inclusive monthly fee is the perfect price point as far as I'm concerned - Netflix just needs to work on signing more studio deals and providing a larger selection.

In terms of overall experience, this is currently my favourite way of watching video online - I'm of course interested to see what Apple, Amazon (LoveFilm), YouTube and the BBC do in response to this.

I wrote a blog not so long ago about the poor state of online video, and how poorly it compared to the more traditional model of Blockbuster - which is unfortunately fast waning. There is no online service yet though which is able to deliver as wide a video libary, as quickly as Blockbuster.

...

4 comments
|
permalink
|
email this
|

|





03 Jan 2012 1:47 PM

Popular

Comments

Profile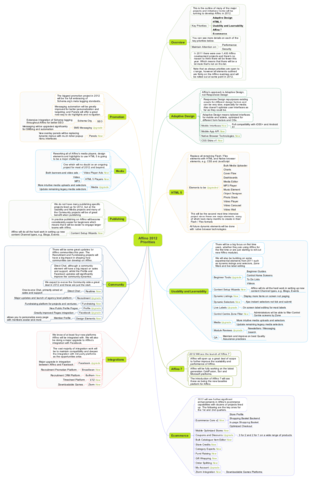 There is a major programme of developments lined up for Affino in 2012. This post outlines many of the key ones. Whereas 2011 was something of a transitional year for Affino (although we made some great headway see here and here). 2012 will see many key milestones reached which will open up Affino to provide great sites on all devices for great commercial and community based sites.
For an indepth look have a look at the Mindmap here. For a quicker overview see below.
Key Priorities:
Adaptive Design
HTML 5
Usability and Learnability
Affino 7
Ecommerce
You can see more details on each of the key priorities below.
We will also maintain attention to:
Performance
Security
Overall Product Quality
In 2011 there were over 1,400 Affino development projects and there's no reason to think there will be fewer this year. Which means that there will be a lot more that's not on this list.

Note that as always priorities are open to change, however all elements outlined are firmly on the Affino roadmap and will be rolled out at some point in 2012.

Affino's approach to Mobiles and Tablets is Adaptive Design, as opposed to Responsive Design. Responsive Design repurposes existing assets for different design factors and can be very slow on mobile, especially for media, it also so doesn't optimize user interfaces as far as they could be.

Adaptive Design means tailored interfaces for mobile and tablets, optimized for different form factors and OSs. This means that we'll be tailoring the way different elements in Affino work on different form factors, and whilst you will need to put thought into how you lay out your mobile sites in particular, much of what Affino does will be to handle the transition between devices gracefully.

We'll also be rolling out a Mobile App API which initially will support iOS and Android.

HTML 5 is a term which actually covers a lot of developments which are aimed at providing native browser capabilities to replace many plugins, in particular to replace Flash. We started replacing Flash elements in Affino over a year ago and the goal this year is to replace all remaining Flash / Flex elements with native browser elements. We won't just be replacing them, we'll be

...

17 comments
|
permalink
|
email this
|

|



Subscribe to feed

Subscribe by email
Recent Visitors