The Ugly Side of Facebook
28 November 2010
8:51 PM

Stefan Karlsson
apple
Entropia
EVE
FaceBook
iPhone
iPod
iTune
Life
Online
Parental Control
Payment Production
PayPal
Profiteering
second
Social Gaming
social media
social networking
Universe
Virtual Reality
Virtual Worlds
Zynga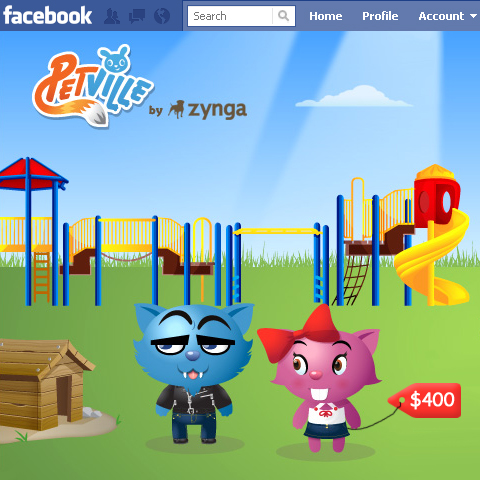 You may have read a story in the press about how a 7 year old girl indavertently spent $400 (circa £250) in one hour - simply choosing outfits for her pet avatar on Facebook Social Game 'Petville' - made by Zynga - the same company responsible for the enormously popular 'Farmville'.

Her father had logged in on Facebook, then logged into PayPal to make some transactions, and then simply handed over the laptop to his 7 year old daughter so that she could play on 'Petville'. The undoing of the family was three-fold - the fact that Facebook seamlessly syncs with PayPal, the fact that 'Dad' did not logout from PayPal, and the fact that 'Petville' is obviously set up for exploiting the unwary and uninitiated. Both parents 'played' with their daughter and unwittingly helped rack up the ridiculous amount by simply selecting 'virtual outfits' for their daughter's 'virtual pet'. I am all for the ability for companies to make money off gaming and social endeavours, but something really stinks about this whole situation.

Several commentators blame Dad for letting his 7 year old daughter play games on his laptop - but that is entirely normal within the dynamic of present day family life. Some blame Dad for foolishly forgetting to logout of PayPal; that is not entirely without merit. Not many though seem to be questioning how a game largely targeted at kids - with its cutesy graphics and colour-scheme - allows participants to rack up such large charges at all, let alone within just a one hour time frame?

There's been much in the media recently also about persons buying 'virtual' goods and properties for investment purposes - whether this is Real Estate in Second Life, Trading Posts in EVE Online or even a virtual club as was recently bought in Entropia Universe for $635,000 (Yes really!). However, these are all adult pursuits and fools and their money are soon parted in every walk of life, even virtual life. After all, the market is simply governed by the value of what someone is willing to pay - exactly the same dynamic that inflates the art market.

For a largely child and teenage -oriented game, it seems totally excessive that $400 can be racked up at all, let alone so quickly. Many have criticised Facebook for its partly walled-off approach, but surely Facebook needs to do some more stringent vetting of the applications that run riot within its domain.

Not so long ago I posted warnings about people signing up for applications which shared personal details, such as address and location details. I now post an even more serious warning about Social Games - which have been allowed to run amock, largely unregulated and obviously poorly vetted in this regard.

Parents must be ever vigilant for not just their own Internet activities, but increasingly their children's, otherwise some will be in for the shock of their lives when their bank account is drained away in stages via auto-synced PayPal.

I advise everyone to follow my lead, and simply steer clear of such applications. Most of my current gaming is in the range of £0.69 to £1.79 per game courtesy of the Apple App Store - all kinds of great child-friendly games can be found here that don't expose you privately or financially, and offer plenty of child-minding potential. You have been warned!