RIM gets in on October launch fest with a Porsche-designed gem of its own
28 October 2011
6:07 PM

Stefan Karlsson
Android
apple
Armani
BB 9900
Blackberry
BlackBerry Bold
D&G
Galaxy Nexus
htc
iOS
iPhone
LG
Lumia 800
Meridiist
mobile
Mobile Platform
nokia
P'9981
Porsche Design
Prada
RIM
Samsung
smartphone
Sony Ericsson
Tag Heuer
Vertu
Vertu Constellation
Windows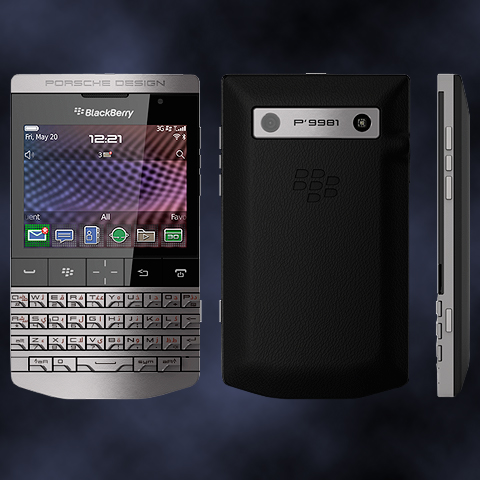 With all the column inches these days being devoted to the 3-way tussle between iOS, Android and Windows platforms, and each seeing a new platform flagship phone launch in October, RIM obviously thought they would need to maintain current mindshare by launching a flagship model of their own.

This BlackBerry flagship is a Porsche Design P'9981 - based on the 9900 Bold model - but made with premium materials, and having its own unique skinned interface. It comes up very slightly larger than the 9900, but then again it does have a hand-wrapped leather back and entire forged steel chassis. It will mostly be sold via Porsche Design outlets - for circa $2,000, and is classified as a restricted, rather than limited edition. As a piece of industrial design,it is obviously head and shoulders above the other BlackBerry phones, this is very much a deluxe model with a premium price.

I guess it's very much aimed at the bankers and suits brigade which still largely supports this kind of phone. It should compete well with the Vertu and Tag Heuer phones of this world, but its price point very much excludes it from the rank and file.

In this internet age - where other phone manufacturers are increasingly enlarging their screen real estate, is there still place for a 2.8" 640 x 480 display? My thinking is that screen real estate really is essential these days, and for those who really need a physical keyboard, some kind of keyboard slider arrangement is preferable to a diminutive screen.

Vertu is very much focusing on its full touchscreen 'Constellation' variant, so it's interesting to see that RIM commissioned Porsche Design to rejig its more old-fashioned keuboard format.

Specs-wise, with 1.2GHz processor, 768MB RAM, Onboard Memory of up to 32GB of onboard storage, 5MP camera - it really stacks up quite well. It's obviously quite a striking phone which is a plus, but then again, it has an odd form factor compared to the most useful current batch of phones. Apps-wise, RIM's work in gaining compatibility with Android apps should put it in a fairly decent position.

It's a shame the other phones in the BlackBerry portfolio aren't as good looking as this one. Its price puts it out of the reach of most, and I don't see it becoming a big seller like the iPhone 4S, Samsung Galaxy Nexus or Nokia Lumia 800.

We had a whole spate of designer phones about 10 years ago - with D&G, Armani, Prada etc. style phones being made largely by HTC, LG, Samsung and Sony Ericsson, I know no one now who has any of these. RIM obviously want some of the Porsche lustre to rub off onto their core phone line, but will this be seen more as a Porsche phone or a BlackBerry phone?

Many commentators have already remarked that the style-conscious will likely go with an iPhone or a new Nokia. This is certainly good for BlackBerry PR, in the wake of the recent outages, as to what impact this has on the RIM bottom line, and how well it will serve to positively influence its dwindling BlackBerry userbase - well that remains to be seen.