It's somewhat contrary / incongruous of me - just when the Vinyl industry is in its most rapid phase of growth for many a year - that I'm deciding to sit this one out as it were. I've been gradually transitioning more and more to digital music as this is how I typically listen to my music every day - via headphones and iPhone or speakers and iMac. The vast majority of listening I do is on the move though.
A few years ago I still bought vinyl fairly regularly - last year it was down to circa once a month. This year, the first time I've bought vinyl is this week. I usually only buy on analogue - that which I cannot acquire via other honest means.
In this instance, this quartet of 12" releases:
Glenn Underground - Cloud Burst
Italojohnson - Italojohnson 6
Odessa - Private Disco Show
Pamela Prati - Mare (Un Nodo All'Anima long version)
Mostly in the genre of 'Italo Disco' as much of that material still does not exist in digital format.
Before browsing through the RSD catalogue I had all but given up on wanting to venture forth for another record store day. I've amassed too much vinyl over my life, it simply takes up too much space! Most of the stuff on the RSD catalogue is re-releases, represses, picture discs, coloured / transparent and oddly shaped discs. There seems to be an odd glut of 7 inches too, which I quite gave up buying shortly after my 12th birthday. The sound of 12" is far superior, I've never liked the flimsy insubstantial nature of 7" discs - they're more fragile and not as deep-cut - somehow lessens the impact of the music for me.
Anyway, whilst browsing the catalogue there were quite a few that caught my eye - I have listed one single solitary 7" - that from the dear recently departed David Bowie and featuring one of his lesser known but great singles - TVC 15 - a small concession to that format then.
I may very well pop in on Sunday and see if any of these remain for sale - I'm certainly well beyond queuing up for half a day and getting stuck into the mêlée of the event. Unfortunately lots of these releases tend to be picked up by opportunistic unmentionables who simple put the record straight up for sale again on Ebay at roughly 4 times to 10 times the original price. Other idiots simply buy to keep them as collectibles - for those poor records never to be played out or properly experienced as intended!

Notable Record Store Day Exclusive Releases
Cassius - Action 12" remix double-pack (Taster for new 'Ibifornia' album from legendary French house producers)
Chip E - Like This 12" (Remix of Classic D.J. International Records track)
David Bowie - The Man Who Sold The World 12" picture disc LP (Rare, but average album)
David Bowie - TVC 15 7" picture disc (Rare-ish classic Bowie track but low fidelity on 7")
Ecstasy Club - Jesus Loves The Acid (Fantastic UK Acid House with original and new re-make)
Etienne de Crecy - Super Discount 1, 2 and 3 12" LPs (Re-released on colour vinyl - great if you don't already have them)
Fleetwood Mac - Alternate Tusk 12" double LP (Alternative track takes from forthcoming Tusk Deluxe release)
Frankie Goes to Hollywood - Rage Hard 12" purple vinyl (Rare pressing of Young Person's Guide to the 12" extended mix)
Grace Jones - Private Life / She's Lost Control 12" (Extended Club and Dub mixes)
Heaven 17 - (We Don't Need This) Fascist Groove Thang 12" (Original package repress, sleeve and all)
Jack Off Jill - Clear Hearts Grey Flowers 12" clear vinyl LP (First time on vinyl, special because of the Mark Ryden sleeve artwork)
John Williams - Star Wars: The Force Awakens 10" picture disc (One for Star Wars fanatics)
Late Night Tuff Guy - Vol. 10 12" (Disco and House Edits lucky dip - don't really know what you're going to get, but usually good)
Mark Pritchard / Bibio / Clark - A Badman Sound / Heath Town / Inf Inf Inf Inf 12" (Warp records showcase RSD release)
Neneh Cherry - Buffalo Stance 12" picture disc (Extended version plus David Morales 'A Little More Puerto Rican' mix of single 'Kisses On The Wind')
Parris Mitchell - Rubber Jazz Band (Len Faki Edit) / Computer (Rare edit of classic Dance Mania track)
Shura - Touch 12" pink disc (Remixes from Canvase and Delorean)
Skrillex & Diplo - Where Are You Now 12" yellow disc (Rare pressing)
Thompson Twins - Set 12" Red double-album (Features great remixes of early tracks - including 'In The Name of Love')
The Weeknd - The Hills Remixes 12" (Hills Remixes featuring 1 Eminem and 2 Nicki Minaj)
Xiu Xiu - Xiu Xiu plays the music of Twin Peaks 12" Red / Blue double LP (Rare vinyl pressing)
Most of the above can be obtained digitally, but there are some rarities here definitely worth getting ...
I recall when Soho had nearly 20 record stores, we are down to a paltry 4 now, all great in their own way though: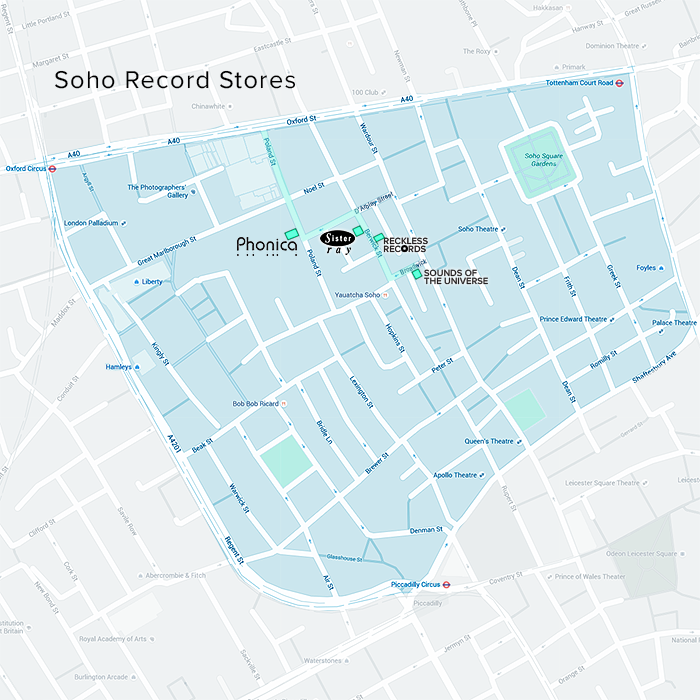 Soho Record Stores
Phonica - 51 Poland Street, W1F 7LZ
Sister Ray - 75 Berwick Street, W1F 8RP
Reckless Records - 30 Berwick Street, W1F 8RH
Sounds of the Universe - 7 Broadwick Street, W1F 0DA

Other Notable London Record Stores
Rough Trade - 130 Talbot Road, W11 1JA
Rough Trade East - 91 Brick Lane, E1 6QL
Full list of Record Store Day Participants [here]

Full list of RSD releases [here]