Call of Duty MW3 is biggest Entertainment Launch of all time
13 November 2011
4:16 PM

Stefan Karlsson
Activision
Android
apple
Call of Duty
CCP
Coldplay
Digital Media
EVE Online
Framestore
Gaming
Gaming Industry
Harry Potter
iTunes
Lady Gaga
Lil Wayne
Media Sales Record
MW3
Sales Record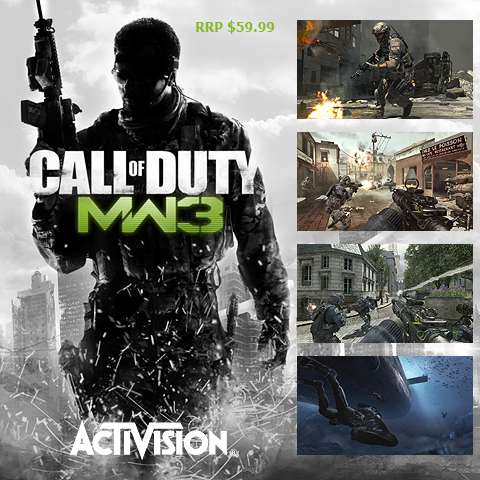 Released on 8th of November in USA and UK, Activision's Call of Duty Modern Warfare 3 saw sales of 6.5 million copies in just 24 hours - producing a record first day takings of around $400 million.

In comparison, Harry Potter and the Deathly Hallows Pt II which is the record daily film box office, took $91 million on its first day. Music sales are not recorded on a daily basis typically, the best data we have is in terms of weekly sales statistics. It's somewhat strange to report that the one week sales record goes to *NSYNC's 'No Strings Attached' album which shipped 2.4 million units in its first week back in April of 2000. In terms of digital sales, it would seem that Lady Gaga's 'Born This Way' would have the current record of first week 662,000 unit digital sales, contributed to in no small part by a special 99 cent deal on Amazon.com - which shifted 440,000 copies in just 2 days.

Lil Wayne currently holds the US iTunes record of circa 300,000 units of 'Tha Carter IV' downloaded in the first 4 days. Coldplay's 'Xylo Myloto' holds the international iTunes record - across all 35 stores, achieving in excess of 500,000 downloads in its first week.

It's somehwat heartening to see that the most liquid / profitable entertainment medium is no longer music or film, but games. I would go one step further and highlight software overall - in terms of apps and programmes. The digital economy is now truly gigantic, and Apple and Android are capturing an ever bigger share of the gaming marketplace. That said, Call of Duty MW3 is an old-fashioned console game, shipped mostly in hardcopy format.

I have always hinted that the music and film industries would eventually copy the most successful parts of the gaming economy. Sure gaming suffers piracy and blackmarket copies of its titles, but the size and scope of many of these games means enormous data, which does not make for easy downloads; a lot of games also make use of hardware peripherals which make it difficult for pirates to replicate the whole experience. One of the key reasons that the movie industry has got so heavily behind the 3D format is also because of the fact that it's more difficult to replicate that experience via illegal means.

In an article I wrote a while ago about the Icelandic economy, I highlighted the success of global Icelandic gaming company CCP - with their worldwide hit 'EVE Online'. Iceland's workforce has a high number of tech savvy personnel, which would be ideal for software and games development. The UK's / Europe's premier film effects company Framestore has a branch in Iceland for this very reason.

MW3 shows everyone how viable the gaming industry is as a global player, and just how successful it has become, even in times of worldwide recession.