Amazon teams up with 7-Eleven to eliminate missed deliveries
07 September 2011
10:29 AM

Stefan Karlsson
7 Eleven
7-Eleven
Amazon
amazon.com
delivery
Delivery Depot
Delivery Service
ecommerce
Missed Deliveries
online retail
Package Collection
Package Pickup Lockers
Parcel Collection
Parcel Delivery
Shipping
social commerce
social marketplace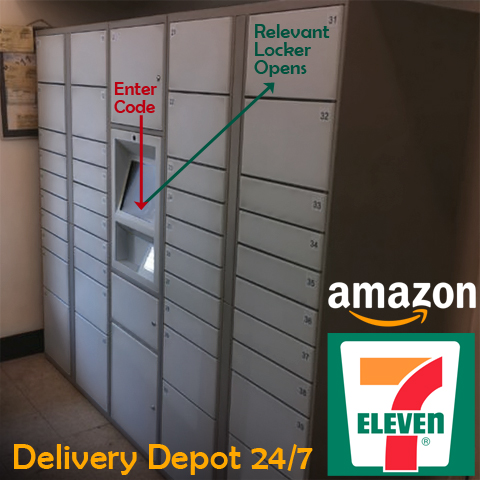 As reported by various online Tech journals and blogs, Amazon has announced that it is teaming up with 7-Eleven to give its customers 24/7 access to parcel collection. One of the biggest issues with online retail is ensuring that there is someone home to receive the package at the time of delivery. The cost of pin-point delivery, where you choose the exact time-slot is cost-prohibitive for most. Some people work very long hours, and have long commutes on top of their working hours, meaning that it is difficut for them to co-ordinate their schedules for sundry package deliveries.

A number of companies have been trying to come up with a solution that works for most eventualities, and all the solutions involve utilising some kind of central, 24-hour access depot. It needs to be manned in some way obviously for security reasons!

It's actually quite ingenious for Amazon and 7-Eleven to team up on this, as neither is stepping on the other's toes, and both stand to benefit from the hook-up. Amazon customers are likely to order more, if they are confident of picking up the package at any time, and 7-Eleven will get knock-on traffic from the additional footfall of the Amazon package collectors.

It's unfortunate we don't have many big bright 7-Elevens in the UK, the nearest equivalent is the 24 hour petrol station or 24 hour supermarket. Most supermarkets though have their own catalogue operation and would see themselves in direct competition with Amazon, and alas - most garages, are not centrally located, and even if so, do not offer 24 hour access inside the shop.

For the USA, this is an inspired solution to a long-standing problem. In the UK however, we could first do with some central London branches of 7-Eleven, and then we would be able take advantage of the 24 hour access. As it currently stands, I cannot think of a single outlet in the UK which would fit the bill - the prerequisite is obviously location within a residential area and extended / 24/7 opening hours.

Hopefully the growth in online retail will inspire more 24 hour businesses, and once we have an organisation with sufficient branches / outlets we too can have automated lockers where you key in your delivery tracking number, and the locker which contains your parcel pops open.

On the face of it, the solution is neat and elegant, it would be interesting though to see the cost/benefit calculations of the storage facility, and how easy it is for courriers to enter packages into the system; there is obviously plenty of scope for error here too...