29 Nov 2011 3:30 PM

Popular

Comments

Profile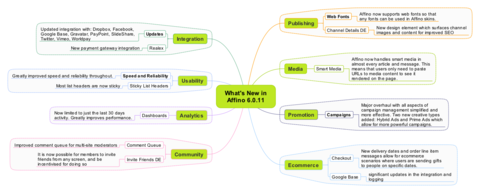 Affino 6.0.11 is all about performance. in our quest to make Affino as effective and usable as possible a core element has to be the speed and reliability of the sites and that has been the principle focus of this release. it means that most of what we've done with this release can't be seen, it has to be felt.
Nonetheless there are nearly 200 improvements in this release in total and many of them open great new avenues such as having gift cards on purchases; being able to select delivery days; allowing users to invite people to your site from any page and incentivising them to do so; enhancing the SEO of your gateway, topic and search channels; and being able to style your pages better with great new web font and form styling options.
A lot of focus has gone into usability, with the revamped campaigns being the key point. The sticky headers on listings and more usable media editing bar make things more usable throughout the Control Centre. Many of the improvements are focused on smoothing out the user experience for fewer errors with easier selectors, better guidance and alerts and optimised look ups.
The most important element though is speed, and without fail you will notice that everything is now faster. It helps you to get more things done, and lets you do them faster.
Note: we did a further two updates, firstly rolled out integration with SmartDebit for taking Direct Debit payments and secondly an update on the PayPal integration.
Add Comments
|
permalink
|
email this
|

|





29 Nov 2011 3:22 PM

Popular

Comments

Profile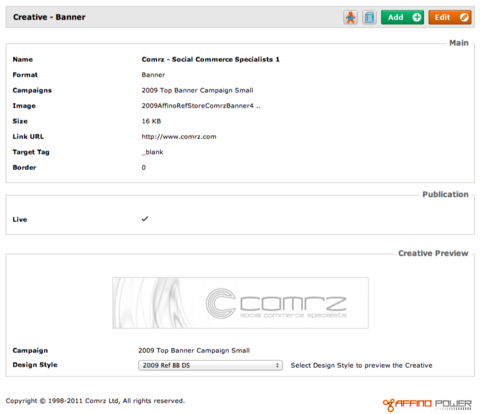 This Affino release is all about performance. We have worked hard to deliver great reliability and improved performance for every page view. This has meant looking deep into how Affino generates pages for bots, guest and members, and improving all aspects.

New Affino Production Process = Better Quality Product

To do this we have completely revamped key aspects of the Affino production cycle, in particular all aspects of how we test it: we have established new Affino Benchmarks; rolled out a new Affino load test facility; developed new automated QA processes on top of the work of the existing quality assurance team; we're using great load testing services to identify Affino's scaling parameters; and finally running new low-level monitoring solutions to see what's happening deep in the core Java engines.

This process has been essential to help us identify and resolve a host of low-level issues which have come to the for with Affino recently, but which have been having an escalating impact for some time. The great news is that the deep focus that we've had on the issues affecting Affino means that the 6.0.11 release has unmatched levels of performance and scalability. The new benchmarks also mean that we will be able to identify with every future Affino release how it performs when compared with the current one.

All in all the new approach has helped us to identify over a hundred potential optimisations which have been implemented in this release.

Elements in Transition

We have made some tough decisions to boost Affino's page delivery speed. Ultimately users compare the speed Affino's pages are delivered in compared to other comparable sites, whether they are blogs, stores, magazines, recruitment sites, corporate sites or communities. Affino does more than all comparable platforms but it must do so whilst also optimising the experience for the end user, and there is no doubt that the speed at which a page loads is an incredibly important part of this.

Most of the elements which make Affino faster in this release revolve around smarter page delivery, improved caching, improved scalability, improved stability, smarter handling of sessions and other great enhancements that take nothing away from the existing Affino experience. We have made some big decisions

...

Add Comments
|
permalink
|
email this
|

|





29 Nov 2011 10:07 AM

Popular

Comments

Profile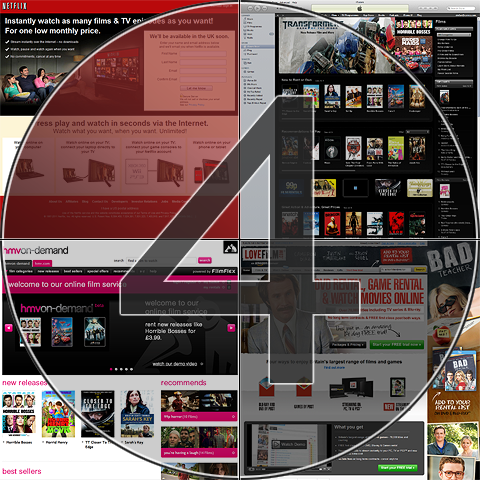 In order to further safeguard its future, HMV has just recently launched HMV On-Demand - a video streaming / download service running on the FilmFlex Movies Platform. This service introduces further competition to iTunes and LoveFilm, and comes just ahead of the 2012 launch of American video behemoth Netflix. There are of course numerous other movie services through set-top boxes and consoles - such as Movies on the Play Station 3, but the big four are seen to be Netflix, Hulu, Amazon Instant Video and iTunes. Amazon of course recently bought up LoveFilm, which makes up its European offering.

I must admit that I used to be a huge fan of Blockbuster Video Stores, and if there was one next door to me, I would probably still use it, as they still have by far and away the best range of movies, have the earliest release dates, and their price point is only £2.99. Apple iTunes currently has downloads only - you can start viewing progressively at 10-15 minutes in, but it's not streaming, this is at £3.49 for standard definition, and £4.49 for high definition where available (Older films are at £2.49 and specials at £0.99). LoveFilm has a subscription service also at £5.99 per month, with some films only available on subscription, and new films are typically at £3.49, with older ones at £2.49 - on a par with iTunes. The issue for me on LoveFilm is that it's overly fussy and overly complex - giving you different options to rent DVD, watch online, sign up for subscription, buy on Amazon etc. Moreover, beyond the optional subscription it offers no great advantage over iTunes as it pretty much has the same fairly slim selection of films which are largely made available for rent a week or two after Blockbuster.

HMV has gone against the grain by launching at a higher level one tier standard price of £3.99 - it's not clear yet as to what the quality of the stream is though. For HMV you can of course download to watch, as well as stream directly. Again, browsing through their library - there are still enormous holes in the catalogue, although I could find some films here that were not listed on iTunes or LoveFilm.

The point is that the old format - DVD - which is 'Blockbuster' really still has by far and away the best selection and the best price. Online video has the advantage of convenience

...

Add Comments
|
permalink
|
email this
|

|





29 Nov 2011 9:45 AM

Popular

Comments

Profile
Tags:
apple
,
comments and ratings
,
FaceBook
,
social media
,
youtube
,
Twitter
,
LinkedIn
,
Forum
,
Affino
,
Disqus
,
Skype
,
Google Talk
,
Google Mail
,
Tweets
,
Blackberry
,
Email
,
Dropbox
,
Updates
,
group chat
,
Social Messaging
,
SMS
,
Texting
,
Message Board
,
iMessage
,
Messenger
,
Apple Store
,
Billing
,
Receipts
,
Communication Platform
,
Blackberry Messaging
,
Mark Zuckerberg
,
Online Privacy
,
Online Security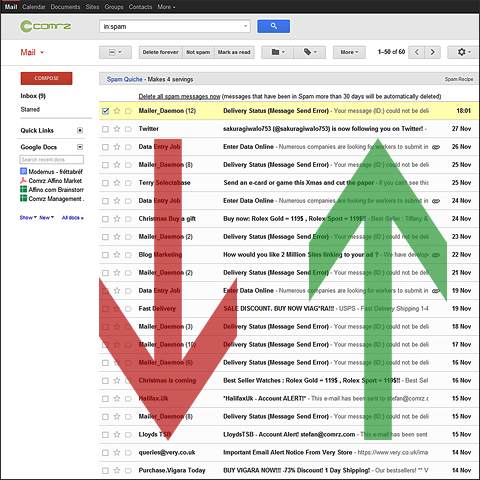 We've heard it several times now - that with the growth of Social Messaging - email is on its way out! However, for me if anything - email is on the way up! I have various Social Media subscriptions which all come to my inbox - from Facebook, Twitter, LinkedIn, YouTube etc. - all my receipts, including those from the various Apple stores - as well as all my key bills and statements, these are all now notified electronically via email!

I really don't understand what these Social Media types propose is going to happen to all that content! As far as I'm concerned, there are lots of different kinds of communications platforms - each for very specific purposes. If you need to send smallish attachments, then email is still a decent format, if you need to send something larger, then any kind of message with a Dropbox URL in it will do. There's lots of clever 'Messenger' type services now, like Apple's 'iMessage' - which provides free Blackberry style text messages to its customers.

On a daily basis, I make use of iMessage / SMS, Forums, Message Boards, Group Chat, Comments and Ratings, Skype and Google Talk. For me the biggest significance has been in the Disqus-type comments systems, very much like Affino's Comments and Ratings - this means that the discussion element is very much aligned to the content, whereas with Forums - they are usually divorced from the content, and very quick to go off-topic.

As far as the statistics go, the number of email messages being sent is still on the way up globally. Messaging / iMessaging / SMS is simply just replacing other forms of communication - like the more traditional phone call, as they are more cost effective and more expedient. You don't expect the person on the end of the line to available 24/7 - so sending an SMS is far better than leaving a voicemail - that said, many people do both!

A lot of people used to do proper blogs, then they got bored / lazy and switched to tweets, now they're even lazier and just do comments and re-tweets. It would be interesting to know the proportion of original to recycled / regurgitated content in the twittersphere.

Of course people like Mark Zuckerberg have vested interests in their platforms, and will make broad sweeping statement to push home a point, much like Steve Jobs used to do in his heyday. For sake of

...

Add Comments
|
permalink
|
email this
|

|





18 Nov 2011 10:27 AM

Popular

Comments

Profile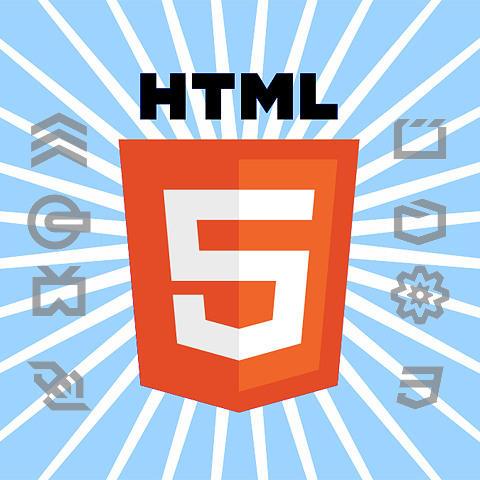 We've been making big changes to Affino this year. In some cases we've had to take a step back so we can go forwards. The move to HTML 5 from Flash is one of the more significant ones.

We've re-written many aspects of Affino which used to be Flash / Flex based so that they are now HTML based. This includes: all the Control Centre navigation, much of the Media Library, new HTML-based highlights elements, and the chat interfaces.

Some of you will have noticed that the Affino service has been going through a turbulent period this week. We have made some big steps already in resolving these issues, however we are having to make some tough decisions and one of those is how to modernise the Dashboards which are one of the few Flash based elements left in Affino.

Until now it has been possible in Affino to see that a user looked at a particular story 11 months ago at 10:21 AM. In reality nobody cares that Fred looked at a story 11 months, 3 days, 2 hours and 22 seconds ago. In an infinite data and unlimited performance world this is great, in practice all the data can be a real drag on Affino's performance.

The Dashboards can be even more of a drag since we put no restrictions on how they could be used, meaning that a single dashboard screen could bring up an aggregate of every page view, every user session, every purchase ever and then step up through multiple variations until a result was presented.

What we have found out is that this just doesn't scale. So we're hitting the reset button.

We're taking a couple of big steps back in the short term and will then take some big steps forward with the Dashboards in 2012. The biggest problem with the dashboards is that they were all written in Flash / Flex which everyone now knows has no future. We're not investing any more in them and instead we'll be creating an entirely new Dashboard platform in HTML 5 next year.

In the meantime we can't have the existing Dashboards hampering Affino's performance so we're going to be pre-loading an updated version which has two major limitations compared to previous releases:

1) They will only step up to 30 days of data.

2) They no longer automatically step up until they find data to report on.

This

...

2 comments
|
permalink
|
email this
|

|





13 Nov 2011 10:39 PM

Popular

Comments

Profile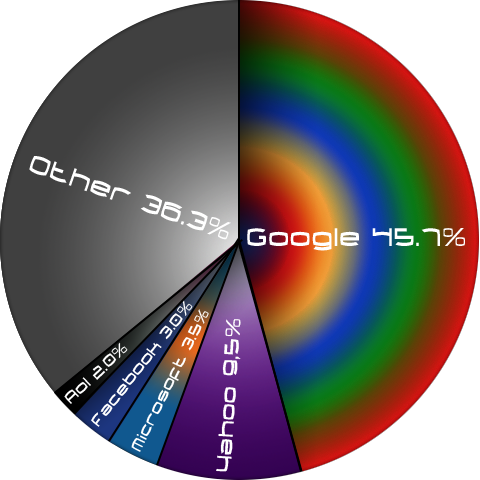 According to the 2010 overall figures for Digital Ad Spend, courtesy of Darren Herman, of the circa $64 billion Worldwide 2010 Digital Advertising Revenues, Google is responsible for nearly half, i.e. $29 billion or circa 45.7%.

The revenues of the 5 biggest; i.e. Google + Yahoo + Microsoft + Facebook + AOL is equivalent to nearly 64% of the total market share of Online Advertising or two-thirds.

Most of these big players of course own a number of digital properties:

Google = Google + Blogger + Doubleclick + Picasa + Plaxo + YouTube etc.

Yahoo = Yahoo + Delicious + Flickr + Geocities + Upcoming etc.

Microsoft = Microsoft + Bing + MSN + Skype + XBox Live etc.

AOL = AOL + Bebo + CNN + Engadget + Joystiq + Truveo etc.


The breakdown in overall figures is as follows:

2010 Total Digital Revenues
| | | | | | | | | | | | | |
| --- | --- | --- | --- | --- | --- | --- | --- | --- | --- | --- | --- | --- |
| | | | | | | Revenue | | | | | | Percentage |
| | | | | | | | | | | | | |
| Google | | | | | | $29 bn | | | | | | 45.7% |
| Yahoo | | | | | | $6.0 bn | | | | | | 9.5% |
| Microsoft | | | | | | $2.2 bn | | | | | | 3.5% |
| Facebook | | | | | | $1.9 bn | | | | | | 3.0% |
| AOL | | | | | | $1.3 bn | | | | | | 2.0% |
| Other | | | | | | $23 bn | | | | | | 36.3% |
...

1 comment
|
permalink
|
email this
|

|





13 Nov 2011 4:16 PM

Popular

Comments

Profile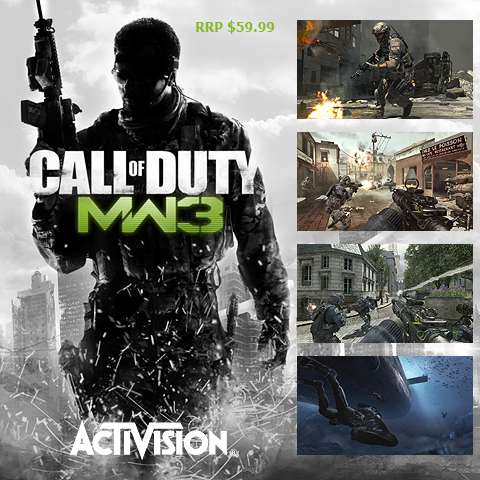 Released on 8th of November in USA and UK, Activision's Call of Duty Modern Warfare 3 saw sales of 6.5 million copies in just 24 hours - producing a record first day takings of around $400 million.

In comparison, Harry Potter and the Deathly Hallows Pt II which is the record daily film box office, took $91 million on its first day. Music sales are not recorded on a daily basis typically, the best data we have is in terms of weekly sales statistics. It's somewhat strange to report that the one week sales record goes to *NSYNC's 'No Strings Attached' album which shipped 2.4 million units in its first week back in April of 2000. In terms of digital sales, it would seem that Lady Gaga's 'Born This Way' would have the current record of first week 662,000 unit digital sales, contributed to in no small part by a special 99 cent deal on Amazon.com - which shifted 440,000 copies in just 2 days.

Lil Wayne currently holds the US iTunes record of circa 300,000 units of 'Tha Carter IV' downloaded in the first 4 days. Coldplay's 'Xylo Myloto' holds the international iTunes record - across all 35 stores, achieving in excess of 500,000 downloads in its first week.

It's somehwat heartening to see that the most liquid / profitable entertainment medium is no longer music or film, but games. I would go one step further and highlight software overall - in terms of apps and programmes. The digital economy is now truly gigantic, and Apple and Android are capturing an ever bigger share of the gaming marketplace. That said, Call of Duty MW3 is an old-fashioned console game, shipped mostly in hardcopy format.

I have always hinted that the music and film industries would eventually copy the most successful parts of the gaming economy. Sure gaming suffers piracy and blackmarket copies of its titles, but the size and scope of many of these games means enormous data, which does not make for easy downloads; a lot of games also make use of hardware peripherals which make it difficult for pirates to replicate the whole experience. One of the key reasons that the movie industry has got so heavily behind the 3D format is also because of the fact that it's more difficult to replicate that experience via illegal means.

In an article I wrote a while ago about the Icelandic economy, I highlighted the success of

...

6 comments
|
permalink
|
email this
|

|





04 Nov 2011 1:32 AM

Popular

Comments

Profile
Tags:
Android
,
apple
,
Google
,
iPhone
,
Firefox
,
Microsoft
,
Chrome
,
Google Chrome
,
Browser
,
Internet Browser
,
Desktop Browser
,
Mobile Browser
,
Browser Usage Statistics
,
IE
,
Internet Explorer
,
Safari
,
Dolphin
,
Skyfire
,
Opera Browser
,
Opera Mini
,
Android Browser
,
Symbian Browser
,
Blackberry Browser
,
Ars Technica
,
Browser Market Share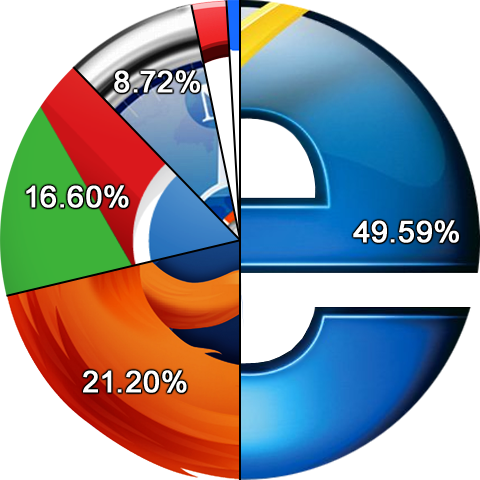 The latest Ars Technica browser usage figures show that Internet Explorer has dropped below 50% market share for the first time - for combined browsing platforms (Desktop + Mobile)
Combined Browser Market Share October 2011
| | | | | | | |
| --- | --- | --- | --- | --- | --- | --- |
| Internet Explorer | | | | | | 49.59% |
| Firefox | | | | | | 21.20% |
| Chrome | | | | | | 16.60% |
| Safari | | | | | | 8.72% |
| Opera | | | | | | 2.55% |
| Android Browser | | | | | | 0.76% |
Worldwide Desktop Browser Market Share October 2011
| | | | | | | |
| --- | --- | --- | --- | --- | --- | --- |
| Internet Explorer | | | | | | 52.63% |
| Firefox | | | | | | 22.51% |
| Chrome | | | | | | 17.62% |
| Safari | | | | | | 5.43% |
| Opera | | | | | | 1.56% |
| Other | | | | | | 0.25% |
Worldwide Mobile Browser Market Share October 2011
| | | | | | | |
| --- | --- | --- | --- | --- | --- | --- |
| Safari Mobile | | | | | | 62.17% |
| Opera Mini | | | | | | 18.56% |
| Android Browser | | | | | | 13.12% |
| Symbian | | | | | | 2.55% |
| Blackberry | | | | | | 2.04% |
| Opera Mobile | | | | | | 0.49% |
| Internet Explorer | | | | | | 0.16% |
| Other | | | | | | 0.82% |
Here at Comrz we are an even split between Chrome and Firefox, with development preferring to work on Firefox because of its still superior developer toolset, whilst we others prefer the speed and elegance of Chrome.

We all know why IE figures have remained so high - thousand of poorly run institutions and archaic public services still tend to be running very old versions of IE - it's quite surprising just how many of these PCs are on IE6.

I'm not sure the mobile figures entirely stack up here either - there are currently nearly as many Android handsets in global circulation as iPhones, of course several Android users favour Dolphin and Skyfire, but the Android browser figure does seem unusually low.

By now I am of course an iPhone user of many years, and as you may have read on my other blogs, don't see myself switching to Android or Windows Mobile any time soon. As far as desktop browsing goes though, I can't see anything better out there than Chrome - Google Chrome revolutionised the web browser in a very subtle way when it was first introduced back in September of 2008, and all the major browsers have since been busy copying Chrome's

...

5 comments
|
permalink
|
email this
|

|



Subscribe to feed

Subscribe by email
Recent Visitors