Affino.com Site Revamp Visual Guide Whistle-Stop Tour
10 February 2021
12:55 PM

Stefan Karlsson
Affino
Coronavirus
Unified Business Platform
website design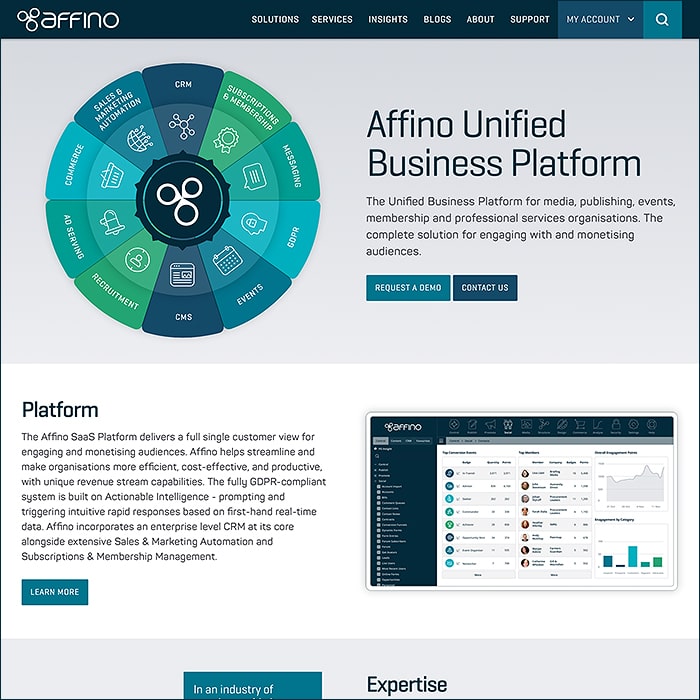 At the start of the Covid period, we determined that we would need something of a lighter touch to contrast that societal darkness. And so we set out to wholly revamp the Affino.com website - to make it clearer, more streamlined, fresher, and more friendly - while rolling out various new technologies and functionalities. We greatly expanded the colour palette and introduced a number of more vibrant tones to meet that purpose.
I and Designer Mark Foster, with help from Lead Front-End Developer Luismi Montiel have worked on some 7 iterations of the new framework - which is now finally fully pervasive. With our busy projects schedule - this was accomplished on the 'back burner' and using the in-between days for Client Projects.
As per the title - this is just intended to be a whistle-stop tour of some of the new site highlights - to serve as a record, and source of inspiration for others in how they might wish to evolve their own sites.
I had intended this to be something of a PechaKucha overview with 20 slides, and I've in fact ended up with just 2 more - which was needed to adequately document the changes and innovations.
The Home Page in phase 1 started with no animation on the 'Affino Wheel', and no Top Panel Menu - which were each added during the iterative faces. All is anchored by a main floating menu - and the Home Page serves to give a complete overview of Affino's Key Activities
Affino Wheel
Platform
Expertise
Services
Discover & Mission - an Introduction to Affino really
Latest Case Study
Affino Coronavirus Hub Banner
Lates Affino News and Insights
Affino News Newsletter Sign Up
Upcoming and Former Events
Testimonials Panel
Get In Touch
Did you find this content useful?
Driving business at some of the world's most forward thinking companies
Our Chosen Charity - Humanity Direct
Delivering Industry Leading Awards
Footer Navigation