The 'J's have it in BBC's Sound of 2011 Shortlist
11 December 2010
10:40 AM

Stefan Karlsson
2011
BBC
BBC Sound of 2011
Florrie
Jai Paul
James Blake
James Woon
Jessie J
Lana Del Rey
Popular Music
social media
Sunday Girl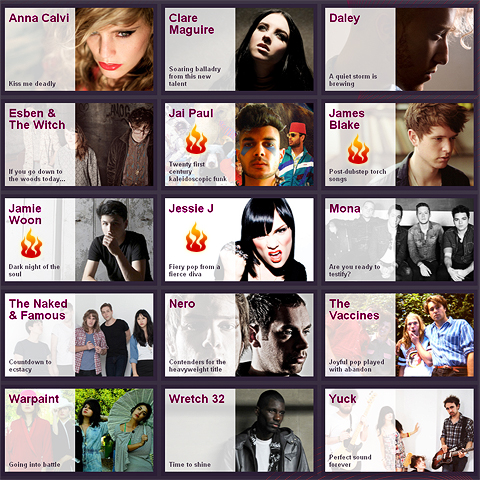 The 'J's have it in BBC's Sound of 2011 Shortlist

After a trio of winning female soloists (Adele, Little Boots and Ellie Goulding), it now looks likeliest that the males will reclaim the 'Sound Of...' crown for themselves.

The Longlist recently announced is as follows:
(* - My Picks!)
There are some fairly obvious missing artists from the list as far as I'm concerned:
...All of which I believe will have a significant impact on 2011.

There's a couple of questionable inclusions here also - on technical terms at least. I actually really like the 'Passion Pit' meets 'MGMT' sound of 'The Naked & Famous', yet they have been active since 2008, and released their album in September of this year. Morevoer, D&B / Dubstep stalwarts Nero have been active since 2005 and already had a strong influence on 2009 and 2010, I'm not sure they qualify as such as new for 2011.

Anna Calvi is very much in the 'Florence and the Machine' mold - with a hint of 'Bat for Lashes' - impassioned delivery, but nothing particularly new. Clare Maguire is somewhere along the lines of 'Alison Moyet'. Daley's style is a modern extrapolation of 'Stevie Wonder'. Esben & the Witch also have an air of 'Florence' and 'Bat for Lashes' about them, but with a more grungy backing. The more traditional indie of Mona, The Vaccines and Warpaint does nothing for me really. Wretch 32 is a little too derivative of the current bassline sound of 'Wiley', 'Tinchy Stryder' and 'Tinie Tempah', and the shoegaze sounds of 'Yuck' are also nothing new, nor particularly dynamically interesting.

The most interesting female for me is soulful pop chameleon 'Jessie J' (Jessica Cornish) who's an exceptionally versatile modern popstar singer / songwriter in the 'Lady Gaga' mold - she has much more in her armoury than the bold / brash 'Do it like a Dude'. For me however, it is the three 'J' males which are the most interesting. Populist pop-dubstep genius James Blake has released some superb directional material this year, as has eclectic elecro-popper 'Jai Paul' and digital soul wonder 'Jamie Woon'. In terms of genuine talent, inventiveness and musical output, you would probably put James Blake and Jamie Woon as the forerunners, with Jai Paul as the dark horse outsider. I also think Jessie J deserves a shot / shout - she has amazing potential.

These lists are often as much about the omissions as the inclusions, and there are some notable misses here - it's as varied as ever, a little odd in places, but if one of the 'J's wins I will be happy!

You will find music videos from all my favourites here in the Community Media area of this site.