Humanity Direct Rebranding and Replatforming Enhances Stature
27 August 2015
10:52 AM

Stefan Karlsson
100% Transparent Charity
Affino
Affino Unified Digital Business Platform
Brand Profile
Branding Process
charity
Charity Website
Direct Charity
Humanity Direct
Rebranding
Redesign
Replatforming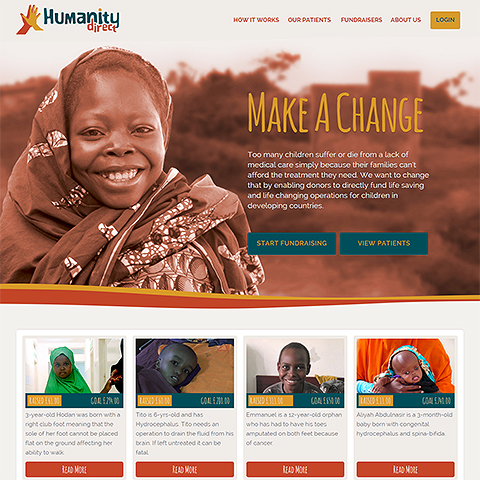 Affino has been working with Nick, Katrina, Marc and Rachel of Humanity Direct for the better part of a year now, to update and improve its brand and site experience. Right from the start it was felt that the core branding needed updating to better reflect the values of the organisation. Much of Humanity Direct's activities are focused on Africa, so we looked for graphical references and inspirations from that continent. Settling in the end on African poster art of the 50's and 60's - particularly ones that had been used to promote tourism in the various member countries - these were the most significant influencers in the branding process.
The resulting logo has very much a hand-made / hand-cut feel to it, and carries an appropriately rustic / organic colour palette. We experimented with a variety of different symbols before arriving at the hand-touching-hand ident in the final version. This was felt to best represent Humanity Direct's hands-on and direct involvement approach.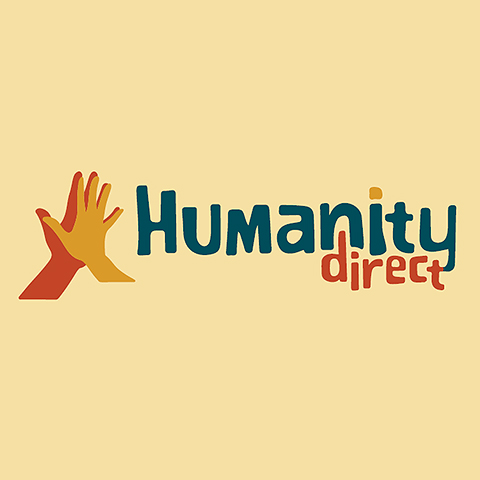 The newly formed logo then had an enormous impact on the site look and feel as it's colours were extrapolated to that framework, and worked in to duo-tones on much of the photography. We were also asked to prepare an ad for Runner's World - which you can see below. This took the slogan 'Choose Life' evolving from the process onsite - where you choose directly who to benefit, as 100% of your donation goes to life-changing operations for one or more personally selected candidates / patients - you choose exactly who benefits and how much.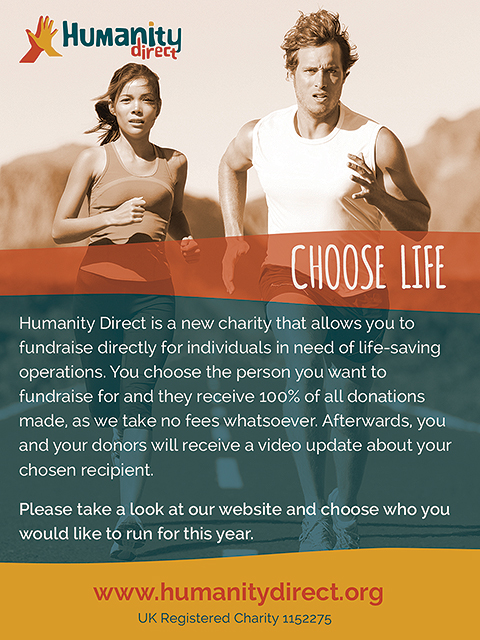 In the wake of what happened to Kids Company, it is more important than ever for charities to be fully transparent, and totally accountable to their fundraisers. Humanity Direct is pretty unique in being wholly staffed by proper volunteers - meaning that every last penny donated goes directly to the cause - nothing is subtracted for any reason. You can clearly see the cost of the operation - per patient, and the money goes direct from you to the hospital or clinic to fund whichever operation the patient requires to improve their life. Many of these operations are life-savers, where no national health service exists, and there's a cost to the most routine of procedures. The infant mortality rates are still way too high for Africa, and something as routine as a caesarian section is often the dividing line between life and death.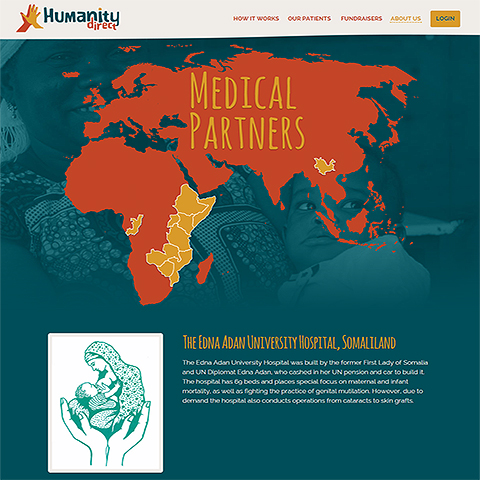 Far too many of the big charities have layer-upon-layer of bureaucracy with way too much of the donations - often the greater part going to pay for salaries of very highly rewarded chief executives as well as numerous admin staff. Humanity Direct cuts through all the bureaucracy, cuts out all unnecessary expense, and delivers 100% of the funds right to the source. You can be 100% sure that 100% of your money has gone directly into whatever procedure you have chosen to support.
Humanity Direct is Affino's chosen charity for obvious reasons, we hope all of you all see fit to support it too.