DisneyLife at launch is a pretty decent stab at an all-round Disney streaming service
24 November 2015
3:22 PM

Stefan Karlsson
Disney
Disney Movie Collection
Disney Streaming Service
Disney Video Library
DisneyLife
Streaming
Video Streaming
Video Streaming Service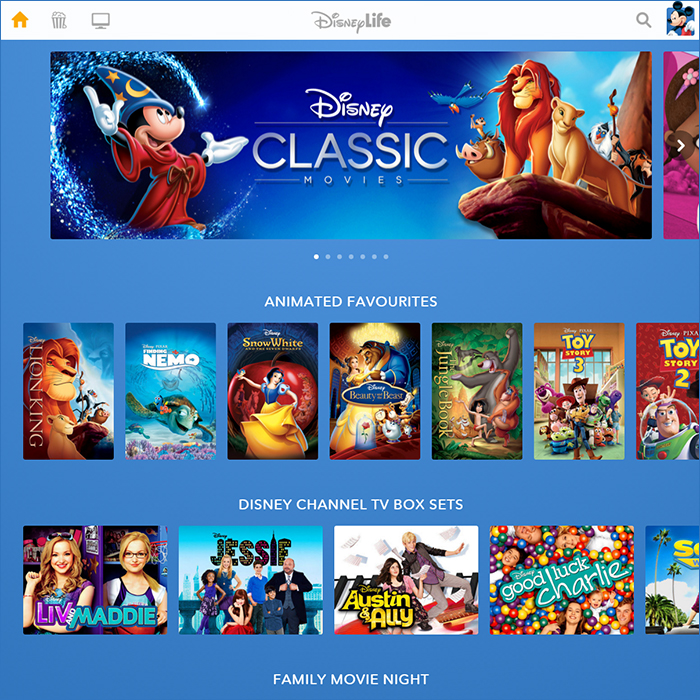 Like many others, I grew up on Disney movies. The first thing I ever saw in the cinema was Disney's Jungle Book; I had my 7 year old birthday party at the cinema watching Disney's Robin Hood, and for the first 10 years of my life, the vast majority of cinema experiences were centered around Disney output - including all the Herbies, Escape to Witch Mountain, 20,000 Leagues Under the Sea etc. - all present and correct in the current DisneyLife catalogue. Other fond films from Disney's Buena Vista and Touchdtone Pictures catalogues, such as Blackbeard's Ghost and The World's Greatest Athlete are missing, as are the relatively recently acquired Marvel and Lucasfilm catalogues.
The £9.99 per month rate is a little higher than some of the other streaming services, but you could argue that the overall quality of Disney output is higher versus a lot of the Netflix film catalogue which are often of mediocre quality. I counted around 300 movies on DisneyLife, and around half as many TV episodes. It is a solid rather than standout collection at the moment, but surely one which will grow and improve, much like the UK Netflix offering has done. I am currently subscribed to 4 streaming services - including this new one. The others being Netflix of course, then NowTV and Amazon Prime Video.
I am a huge Disney fan, and having such ready access to Disney's greatest hits is a great service for me and my extended family. I sincerely hope Disney will add more from its amazing back catalogue, as well as consider adding the Marvel and StarWars collections too. Even without those it is still a great service, and for most Disney Fans a must-have.
There are many corners to the Disney Empire - games also, so it will be interesting to see exactly how this site develops and which other services get offered - I see it increasingly becoming Disney's equivalent to Amazon Prime - with more and more exclusive content specifically created for this channel - including original programming and mini-movies when the membership number ramp up sufficiently.
Currently DisneyLife can be viewed via browser on desktop and via dedicated iOS and Android apps for Mobile. Apple Play can be used to share content to the large screen, but we are currently missing the various platform-type apps e.g. for YouView, PS4, Apple TV etc.