Björk innovates once more by releasing every Biophilia album track as an App
21 July 2011
12:05 PM

Stefan Karlsson
app
Biophilia
Bjork
Björk
David Attenborough
Future of Music
iPad
iPhone
music
Music Distribution
Music Technology
social media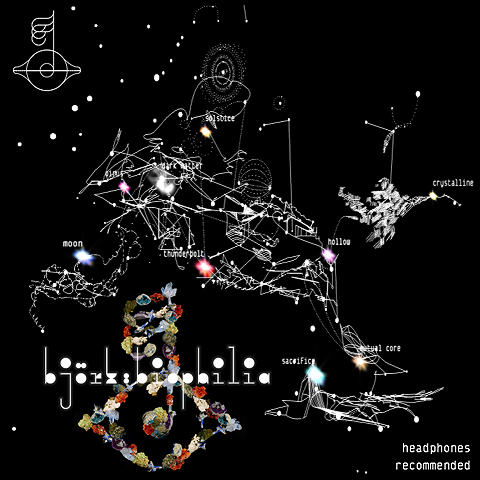 Following Björk's debut of the Biophilia opus at the Manchester International Festival - featuring elaborate custom-made instruments, nature videos and animations, she now releases said work in the form of iPhone and iPad Apps. The content is nigh identical, although the iPad benefits from greater resolution and larger screen real estate of course.

The main Biophilia App - a 'shell' in fact - is free to download, you then pay for each track in addition.

With the launch of the App, tracks Crystalline and Cosmogony were made available. This new material explores the connection between Nature, Music and Technology. Each track is accompanied by an animation which illustrates the song structure and displays the lyrics. All songs are also accompanied by some sort of interactive app or game, which allows you to interact with the music in some way, and further underlines the meaning of the music. For Crystalline for instance the game consists of chasing and collecting crystals through a series of vectorised 3D tunnels.

There's a great David Attenborough Biophilia Introduction which explains the purpose of the work, and encourages the audience to 'Listen, Learn and Create'. The shell of the app is actually represented by a cosmos of heavenly bodies which you can spin around and manipulate in 3 dimensions to access each individual celestial body - which represents a song.

There is a new Björk logo ident in the form of a stylised musical note, which sits top left of the screen, and allows you to access different points of the navigation - so that tracks can be accessed directly from a flat menu also, rather than navigating through the cosmos in 3 dimensions.

This is surely a sign of things to come for popular music - I see the floodgates opening for artists to create their own capsule Album Apps - which will contain a video for every track, alongside lyric sheets, 'making of' media, blogs and several more interactive apps.

This was all kind of inevitable really, I'm proud it's a fellow countryman who got there first. This is still somewhat a novelty though - the Björk App is not particularly polished, and it does not compare well for instance with the best App currently available on the iPad - 'The Elements'.

I'm sure these kind of album apps will soon become commonplace - they do for instance offer more potential copyright protection for the artist, and give the artist a much broader platform for expression - as well as of course more potential for additional revenues.

The Björk Biophilia App is certainly not perfect, but it is a glorious milestone in the constantly changing face of popular music.