12 Ways in which smaller retailers can take on Amazon
27 October 2013
12:44 AM

Stefan Karlsson
Amazon
Commerce Strategy
ecommerce
Net-a-Porter
Online Competitiveness
online retail
Online Shopping
Retail Advantage
Retail Competition
Retail Strategy
social commerce
SockShop
Wiggle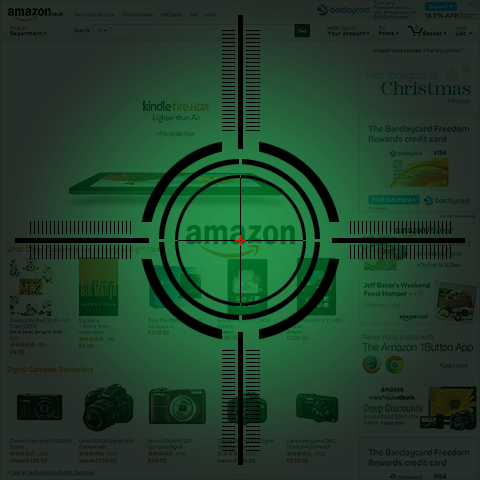 Since it's origin as an American online bookseller in 1994, Amazon has gone on to conquer the world. In most regions where it is active, it is the pre-eminent Internet Retailer, and now covers near enough every conceivable area of shopping, albeit not equally in every territory.
I've been an Amazon Prime Member for some time now, and alongside the Ocado Smart Pass, consider this an everyday essential service! I love the ease at looking something up, and fire and forget ordering with next-day noon delivery in almost all cases - even Sunday to Monday ordering on occasion.
There are many reasons how and why Amazon still maintains its lead:
Range - The Range of goods on Amazon is without equal
Price - In most cases (certainly not all though) Amazon has one of the lowest price points available - particularly for Books / Music / Video / Games
Stock - Amazon typically has a larger stock, so it's less likely to sell out of the item/s you want
Delivery - Plenty of delivery options including same and next day delivery, even with the option of secure lockers and 3rd party location pick-up points
Reliability - You have to be a little careful with Amazon Marketplace, but with a bit of reading between the lines you can usually spot the right moves, pretty much everything I order gets delivered the next day or two
Returns - Amazon uses the Yodel service to pick up packages from customers' doorsteps - I have used it several times and it works brilliantly
Reviews - Even though there is a slight proliferatin of semi-dodgy reviews, by-and-large you get a good indication of suitablity of product from customer reviews
Recommendations - Every area you browse on the site you get sent recommendations via email, not always wholly relevant, but very cool and frequently useful nonetheless
ListMania - Top 10 / 20 lists of customer favourites help you spot new products that are likely to appeal
Wishlists - The ability to file away preferred products for later purchase, great as a reminder for future releases
Amazon is usually my preferred retailer on the basis of a combination of range, cost and service, there are certain areas though that would benefit from improvements.
Areas Amazon could Improve Service:
Packaging - A lot of the packaging is not particularly re-useable for returning goods in - why do Amazon packages not have a sticky strip under the tear-away flap - so you can re-seal and return the original packaging without fuss?
Friends and Family Wishlists - It would be so much easier if my nephews and nieces could simply go online and pick out their choice of Birthday and Christmas Presents - I would then just need to select the preferred gift/s
User Profiles - Having proper community-style user profiles with their likes and dislikes gives much more relevance to customer reviews
12 Ways How to take on Amazon
Specialist vs Generalist - Amazon will always be a Generalist - but if I'm looking for Activity Clothing though I typically go to Wiggle, for Socks - it's hard to beat SockShop. By carefully selecting / curating your products / offering a specialisation, you can take on Amazon
Create a more immersive experience - Amazon has a simple, elegant design, but you can style your store much more closely in line with your customers' preferred environments - and do more specific merchandising in terms of how you frame and promote your products onsite
Introduce a Loyalty Scheme - Reward customers for repeat purchase and onsite activity like positively rating and recommending products (e.g. loyalty points / store credits)
Showcase / Celebrate your Smallness - Profile the heritage and brand story of your small business - lots of customers have a preference for dealing with smaller, personality-based businesses
Use targeted discounts and sales - Amazon does not do sales in the same way that most companies do, smaller retailers are able to be a lot more strategic / seasonal with the discounting of their product prices
Introduce Personal Shopping Assistants - By using an onscreen customer messenger app, you can allow online / support staff to assist customers with their purchases
Local vs National vs International - Use your local geography to your advantage - I typically shop from the specialist retailers that are located closer to my address (usually means quicker delivery). Ordering North Face for instance from the UK means delivery from Belgium - so local geography can be an advantage!
Personality - We know Jeff Bezos is the man behind Amazon, but Amazon is essentially anonymous - there are no personalities choosing and recommending specific products as such - there is a huge variety of ways to inject personality into a store - celebrity endorsements and expert / personal selections for instance
Personal Service - Try having a named Customer Service Manager - Amazon has good customer service, but again it's faceless and anonymous
Packaging - Founder of Net-A-Porter Natalie Massenet cites their packaging as a key reason for success, you cannot go wrong in fashion retail if your packaging includes monogrammed crêpe paper bound by a tasteful satin ribbon - in a stylish, solid and re-useable box (ideally recyclable / compostable too!)
Trinkets and Treats - Wiggle.co.uk always includes a small packet of Haribo sweets inside every package - other retailers do collectable postcards or similarly relevant and appealing, but essential low-cost trinkets
Social Commerce - Allowing your customers to interact with each other, support, rate and share their personal choices is the ultimate form of personal recommendation and promotion