Affino SaaS 2016 Highlights
17 January 2017
5:02 PM

Markus Karlsson
2016
Affino
Annual Review
Resource
Unified Business Platform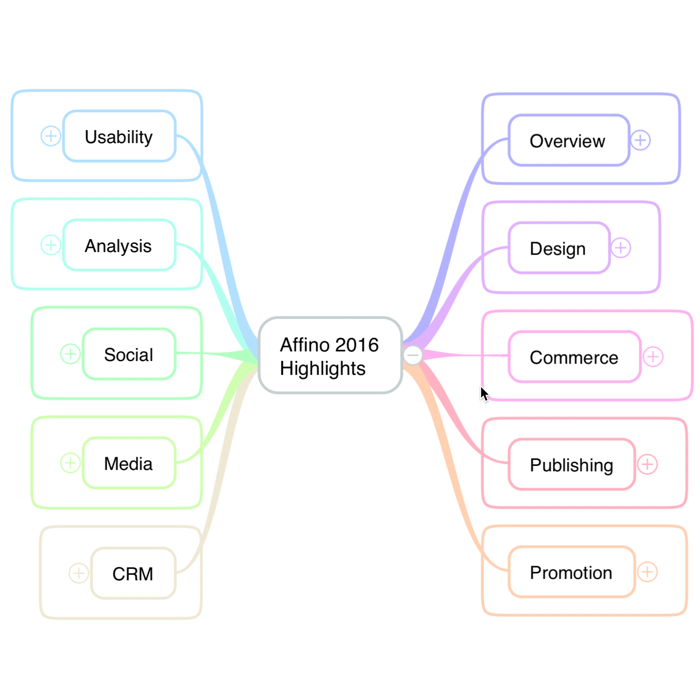 2016 was the year that saw Affino evolve faster than any previous year. In 2014 we rolled out approximately 280 user stories over the year, in 2016 we rolled out 1,264.
So much ground was covered in 2016 that it is very hard to pick a top 10, so we'll give you the big picture highlighting the many key developments. The primary goal of 2016 was to transform Affino's CRM capabilities and that was met with hundreds of improvements throughout the Affino CRM. For details on the rest see below and download the Mindmap above for a visual overview.
Overview
Affino Releases

Update Projects
Priorities
Infrastructure


Entire Affino application stack moved to the latest generation of platforms and services across the board.
Design
Better Looking


We made hundreds of tweaks throughout Affino's display side elements to improve formatting across the board in Affino.

Design Centre


Lots of little fixes which added up to greatly improved and much more productive design implementations

Start Breakpoints


Breakthrough approach to laying out Design Elements for any page design.

Smart Listings


We greatly improved all the core article listing elements in Affino to make them far more capable at realising clients' design goals with the minimum of effort

Feature Scrollers and Carousels


Greatly improved and more dynamic page presentations with three new key design elements

Panels


Responsive drop-down and mega menu panels

Forms


Rolled out the v7 generation of responsive forms. Now all the forms look great.
Introduced conditional fields into both the registration and dynamic forms.

Custom IDs on Cells


Allow for much more targeted customisation that works across the entire site.

Smart Button and Text DEs


Incredibly smart buttons and layout text elements that look great
Commerce
Pro Forma Orders (Order Builder)

A major breakthrough for Affino are the new Pro Forma Orders where you can create Pro Forma Orders and send Pro Forma Invoices. These can then be converted to closed Orders and Invoices

Sales Reports

New Sales Report allows for rapid insight into all sales managed through Affino, both through the Order Builder and Ecommerce. All data instantly exportable
In fact all commercial order related data exportable whether it be the orders, order line items or aggregated sales data
The Sales Report was just the first of many new commercial reports including the Order Line Item and Previous Order reports, the Previous Order report and various tax and deferred income reports including Tax Period Summary Export and Sales Invoice Export.

Sales Leaderboard

New big screen optimised sales dashboard showing revenues, top sellers, top sales teams and people and most recent sales

Shopping Basket DE

Great new responsive shopping basket, with mobile smarts

Production Elements

Directly related to the commercial workflows are the new Production Elements for managing the commerce to production workflows. Used alongside the Order Line Item report for end to end sales and production management

Orders

Multiple improvements to orders add up to greatly improved order management, with improved invoicing, order management and filtering, creation from Pro Forma Orders and the enhanced Order export capabilities.
Publishing
Smart Article Listing

Highly flexible and powerful new article listing element, meets virtually every layout requirement we've had at the flick of a switch (lots of them)

Print Products

New Print Product management for managing print publications, circulation and distribution lists.

Flatplans

New commercial flatplan management for each print product, and directly linked to the new production management tools

Re-usable Article Steps

Steps can now be used across all articles. Great way to add footers, company and individual profiles, promotions and other content directly into and at the end of articles. A major breakthrough.

Site Search v2

Faster and better looking site searches, with more relevance.

Scoped Search

It's now possible to turn any section into a directory with the smart scoped search, just turn it on.

Directory Listing v1

Easy to create simple online directories

Prime Related Content DE

Now supports Channels, Section and Articles as well as Newsletters.
Multiple new filtering options.

FAQ's and More

We added support for responsive FAQ's; greatly improved the Blogs with the new Step support; HighChart support and improvements throughout all the content templates for better article presentation.
Promotion
Mailing Lists

Responsive mailing list signups with improved preference management
Responsive message templates with great automation
Improved targeting, scheduling and speed
Improved Bounce handling

Broadcast Events

Added new broadcast events management for managing message broadcast schedules. When used with Production Elements and Creatives allows for full workflow management on message campaigns.

Content Subscriptions

Users can now subscribe to both realtime and summary alerts for any article section, as well as RSS feeds. All presented nicely on one screen.
CRM
Media CRM

2016 was the year of the CRM for Affino and the main product develop focus
Every aspect of the CRM has improved significantly this year with major breakthroughs across the board.

Subscription Management

New approach for managing both free and paid for subscriptions in a unified manner.
Complete subscription sign-up with one click sign up to print, newsletters and online.

Accounts and Contacts

Dozens of updates during the course of the year add up to major improvements in how you manage your contacts, create contact list, associate them with accounts and are able to manage their address and demographic information.

Opportunities

Greatly improved opportunities management allowing for more structured sales management processes, improved opportunity analysis and export.

Projects

New centralised Project resource, with a commercial focus.

Tasks

Multiple updates to task management to greatly improve their utility including the great new task alert popups

Account and User Import Improvements

Greatly improved Account and User Imports and Exports. Far more capable than previous generations.

Contact Notes

Major improvements in how notes are presented throughout Affino. Work in many more contexts
Google Apps email Integration for tracking emails, simply CC in for automated conversation logging with contacts and accounts.

Contact Lists

Greatly improved contact lists this year with new filters, new more useful tabbed views, and the new Actioned option
Contact lists can now be used also for including and excluding filters.
Media
Media Library

New responsive Media Library, it's now possible to list out all your media quickly and easily whether it be downloadable PDFs, Videos, documents, Images or audio, as well as many forms of social media.

Media Listing

Highly capable media listing design element updated to support grid views.
Social
Multiple Demographic Profiles

Users can have unique demographic profiling across multiple sites

Human Resources Suite

New HR Suite launched, with the first component being enterprise grade, mobile optimised Timesheet management.

Member Listing

New v7 member listing works great across all devices, with improved member profiles.

Security Notices

It is now possible to create dedicated security notices for each level of security clearance, both to inform and up-sell. Great usability improvement.

Recruitment

All recruitment elements updated to v7 framework for greatly improved presentation

Conversion Event Import

This could have been posted to almost any category. Allows for much better segmentation and actioning on the community.

Cross Zone Authentication

Users can now be automatically logged in across multiple sites / domains

On-page Feedback DE

New on-page feedback Design Element which lets you easily solicit feedback on any page, either with a simple useful / not useful rating or additional feedback.

Avatars

We added the ability to have a pre-defined list of avatars, and made it easy to upload and rotate user's own avatars.
Analysis
Bot Identification

Greatly improved bot detection and much clearer analysis as a result (also remove admin traffic from analysis).

Dashboard

Great new live dashboard, made for the big screen, showing you what the top trends are right now on your site(s)

Business Management

New Business Units, Product Lines and Product Categories for far more granular and targeted commercial analytics

Commercial Reports

Lots of new commercial reports including Sales Report, Order Line Item Report, Tax Reports, Income Reports and the Sales Leaderboard
Usability
Affino Setup

We created a brand new Affino onboarding process with a simple approachable Affino reference design

Design Centre

Lots of improvements that make it easier to implement designs throughout the Design Centre

Extended Control Centre Help

New Help panel on top of every key Control Centre screen with useful help, related links and tip