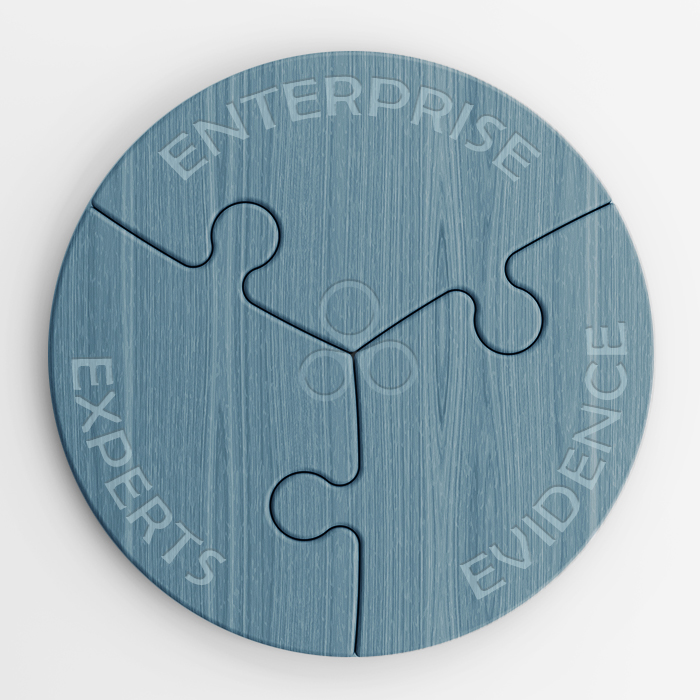 2017AfProServicesTriFecta700
Or how best to communicate your strengths and win over your target audience, while at the same time serving all the necessary business goals, and giving your experts a suitable promotional platform yet retaining the brand value within the company.
So much networking and engagement is based on high value expert individuals - they are usually the first point of contact - where potential customers are seeking out specific individuals who represent a very particular expertise. The danger here is that too much of the brand equity gets invested in the individuals - which can weaken the overall business proposition and leave it exposed when certain key staff members move on.
The challenge is to elevate your experts, while at the same time strengthening and retaining that essence of expertise within the business. So that if and when those key staff members move on, you don't suffer the perception that some of your core competency has been lost. A key vehicle to accomplish this is how you present your services offerings, and use them together to leverage the various expertises and anchor them to the core business and brand.
This exercise is one of structural taxonomy and content layout - so you present your Experts, Enterprise and Evidence / Collateral all on the same screen - bonding together the different areas of operation and elevating the company presence in relation to the individual expert.
You essentially need an easy and elegant system for bringing all these elements together to display on single value-enhanced screens. In fact our Affino Unified Digital Business Platform derives its name from just such a core activity. 'Affinity' is baked into the very core of Affino and it allows you to quickly assemble screens of related content - which pull together Expert contact profiles with biographies, company credentials and related collateral and evidence - be it case studies, articles, features, blogs, official publications, document downloads and various media.

Enterprise
The core business and company - its own persona, history, track record and essential brand values. The Enterprise consists of all the Company Credentials that make up the core offerings - sector segments serviced and with what expertise. The Taxonomy of the Enterprise is critical - how you arrange and lay out your various areas of core competencies and how you relate the different aspects of the business together. Taxonomy, structure and topics are key to how you organise the navigation of the site and how you cluster information together into totally relevant and on-point landing pages, hubs and mini-hubs.
The Enterprise component of the equation has to bolster and lend credibility to the various Experts, but must work as a standalone entity too, underlined and reinforced by everything on the site being organised into related clusters. You need to be able to easily discern the core value of the Enterprise above and beyond the various Experts that front it.
Experts
These are the essential cogs and key resources of your business. As stated in the introduction, they are typically the first route in for lead generation, and carry a lot of brand equity with them, as well as easily recognisable personas that make your offerings more relatable and overall more bankable. However - the tricky part is to elevate and promote your Experts, while at the same time building up and emphasizing your company brand and persona and retaining the core value proposition within the business.
The Expertise as such needs to be fully tethered to the core Enterprise so that the experience, knowledge and case histories remain with the business as and when key members of staff move on. This means building up hubs around core competencies - using Topics and keywords to bind Experts to Expertise and Company Services.
Evidence
These are the actual digital assets - materials, articles, collateral and media - or actual references, exhibits and other communicable manifestations of core competencies. They of course include Case Studies and Testimonials - written, visual and moving image. In advertising we talk about 'serving suggestions' and all companies need to build up profiles and narratives for exactly how potential customers might avail themselves of your services - based of course on previous case histories and extrapolations thereof.
So with Enterprise you describe what you are really about and how you do it, your Experts are your agents of change, and your Evidence is your record of achievements. Everyone wants a piece of success - and so you need to communicate that success in a way that makes it appear equally achievable for the potential customer. Testimonials are so much stronger with a portrait picture of the person bearing witness, the ultimate here being recorded video footage. It must be said though, that if video is not tightly scripted and the tone just right, it can undermine strong statements of intent, so that you are often better of with more static equivalents.
Affino
The Affino Unified Digital Business Platform is the vehicle that enables just such scenarios - having everything built into the system and driven through a Core Connected CRM. Giving you extensive control over all your business assets, material and human resources. Affino is what has enabled Drewry for instance to ramp up their presence so successfully, and maintain it so easily.