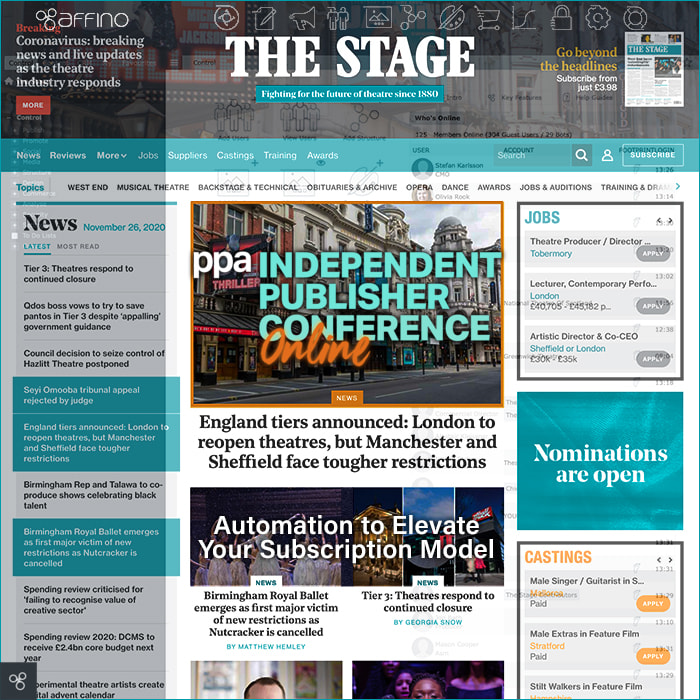 PPA IPN The Stage Affino Subscription Automation Think Tank
Affino and The Stage jointly ran a think tank last week at the PPA Independent Publisher Network Conference to explore subscription automations. We have been working very closely with The Stage for the past year, not least to ensure that all the subscription workflows are as effective and automated as possible. You can read more about it in The Stage Case Study.
The think tank (round table) was lead by Simon Hassell the Commercial Director at The Stage, Rachel Scott the Head of Marketing, Quang Luong, Affino's Product Director, and myself Markus Karlsson CEO of Affino. It was also well attended and the most entertaining event based conversation we have had this year. Many thanks to all those who attended, and hopefully it was as useful and enlightening to all the participants as it was for us.
Automation is the way to most effectively streamline your engagement with your subscribers and prospects. Get it right, and the onboarding journey is smooth, and your customer teams can focus on creating the best experience rather than deal with the nitty gritty on a daily basis.
For The Stage we focused on maximising the effectiveness of the automation for each of the key subscription lifecycle stages, as well as the financials, reporting and analytics. In preparation for the Think Tank we jointly worked through the core elements.
Fundamental to being able to automate your processes is for them to be fully integrated.