Samsung Q320 13.4" Laptop in White

by Stefan

09 September 2010 12:28 AM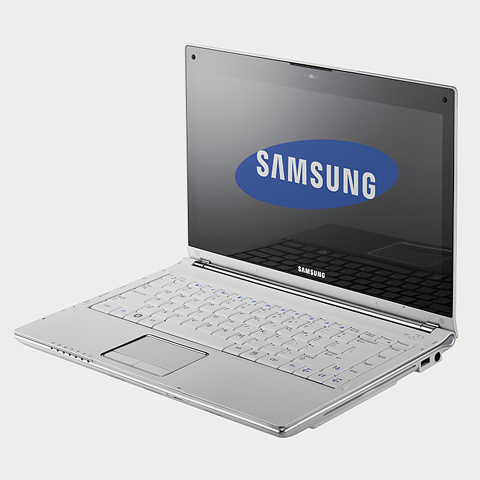 The perfect combination of form, performance and practicality
Back in October of 2009, it took me several weeks of research to select a portable companion which fulfilled all my requirements. Portability was the first concern, and I initially looked at a variety of different netbooks - but these were all under-powered, low resolution (screen) and had no onboard CD-drive, it became quickly evident that I would need to turn to a small laptop / notebook computer.

Aesthetically, I was wanting something along the lines of a Mac Powerbook whose elegance I much admired. The nature of the business I am in though compels me to use a PC, as the vast majority of Internet users are still very much PC-based; moreover, I have always had a thing for 2-button mice and the more hands-on nature of PC keyboard shortcuts and commands, as well as the full access to all areas of a PC's operation.

There are all manner of considerations that need to be made - you need to be aware of the 'crapware' (bloatware) that comes with many computers - legacy manufacturer's programs which clutter the desktop and impact on start-up times. By nature, I am also quite largely led by aesthetics, never though wholly to the detriment of function or practicality.

When I came across the 13.4" Samsung Q320, there was so much of it that ticked off against my checklist. Some of these were quite tiny details, like having a multi-touch trackpad, or a slot-loading CD drive; also that the screen has a black surround, whilst the rest of the laptop is white. I have a thing about TV Screens and Monitors being best surrounded by black frames for maximum picture contrast. I also wanted decent RAM memory for working in multiple applications and having several browser windows open simultaneously - for interlaced browsing - how I like to work. Finally, as someone who works with graphics a lot, particularly PhotoShop, a healthy screen resolution was required. What so quickly put me off the netbooks was the typical 1024 screen resolution, 1280 at best in rare cases. The Samsung Q320 gave me 1366 x 768 - perfectly adequate for Website design.

It seemed that the Samsung Q320 fitted the bill in pretty much every area, there were similar laptops with slightly better specced processors, but the 2.0 GHz Intel Core2 Duo T6400 processor would be perfectly adequate for my needs. There was a later Q320 model which had a slightly better processor, but the pearlescent white model was so much more elegant, that I could not give up on the better aesthetics. Finally, the laptop was equipped with a 500GB hard drive and a pretty competent graphics card in the form of an nVidia GeForce G10M with 256MB RAM. Other delights are the feel and arrangement of keyboard, alert lights and various ports - perfectly arrayed in the requisite number.

But what of downsides? I would name 2 really, battery life is not great - 5 hours is quoted, I am lucky to get 3 1/2 with my usage, perhaps I am a power user then! Also, build quality although largely very solid and excellent, has a little too much flex on the laptop lid - i.e. the concave outside of the screen. On a Mac PowerBook you would get no flexing, however for the specs of my final choice Q320, the total bill was just £600, pretty much half the cost of its Mac-equivalent, not that there was a model then with equivalent specs. I was lucky that my purchasing decision occurred at this particularl point in time, as the new Samsung Q330 model which replaces mine - is really quite hideous, and only seems to have moved forward in the area of processor, everything else - looks, 320GB hard drive, drawer-loading CD-drive, light coloured frame around the screen - these are all a step back.

What about those who say - you should have bought a Mac, you could have split it and run both Mac OSx and Windows! For me, that is just one step too far, and price-wise, maintenance and upgradability-wise makes little sense. After owning my little Samsung for nearly one year now, I can quite confidently profess that it was entirely the right choice, and apart from the slight flexing of the lid, and meagre battery reserve, it has never failed to delight me in regular use.
Overview
Topic



Website / URL
www.samsung.com

Features / Highlights
Processor: 2.0 GHz Intel Core2 Duo T6400
Graphics Card: nVidia GeForce G10M with 256MB RAM
Hard Disk: 500 GB
Memory: 4 GB
Screen Size: 13.4 inches (1366 x 768 resolution)
Webcam
Battery Life: 3.5 hours
Weight: 2.18kg
Dimensions: 326 x 228.5 × 36 mm

Pros
Great Screen
Good Keyboard
Great Memory - both RAM and Hard Drive
Slot-loading CD-drive
Multi-touch trackpad
Beautiful aesthetics
£600 price tag is spot on

Cons
Flexing on computer lid - it does not flap or anything, but I would prefer absolute 0 movement
Battery life is not great really

Verdict
Like I say in the main body of the review, if you wanted the best combination of form, performance and practicality - this is it, or at least was back in the Autumn of 2009 - better options may yet be found today though