Fiat 500 by Diesel

by Stefan

05 March 2009 09:32 PM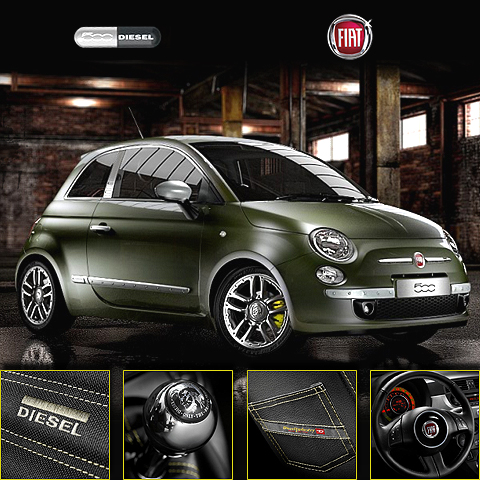 A new type of designer urban runaround
Most collaborations between fashion brands and automotive manufacturers result in even bigger ticket items, as typefied by the Hermes Bugatti Veyron. Every now and again though, we get a collaboration aimed at the more average stylish man or woman on the street.

According to all the motoring journals, this is the year of the small car, and after the BMW Mini has hogged the market for a while, it is now facing challengers on every front. No one is more likely to take Mini's crown than Fiat's new runaround, re-designed for fashionistas by none other than leading hipster jeans brand - Diesel.

Diesel has really taken the challenge to heart, significantly modifying the standard car with great signature detailing. The engine and mechanics are standard Fiat, and we won't concentrate on those here. Suffice to say that when I was at university, my runaround was a Ferrari blue Fiat Uno 70 Super - which I loved to bits until it fell to bits a few years later. Anyway, Fiat has significantly upped its build quality since then, but Fiats are still high revving urban tearaways - which are great fun to throw around inner-city; not so good on motorways and inter-city.

The Fiat 500 by Diesel benefits from its own unique grill and side-bars, alloy wheels with Diesel Mohican at hub, unique green paint job and colour-coordinated brake calipers.

The Mohican appears again on the gear stick, and all upholstery uses hybrid Diesel jeans fabric with signature pocket detailing and stitching. All of this should be just enough to draw buyers away from the slightly better residuals of the Mini.

The Diesel-design Fiat 500 is an elegant little runaround peppered with great design detailing. It introduces fashion right into the heart of the motor industry; it will be interesting to see what collaborations follow. We all know that Paul Smith has dabbled with Mini before, but that was on a much more limited level. This is the first time a designer car has been fully mass-marketed. I certainly would not mind owning one.
Overview
Topic




Website / URL
www.fiat.co.uk/500ByDiesel

Features / Highlights
Diesel Jeans fabric upholstery
Unique Diesel paint job and bodywork detailing
Diesel Mohican Alloy Wheels
Diesel gear stick and branding on dashboard

Pros
Affordable big ticket designer gear
Genuinely stylish urban runaround
A car to match your jeans and vice versa

Cons
For the price, quality and value, there's really nothing to complain about

Verdict
A great fashion experiment combining two Italian greats to produce the perfect urban runaround