26 Nov 2014 10:00 AM

Popular

Comments

Profile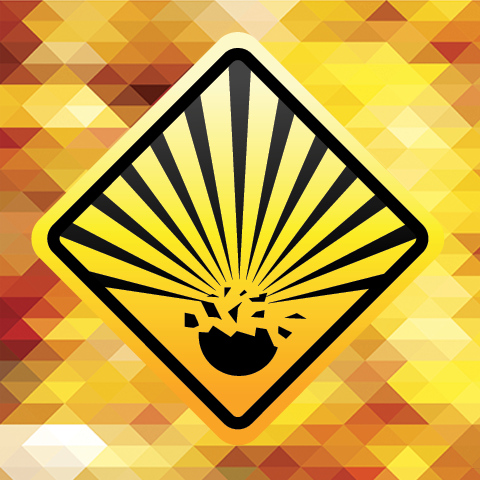 You are being Tracked
Wherever you go on the web today, you are being tracked, it's simply a fact of being online. A great deal of this tracking is benign and has positive purposes such as presenting you with better content, better networking recommendations, special offers and generally a more personalised experience. But the reality is that a lot of data collected on you is now being sold to 3rd parties to target you in ways that are less appealing.
It's not just you that's being tracked, it's your parents, grand parents and children as well as your colleagues and staff.
The tracking is now also becoming much more pervasive and potent, a look at the Google Dashboard gives you an example of the level of data that a company can have on you.
What can go wrong?
The companies doing the tracking and building up profiles on you may have good intentions today, but that can quickly change as the business evolves, meaning that your data might be shared and used in way you would really prefer it not to. Equally no system is perfectly secure and increasingly data is being compromised and sold on the black data market. Your profile, your family's and your company's profiles can then be used in any number of scams.
Benefits of Privacy Tools to the User
Privacy tools such as Ghostery are simple browser plugins and mobile browsers which let you selectively block 3rd party trackers that you don't trust. Equally you can simply blanket block all of them and then un-block the ones you want to use such as video plugins. It's been estimated that 10% of traffic is now protected by similar tools.
These privacy tools have a host of benefits beyond simply protecting your priacy with the web as it currently works. This is because the side effect of protecting yourself from being tracked across the web is that a lot of the commercial elements disappear off sites. There's no point for an ad provider to display an ad if they can't track if it's been viewed.
Other key benefits include:
Faster page downloads
Less clutter
Longer battery life
The longer battery life one in particular was a surprise for me as moving to Safari and running Ghostery with all 3rd party cookies default blocked roughly doubles my battery life when browsing.

&

...

1 comment
|
permalink
|
email this
|

|





13 Feb 2014 7:36 AM

Popular

Comments

Profile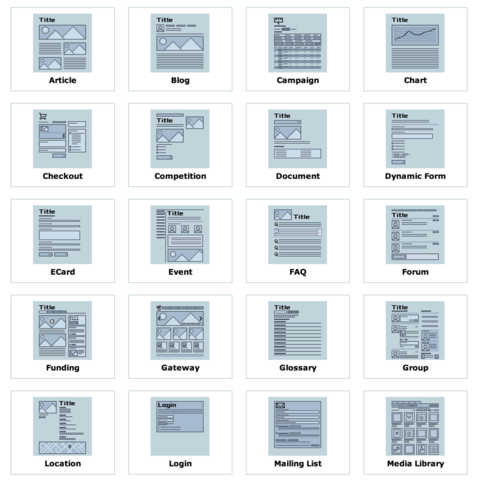 We've got some great usability enhancements coming in Affino 7.5. One of the best is going to be the new interface when you add Channels. It will answer hundreds of questions all by itself and make the process of adding new aspects to your online business that much easier.
Usability First
Channels are at the heart of Affino, they allow you to create dedicated areas on your site for the key activities you will be doing online such as blogs, forums, forms, product listings, checkouts etc. You only set them up when you need them, and because that is a fairly rare activity in Affino the process hasn't been made as usable as it should be.
We know from our conversations that the more you use Affino the more you love it, so we're committed to making it as easy to explore all Affino has to offer. The new Channel adding process does just that, inviting you to explore new areas and making it much easier to do so.
Looking Back
A few years ago we introduced Standard content channels to Affino. The idea behind the new standardised approach was that we could provide a single interface for managing all the 'pure' content ranging from news articles, through to FAQs, Presentations and Glossaries. It allowed us to quickly roll out publishing workflows for all content, unified tagging (taxonomies), live editing and much more.
The downside was that it became more complicated to set up new aspects from scratch and Affino's performance took a hit since we now processed a great deal more for each and every standard content page.
Over the years we have made adding channels considerably easier by improving the initial Affino build to include all the key channel types, meaning that for the first site everything is ready to be tweaked. We introduced the jump lookups which allow you to instantly do a detailed lookup or add new settings where they are required when adding channels. We also improved the performance over the years through multiple optimisation rounds.
The issue remained though that when you came to add new channels or new sites the process was needlessly complicated and the performance issues have never fully gone away. That all changes with the upcoming release.
The Way Ahead
The new Channel type selector (see above) is a great evolution from

...

3 comments
|
permalink
|
email this
|

|





28 Jan 2014 2:59 PM

Popular

Comments

Profile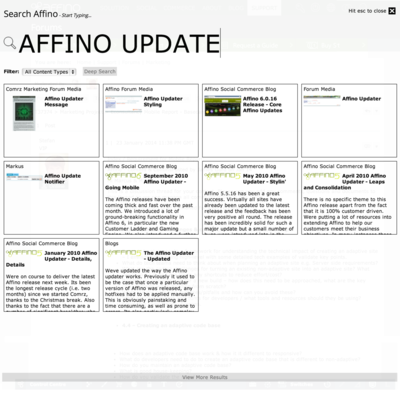 Affino 7.4 is very much a usability focused release which includes six months' worth of usability improvements and bug fixes. There are key usability improvements throughout Affino and the CRM in particular has been transformed in its day-to-day usability with this release.
Affino 7.4 also introduces two new significant behind the scenes changes. The first is that everything now points to affino.com, the second is the shift for the Design Centre to be the Classic Design Centre. You should not notice any changes with these two introductions except they're pointing at different locations.
This release also prepares much of the groundwork for Affino 7.5 which sees the introduction of the responsive design centre later this quarter.
Upgrade Guidance
The Affino 7.4 is very much a stability release and is an essential update for all Affino sites. It is an easy update, simply go through the standard update process. You will need a new licence key to access the updated Social CRM elements so please contact your account manager.
It is essential that you run through the complete update process starting with the Affino Updater, followed by the System Update, Re-Initialise Site, Design Element Update, Skin Update and finally Clear Guest Cache; all of which are available on the Settings > Update screen.
Key Enhancements
Social CRM

Affino's Social CRM has seen major improvements in this release with the focus on improving the sales workflows and productivity. It means it is now easier to work with prospects as they are created as non-members and then seamlessly transitioned to full members when they register, bringing along all the pre-registration contact history. A major focus has been on minimising the steps required to manage prospects, e.g. entering the details on the contact for a new Account will instantly create the account.

Finding contacts is now much easier as you can tag them to your 'My' list anywhere with simply a click. When searching and you select a user from the predictive drop-down you will be taken to them immediately.

We also introduced Contact Notes which let you easily track any correspondence with the contact. These are then instantly trackable to Accounts and to a centralised Contact Notes screen. Future upgrades will see

...

1 comment
|
permalink
|
email this
|

|





21 Jan 2014 9:30 AM

Popular

Comments

Profile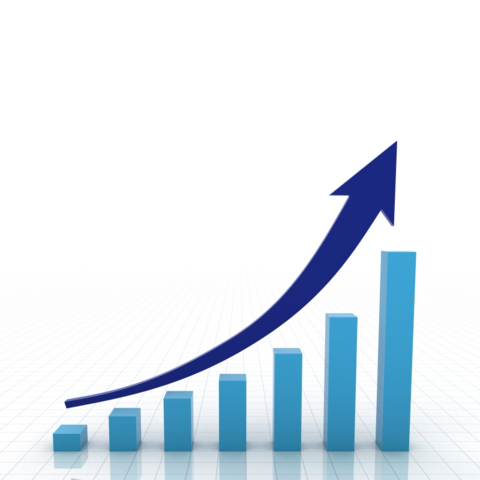 Increasingly Affino training involves conversations on how to get started with SEO, here's the Quick Start guide on SEO with Affino. SEO is one of the three key ways to promote your site.
This is Not an in-depth guide on how to use each of the Affino elements or on specific SEO strategies, rather it is to help you get started with the basics, i.e. a 'What to do' rather than a 'How to'. Some of which happens in Affino, and some of which happens externally.
Refresh your Brand Profile
The first thing you need to do is to create your brand profile, or update it to include the essentials outlined by Stefan in his great 'Creating the Perfect Brand Profile' article.
Based on your Brand Strategy identify the initial keywords you want to promote. These are based around your products, services and more importantly on what you would search for to find your products and services. Essentially these are your target customers' interests.
Build up a hierarchy of keywords (Topics) in a simple indented list, just starting off in a Word document, e.g.
Affino

eCommerce

Store
Shopping Basket
Checkout
Coupons
Discounts

eCommunity
eMedia
You'll use this to help identify the key word and terms you'll be promoting your site on.
The Essentials are: Personality, Unique Content and Currentsy, see my post here. If you don't get these right, forget about any of what I've outlined below. You'll just be wasting your time and money.
If you have them covered, and are committed to them, then they will be the cornerstone of a great site.
Zones
Update your Zone so you have the right site information and SEO settings. You can always change these, but get the basics set up straight away. Make certain your site Keywords are in place.

Turn on logging so that you have the essential data available to you in your Affino Analysis Centre. This will allow you to evaluate your future campaigns.

Update the Zone (your site information) to be as relevant as possible. Make sure you're using the best domain as your Zone Domain and

...

1 comment
|
permalink
|
email this
|

|





15 Jan 2014 6:13 AM

Popular

Comments

Profile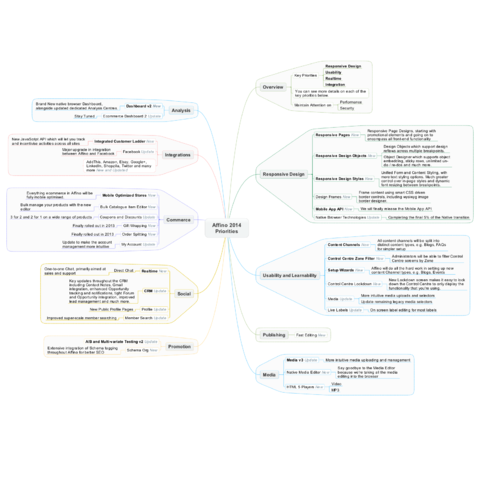 2014 is going to be an exciting year for Affino. Q1 will see the Affino 7.5 release, which introduces the new Responsive Page Designs. These have been a long time coming, but the wait will be worth it. To provide the best experience we went right back to the drawing board for how we serve live pages in Affino so that we could produce the very best responsive interfaces.
In fact Responsive Design is the main priority for the first 6 months of 2014 and everyone should look to be rolling out fully responsive sites on Affino by the end of 2014. We will continue to support the Classic Designs, and you will be able to run the Classic Design Centre alongside the new one until Affino 8.
As usual note that the priorities are subject to change, however we do anticipate a significant pick up in the rollout of new updates once the new Responsive Design Centre is complete. It will be the culmination of a four year plan we've been working through to delivering ultimate cross-platform social commerce experience.
Responsive Design
The new responsive page rendering engine is being written entirely scratch using an object oriented approach which is seeing page generation times up to 10 times faster. The pages themselves also render dramatically faster on the browsers, and we are optimising every part of the process to ensure the fastest mobile experience possible.
The new Object Designer allows you to design and preview designs across multiple form factors with unlimited undo and redo whilst designing. Updated Design Styles now incorporate Form Styles and have been greatly extended to allow for very tightly styled sites including auto-scaling of fonts.
Every single Design Element, Template and application interface is optimised around responsive resizing and cross device usability.
To get the new Responsive Design Centre to you as soon as possible we will be staging the introduction of responsive elements. Phase One sees the roll out of the promotional elements so that you can design and roll out promotional sites (including most social elements), this will be followed by the ecommerce elements and then the remainder.
Usability and Learnability
2013 saw the Control Centre consolidated around the new Affino 7 interface, which is both very usable and presentable. 2014 will see a major focus

...

Add Comments
|
permalink
|
email this
|

|





12 Jan 2014 5:01 PM

Popular

Comments

Profile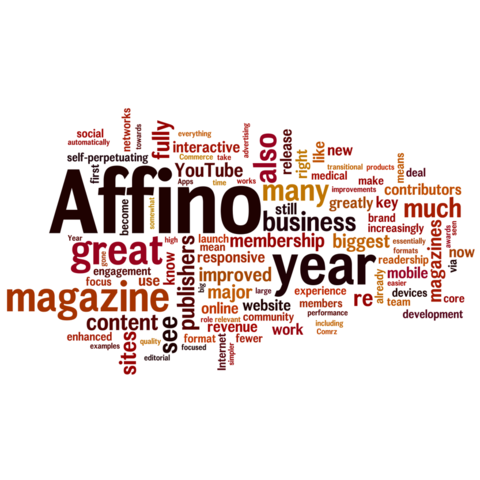 2013 was a year of two halves for Affino development. The first half was primarily focused on the Affino user experience and the second half has been focused on creating a new Responsive Design front-end for Affino which is due for launch in Q1 this year. Along the way Affino saw some great improvements.
1) Performance
We built Affino to scale this year, and to scale at speed without needing any human intervention. This meant major architectural changes where we changed virtually every platform that Affino was running on, or where we kept the same platform we moved to the latest generation.
We also focused on optimising many key aspects of Affino so that it is faster across the board. We have carried on in the second half of the year, and Affino's upcoming responsive design pages are stunningly fast. We know you appreciate the speed improvements you already see, so be prepared to be delighted when you move to responsive.
2) Uptime
Prior to 2013 our focus on uptime had been to make Affino run as effectively as possible on fixed hardware. The reality is that approach is not the best way to develop for the Internet. There are simply too many opportunities for systems to be 'shocked'. Moving to the new generation auto-failover and auto-scaling architecture, and focusing on up-time for the user versus up-time for individual systems has made all the difference.
For high performance Affino sites there has been precisely 0% downtime since the launch of the new architecture. For entry-level Affino sites the uptime has been as high as 99.98%. In fact from the human interaction standpoint in almost all down-time events since the transition a new system has been in place by the time the user hits the re-load button on the browser.
When taken together, the great performance improvements and incredible uptime, it means that Affino is now always there to deliver a fast and effective experience to all users.
3) Messaging
Messaging saw a complete overhaul with new Message Campaigns for mass, personal and SMS campaigns. We split up the old newsletter system to separate out the mailing lists and the message campaigns, and it has transformed how you can communicate with your community through Affino.

Message Campaigns can now be used not only to send occasional manual

...

Add Comments
|
permalink
|
email this
|

|





03 Jan 2014 7:50 AM

Popular

Comments

Profile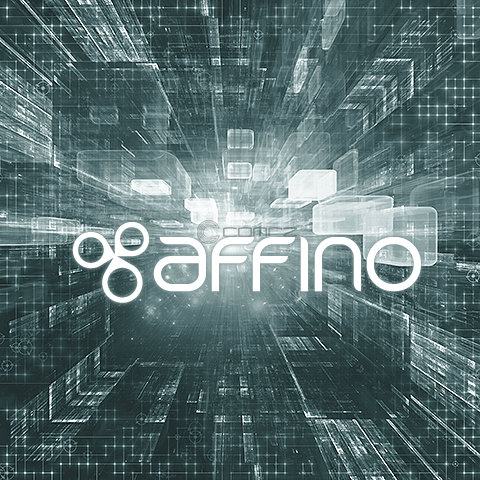 You will have noticed that we're fully embracing the Affino brand. Up until now we have had Comrz front and centre and Affino has very much been the product brand.
To make everything simpler and more effective we will now be focusing on just the Affino brand, and all of our engagement will be through Affino and affino.com. The company will remain as Comrz Ltd, but will be trading as Affino.
It will take most of January for the switch to be completed, but it is already well under way. Let us know what you think.
Add Comments
|
permalink
|
email this
|

|





20 Dec 2013 9:54 AM

Popular

Comments

Profile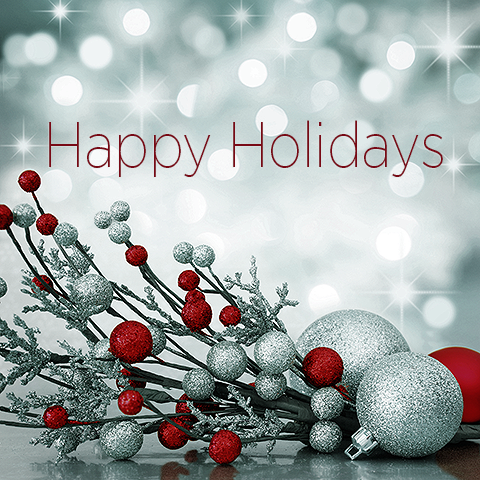 We would like to thank everyone for a great 2013. We welcome on board splendid new Affino users, and celebrate the amazing success that so many of you are seeing with your online engagement and revenue growth.
It has been a year when we've seen some great site evolutions and have started to see Affino sites win major awards. In particular Procurement Leaders with three PPA awards (the UK publishing Oscars). We continue to see Affino sites evolve towards their potential and we'll work with you to help you get the maximum benefit from your online presence over the coming year.
A Year in Transition
This year has been a great transitional year for Affino with the first half of the year focused on the Big Bang move to the new super scaling high availability version of Affino. From your feedback we know that you're appreciating the solid improvements in uptime and performance.
Online business has been evolving more gradually over the year and the improved stability in the ecosystem means that for the first time we've been able to slow down the release cycle somewhat, something that we know many of you appreciate. Looking ahead we're aiming to bring out just three to four major release each year, compared to the 6+ we have been historically.
There have been a number of key enhancements to Affino this year including the greatly enhanced Analysis Centre with the updated Customer Ladder, Ecommerce Dashboards and greatly increased timeframes for all analytics. Messaging had the biggest evolution to-date with greatly improved messaging campaigns, SMS integration and improved auto-responders.
Invites and relationship management have both been transformed this year, in fact it is now easier to look up, select and connect throughout Affino. Affino's look and feel also improved considerably with more refined styling options, Design Panels and greater ability to use custom CSS.
The second half of this year has been all about developing Affino into being a cutting edge responsive design platform that works seamlessly across all devices. Like many good things it's taking longer than we had hoped to bring you the first responsive release, but the long baking period will be worth the wait.
The Internet in 2013
This year has been very much a transitional

...

1 comment
|
permalink
|
email this
|

|





29 Nov 2013 2:20 PM

Popular

Comments

Profile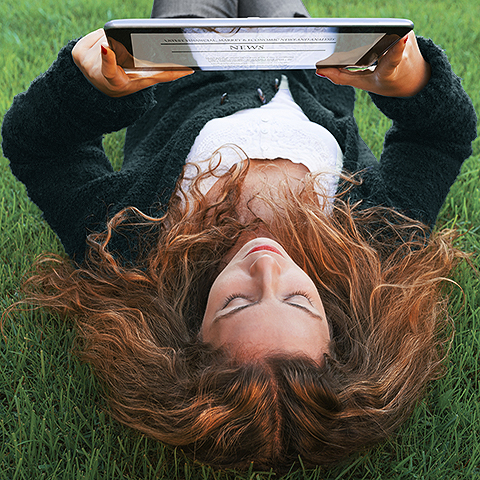 Most leading magazine publishers have long realised the benefits of delivering their magazines digitally via the Internet or Apps. Many still persist with PDF style / Digitised formats which simply render their hard-copy magazines in digital editions which can be paged through online, but essentially retain the exact same linear structure of the offline equivalent.

The more clever magazine publishers have gone with an enhanced-benefits online-subscription model and have adapted their magazine fully to an interactive website format. I have often cited medical magazine publishers and the unique environment that has evolved for its consumers. For many medical magazines, the key content contributors are also the main members / subscribers - who provide research papers and 'abstracts' which populate the 'magazine' and essentially drive the publishing business. The medical magazine business is therefore somewhat self-perpetuating and inwardly driven by its own membership.

YouTube is another classic example of a self-perpetuating, community-driven enterprise. Once again. it is the membership that drives and delivers the content via video submissions / uploads. YouTube incentivises these content contributors by giving them a share of the advertising revenue directly derived from other members watching those contributors' uploaded videos. In short, most of the traffic on YouTube is for viral videos uploaded by their own membership - this includes relatively recent big hitters Ylvis's 'The Fox' and Psy's 'Gangnam Style'.

There's lots of examples from online communities which turn into semi-webzines by harnessing their members' output - football sites like ExtraFootie and Proven Quality. Professional publishers can take more of a leaf out of YouTube's playbook - in terms of engineering a high quality interface - which works cross-channel and incentivises its membership to contribute towards the sucess of the enterprise.

When I talk about the enhanced benefits of a fully interactive website format, I mean a living magazine with integral comments and contribution channels - which encourage debate and further involvement. All the traditional magazine elements - features, reviews, interviews, advertorials, competitions etc. can be run through the website

...

2 comments
|
permalink
|
email this
|

|





26 Oct 2013 1:44 AM

Popular

Comments

Profile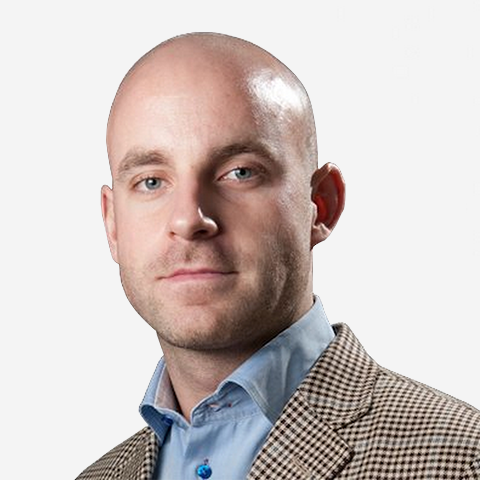 We're very pleased to welcome Marcus Svensson to the Affino team. He comes to us with over 14 years of experience with a wide range of eCommerce and CRM technologies across all delivery models.
He brings a strong background in business development and is an experienced entrepreneur in his own right. He's lived and worked in Europe, the Middle East and the US, and is a polyglot.
We like him a great deal and feel that he's going to be a key addition to the team. His role will be focused on establishing Affino as the go-to provider for Social Commerce solutions. This means leading our business development initiatives and helping Affino to build a great rapport with the wider Social Commerce market.
You can see a great deal more info at Marcus's LinkedIn Profile.
Add Comments
|
permalink
|
email this
|

|


| | |
| --- | --- |
| Found: 152 Displaying: 1-10 | |