29 Jan 2015 11:38 AM

Popular

Comments

Profile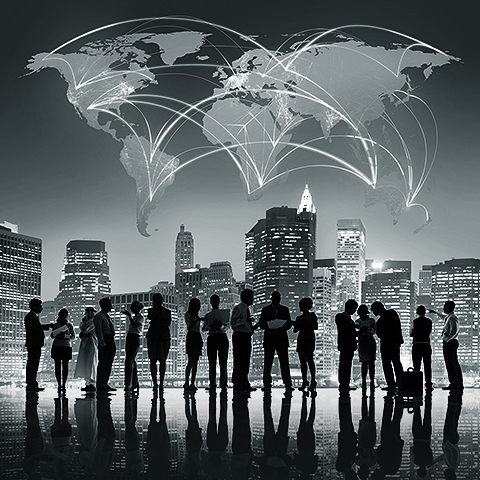 A recent article on the Media Briefing quotes chief digital officer Alceo Rapagna of Italy's RCS Media Group, who states that traditional sources of revenue are still shrinking and likely to continue to dwindle. RCS Media Group is already diversified into TV, newspapers, magazines and book publishing, yet this is still not considered sufficient to safeguard the group's future.

For me a great counter-point is the growth of alternative media services such a Vice, Newsy, Buzzfeed and even Yahoo's twice daily 'News Digest' app. The ongoing international success of Buzzfeed certainly should not be ignored. Publishers are having to think increasingly smarter, not only in how they create / source their content, but really how it is contextualised, packaged and delivered. Social Media sharing is proving to be increasingly important, and the high number of shares Buzzfeed continues to get is causing consternation for most mainstream media owners.

YouTube is still a runaway video media success, and even though many don't consider its core mechanic, most of the high volume traffic is largely down to crowd-sourced content. I have always advocated the view that self-fuelling crowd-sourced media outlets were the future of much of publishing. Think of fanzines which are almost entirely populated by their membership. There is still a need for some degree of editorial control - in how best to organise, package, display and deliver said content, but far less needs to be actually originated in-house as such. If you want to continually keep things fresh and interesting, it's as well that you tap into what's happening organically and virally.

Buzzfeed and Daily Mail have shown just how international an appeal content can have - on my Facebook feed, I get the same articles being shared and liked again-and-again over a period of several years, translated and transmogrified across different mediums and re-shared, re-distributed and liked and promoted all over again.

The digital / mobile world is a truly international medium, I have friends in all continents, and follow them, as well as all manner of artists, celebrities and opinion-leaders across languages, international boundaries and time-zones. I have long protested the ridiculousness of staggered releases of media - whether digital or printed

...

Add Comments
|
permalink
|
email this
|

|





23 Jan 2015 12:05 PM

Popular

Comments

Profile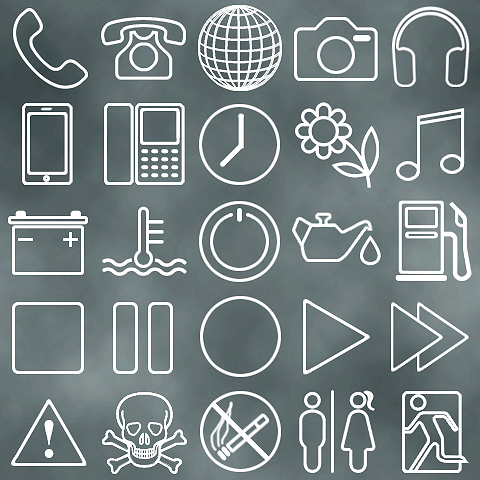 Hieroglyphs, Pictograms and Insignia have been with us in some form from the earliest of our sapient ancestors, as featured in some of the earliest recorded cave paintings. They are an essential part of communication, used for marking territory and in the running of this modern world. We encounter them as a sometimes subtle, though typically an overt and constant barrage of marks, instructions, labels and alerts.

A cursory glance over the above sets of icons reveals a multitude of squares, rectangles and triangles alongside some slightly more abstract and curved forms. There is a spine of circles straight down the middle, and the icons are arranged in rows of themed families.

One of the most ubiquitous encounters you have with icons is on the home screen of your smartphone, where pretty much all smartphones now use a nigh identical set of symbols to represent the key functions. The two top rows above represent icons typically found on smartphones with juxtaposition between modern and traditional symbols as well as using variations to serve the same purpose while achieving subtle differentiation.

Row 3 should be familiar to all car owners, but hopefully not seen that often - bar the On-switch. The penultimate row has roots in the old reel-to-reel tape decks of the 1920's, and should be obvious to anyone who has ever operated a cassette player, CD player or DVD player. The final row features common public signage which should be part of most people's daily lives.

Pretty much all shapes convey some inherent meaning, the earliest written languages were based on pictograms. Most shapes have multiple meanings, even on occasion contrary ones. The best symbols are those instantly recognisable as stand-alone icons, many more though need a specific context or sequence to convey their function. Certain well-known symbols can even by co-opted and corrupted, as was the case with the Gammadion Cross / Swastika which was a sacred symbol for auspiciousness in Hinduism used for a few thousand years before the Nazis got their hands on it.

When we design brandmarks, we are always looking to convey meaning and inherent values in the symbols we choose, something that can be instantly recognised and has the right sort of traction with the intended target audience. Symbols form a significant part of a larger visual

...

Add Comments
|
permalink
|
email this
|

|





21 Jan 2015 1:49 PM

Popular

Comments

Profile
Tags:
Social Connectors
,
CRM
,
Affino
,
customer ladder
,
Affino Automated Customer Ladder
,
Customer Relationship Management
,
sales automation
,
marketing automation
,
Customer Experience
,
Customer Service
,
Customer Experience Management
,
Sales and Marketing Automation
,
Affino Social Commerce Platform
,
Automated Triggers
,
Automated Messaging
,
Consumer Incentives
,
Customer Engagement
,
Customer Rewards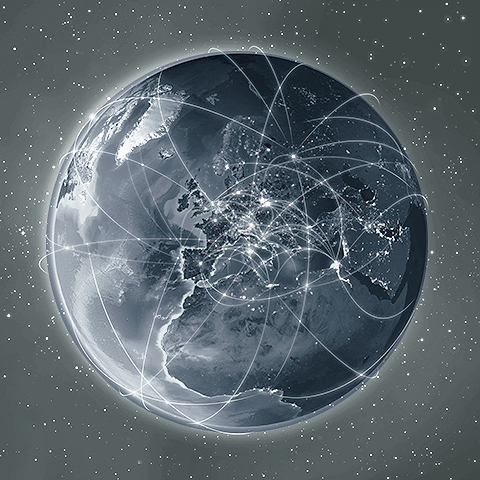 There have been a large number of articles in the past couple of months pitching and debunking the different angles on Sales and Marketing Automation (SMA). For most companies SMA means adding yet another layer of software / systems on top of an already highly complex suite of solutions. Most articles conclude that Sales and Marketing Automation is really only for the largest of companies, that it is not practically viable for small to medium enterprises.

One of the key things we at Affino do is to declutter and demistify the process and purpose of digital business / commercial website ownership. Affino's Seamless Holistic Solution has SMA built into the core of the system, alongside CMS, Ecommerce, Community and Analytics. The truth is that modern business / digital business is highly complex and without a singular system like Affino, it is almost impossible to manage properly.

A key myth for any website or digital business is that these things entirely run themselves. What you have in reality though is an engine, and we are talking about the difference between a steam engine and a modern computer-controlled one. The analogy is really about the change in focus from shovelling coal to fine-tuning where the engine takes you and how. With modern digital businesses systems like Affino, you still have to fuel and fine-tune them, but your resources are spent on making the journey more enjoyable versus just ensuring that the engine runs.

What does Sales and Marketing Automation deliver for all companies?
Effectiveness - Modern Marketing including Growth Hacking is highly complex and active across dozens of different mediums and contact points, you simply cannot track and action everything manually
Efficiency - With Affino, a single person can accomplish the actions and activities of an entire team or small division
Scale - Target, track and respond to millions of activities
Reach - Modern Business and the Internet is truly Global, you have untapped customers around the world
Scope (24/7) - Every business has limited operating / office hours, yet customer interest can be aroused at any time

The 7 Essential Principal Parts of Affino Sales and Marketing Automation
Customer Ladder - Sales and Marketing Automation is core to Affino, as part of the Automated Customer Ladder, it ties in with every activity and every contact point of your digital
...

1 comment
|
permalink
|
email this
|

|





13 Jan 2015 2:15 PM

Popular

Comments

Profile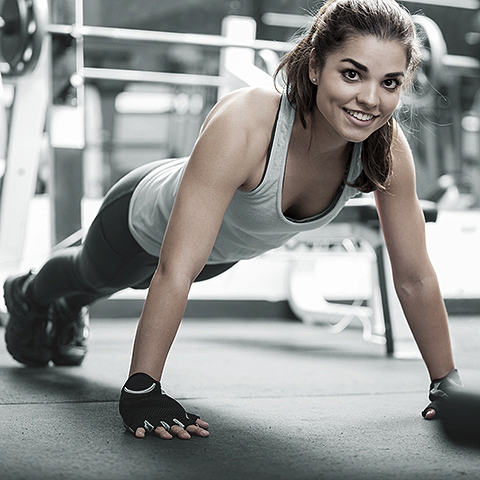 For most companies and organisations January is the time you review the previous year's performance and start preparing yourself for the year ahead. It's usually evident by now which areas need attention and what needs to be put in place for a more successful future. Most companies suffer from a degree of seasonality - where certain months of the year yield significantly lower revenues than others. In certain industries even, the Christmas period can be responsible for as much as 80% of the year's turnover. It is critical therefore to be properly set up for the year - so that you can take best advantage of peak times and weather the droughts between. The following overview is a quick checklist:

Finances
Reserves - Keeping a small but significant portion of funds saved for emergencies, prudent fiscal policy
Cash Flow - The bane of many a small company - ensuring you have disciplined procedures in place in order to be paid in a timely fashion - fines for late payment, beneficial terms for swift payment etc.
Facilities - Overdraft, Factoring, Short-term Loans - essential services for seeing you through the leaner times of the year
Investment - Significant inflow of funds - usually to cover some form of expansion - be very careful what you give away for a stake in the company though, it is absolutely essential to attract the right sort of investor - someone who is in it for the long-term and does not put short-term gain above everything else

Human Resources
Growth - Adding staff to cope with / take on additional work - key criteria is compatibility with existing workforce over everything else
Pruning - Ensuring that the organisation is properly lean and harbours no 'passengers'
Replacements / N+1 - Most companies and organisations suffer some degree of churn or absences, things like maternity leave and sick days etc, need to be factored in as well as key staff holidays

Collateral / Consumables
Sales - Essential Sales Materials - Sales Presenters / leave-behinds, Presentations and other Face-to-Face materials, Price lists, Case Studies etc.
Marketing - Brand Maintenance, Newsflow, Social Media, Growth Hacking
Events - Trade Shows, Customer Events, Co-hosted Partner Events and Round-tables
Stationery / Supplies - Everyday office consumables - most companies need the basics of business
...

Add Comments
|
permalink
|
email this
|

|





06 Jan 2015 12:50 AM

Popular

Comments

Profile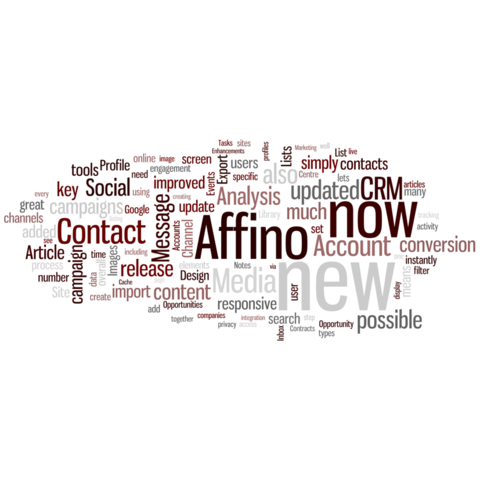 2014 saw some great new developments for Affino. Many of the developments happened outside of the product side, key highlights being growing our revenues by 70%, focusing on the Affino brand so everything about us is now Affino, and growing the team by 50% with great new team members. We also made significant leaps forward within the UK media space, of which we'll be able to tell and show you much more over the coming months.
Affino's growing footprint meant that we've evolved how we develop and deliver the Affino Service. The main change has been to create two delivery streams, one focused on developing the core Affino platform and a second focused on delivering Affino services and working with our clients to build out their digital businesses. It has taken some effort, but the benefits will be felt by everyone in 2015.
2014 saw the smallest number of Affino releases yet, with just two major releases, however there were 628 update projects covered and Affino's ability to let you manage your customer relationships has been completely transformed. As usual it has been hard to pick the top ten updates for the year, however the following are the stand-out ones for me.
Responsive Design
Although not fully released yet, our main focus for 2014 was again Responsive Design. We have completed the lion-share of the intellectual work behind the new Responsive Design Centre and the new Responsive Page Engine and are now in full-on execution mode. We have multiple responsive design projects under-way and although the new responsive design centre is not available to all, it is being heavily used on a number of projects and live sites. This means that when we do finally release it this year we know it will have a transformative effect.

We're now in year four of Affino's transition to responsive design, and at every stage we have decided on the harder but better route for Affino. It means that when we finally do release the responsive design centre publicly it will be world class in it's performance and ability to deliver the next generation in multi-device optimised sites. You will also be able to run both classic and responsive pages alongside each other meaning that you're not forced to do a big bang shift, giving you the time to make the most of what is going to be possible.

...

1 comment
|
permalink
|
email this
|

|





02 Jan 2015 3:58 PM

Popular

Comments

Profile
NOTE - this blog post will be updated throughout the year, particularly the Album Release Schedule ...
2014 was an excellent year for music all in. Not much rock really, but plenty to get excited about. There are not as many big releases forthcoming in 2015, which seems destined to be the year of the blockbuster movie. Nevertheless there are lots of minor music industry intrigues happening - especially Apple's imminent launch of iTunes Streaming. There are also a number of new artists exploring interesting diections in 2015 ...
Top 10 Albums of 2014
St Vincent - St Vincent
LP1 - FKA Twigs
Goddess - Banks
Cut Your Teeth - Kyla La Grange
Beauty is Pain - Rebecca & Fiona
The Inevitable End - Röyksopp
Chiaroscuro - I Break Horses
Blue - Iamamiwhoami
Kiasmos - Kiasmos
No Mythologies to Follow - Mø
[for a greater selection see Best of the Year 2014 article]

Top 10 Tracks of 2014
B a NoBody / Blud - Soak
Chandelier (Four Tet Remix) / Free the Animal - Sia
Prince Johnny / Digital Witness - St Vincent
Hideaway / No Enemiesz - Kiesza
Tough Love (Cyril Hahn Remix) / Say You Love Me (Gorgon City Remix)- Jessie Ware
Two Weeks / Pendulum - FKA Twigs
Rather Be / Real Love - Clean Bandit ft. Jess Glynne
Beautiful / Hey QT - A.G. Cook / Sophie
Change / Beggin for Thread - Banks
Do It Again (Original) / Monument (TIE) - Röyksopp and Robyn
[for a greater selection see Best of the Year 2014 article]
My Top 21 Online Music Discovery Resources (alphabetical)
Every day / week I get a number of new release prompts - automated subscriptions from most of the following list. I follow several hundred favourite bands / musicians / DJs on Facebook now and for the last few years these have been the source of a surprising proportion of new likes for me. If you want to check out a known-name band, then it's difficult to do much better than Last.fm - to check to see if an entire album is worth buying - Spotify or Deezer are essential resources. For more obscure / left-field bands, you can usually find these on SoundCloud or Bandcamp. A very high proportion of these resources focuses on electronic music, which is of course my primary music of choice:

1 comment
|
permalink
|
email this
|

|





31 Dec 2014 12:29 AM

Popular

Comments

Profile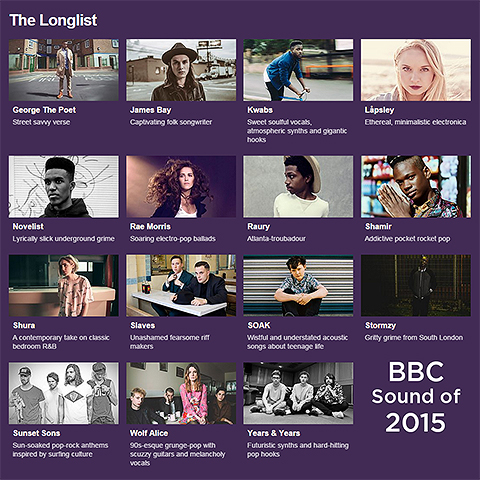 Time has come around again to scope out new directions and find some new blood which may just strike it big in the forthcoming 12 months or so. I've already discarded some nominations as they featured heavily last year, or have already released a commercial album (you can unleash infinity mix-tapes and still feature!). Anyway, should be something for everyone here from this list of 88 contenders. James Bay seems to be favourite already, and has already picked up the BRIT Critic's Choice Award. There are 27 here I rate highly, including 7 of the 10 most popular. I typically don't go for too much folk or guitarry strumming, but if it's really special it may just strike the right chord. Really impressed with what Ben Khan and Kacy Hill are up to ...
Advocates = Amazing Radio, BBC, Deezer, Gigwise, GlobalGrind, Guardian, iTunes, MTV, Spotify
x3 etc. = number of backers
+ = rated by Stef!

Most Championed Artists
James Bay [Contemporary Folky Pop | 2015 BRIT Chritic's Choice Winner] x7
SOAK [Ethereal Singer / Songwriter] x6 +
Years & Years [Dance-inflected Electronic Pop, tour with Clean Bandit] x6 +
Raury [Singer / Songwriter] x5
Ibeyi [Soulful Percolated Pop] x4 +
Kwabs [Contemporary Soulful Pop] x4 +
Låpsley [Ethereal Electronic Pop] x4 +
Shura [Contemporary R&B-inflected Pop] x4 +
Slaves [Percussive Riff-Rock] x4
Becky Hill [Contemporary Pop] x3
George the Poet [Poetic Lyricist] x3
Laura Doggett [Singer / Songwriter] x3
Rae Morris [Singer / Songwriter] x3
Seinabo Sey [Soulful Pop] x3 +
Sunset Sons [Surf-inspired Pop-Rock] x3
Stef's Top Outsider Picks
Ben Khan [Deep Electronic Pop] +
Kacy Hill [Futuristic R&B] x2 +
Tourist [Dance-inflected Electronic Pop] x2 +
Full Alphabetical Long List with Advocates
All We Are [Folky Pop] (Gigwise, Spotify) x2
Autobahn [Indie Rock] (Gigwise)
Becky Hill [Contemporary Pop] (iTunes, MTV, Spotify) x3
Ben Khan [Deep Electronic Pop] (iTunes) +
Black Honey [Pop-Rock] (Gigwise) +
Blood Diamonds [Electronic / Hip-Hop / Beats] (Gigwise) +
Brawlers [Punk-Rock] (Gigwise)
Charlotte OC [Singer / Songwriter] (Gigwise)
Cheerleader [Pop-Rock] (Gigwise)
Chet Faker [Electronic Pop / Downtempo] (Guardian)
Circa Waves [Indie-Rock] (Gigwise, iTunes) x2
Coasts [Indie-Rock] (
...

1 comment
|
permalink
|
email this
|

|





29 Dec 2014 12:00 AM

Popular

Comments

Profile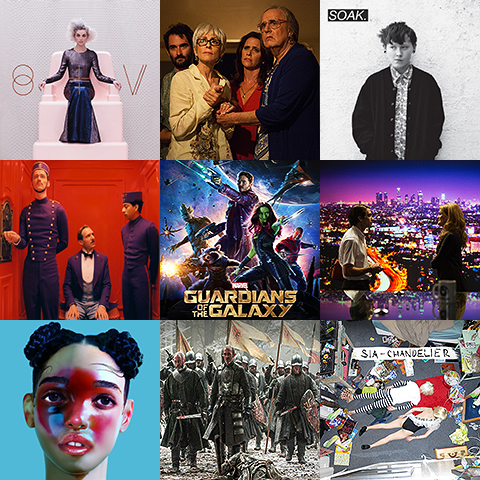 At the end of every year I run through the highlights of the preceding 12 months, and no matter how much I experience I never catch everything, and not necessarily in the right frame of mind to fully appreciate it. I have been composing this list pretty much since the start of this month, and every day I make some minor tweaks. The top few entries are relatively safe, but there is a lot of movement lower down, as something catches my fancy and forces me to elevate it. As far as music goes, it was always going to take a lot to shake St Vincent from the top of the tree this year, same goes for Star-Wars-level-brilliant Guardians of the Galaxy - the perfect marriage of Sci-fi with humour and 70's soundtrack. I certainly watched a lot of films and television this year and reacquainted myself with the wonderful world of Anime, mostly courtesy of Crunchyroll...

Best Albums
Glastonbury 2014 really switched me on to St Vincent, who's eponymous album justifiably takes the top seat. I really liked FKA Twigs LP1 too, but expected it to be even better than it turned out. The top 10 features a lot of 'Scanditronica', while Angel Haze's debut was my favourite hip-hop long player, ahead of most others' favourite 'Run the Jewels 2'. Hardly any rock in this year's chart, which is dominated by electronic music.
St Vincent - St Vincent
LP1 - FKA Twigs
Goddess - Banks
Cut Your Teeth - Kyla La Grange
Beauty is Pain - Rebecca & Fiona
The Inevitable End - Röyksopp
Chiaroscuro - I Break Horses
Blue - Iamamiwhoami
Kiasmos - Kiasmos
No Mythologies to Follow - Mø
Dirty Gold - Angel Haze
Selectadisc - Ronika
New Eyes / NE SE - Clean Bandit
Junto - Basement Jaxx
Little Red - Katy B
Recognise / Unrecognisable - Fred V & Grafix
Tough Love - Jessie Ware
It's Album Time - Todd Terje
Sound of a Woman - Kiesza
Ultraviolence - Lana Del Ray
Queen of the Clouds - Tove Lo
Faith in Strangers - Andy Stott
Tremors - Sohn
The Future's Void - EMA
Our Love - Caribou
Lost in the Dream - War on Drugs
Look to your own heart - Lisa Ekdahl
Run The Jewels 2 - Run The Jewels
Wonder Where We Land - SBTRKT
Unflesh - Gazelle Twin
Clark - Clark
Trouble in Paradise - La Roux
Jungle - Jungle
1000 Forms of Fear - Sia
Xen - Arca
Aquarius - Tinashe
Silkidrangar - Samaris
Compl&
...

1 comment
|
permalink
|
email this
|

|





24 Dec 2014 1:32 PM

Popular

Comments

Profile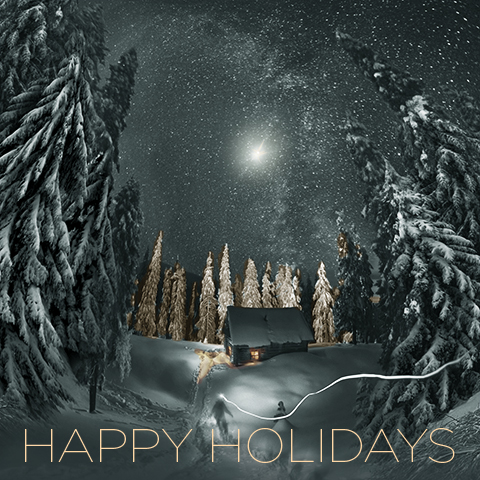 2014 has been a real roller coaster year. There have been lots of scares with Ebola topping the list, catastrophic regional wars, more extremist organisations and politics, more suppression of the public globally, wholesale spying on all of us, cookie armageddon, and yet at the same time the world feels a better place.
We had the World Cup, oil came down in price, the world economy started to pick up, Europe stabilised, and in the UK we managed to have a great summer and stay together as a single nation with our Scottish buddies.
As always the tech world rolled ahead, personal highlights were the new iPhone 6 Plus ... best thing since sliced bread, and a taste of what Android phablet users have had for a few years now. Uber pickups, buying everything online is just so much easier, and thanks to Dark Sky I now know when it's about to rain before it gets to me.
This has been another storming year for Affino and the Affino community. We've had great times rolling out the new IMRG Benchmarking site, many more great enhancements to Procurement Leaders, and all the other great projects we've worked on. We launched the stellar Affino 7.5 CRM Edition which makes life that bit better. Not to mention we're now working with great teams including Briefing Media / Farmers Guardian, Humanity Direct, Travel Trade Gazette, and now Mash Media.
2015 is going to be an amazing year for the Affino community, given everything that we've got lined up and we can't wait to share it with you.
Add Comments
|
permalink
|
email this
|

|





24 Dec 2014 12:49 PM

Popular

Comments

Profile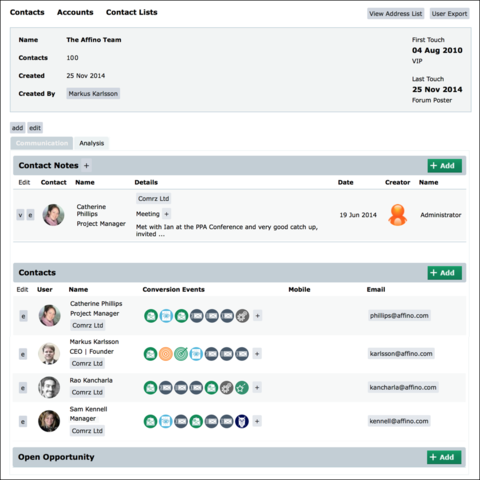 The Affino CRM is very capable but there's a certain amount of effort required to set it up and get the most out of it, as there is with all CRMs. Unlike the majority of CRMs, Affino gives back much more than you put in, so each Account or Contact created, when coupled with a Customer Ladder, Conversion Events, Conversion Funnels, Message Campaigns, Social Integration and Landing Pages gives a massive return on your effort. We have created a guide here for those on Affino Support.
Affino provides great insight into all your engagement campaigns; instant notifications of key prospecting events; customer self-service and profile updates; social population of profiles and social invites, along with all the CRM stats and reports you need.
Below are the key steps you'll want to go through (in the right sequence) to set up the CRM. There are lots more elements to explore once you get going. There are also many more guides to help you with setting up the store, running message campaigns, setting up security and starting off with the Customer Ladder which will also be useful for you during this process.
Note also that you must update to the Affino 7.5.1 + release as it includes minor improvements, chief of which is combining many of the setup profiles into a single CRM Profile screen. You also will simply not see all the CRM screens until you update as we tightened up on the security aspects.
CRM Navigation
One of the great things you will notice in this release is that there is a dedicated CRM tab on the Control Navigation. Simply switch across to this and you'll immediately be able to search all your contacts, accounts, contracts, opportunities, tasks and notes. You will also have instant access to most of the key CRM tools.
CRM Security
Most of the CRM is secured under one of the three following rights: Community Manager, Sales and Contract. Community Manager for the Contact screens, Sales for the Opportunity and Account screens and Contract for the Contract and financial screens.
Main Account
The starting point is to set up the Main Account. Simply go to Accounts and add the Account for your company (if you haven't done so already).
Users
You will then need to select / add the key members of your team to the Account as these will be required when you're setting up

...

Add Comments
|
permalink
|
email this
|

|





18 Dec 2014 11:07 AM

Popular

Comments

Profile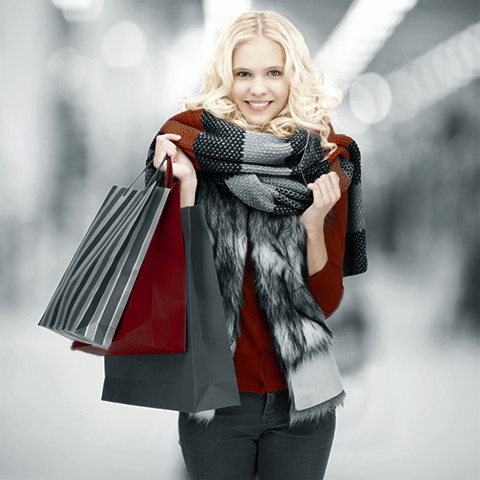 Online Christmas Shopping for 2014 has been marred by a series of failures in delivery, which has given an unexpected boon to the high street. Date-wise - it is at that time of year for me, when I no longer risk shopping online - even as an Amazon Prime Member. I've noted this year with Amazon Prime, that with the inclusive delivery service I am getting diminishing returns. Used to be when Prime first started, I pretty much received everything the day after I ordered, now it's often 2-3 days after order, with some of the Christmas gifts taking more than a week to arrive. I'm not exactly sure what has happened here, but mostly it's no more than a 50:50 guarantee of next day delivery for Amazon Prime, which is a significant drop in service for me. A few years ago I had a Christmas gift or two go missing in the post from Amazon, nowadays at least they typically do turn up, but they seem to be taking significantly longer to arrive.

I pop into Central London and Westfield most weekends, and happened to be in town at one of the busiest times of year - the weekend after Black Friday. I've often levelled criticism at the not long recently renewed trimmer HMV at 363 Oxford Street, which - with its low ceilings and too many squeezed-in display-stands was a tight fit at the best of times. On the weekend in question, the queues on the ground floor / entry level very pretty much out the door and you were quite unable to navigate through the aisles - one of those moments which makes you run home to shop online.

From the comfort of your lounge chair, there is none of the hustle and bustle which typifies an in-store Christmas shopping experience, you do have the haunting spectre of uncertainty though - both in terms of availability and delivery. Amazon for instance has seen a huge increase in Marketplace products - many of which are now coming from the continent, so that unless you read the fine-print very carefully, you are frequently not aware where the product is coming from, both my brother and I have been caught out by this. I mentioned in an earlier blog post this year, how a significant challenge for high street retailers was the task of consolidating their online and in-store inventories, to give customers a better idea of stock availability. As a prime example of this - for the past couple of weeks nearly all the

...

3 comments
|
permalink
|
email this
|

|





12 Dec 2014 12:20 PM

Popular

Comments

Profile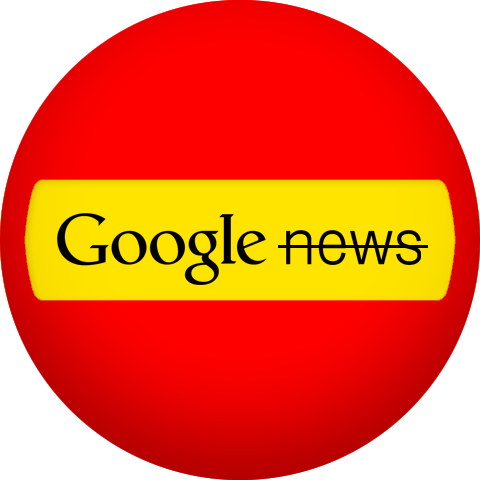 Following on from Spain's recent introduction of a 'Google Tax' - compelling Google to pay Spanish publishers for any references included within their wholly advertising-free Google News listings, Google has decided to pull that service from its Spanish offerings.
The only thing that Spanish publishers have achieved by these actions is to punish their own consumers and deny themselves revenues by cutting off the most obvious discovery and referral route available to their content. Had they but heeded the lessons from their German counterparts - where similar actions caused web traffic to leading publications to plummet. One of the main instigators in Germany - 'Axel Springer Group' was quick to backtrack when they realised the obvious and foolish consequences of their actions - hitting them square on their bottom line.
It's so obvious who's behind the latest EU motions to attempt to curtail Google activity. Google has every justification in pulling its services from countries which are that short-sighted and are outweighing the benefits of the many for the sake of the financial interests of a few leading industry lobby groups. As I have posted recently, publishers who invested too little and too late in the new technologies cannot rightly be seeking to penalise those who had the good judgement and foresight to see where the market was heading. Will the EU next introduce first-mover-advantage-tax to penalise those pioneering companies - the whole thing smacks of protectionism to me?
Those countries most active against Google and Amazon are the ones who have typically migrated the slowest towards new Internet-enabled technologies - these recent activities are looking more and more like a tax on innovation...
Add Comments
|
permalink
|
email this
|

|





09 Dec 2014 12:32 AM

Popular

Comments

Profile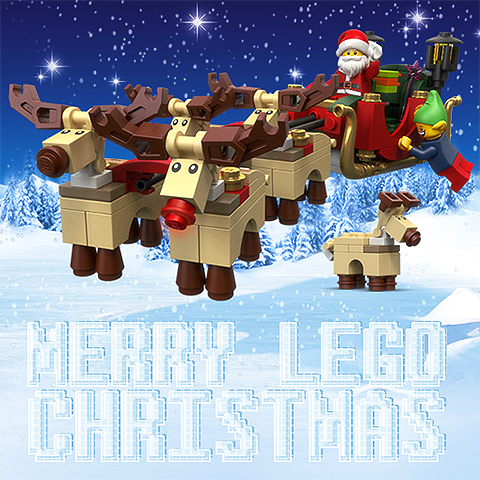 Our Danish cousins at Lego really know how to push the boat out! It looks like Christmas 2014 is going to break all manner of records for Lego. 2014 all in all has been a bumper year for them, lots of excellent sets across all the different themes - with particularly strong Movie and TV tie-ins, all the usual fantastic console games and apps, and now a blockbusting Hollywood movie also!
A recent BBC article once again tries to cast aspersions on the creative impact of Lego, as the majority of sales now come from pre-packaged sets with detailed instructions. As any kid will tell you though, you likely only build to the instructions the first time around - before you go off and customise / re-build and even combine sets to create something entirely new and different. You also have all those original bucket brick sets anyway for freestyle building - so you can build whatever you like in any case - all that old fashioned traditional stuff is still there fully intact - you just have lots more choice nowadays.
For the past few years we have treated everyone at our company Christmas dinner with some mini Lego kit or other - usually Lego Technic, and what you learn is at the very least the following:
An Eye for detail - careful consideration that everything goes in exactly the right place
Spatial Awareness - appreciation for engineered structures and their relative placement / integration
Hand-to-Eye Coordination - the ease and deftness with which you assemble your kit - something our CEO Markus in particular excels at
Problem Solving - figuring out what went wrong when final pieces don't fit - several pieces look very similar but may have very slight variances in depth or colour!
Cause-and-Effect - Lego Technic sets are based on sound engineering principles, you genuinely learn how certain engineered structures / components really work
The last few years' Christmas gifts have not been short of a Lego set or two, and this year looks like they are more prevalent than ever. A quick glance on the John Lewis website this weekend showed near enough every Lego Technic set 'out of stock'. I happen to know that John Lewis prioritise in-store inventory, so I dashed into Oxford Street to get what I needed. In the queue for the tills, pretty much every other person was holding one or more items of Lego. Lego itself

...

2 comments
|
permalink
|
email this
|

|





04 Dec 2014 9:01 AM

Popular

Comments

Profile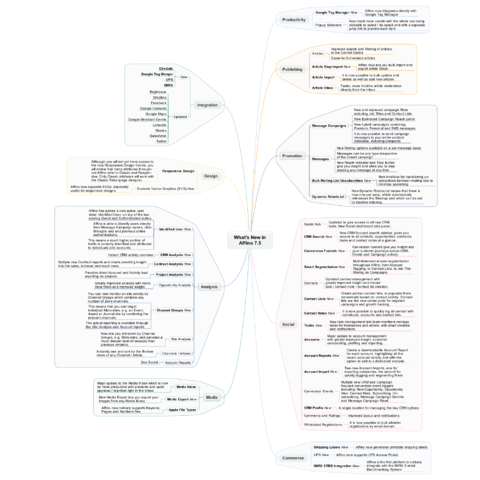 The Affino 7.5 release is an instance where the whole is much greater than the sum of it's parts. Each new feature rolled out in this release is complimentary to the overall goal of creating the most effective Social CRM on the market today. What makes the release so exciting is that Affino now rewards every effort of the Sales / Marketing and Community teams by giving back much more in terms of insight through the connections between the CRM, messaging campaigns, live sites, ecommerce, social spaces and even the social networks themselves.
We have spent a great deal of time working through each of the key Social CRM screens and many have been iterated a dozen times to get to the point they are in this release. It means that throughout there are nice features such as the instant Account tagging, Contact Notes, Add to Contact List, Follow-up Tasks, and Campaign Reach which provide that extra to make it easy to get things done quickly and efficiently.
We hope you enjoy using the new Affino Social CRM as much as we have in creating it.

Add Comments
|
permalink
|
email this
|

|





04 Dec 2014 9:00 AM

Popular

Comments

Profile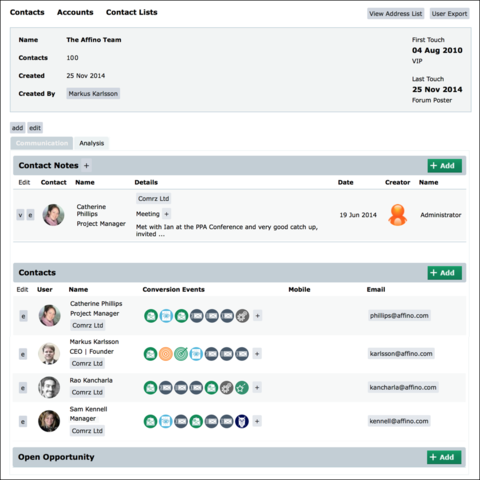 The Affino 7.5 release elevates Affino to the top of the Social CRM ladder. We have put Sales, Marketing and Community Management teams at the heart of our thinking when developing the new Social CRM hub. Every activity undertaken and insight gained by a team member can be instantly shared; and any activity by the client or prospect instantly triggers conversion events which can feed into any number of engagement campaigns.

We have spent time analysing what makes a great CRM, great Sales and Marketing Automation, great Messaging apps and have incorporated all the key elements within Affino 7.5. This has meant filling in all the missing areas, extending all the existing ones and creating a new breed of product which can replace any number of CRM / Analysis / Sales and Marketing automation platforms.

The true strength of Affino shines through when you see all of the features working together, delivering maximum performance for every input. There's much more detail below, and we're certain that you will appreciate the transformative nature of this release when it comes to engaging with your community and driving business development.

Although the main focus has been on the Social CRM, Promotion and Analysis hubs, there are also great updates on the content side with both new and improved article imports, improved workflow inbox and subtly improved publishing tools. The Ecommerce side gets new shipping label printing and UPS Access Point integration. On the Media side we've added a new Media Export which lets you export Images from any Media Library, plus we've also improved the Media Inbox and now support the Apple file types including Pages, Numbers and Keynote.

Where's Responsive?

Some of you will be wondering where all the responsive elements are in this release. Rest assured, we're getting close to the initial public responsive design release for Affino. You will notice sites such as IMRG's E-retail Benchmarking System running on the new Affino responsive engine. We also have a number of other sites currently under development, and great progress is being made. We're getting close to the Responsive release and will keep you updated via Affino com as it approaches.

What you will notice when browsing through the Affino Control Centre are the new references

...

1 comment
|
permalink
|
email this
|

|





02 Dec 2014 3:55 PM

Popular

Comments

Profile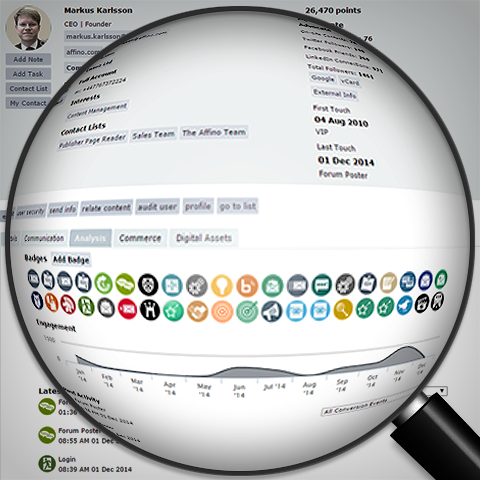 There has been much talk of the Single Customer View these last 18 months - about providing a seamless and uniform experience for customers across all devices, platforms and touchpoints (OmniChannel)- and how it's an essential part of any successful modern business. The Single Customer View is best illustrated by Netflix - where you initiate your customer journey on one device and then continue on a variety of devices - starting a film on your smartphone on the commute, then continuing on your tablet or laptop when you get home, and finally finishing it off on your big screen TV. For retailers this process can be even more involved, taking in various in-store kiosks and other point-of-sale devices. The key principle throughout though is to provide the customer with the same uniform experience and same recognisable interface - at every point in the customer journey.
The truth is that there are actually three types of 'Single Customer View', as follows:
Single Customer View for End User: Uniform, seamless customer experience - as described above
Single Customer View for Business Owner: Uniform, seamless overview of All of an individual customer's activities - the main focus of this article
Single Customer View per Digital Business Discipline: Single, uniform overview of all key customer data-points relating to a specific admin job function - e.g. Marketing or Retail / Commercial Manager
Currently, most businesses rely on a plethora of disparate solutions to provide them with their required functionality. Using as their starting point a CMS, Ecommerce system or even Blogging platform like WordPress. To deliver their complete solution, these companies are overly reliant on 3rd party plugins or bolt-ons which are integrated on top of the core solution. There are significant financial and operational overheads in running a digital business in this manner. A key problem with plugins is that you are never really in control of them - they get updated on their own schedule and your integrations and use thereof frequently breaks therfore. Another major consideration is the data and databases, as when you use disparate systems, you typically need additional processes and resources to streamline the data - and most importantly - streamline the User Account Databases.

When we started work for BBC Worldwide many

...

Add Comments
|
permalink
|
email this
|

|





26 Nov 2014 10:00 AM

Popular

Comments

Profile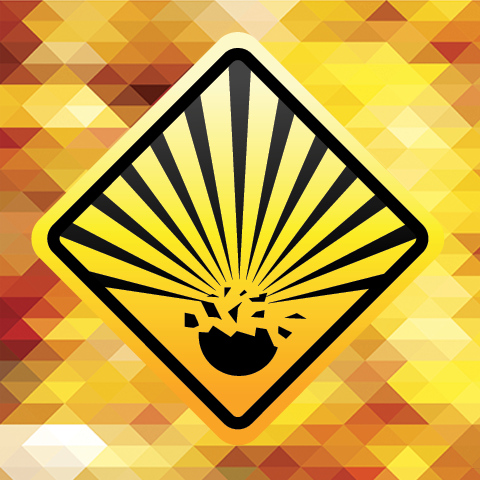 You are being Tracked
Wherever you go on the web today, you are being tracked, it's simply a fact of being online. A great deal of this tracking is benign and has positive purposes such as presenting you with better content, better networking recommendations, special offers and generally a more personalised experience. But the reality is that a lot of data collected on you is now being sold to 3rd parties to target you in ways that are less appealing.
It's not just you that's being tracked, it's your parents, grand parents and children as well as your colleagues and staff.
The tracking is now also becoming much more pervasive and potent, a look at the Google Dashboard gives you an example of the level of data that a company can have on you.
What can go wrong?
The companies doing the tracking and building up profiles on you may have good intentions today, but that can quickly change as the business evolves, meaning that your data might be shared and used in way you would really prefer it not to. Equally no system is perfectly secure and increasingly data is being compromised and sold on the black data market. Your profile, your family's and your company's profiles can then be used in any number of scams.
Benefits of Privacy Tools to the User
Privacy tools such as Ghostery are simple browser plugins and mobile browsers which let you selectively block 3rd party trackers that you don't trust. Equally you can simply blanket block all of them and then un-block the ones you want to use such as video plugins. It's been estimated that 10% of traffic is now protected by similar tools.
These privacy tools have a host of benefits beyond simply protecting your priacy with the web as it currently works. This is because the side effect of protecting yourself from being tracked across the web is that a lot of the commercial elements disappear off sites. There's no point for an ad provider to display an ad if they can't track if it's been viewed.
Other key benefits include:
Faster page downloads
Less clutter
Longer battery life
The longer battery life one in particular was a surprise for me as moving to Safari and running Ghostery with all 3rd party cookies default blocked roughly doubles my battery life when browsing.

&

...

1 comment
|
permalink
|
email this
|

|





24 Nov 2014 5:33 PM

Popular

Comments

Profile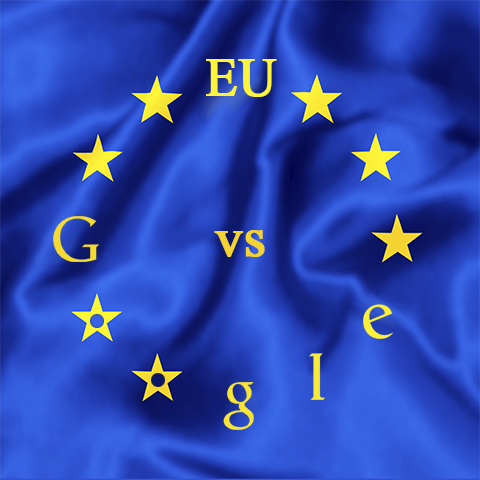 Those dastardly Eurocrats are now threatening to break up Google, not that they really have any jurisdiction over the make-up of an American Company - but German MEP Andreas Schwab is sponsoring a draft motion for the European Parliament to consider ways to unbundle Google's principal parts.

For me, this follows hotly on from the 'unbundling' of Lloyds Bank - another great EU initiative, which bundled me into a bank where I had no say in the process - I was unceremoniously dumped out of Lloyds into TSB, despite long-standing Lloyds VIP Platinum account status (25 years) and vehement protestations from myself.

In fact this is another gauche attempt by the German media barons to punish Google after their pathetic 'Leistungsschutzrecht' initiative failed - you can read about that in my previous 'Germany vs Google' post. This time around though, Germany is looking to gain support from France and Spain - whose media barons also bear grudges against Google.

This is all about Google's dominant position as Search Engine provider really, where Bing is the second placed competitor and looks to be making the most significant recent headway since it started powering Yahoo Search back in 2009. Firefox, just last week, announced that they would be switching to Yahoo Search as their default browser search option (therefore Bing!).

Like most others way back in the early days of the Internet I used to use Yahoo (powered by Inktomi). When Google first arrived with its simple search box layout I thought it overly simple and elected to stay with Yahoo for several months, until I realised that Google provided a far better, more intuitive level of service. Over the years I have tried all the different offerings of Search Engines, but continually return to Google as my first choice of preference. The vast majority of web users really only consider Google and Bing, just like the majority of smartphone users only consider Apple and Samsung even though there are an enormous variety of other competitors available.

Germany in particular, with its very traditional industrial heritage, has been very slow to invest in Internet innovation. In all of Europe, the UK easily leads the pace in innovating clever web technologies and developing smart Internet services - retail and otherwise. No other

...

5 comments
|
permalink
|
email this
|

|





20 Nov 2014 12:07 AM

Popular

Comments

Profile
Tags:
youtube
,
SoundCloud
,
Amazon
,
iTunes
,
Spotify
,
Digital Music
,
MP3
,
Music Industry
,
Taylor Swift
,
Music Streaming
,
Music Technology
,
Music Discovery
,
Music Promotion
,
Value of Music
,
Streaming Revenues
,
Bob Stanley
,
Pop Music
,
History of Music
,
Music Evolution
,
Music Industry Evolution
,
Vinyl Music
,
Recorded Music
,
Analogue Music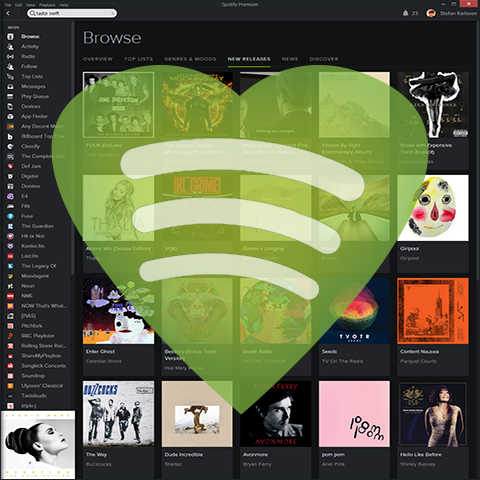 Taylor Swift is not the first to remove her entire catalogue from Spotify and nor will she be the last. Following on from her disingenuous pretense at offering better service to UK fans by forcing them to buy her whole pre-release album instead of being able to download individual promo tracks like the rest of the world could do. It's not a surprise that she's taken these latest extreme measures, but the reasons she gives are nothing more than record label bulls**t spin - in an attempt to divert attention away from a pretty blatant act of profiteering - which is to say that she removed all her music from Spotify so that the only way her fans could access it legitimately was via fully purchasing / owning the album and thus ensuring higher sales revenues... of course her less fastidious fans can still listen to her back-catalogue via Vevo, YouTube, Dailymotion, and a million other video and mp3 serving websites - the vast majority of which pass on absolutely no revenues to Taylor or her record label.

I myself am a huge music fan, not particularly of Taylor Swift, but I buy on average 2-3 albums worth of music each week - via iTunes, Amazon, Beatport and Juno Download etc., I am also a premium subscriber to Spotify whose services I really love - I still live in hope for proper full-range 'Spotify' -like services for Films, for TV and for Books. Long have we heard the music industry and particularly certain old-fashioned (backward looking?) echelons within it bemoaning the diminishing fortunes of the industry - compared with its heyday in the 70's and 80's - seemingly totally oblivious to ever evolving changes in society and in technology.

Let's then not forget to review the entire history and evolution of popular music, and how mainstream American radio is still very much influenced by payola-like dynamics - or pay-for-play. Bob Stanley (Saint Etienne + Yeah Yeah Yeah: The Story of Modern Pop) traced the origins of modern pop back to the 50's and the start of the 45rpm vinyl records which fuelled the earliest pop charts. Records were initially seen as promotional tools to ensure radio-play in order to get more members of the public to attend concerts. The peak of record-buying was reached in the late 70's / early 80's - where the records became an artist's main source of

...

Add Comments
|
permalink
|
email this
|

|





11 Nov 2014 11:13 AM

Popular

Comments

Profile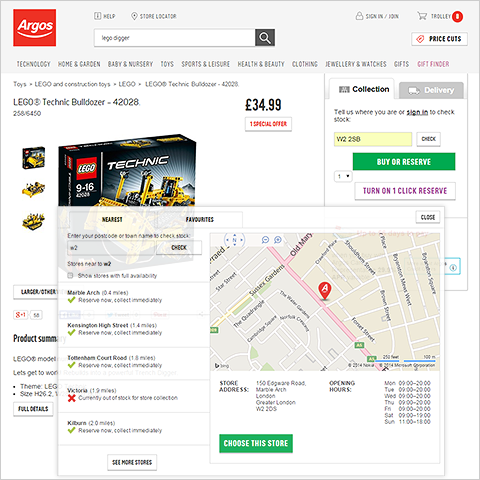 Throughout this year I've been talking about the key challenges High Street Retailers face with trying to consolidate their online / offline inventories - so that shoppers can be sure of the likelihood of their obtaining what they seek when they venture into town. In numerous posts over the years I have highlighted my disappointment about making the usual weekend pilgrimage into town - only to find that most of what I was after is either not stocked by the particular branch I happen to end up in, or is recently out-of-stock.

I have cited Phonica and Forbidden Planet before - whose inventories are somewhat in sync with their websites, and I can check with some surety before I set off. Neither one has a same-day reservation facility yet, but if I set off early enough, I can usually guarantee a favourable result.

This is also the second time I have secured a new iPhone by reserving one for in-store collection the night before. Admittedly I was compelled to venture a little further afield this time to get my first choice of model (Apple Store at Watford Mall), but the fact that I could reserve and knew that my phone was waiting for me, more than offset the extra miles I needed to go to obtain satisfaction.

As shared previously too, I still vividly recall two particularly vexing examples of poor customer service - both happened on Regent Street - in the pursuit of shoes at Hugo Boss and a jacket from Banana Republic. In the first instance my size was out-of-stock at Regent street, but I had to forcibly cajole the shop assistant to ring each of the other London branches in turn - until we secured a pair at Brentwood. I then had to plead and negotiate to have those shoes conveyed to said branch for easy pick-up the following week. At Banana Republic it was more a case of 'missing stock' in that the computer said they had 2 in stock at Regent Street, but the assistant could not find either anywhere. I was sent to the Long Acre branch where a similar scenario played out in unusual déjà-vu fashion. I eventually secured said jacket when returning to the Regent Street store later in the day, and finding the mystery jackets now featuring prominently on display.

It is quite a common scenario thought that I venture into town in high spirits and return at the end of the day wholly empty-handed and deflated

...

Add Comments
|
permalink
|
email this
|

|


| | |
| --- | --- |
| Found: 446 Displaying: 1-20 | |

Subscribe to feed

Subscribe by email
Recent Visitors