16 Apr 2014 12:06 PM

Popular

Comments

Profile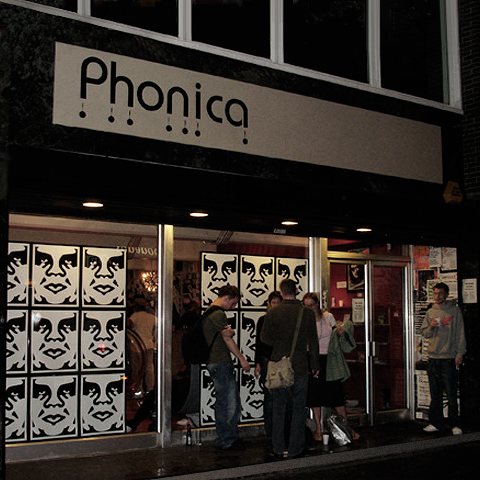 Since last year, we've seen very few record stores disappear, as vinyl sales are now tolerably healthy. I myself am buying less vinyl than before, but do still regularly pop into Phonica and Sister Ray, and less frequently into BM, Sounds of the Universe, Reckless Records and Music and Video Exchange - all indicated in the below Map. I highly recommend the two Rough Trade stores also.
For Record Store Day (typically 3rd Saturday in April), I always make it a point to support my stores if I'm in town.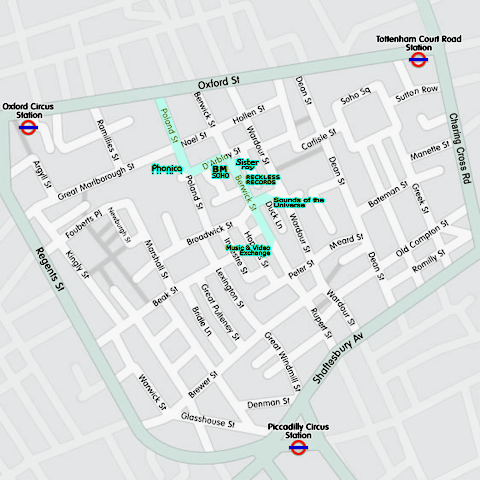 Soho Stores:
Phonica - 51 Poland Street, W1F 7LZ
BM Soho (Black Market) - 25 D'Arblay Street, W1F 8EJ
Sister Ray - 34 Berwick Street, W1F 8RP
Reckless Records - 30 Berwick Street, W1F 8RH
Sounds of the Universe - 7 Broadwick Street, W1F 0DA
Music & Video Exhange - 95 Berwick Street, W11 3HL
London Others:
Rough Trade - 130 Talbot Road, W11 1JA
Rough Trade East - 91 Brick Lane, E1 6QL
Full list of Record Store Participants [here].
Phonica is open from 09:00 on Saturday, and last year there were considerable queues early on, and even more so at Sister Ray. Phonica's RSD Releases are [here]. And this is [All Record Store Day 2014 Releases].
I've not yet decided if I want to queue up early, or if I'm better off turning up around lunch time when the queues dissipate.
There's the usual couple of hundreds of exclusives, many of them on coloured or patterned vinyl - I really only buy 10" and 12" formats - and the following are the ones I have my eye on, though I'm not fully decided yet:
Disclosure - Apollo (12")
Grace Jones - Me! I Disconnect From You (12")
Inner Life / Salsoul Orchestra - John Morales M&M Mixes (12")
Joey Negro vs Horse Meat Disco - Candidate for Love (12")
Katy B - Little Red Remixes (2LP)
Little Dragon - Klapp Klapp (12")
Pet Shop Boys - Fluorescent (12")
Ray Parker Junior - Ghost Busters (10")
Razor-N-Tape - Record Store Edits (10")
Music Finland / Line of Best Fit - Record Store Day Special (10")
...

2 comments
|
permalink
|
email this
|

|





14 Apr 2014 10:20 AM

Popular

Comments

Profile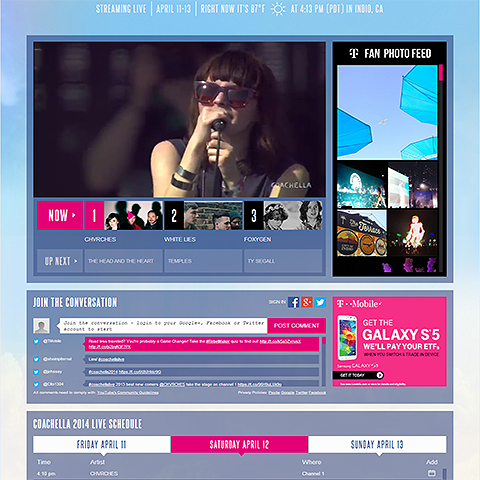 This is the 4th time I catch Coachella live courtesy of YouTube, and each time Google has made tiny increments which keep improving the experience. The interface is pretty much perfect now, with a clearer Live Schedule panel and Fan Photo Feed higher up the page - I still sort of prefer having the social updates to the right of the main panel as per the debut version, but overall, the current one has good balance - and I love how the page background changes contemporaneously with the evolving colour of the sky. On the subject of social updates - this year was totally dominated by Tweets - probably 90% of shout-outs were via Twitter, with the remaining 10% being mostly Facebook and a Google+ entry once in a while.

Sound and Video streaming quality (HD 1080p) have been excellent throughout and I love the way it's one continuous redline stream - so that you can dip back into the timeline if you missed something. YouTube is also doing the excellent 'Rebroadcasts' between programmes also - so you don't need to stay up to catch the highlights. Versus the BBC, YouTube does not provide quite the width of commentary, nor the individual artist video showreels or highlights - the same criticism I have levelled for previous years. The beauty of having this streamed via YouTube though is that lots of helpful social-minded people record and segment the broadcast - so you can find full Coachella sets by your favourite artists on YouTube away from the official versions.

In terms of solid, high quality music coverage, the YouTube Coachella service is currently peerless - with a little more direct artist programme access, I would not mind paying for such a service. I always envisaged that someone like Live Nation would start offering this kind of service, or even start co-ordinating with the cinema chains. The cinemas already play host to Theatre, Opera, Ballet, Exhibitions, Key Concerts and Sporting Events - why not have festival sessions too. With high-quality sound and video on a big screen, and readily available beverages and refreshments - with civilised sanitation on hand - these are perfect social venues for people who don't want to get too dirty!

Highlight of the opening night was suprisingly Girl Talk (Gregg Gillis), who brought out Busta Rhymes, E-40 and Juicy J for cameos during his set. The expected

...

2 comments
|
permalink
|
email this
|

|





09 Apr 2014 11:36 AM

Popular

Comments

Profile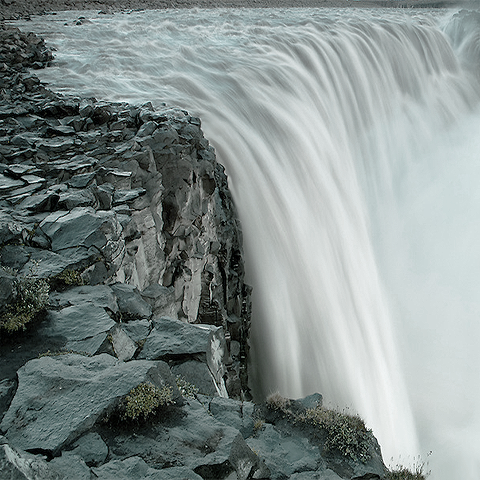 Anyone who has visited Iceland knows that the main attraction is its beautiful raw and unfettered natural wonders. We took our colleagues a couple of years ago and visited all the key sites along the south coast of Iceland - as far east as Jökulsárlón - you can see that report [here]. Iceland is very much in vogue at the moment with several major recent Hollywood blockbusters - Prometheus, Oblivion, Thor 2, Secret Life of Walter Mitty, Noah and Game of Thrones all filmed on location in various parts of this nature wonderland (see below).

This year however there has been a significant change in the Icelandic tourism landscape, as the landowners at 3 key sites have started to charge for access. 2 of the sites are part of the 'Golden Circle' tour near the capital - dormant volcanic crater Kerið and the spouting hot springs of Geysir, the third is Dettifoss waterfall in the north-east. Enshrined within Iceland's constitution is the unassailable right of the Icelandic People to freely wander across every part of its landscape. Moreover, the main Geysir area is in fact a national park, albeit that it sits within a landowner's larger territory. The feeling is that what's happening at Geysir for sure is not entirely 'legal'.

There have been all manner of debates since the ticketing operations appeared - landowners are claiming that increased tourism has meant more money needs to be spent in maintaining the environment - at Kerið and Dettifoss there are no facilities really to speak of, certainly nothing approaching sanitation, and the latter is accessed via a very coarse gravel road which is impassable at certain times of the year. In fact the vast majority of natural beauty spots in Iceland have little more than a guide-rope and the most rudimentary of pathways. Some of the more popular ones have proper facilities - a cafeteria of some sort, giftshop and proper toilet facilities - most though have next to nothing.

It's kind of ironic that the most inhospitable environment is charging the most - Dettifoss at 800Kr (roughly £4), Kerið is 350Kr (£1.75) and Geysir is 600Kr (£3). If every landowner in Iceland decides to get in on this action, it will soon become ridiculous. The government of Iceland is instead recommending a Nature Pass scheme,

...

Add Comments
|
permalink
|
email this
|

|





07 Apr 2014 10:29 AM

Popular

Comments

Profile
Tags:
publishing
,
Affino
,
Publishing Industry
,
Digital Publishing
,
Publishing Trends
,
PPA
,
Professional Publishers Association
,
Digital Leaders Network
,
PPA Digital Leaders Network
,
Suppliers to Publishing Industry
,
Digital Publishing Monetisation
,
Digital Content
,
Digital Platform
,
Publishing Platform
,
Publishing Digital Platform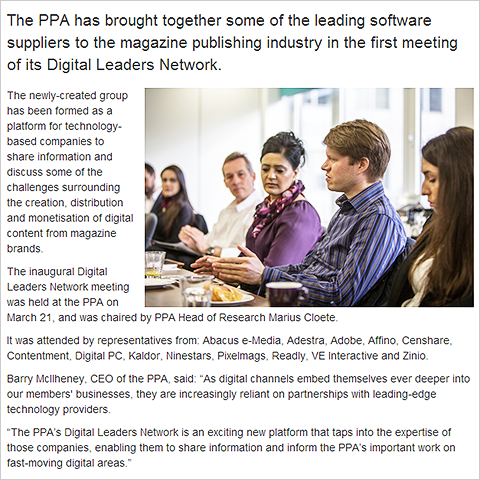 On March 21, the Professional Publishers Association (PPA) brought together a panel of leading-edge technology providers to discuss the challenges, opportunities and trends - chiefly on the subject of how best to monetize digital content. The Digital Leaders Network will be convened periodically to confer on the best way forward for the publishing industry.
After helping Procurement Leaders win 3 PPA awards last year, including 'PPA Independent Publisher Digital Product of the Year'- Markus had plenty to share with the panel on how we at Affino help publishing companies achieve their online potential.
Which digital platform you choose to run your online business on, and how flexible and capable that platform is, is obviously a key concern for future success.
Publishing is still in the throes of a major step-change in the move to digital technologies, and most publishing companies' futures are at stake - the right choice of approach and platform to the forthcoming challenges will decide which companies thrive, and which wither and fade away...
Add Comments
|
permalink
|
email this
|

|





02 Apr 2014 9:22 PM

Popular

Comments

Profile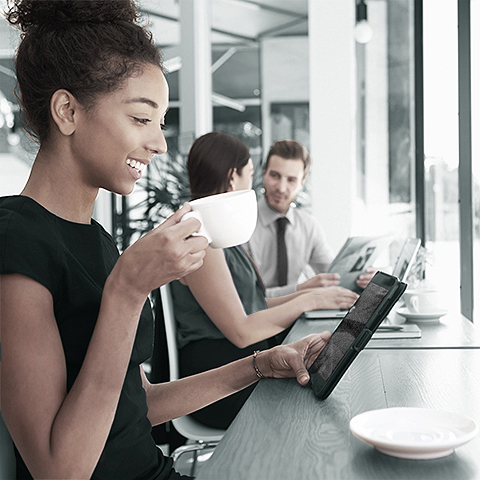 Tim Waterstone, who founded the bookshop chain of the same name in 1982, argues that traditional books will see off the eBook revolution, and in fact that eBooks are already on their way into decline. About the only thing I do agree with Tim on is that traditional books will endure.

In literary nation Iceland, it is still fashionable to give and receive books at Christmas, and for the most part that industry is still reasonably healthy - pending of course publishing sensations and the availability / arrival of popular works. Relatively recent years have seen publishing sensations - Harry Potter, The Davinci Code and of course Fifty Shades of Grey. It is the latecomer of these though which is most indicative of future trends, as Amazon's figures indicate that it sold 6 times as many Kindle eBook versions as traditional book formats - but this did vary across different sales territories. A big part of the 50 Shades revolution is that several readers were much more at ease purchasing a saucy book relatively anonymously as an eBook than face-to-face in-store. Since Fifty Shades, book sales have generally been down overall, as nothing new has come anywhere close to achieving those 100 million sales. Harry Potter still has the overall record for book sales with 450+ million sold for the series.

There are all kinds of recent indicators in book retail as to how the industry is doing overall, and what the future trends are. I still recall the downfall of the Borders chain, which was one of my favourite book sellers in London - walking down Oxford Street and book-central - Charing Cross Road, you can see what's happened to the publishing industry, much like you can see by the number of record stores currently on Oxford Street - what's happened to the music retail industry. Both indicate a significant decline in traditional forms of retail, as the number of retail outlets has dwindled visibly. My old hometown of Barnstaple at one time had 4 bookshops, now it's down to a WHSmiths and a Waterstones - many town centres have only the former remaining; others have seen the growth of outlet / discount book-stores.

I am still a fan of both formats - traditional and eBook, and use each for different purposes. My younger brother though has almost entirely ditched physical books as he does not have the physical space for them.

...

1 comment
|
permalink
|
email this
|

|





26 Mar 2014 11:23 AM

Popular

Comments

Profile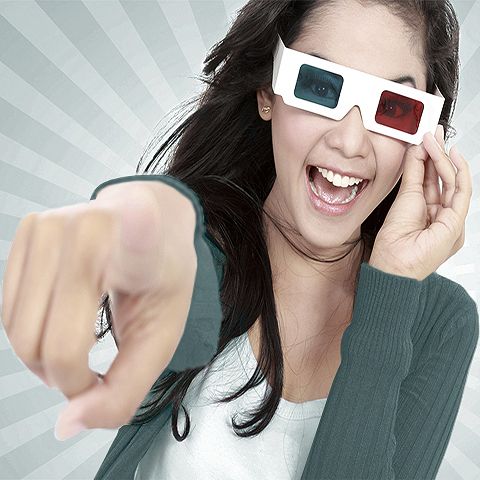 Ah well - 'Awesome', 'Amazing', 'Fantastic', 'Magnificent', 'Life-Changing' etc. all these words are somewhat overused these days, very much a victim of their own sensationalist success. It seems that everyone these days is writing 'Tabloid-style' headlines - in an attempt to attract more traffic to their site/s. It's not surprising really, considering that for Mashable and Buzzfeed, this is pretty much their entire reason for being. You can't avoid it truly - open up any Social Media app - and the top 10 highlights will most likely be from the school of Clickbaiting.
From my own experience, some of my own more popular articles over the years have followed some of the parameters of clickbaiting, however unintentionally. Most consumers these days are strapped for time, and possibly have issues on concentrating on any task for more than a couple of minutess. The essence of Clickbaiting thus is a snappy headline - followed by bitesize-style content. Often peppered with pictures, and never more text per item / picture than you might see in the most involved of graphic novel text panels.
I've tried to distil down to the 10 most common types of clickbaiting articles:

List (Top 10 of almost anything)
We love lists - '10 Best Cities to live in', 'All Time Top 10 Grossing Movies' etc. - it's a straight line-in for debate on certain topics, or can consists of absolute hard facts for others (statistically speaking). If you are in retail, charts are one of key motivators - everyone wants to know what the bestsellers are. And being at the top of the charts stimulates sell-on like nothing else - a number one hit single will sell a significant follow-on portion just because it's number one!

Guide / Instructions (How to be a millionaire in 7 days / 7 steps)
Simple stepped guides are the essence of clear instructions - Lego and IKEA do it in one way, but there are several different types of instructional guides from very strict process-oriented ones to more chatty suggestive ones. Consumers love having things simplified for them, and if you can break it down into a few simple steps, so much the better.

Hyperbole (The best most amazing ever X)
It's always amused me when I

...

Add Comments
|
permalink
|
email this
|

|





24 Mar 2014 11:02 PM

Popular

Comments

Profile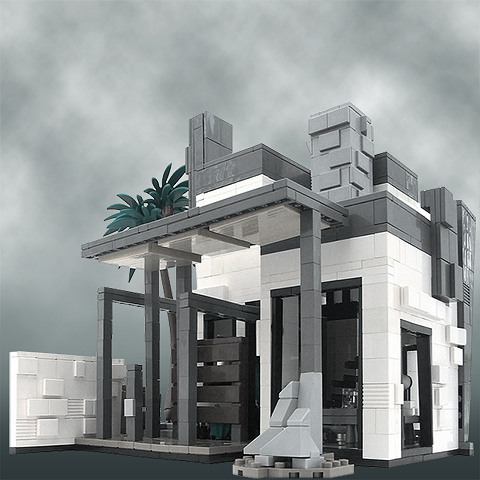 A number of recent architectural programs on the BBC (e.g 'The Brits who Built the Modern World') have cited the influence and inspiration Lego has had on many of our leading architects. However, some of those same architects criticised the move in emphasis from free-form bricks to planned boxed sets. As a child - we had a large wooden Lego box of primary-coloured chunky pieces - nowhere near the range or flexibility of the current 250+ shapes in 40+ colours (near enough 1600 different elements now - obviously not all shapes in all colours). In my youth therefore, Lego was as boxy as a 70's Volvo, and most buildings we created looked like some kind of square warehouse or storage / industrial facility.
Our British architect friends are forgetting that you can still buy the old-fashioned free-form building sets - as well as any combination of bricks / pieces from the 'Pick a Brick' facility of the Lego Shop; adults can even purchase the Lego Architecture Studio - all in white - to plan and conceive the most pristine of modern buildings.
I contend though that it is in building the various boxed set buildings, that you learn the most about the structural integrity of buildings. And only once you have completed a few instructed builds, are you in a position to truly build successfully on a free-form scale. I love building the larger Lego sets mostly because of the insights into the ingenious design process of the set's designers. Lego is a great example of an applied art, where planned structures and objects need to be streamlined and honed - so that they can be built from the existing 254 shaped elements.
When I build a Lego set, I experience a tiny part of the creative development process into how a certain section came to be devised to overcome the limitations of Lego, as well as make the most of its inherent attributes. When you build complex sets you learn about a number of different key considerations which can be applied equally to real-world building engineering.

Here are my top 12:

Lamination
Often when constructing a modular Lego element, you can feel that the structure is quite fragile really until you finally apply the top layer of 'fixing-bricks' usually in the form of thin slivers (Lego plates + tiles) - these lock the components together and make

...

2 comments
|
permalink
|
email this
|

|





18 Mar 2014 12:27 AM

Popular

Comments

Profile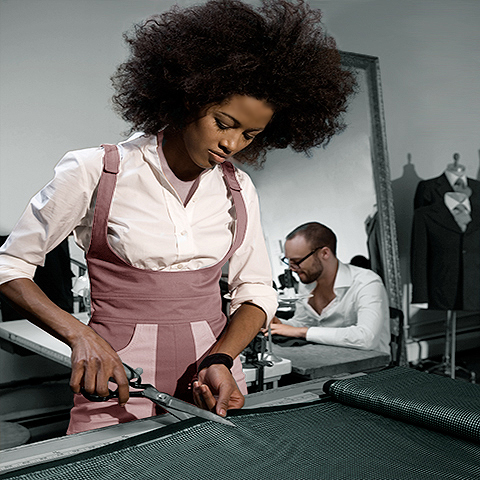 For hundreds of years everything was individual and bespoke, and made-to-order. Then came mass-manufacturing and off-the-peg retail (prêt-à-porter) - which allowed more consumers to buy reasonable quality products, and moreover take their wares home with them on the same day. For the wealthiest echelons of society, made-to-order is still used regularly to deliver unique and individual products, but the majority of consumers want lower cost products which are available sooner.

Customisation as such is nothing new really, made-to-order customers had their initials embroidered onto their garments to denote quality and exclusivity when manufactured shirts first arrived, but then the mass-manufacturers started to offer the same monogramming service - one of the earliest examples of mass-market customisation - meaning that tailors had to increasingly rely on more visible luxury trims and finishes to give them an edge.

Where we are today really is that customers increasingly want to be able to stamp their individuality onto a particular product, but they don't wish to pay over the odds for the privilege, nor do they wish to wait overly long to receive their goods. There's quite a number of generic customisation services - like for instance mobile phone case specialists - who allow you to bling up and create your own unique phone case.


Here follows a brief list of some of the better examples of companies offering customised products:

NIKEiD - Create your own version of the Free / Flyknit trainer

Build a Bear Workshop - Choose your base model cuddly toy; e.g. dog, then select colour / characteristcs and outfits

MakieLab - Design your own doll

Brick Brigade - Customised Lego kits and minifigs

Evisu - Customised Jeans

Swarovski Crystallized (now defunct) - Make your own jewellery from Swarovski crystal elements

Prada & Fendi - Both these brands pioneered handbag ornaments (artsy characters / motifs) attached by keyring / key chain - sometimes the ornaments cost as much as the original bag!


Swarovski Crystallized was a great idea, but has proven to be too much choice for the consumer - that is to say that consumers are far more comfortable with making smaller design changes, than actually specifying or making something too much from scratch. I

...

Add Comments
|
permalink
|
email this
|

|





13 Mar 2014 9:23 AM

Popular

Comments

Profile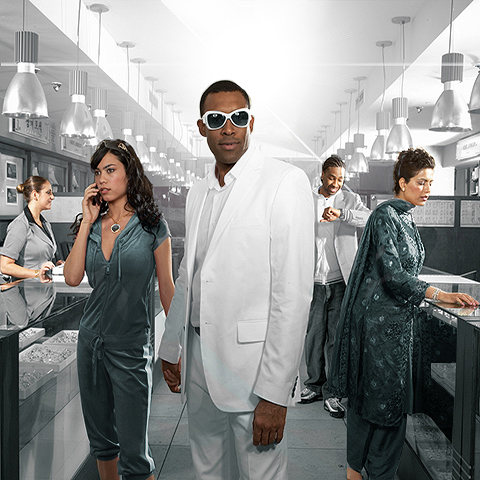 I am very fortunate to live in London from a retail standpoint - there are some really great examples of Destination Stores which continue to push the envelope of creativity and possibility. I'm going to reference 4 different examples - three current, and one recently defunct; with the purpose of showing what Online Retailers could be doing to bring more engagement and excitement into online retail.

Selfridges almost floundered in the late 80's, but has largely consistently built on the crowd-pleasing exhibitions and stunts pioneered by founder Harry Selfridge - with fine examples such as cross-channel hero's Louis Blériot's monoplane exhibited in-store in 1909. I have attended many a wonderful themed event in the last 15 years - Japanese Days, Brazilian Days with a carnival atmosphere and even the most recent 'Festival of Imagination' with its 'Imaginarium' auditorium. All these events have a singular universal theme in common - which is supported by stylised window displays and matching interior decorations - as well as the majority of departments carrying through the theme to their merchandising displays. Selfridges knows it has plenty of competition - Harrods, Harvey Nichols, Liberty, House of Fraser, Bond Street and of course the Internet. They continue to find innovative ways to inspire and motivate their customers to come to the store - enjoy the atmosphere of the latest event, and be more pliable to making purchases. No one does the integrated event experience better than Selfridges - and they keep innovating to maintain the interest of their customers - online retailers could learn much from them, but more of that later.

Compared to Selfridges, Westfield is a slightly different proposition - not so thematically or theatrically integrated and innovative, yet undoubtedly a prime destination for shopping. Westfield benefits from a number of smart dynamics - of course we have the myriad of facilities - restaurants, restrooms, seating areas and leisure amenities including multiplex cinema and health club. We also have a kind of street-market-like feel with numerous small stalls / booths on every aisle - selling all manner of trinkets, snacks, ice creams, milkshakes etc. The small stalls which pepper the mall make a big

...

Add Comments
|
permalink
|
email this
|

|





06 Mar 2014 11:19 PM

Popular

Comments

Profile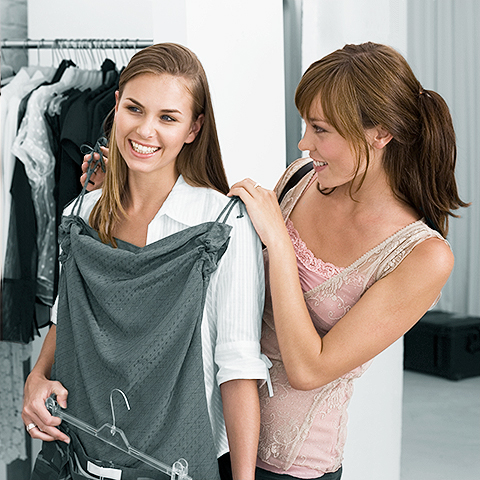 First we need to define 'Social Retail' and detail how it is different to what most companies consider Social Commerce to be. In its simplest form, Social Retail derives from an Integrated Community Space - with proper Facebook-like User Profiles and multiple channels of communication and participation for consumers. Most Social Commerce which you see on the web today is in the form of rather superficial social plugins, most typically - Social Media Sharing and Comments and Ratings.
Social Retail creates a vibrant community hub with relevant incentives - to encourage consumers to own and promote their own space within that brand's larger retail community. The retailers get much better records and understanding of their consumers' increased activities - as well as more word-of-mouth recommendations, and the consumers in turn get a much more rewarding experience from the retailer. Social Retail is a connected experience - bridging the onlne store with the local stores and local communities.

Here follows what we believe to be the key components of Social Retail.

The Bridge
On an Ecommerce website, the emphasis has to be on adding to basket and checkout - you cannot disrupt or distract from that process, or the retailer is likely to suffer diminished returns / conversion rates. Thus the best way to connect with the consumer is from the Sales Confirmation Screen. They have just made a purchase, and the screen presents them with sharing options - 'I just bought Red Coat from B-Boutique' etc. much like Amazon does. On the same screen you would see links / buttons to Community Registration - with a list of incentives. A key part of Social Retail is rewarding consumers for their various online activities - so you present a brief case for how consumers accumulate reward points / store credits from their purchases and online social activities.

Registration
A Social Registration needs a few more details than the regular Ecommerce Registration, which is why it is important that the incentives listed on the Sales Confirmation Screen are repeated on the Registration Screen. It works well to have a rolling ticker of 'Recently registered members' too for added motivation - try and keep it simple though. Successful Communties need Profile Pics and user Nicknames, so these features

...

Add Comments
|
permalink
|
email this
|

|





03 Mar 2014 8:48 PM

Popular

Comments

Profile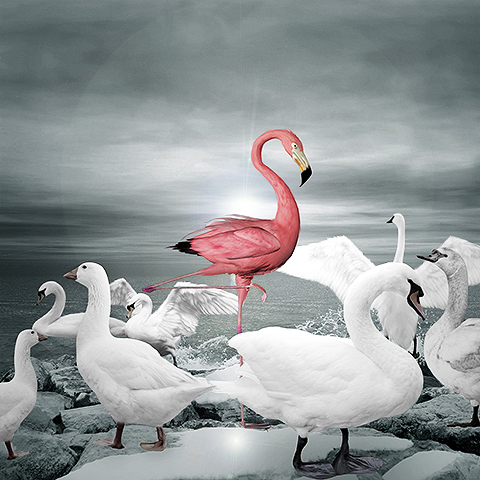 As business moves increasingly online, there is ever more competition - way beyond traditional local / national / continental borders. For many businesses - being online means you are competing for customers against diverse businesses located far far away from your own. There are numerous ways in which you can forge a stronger market position; way before you start thinking about promotional activities, SEO keywords and PPC campaigns, you should be thinking about the ideal brand experience you need to create for your intended customers.
Nearly all companies will have numerous competitors - both direct and related - all competing for overlapping budget allocations. In this modern age, budget boundaries are fluid, whilst overall budget limits are fixed. This means you are often competing in related categories which you might not consider to be strictly competitive but end up being so. In any scenario, you need to make your company stand out, be relevant to intended customers, and be memorable - so that prospective and actual customers can easily find their way back to you again and again in a meaningful and easily replicable manner.
The key and most immediate means by which businesses can define themselves are brand logos and their associated attributes. Get the logo treatment correct, and you already have a leg up on most of your competitors. Where you are competing with businesses with strong brand propositions, you need to use additional attributes in order to elevate and differentiate your brand.

Key components of brand identity

Name
Unique - Meaningful - Relatable - Memorable - Traceable.

What's in a name? Quite a lot actually - there's an added reason why Amazon, Apple, eBay, Facebook, Google, Flickr, Twitter et al. are so easily successful and others less so, and it's quite a bit to do with their names. Twitter in particular follows a great naming convention - Twitter / Tweets is entirely understandable, relatable and relevant. It often helps to have a shortish moniker as this aids memorability and relatability. For a customer to understand what a new business is about largely from their name, means there is less work for the logo / brand mark to do. Brevity also is key to memorability - the shorter the name is, the easier it is to reproduce and type into a browser. There's a

...

Add Comments
|
permalink
|
email this
|

|





25 Feb 2014 12:21 AM

Popular

Comments

Profile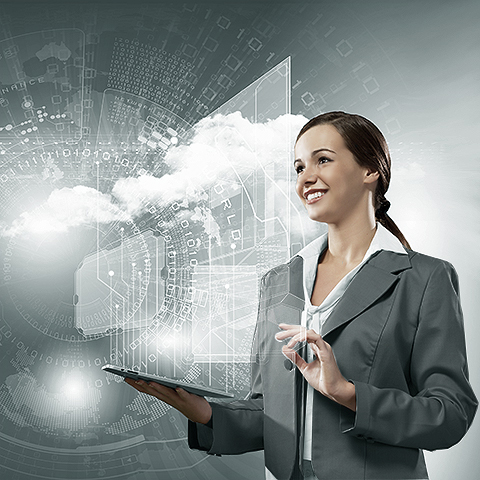 A recent Econsultancy feature discussed the challenges Integration poses for business growth. No matter what type of website / online business you run, there's likely some need for Integration to provide you with the full solution you require. Ecommerce websites typically have a large number of Integration requirements - I have listed the key areas below. Integration is often a costly and time-consuming activity, and one which needs to be maintained in perpetuity. There are of course a number of different Integration strategies, and consumers should be well aware that not all systems are created equal. Here below, I outline the 4 key considerations for businesses to think about before starting down the long road of Integration.

Key Integration Areas:
Analytics and SEO
Mailing Lists and Sales & Marketing Automation
Social Media
Ratings and Reviews
Customer Relationship Management (CRM)
Content Management System (CMS)
Digital Asset Management (DAM)
Enterprise Resource Management / Planning (ERM / ERP)
Payment Gateways
Warehouse Management System
Product Information Management
Search and Merchandising
Fraud Management
Carrier Management / Order Management

Need for Integration
It pays dividend to have full oversight of your business requirements at the start of your project process. There are some very different systems in the marketplace, and some will be far better tailored to your needs than others. It almost goes without saying that some degree of Integration will be required, but the more holistic a core solution is, the lesser the up-front cost. With a solution like the Affino Social Commerce Platform, most of the key Integration Areas are already catered for. For instance, you may not choose to use the Affino CRM Component in the longer-term, but you can make use of it in the first phases of your roll-out while you build up your business. Having more elements of your overall solution included in the core system greatly reduces costs and overheads - and makes for a simpler owneship experience.

Speed of Deployment
Many companies we deal with are tempted to do too much, too soon - that is to say, to fit too much into phase one of their project - this can be both a costly and risky strategy - as well as being time-consuming. With a solution like Affino though - where there's a large

...

Add Comments
|
permalink
|
email this
|

|





21 Feb 2014 10:01 AM

Popular

Comments

Profile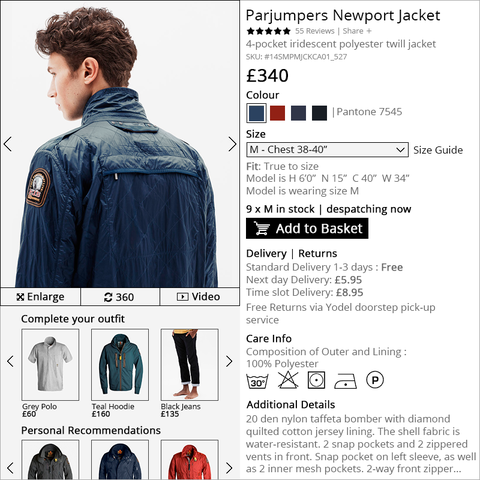 Retail is increasingly moving online, although there will always be some forms of shopping more suitable for a personal hands-on experience. When I buy clothing, I always try to bear in mind the following five criteria (The 5 F's):
Fabric - What is the garment made of? Is it machine-washable? How does the fabric drape? Is the fabric water resistant and breathable? How will it stand the crumple test?
Fit - Exactly what size and shape is the garment? How well will it fit me - is it slim / loose? Is the garment true-to-size or larger / smaller than advertised?
Finish - How well is the garment put together? How tight / defined is the stitching? What little details elevate the quality of the garment?
Form - What is the garment's overall styling - colour, shape etc.?
Function - I like all my jackets to have minimum 4 sealable pockets. I love 2-way zips. Special functions include overall purpose of garment - e.g. athletic garments need to enable free movement, wick away sweat etc.
So when I buy something in-store, I can run my fingers along the stitching and seams to ascertain quality, I can also obviously try on the garment to ascertain how good the fit is, how well it suits my frame etc. - all people are different shapes and sizes and not all brands will suit.
When buying online, as you cannot easily apply all the 5 criteria, there will obviously be a fair degree of returns, so for Fashion Retail, the returns process is an essential component. Overall though, you are trying to overcome various barriers to sale - to put the shopper's mind at ease and remove all doubts they may have. I devised the above template to include all the necessary details to give a shopper full confidence to buy from you. I buy a fair amount of clothing online, and have distilled best practices from the leading fashion retail sites, as well as extrapolated some finer nuances which appeal to my own discerning nature.
NOTE - that I was limited by space (800 x 800 pixel visual) and that the above concept is obviously a little cramped for space - the final implementation would of course have a more spread-out layout.
The key purposes of the included elements are as follows:

Ratings | Reviews | Share +
Social elements are key to encouraging purchases onsite (Ratings + Reviews) as well as through distributed social media

...

1 comment
|
permalink
|
email this
|

|





18 Feb 2014 9:26 AM

Popular

Comments

Profile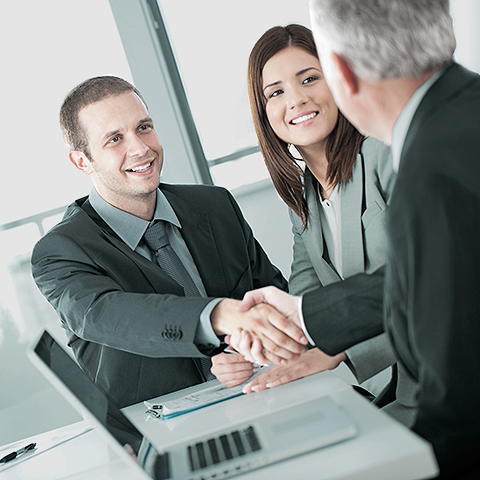 Society is going through a key step change at the moment - we're still in the throes of a major global move to urbanisation - prices are sky-rocketing and living space is shrinking. What with wage levels largely frozen since 2008 - your typical householder has less disposable income and less space to stow their goods.

Several rental-type businesses are already into maturity through technical innovation - most people rent or subscribe to music and video now - via iTunes / Google Play / Spotify / Netflix / Hulu / Sky and the like, and people mostly subscribe to literature now too via Kindle / eBooks.

As the new social / eco-conscious economy looks to cut down on wastage and the various different types of pollution, consumers are increasingly looking away from materialism towards more responsible means of accessing products and services. There's not just a change in consumption / consumerism, but also a change in how we utlise existing resources. A few of my neighbours for instance make use of Airbnb to get additional income via renting out a spare room. It's also getting fairly common in Reykjavik that several young professional couples are sharing a house - for the sake of more affordable rents.

Many retailers need to face up to these new challenges and find new means of delivering their services. What with the growing success of eBook monthly subscription service 'Scribd' I'm surprised that none of the publishing giants have really taken this to heart. I would be all for paying a £9.99 monthly fee for unlimited Kindle eBooks access (a la Spotify) - why hasn't Amazon done something about this - they already sell, and rent out videos. It's a no-brainer for media companies to offer different means of accessing / acquiring content - from short-term rental to longer term subscription and yes - outright purchase. The truth is most media buyers don't realise that when they buy a digital version of something (Kindle, iTunes) it is actually a long-term subscription, they don't really ever actually own the media (it's more of a licencing model). I'm really surprised that a major player like Amazon has not yet given its customers similar options with Music and Literature as to what it already provides for Video.

The car rental / traditional taxi business

...

Add Comments
|
permalink
|
email this
|

|





13 Feb 2014 8:42 AM

Popular

Comments

Profile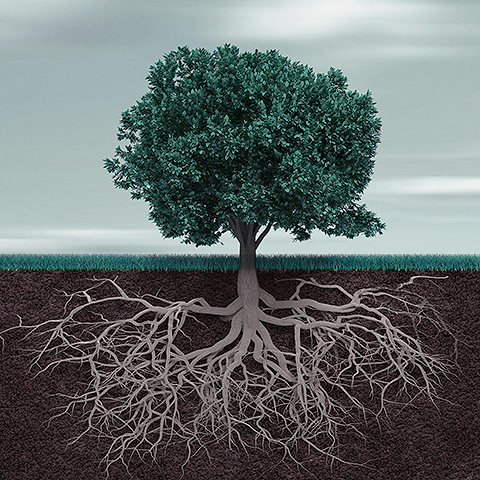 There's a huge amount of processes and procedures that go into building a business online it would be very difficult to cover absolutely everything in a single article. Instead I have tried to distil some of the key considerations which get you into the right mindset and help you maintain good habits for growing your site in an organic fashion. There's another promotional layer which overlaps with this, and is often called 'Growth Hacking', which we will be covering in a later article ...

Target Audience
The first rule of growing your business is 'Know your customers' - to be able to successfully target prospective customers, you need to know exactly who you are going for and what their motivations are. You need to be able to put yourself into your customers' mindset and see the world from their perspective - to properly identify their needs and how to meet them. You need the strength of mind to be able to filter out your own personal bias and preferences - as your personality can easily get in the way of objectivity! The customer acquistion cycle is a staged / iterative process - one which we often call 'The Customer Ladder'; to successfully acquire and retain customers you need to understand their motivations and behaviour at each step in the cycle, so that you know how to engage them. I recall a professional and serious news / reportage site which was styled in screaming pink - a preference of the site owner, but something which somewhat undermined the gravitas of the news, and alienated certain prospective readers...

Relevant Content + Products + Services
This is essentially the second rule of business - 'Serve your cusomers'. There's actually several subdivisions to this, and different categories of content which need to appeal to prospects as well as existing customers. At the simplest level we are talking about 3 categories of content / products here - what you are actually selling is the core, but then you have supporting materials and facilities - some of which will need to appeal to prospective customers and some to existing customers - each will have a different degree of scope and depth. You need to be able to consitently and regularly provide supporting materials to ongoingly engage your audience. For prospects, and in advertising, we

...

Add Comments
|
permalink
|
email this
|

|





13 Feb 2014 7:36 AM

Popular

Comments

Profile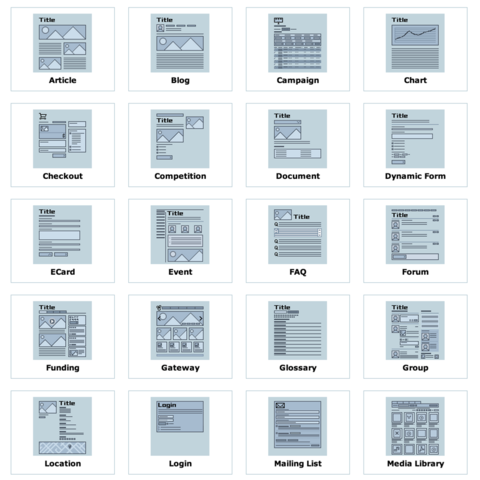 We've got some great usability enhancements coming in Affino 7.5. One of the best is going to be the new interface when you add Channels. It will answer hundreds of questions all by itself and make the process of adding new aspects to your online business that much easier.
Usability First
Channels are at the heart of Affino, they allow you to create dedicated areas on your site for the key activities you will be doing online such as blogs, forums, forms, product listings, checkouts etc. You only set them up when you need them, and because that is a fairly rare activity in Affino the process hasn't been made as usable as it should be.
We know from our conversations that the more you use Affino the more you love it, so we're committed to making it as easy to explore all Affino has to offer. The new Channel adding process does just that, inviting you to explore new areas and making it much easier to do so.
Looking Back
A few years ago we introduced Standard content channels to Affino. The idea behind the new standardised approach was that we could provide a single interface for managing all the 'pure' content ranging from news articles, through to FAQs, Presentations and Glossaries. It allowed us to quickly roll out publishing workflows for all content, unified tagging (taxonomies), live editing and much more.
The downside was that it became more complicated to set up new aspects from scratch and Affino's performance took a hit since we now processed a great deal more for each and every standard content page.
Over the years we have made adding channels considerably easier by improving the initial Affino build to include all the key channel types, meaning that for the first site everything is ready to be tweaked. We introduced the jump lookups which allow you to instantly do a detailed lookup or add new settings where they are required when adding channels. We also improved the performance over the years through multiple optimisation rounds.
The issue remained though that when you came to add new channels or new sites the process was needlessly complicated and the performance issues have never fully gone away. That all changes with the upcoming release.
The Way Ahead
The new Channel type selector (see above) is a great evolution from

...

3 comments
|
permalink
|
email this
|

|





10 Feb 2014 9:11 AM

Popular

Comments

Profile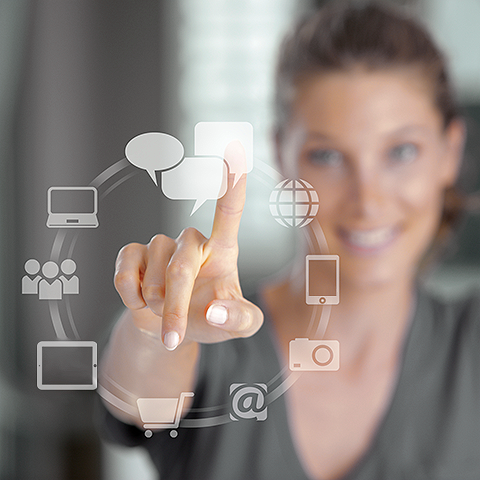 Not only am I an Ecommerce Specialist for Affino, I am also an avid International Internet shopper. I buy goods from pretty much every part of the civilised world - from USA to Hong Kong and Japan and all the major states of Europe in between (20+ countries). I have bought all manner of goods at all manner of prices / currencies and dealt with various returns processes, goods forwarding services and general customer services - including advanced goods and customs / imports handling. My day-to-day trifecta are Amazon, Ebay and Ocado, but I also have a love for Juno.co.uk (Vinyl) Wiggle.co.uk (Sportswear) and Parajumpers.it (Sportswear) - getting next day delivery from Italy for £22 is seriously good! Generally I love fast and efficient service best - and I love that Amazon uses Yodel to arrange doorstep pick-ups for returns - everyone should do this!
Here follow my recommendations for how everyone could sell better online:

1: Full Disclosure
Too many sites still get this wrong - not telling you everything you need to know to check-out with confidence. The bare minimum info you need is whether an item is actually in stock and ready for despatch, and EXACTLY how much it is likely to cost. Details need to be something like this:
9 in Stock, despatching now
Price £10.00
Standard 1-3 day delivery from £3.00
The above is clear and to the point, and has no ambiguity - many sites that don't display stock levels, don't actually have the items that they are listing 'in stock' - this should always be made clear to the consumer. I still see sites that don't include pricing on listings, and have no reference to delivery costs until you are in the final stages of checkout - all these are major cases for shopping basket abandonment.

2: Compact Info
Grouping all the essential order data together in one compact location makes it easier for customers to see what they're in for, and therefore better predisposed to actually making an order. Many sites hide essential information behind tabs, or locate it in different areas of the page. A single at-a-glance box with everything you need to know compactly contained within it is the ideal here.

3: Reassurance
You will often hear me talking about 'Post Purchase Dissonance' i.e. the doubts a consumer

...

Add Comments
|
permalink
|
email this
|

|





03 Feb 2014 12:19 PM

Popular

Comments

Profile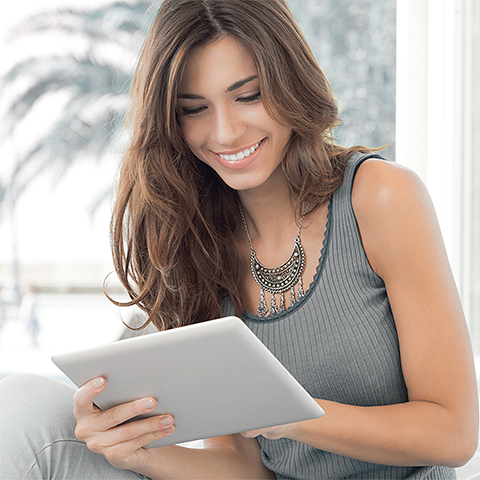 As part of our marketing campaign this year, we've reviewed a heck of a lot of publisher / magazine / book retailer websites, and while a lot of them are taking positive steps; as a whole, the industry is still a little bit off the pace for what the Internet can truly deliver. Most publishers are still faced with dwindling book sales overall, particularly since the slow-down of the '50 Shades of Grey' phenomenon which briefly invigorated the industry.
There's been an obvious transition from traditional books to ebooks and electronic formats, but still the general public reads far too few books each year as a whole. The publishing industry has somewhat forgotten that they are part of the Entertainment Industry and are competing with clever innovations in Television like Netflix, Spotify for Music and 3D + Atmos sound at the Cinema. Publishing needs to get more innovative and produce a richer, more immersive experience. Publishers need to engage their customers better, give them more ways to access and interact with their published works, and a deeper, more affecting long-term relationship.

Social Engagement
The typical book-selling websites simply just list books, with generic descriptions, ISBN codes and one or two prices. The more clever add industry reviews and author details, but relatively few enable proper interaction via commenting, forums, recommendations and the like. Social Engagement is not just key to getting customers more involved with books and magazines, it's also essential for the promotion of the same.
Social Participation
This has been done before, but not nearly enough - letting readers become an active part in the writing / direction of the narrative. I'm not talking about succumbing to a mob mentality, but more about creating an ongoing and active means for readers to get involved in their favourite works. There's lots of examples of crowdsourcing for various creative endeavours - and this is just the kind of thing publishers can do to make themselves more relevant and more accessibly to their customers.

Taxonomy and Personalisation
Advanced hierarchical topic-tagging is essential for accurate recommendations of like works. In my article 'How Taxonomy and Recommendations are key to a successful Christmas Retail Season&

...

Add Comments
|
permalink
|
email this
|

|





03 Feb 2014 12:00 PM

Popular

Comments

Profile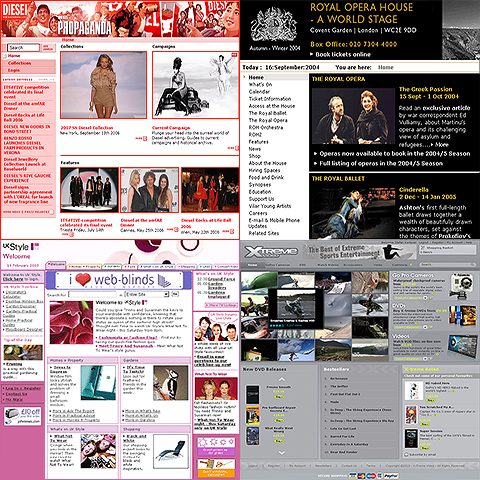 Our Affino Social Commerce Solution - soon to be version 7.5, has been around for a lot longer than many realise, and has quite an illustrious history. This article is intended to illuminate some of the highlights from Affino's past evolution - especially for those who have not yet had the pleasure of experiencing Affino.

The roots of Affino go back to Markus's (Affino CEO) consultancy years of 1997/8 where Affino evolved out of the somewhat more rigid 'Sunrise' Platform, which Markus developed to run websites for Audi, Casio and Carrera Technology. The original Carrera Technology implementation has continued to influence the development of Affino, as it really was a state-of-the-art Ecommerce experience of that time, with a series of advanced specifier steps in the checkout process, and real-time inventory integration and delivery management - pretty state-of-the-art for 1998.

The company Emojo (a precursor to Comrz, with several of the same staff) was founded in 1998 with a view to developing 'Sunrise' into a more modular platform that would be easier to implement, and most importantly - be easy to manage by customers. Right from the offset, the intention was to build the best system for selling online. There was always a long term goal of creating a full-featured modular hub, with essential plug-and-play functionality at its core, and simultaneously empowering site owners to take full control of their entire online business and to maximise their revenues through the Internet.

A key cornerstone to doing business online is the ability to sustain complex, long-term dialogues and interactions with customers. This is why, right from the start, Affino came fully loaded with social-interaction capabilities. In the early years, Ecommerce took a bit of a back seat, while the social engagement core of the system was being finessed.

Flash has largely come and gone, as has Affino IPTV and numerous other innovations of their time, which have since been replaced with ever-evolving contemporary technologies like Responsive Design and the Automated Customer Ladder. The future direction for Affino is always guided by finding the best balance between empowerment, total technical ability, seamlessness, learnability and simplicity. Affino has always been developed with the intention of delivering the

...

Add Comments
|
permalink
|
email this
|

|





28 Jan 2014 2:59 PM

Popular

Comments

Profile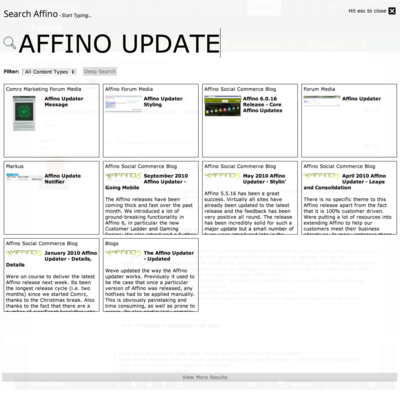 Affino 7.4 is very much a usability focused release which includes six months' worth of usability improvements and bug fixes. There are key usability improvements throughout Affino and the CRM in particular has been transformed in its day-to-day usability with this release.
Affino 7.4 also introduces two new significant behind the scenes changes. The first is that everything now points to affino.com, the second is the shift for the Design Centre to be the Classic Design Centre. You should not notice any changes with these two introductions except they're pointing at different locations.
This release also prepares much of the groundwork for Affino 7.5 which sees the introduction of the responsive design centre later this quarter.
Upgrade Guidance
The Affino 7.4 is very much a stability release and is an essential update for all Affino sites. It is an easy update, simply go through the standard update process. You will need a new licence key to access the updated Social CRM elements so please contact your account manager.
It is essential that you run through the complete update process starting with the Affino Updater, followed by the System Update, Re-Initialise Site, Design Element Update, Skin Update and finally Clear Guest Cache; all of which are available on the Settings > Update screen.
Key Enhancements
Social CRM

Affino's Social CRM has seen major improvements in this release with the focus on improving the sales workflows and productivity. It means it is now easier to work with prospects as they are created as non-members and then seamlessly transitioned to full members when they register, bringing along all the pre-registration contact history. A major focus has been on minimising the steps required to manage prospects, e.g. entering the details on the contact for a new Account will instantly create the account.

Finding contacts is now much easier as you can tag them to your 'My' list anywhere with simply a click. When searching and you select a user from the predictive drop-down you will be taken to them immediately.

We also introduced Contact Notes which let you easily track any correspondence with the contact. These are then instantly trackable to Accounts and to a centralised Contact Notes screen. Future upgrades will see

...

1 comment
|
permalink
|
email this
|

|


| | |
| --- | --- |
| Found: 388 Displaying: 1-20 | |

Subscribe to feed

Subscribe by email
Recent Visitors