12 November 2015 8:26 AM GMT
youtube
Endorsement
Product Placement
Instagram
Essena O'Neill
Soical Media
Self-Publicity
Selfie-Publicity
Influencer Markeitng
Social Media Influence
Social Media Lifestyle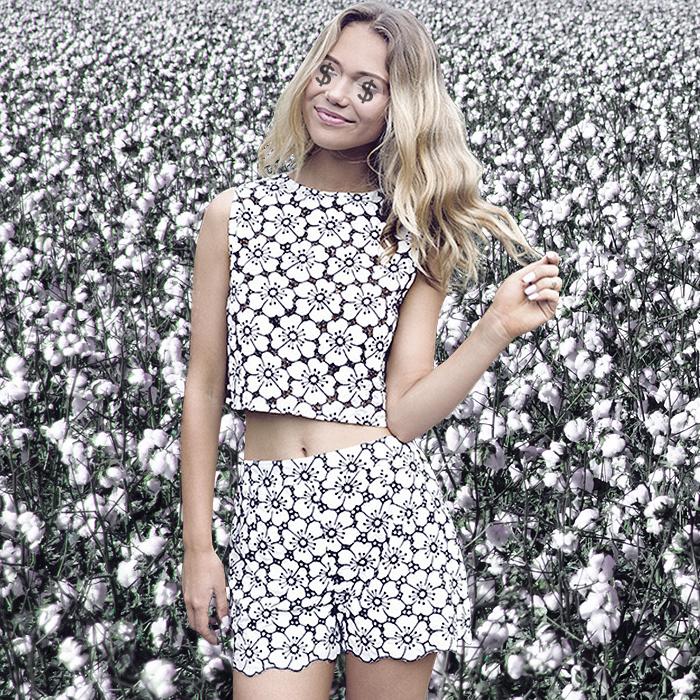 Everyone is now familiar with Essena's route to fame - via posting 'posed' pictures on Instagram and the occasional YouTube featurette. Social Media celebrities are a dime-a-dozen these days and many are far too young and lack the strength of character to handle the nastier side such exposure brings.
Individuals put themselves under huge amounts of pressure (particularly psychological) to create and catch perfect moments to properly represent their supposedly fabulous
...
20 November 2014 12:07 AM GMT
youtube
SoundCloud
Amazon
iTunes
Spotify
Digital Music
MP3
Music Industry
Taylor Swift
Music Streaming
Music Technology
Music Discovery
Music Promotion
Value of Music
Streaming Revenues
Bob Stanley
Pop Music
History of Music
Music Evolution
Music Industry Evolution
Vinyl Music
Recorded Music
Analogue Music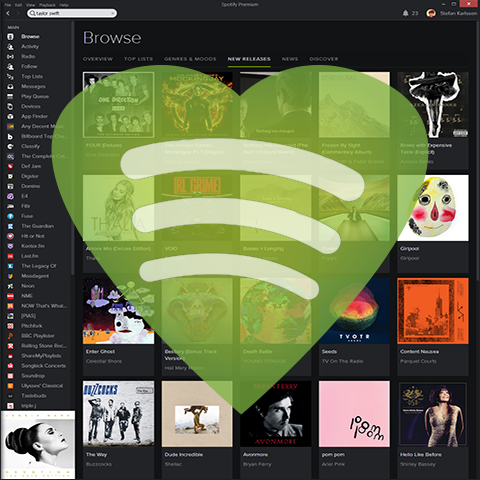 Taylor Swift is not the first to remove her entire catalogue from Spotify and nor will she be the last. Following on from her disingenuous pretense at offering better service to UK fans by forcing them to buy her whole pre-release album instead of being able to download individual promo tracks like the rest of the world could do. It's not a surprise that she's taken these latest extreme measures, but the reasons she gives are nothing more than record label bulls**t spin - in an
...
13 October 2014 11:10 PM GMT
publishing
social media
youtube
Social Promotion
Music Industry
GEMA
Music Discovery
Music Promotion
Publishers
VG Media
VG Media vs Google
Google Germany
Germany vs Google
Copyright Violation
Advertising Revenue
German Publishers
GEMA vs YouTube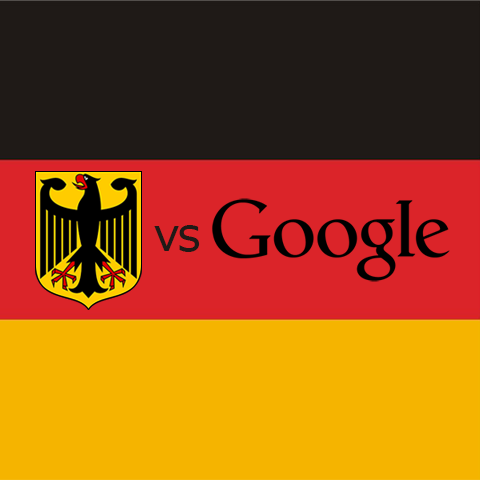 Two years ago I wrote an article about how GEMA, the German performance rights organisation had targeted Google's YouTube video platform in terms of how it dealt with the public posting of music videos not personally sanctioned by GEMA. GEMA's contention was that the 24 hour take-down rule was insufficient, and that Google / YouTube should be made to pay penalties for illegally displaying those videos at all, as it was gaining advertising royalties while those videos were played
...
04 June 2014 3:38 PM GMT
social media
youtube
music
SoundCloud
Music Industry
Swedish House Mafia
Sheet Music
Axel Hedfors
Axwell
Sebastian Ingrosso
Ingrosso
Social Participation
Axtone
Refune
Axwell Λ Ingrosso
Departures
We Come We Rave We Love
On My Way
Music Innovation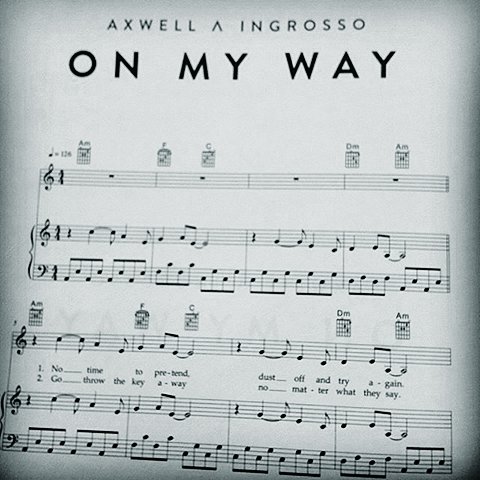 I'm a long term fan of Axel Hedfors aka Axwell from his earliest releases, avidly following the evolution of his label Axtone and his group projects and collaborations including Swedish House Mafia. Those who watched 'One Last Tour' will understand why the trio is no more, and the core of that group - Axwell and Sebastian Ingrosso have now struck out as a duo (Axwell Λ Ingrosso).
Their first move was to release their intro track as a free download:
And now they...
16 April 2013 2:01 PM GMT
Google
social media
youtube
Coachella
Coachella Festival
Coachella Live
Coachella Valley Music and Arts Festival
Coachella Music Festival
Music Festival
Music Streaming
Coachella 2013
Internet Streaming
YouTube Coachella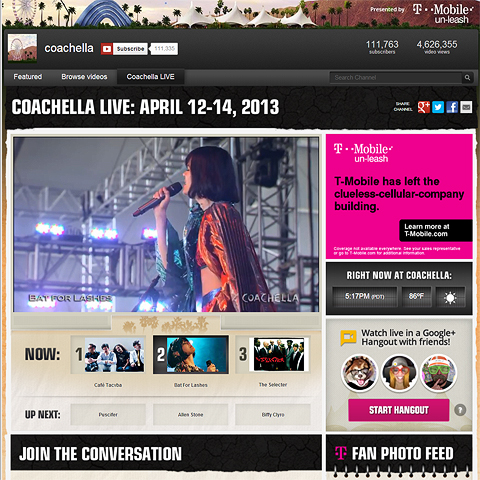 The Coachella festival always signals the start of Spring proper for me, I of course look forward to hearing some of my favourite bands play live, as well as seeing what advances YouTube / Google make in their coverage.
As far as the YouTube interface goes, I preferred last year's version - with the Social Media shout-outs appearing to the right of the main video. I also felt the who's playing and who's on next was better done last year too. As per last year - shout-
...
13 January 2013 9:21 PM GMT
MySpace
youtube
iTunes
Discogs
Lana Del Rey
Online Music
Niki & The Dove
Santigold
Music Discovery
AlunaGeorge
Chvrches
Haim
K Koke
Future of Music Online 2013
Future of Music 2013
2013 Musical Trends
Music Discovery Resources
New Artists for 2013
Sounds of 2013
2013 Album Release Schedule
Online Music Retail
Grimes
Iamamiwhoami
Ava Luna
Kendrick Lamar
Crystal Castles
Purity Ring
Poliça
Sportify
Daley
Elliphant
Foxes
Inc.
Kate Boy
M.O.
Glass Candy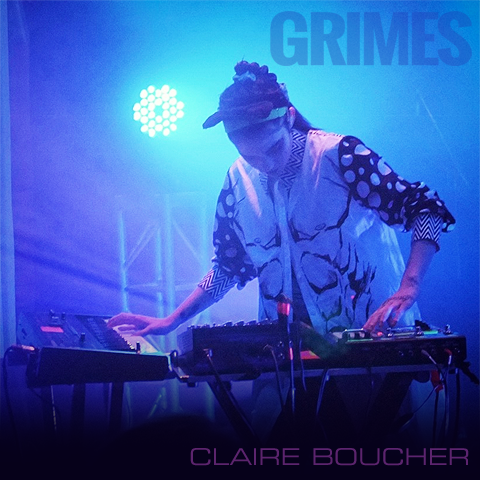 My Top 10 Albums of 2012
Visions - Grimes
Born to Die (Paradise Edition) - Lana Del Rey
Kin - Iamamiwhoami
Ice Level - Ava Luna
Good kid, m.A.A.d city - Kendrick Lamar
III - Crystal Castles
Shrines - Purity Ring
Instinct - Niki & The Dove
Master of My Make-Believe - Santigold
Give You The Ghost - Poliça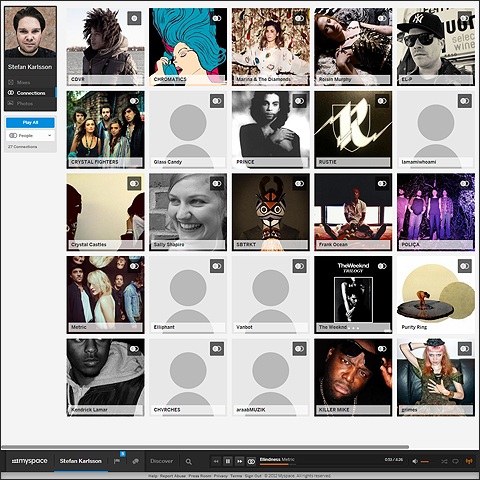 10 Musical Trends for 2013
MySpace will try to re-assert itself versus Spotify and iTunes - some nice features in the
...
03 November 2012 11:38 AM GMT
FaceBook
Google
youtube
Comrz
Twitter
LinkedIn
Affino
PayPal
Vimeo
Affino 7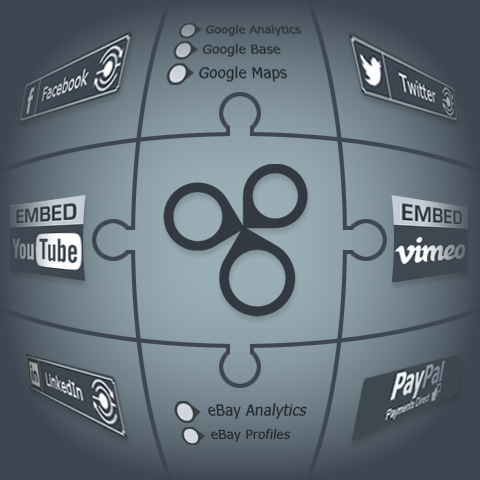 Doing business online is much bigger than any one website. You have to be where the people are, integrate your business hub with all the key sites out there, and make sure that everything integrates effectively with your back-end systems that you use day in and day out to get things done within your company.
Affino 7 integrates with over 100 systems, and of those 60 are out-of-the box integrations that you can simply enter your settings and connect to Affino. Affino also has a great
...
25 June 2012 11:52 PM GMT
FaceBook
social media
video on demand
youtube
Twitter
BBC
Glastonbury
Video Streaming
Live Music
Coachella
Google+
2012 Hackney Weekend
BBC Hackney Weekend
Music Festivals
Streaming Website
Hashtag
Web Interface
Festival Website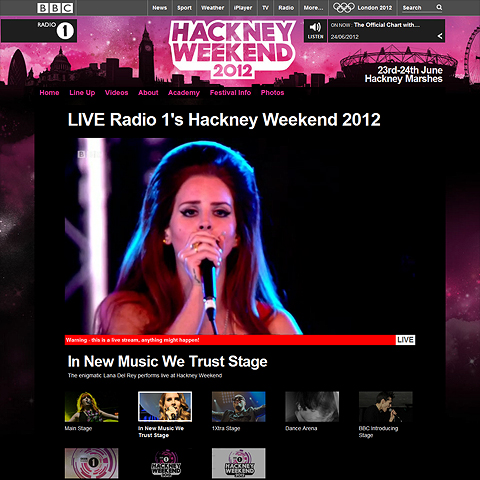 I'm an avid follower of the world's leading music festivals - specifically how they are broadcast and 'packaged' for the digital audience. I've kept tabs on the BBC's and YouTube's coverage of music festivals over the last few years, and reported back on how each has evolved their offering - benchmark events have been Glastonbury in the UK and Coachella in the US. In this Olympic year, there is no Glastonbury, so we will use BBC 1's Big Weekend
...
20 April 2012 11:26 PM GMT
social media
youtube
Music Industry
Social Internet
GEMA
Germany
Copyright Infringement
User Contributed Content
Media Screening
Music Discovery
Music Promotion
Royalties
Revenue Sharing
Copyright Fines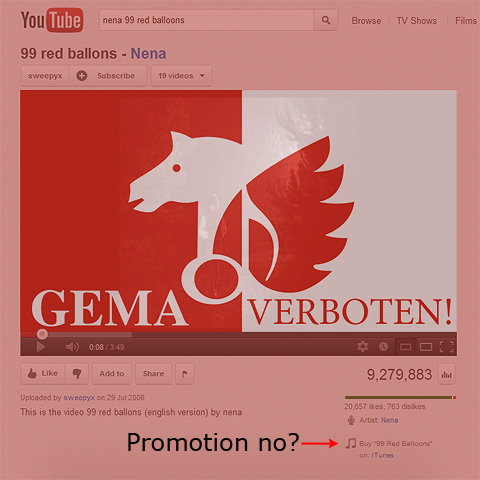 In yet another example of its failure to get a grip on Internet reality, the music industry - Germany's GEMA Association this time round, has somehow managed to win a court case in Hamburg - where YouTube has been held to be fully accountable for its users' uploads - at the point of upload.
The only model that can work for Social Media (User-Contributed-Content) - is post first, then screen and remove when copyright or other issue are reported; trying to screen everything
...
18 April 2012 10:36 PM GMT
FaceBook
social media
youtube
Twitter
Firefox
BBC
Google Chrome
Coachella
Coachella Festival
Coachella Live
Coachella Valley Music and Arts Festival
Coachella Music Festival
Swedish House Mafia
Google+
Azealia Banks
Frank Ocean
The Weeknd
SBTRKT
Coachella 2012
Miike Snow
Datsik
Snoop Dogg + Tupac
Santigold
arabMUZIK
Lykke Li
Talk Talk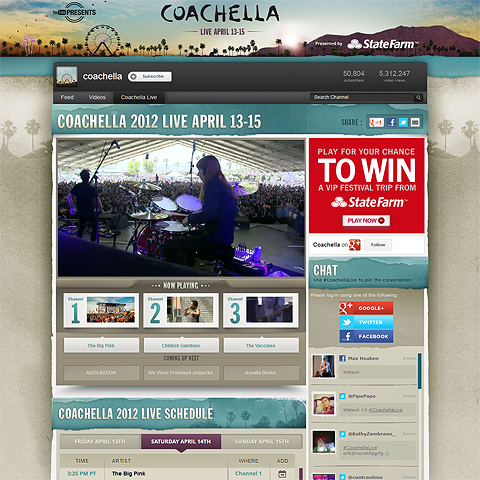 Last year I blogged about catching the year's first big music festival courtesy of YouTube - who broadcast live form the 5 stages over the 3 days. I raved about the really clever interface - how they included hashtags into their live updates - and how slickly the whole thing worked, including the uninterrupted streaming broadcast itself.
This year the layout of the interface was even better - with the current and upcoming bands listed in the centre, and the updates off to the
...