You are here:
Home
|
Blogs
|
Stefan's Naturally Aspirated Blog





20 Nov 2014 12:07 AM

Popular

Comments

Profile
Tags:
youtube
,
SoundCloud
,
Amazon
,
iTunes
,
Spotify
,
Digital Music
,
MP3
,
Music Industry
,
Taylor Swift
,
Music Streaming
,
Music Technology
,
Music Discovery
,
Music Promotion
,
Value of Music
,
Streaming Revenues
,
Bob Stanley
,
Pop Music
,
History of Music
,
Music Evolution
,
Music Industry Evolution
,
Vinyl Music
,
Recorded Music
,
Analogue Music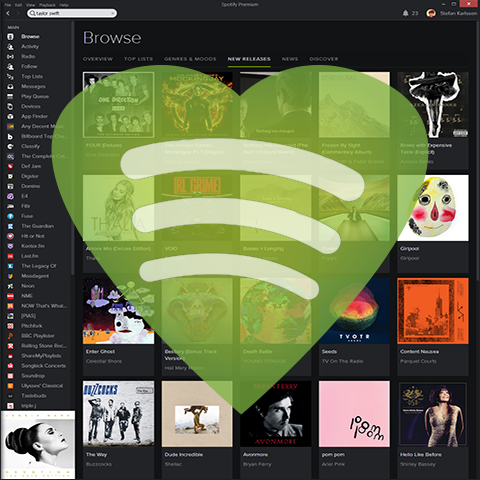 Taylor Swift is not the first to remove her entire catalogue from Spotify and nor will she be the last. Following on from her disingenuous pretense at offering better service to UK fans by forcing them to buy her whole pre-release album instead of being able to download individual promo tracks like the rest of the world could do. It's not a surprise that she's taken these latest extreme measures, but the reasons she gives are nothing more than record label bulls**t spin - in an attempt to divert attention away from a pretty blatant act of profiteering - which is to say that she removed all her music from Spotify so that the only way her fans could access it legitimately was via fully purchasing / owning the album and thus ensuring higher sales revenues... of course her less fastidious fans can still listen to her back-catalogue via Vevo, YouTube, Dailymotion, and a million other video and mp3 serving websites - the vast majority of which pass on absolutely no revenues to Taylor or her record label.

I myself am a huge music fan, not particularly of Taylor Swift, but I buy on average 2-3 albums worth of music each week - via iTunes, Amazon, Beatport and Juno Download etc., I am also a premium subscriber to Spotify whose services I really love - I still live in hope for proper full-range 'Spotify' -like services for Films, for TV and for Books. Long have we heard the music industry and particularly certain old-fashioned (backward looking?) echelons within it bemoaning the diminishing fortunes of the industry - compared with its heyday in the 70's and 80's - seemingly totally oblivious to ever evolving changes in society and in technology.

Let's then not forget to review the entire history and evolution of popular music, and how mainstream American radio is still very much influenced by payola-like dynamics - or pay-for-play. Bob Stanley (Saint Etienne + Yeah Yeah Yeah: The Story of Modern Pop) traced the origins of modern pop back to the 50's and the start of the 45rpm vinyl records which fuelled the earliest pop charts. Records were initially seen as promotional tools to ensure radio-play in order to get more members of the public to attend concerts. The peak of record-buying was reached in the late 70's / early 80's - where the records became an artist's main source of

...

Add Comments
|
permalink
|
email this
|

|





13 Oct 2014 11:10 PM

Popular

Comments

Profile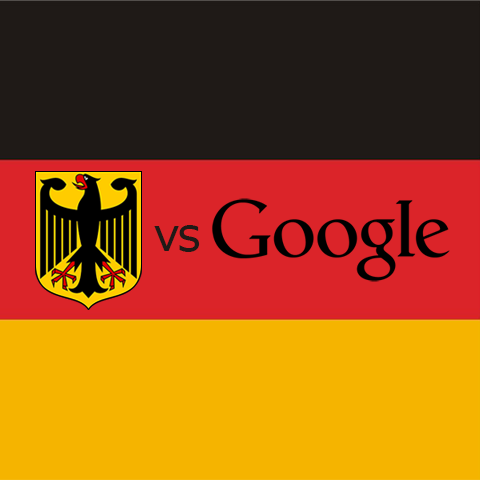 Two years ago I wrote an article about how GEMA, the German performance rights organisation had targeted Google's YouTube video platform in terms of how it dealt with the public posting of music videos not personally sanctioned by GEMA. GEMA's contention was that the 24 hour take-down rule was insufficient, and that Google / YouTube should be made to pay penalties for illegally displaying those videos at all, as it was gaining advertising royalties while those videos were played back by members of the public. The end result of that action has been that YouTube in Germany is now a total shadow of its former self, with hardly any native music videos displaying at all.

YouTube is, and always has been, one of my very best music discovery resources, so GEMA really does not understand the impact of its actions which have at the very least negatively impacted on its members. I've lost count of the number of artists I have discovered and grown to like via YouTube - leading to my direct purchasing of their albums and singles on iTunes, Amazon, Beatport, Juno and Phonica. While other mainland European countries - the Netherlands, Belgium, France and Scandinavia are still regularly producing international hits, it has been a long time since anything significant has come out of Germany. GEMA plainly does not understand YouTube's place in the promotional cycle of music - and how much importance international artists place on the gaining of 1 million plus views on promo videos primarily via YouTube. Psy's global hit 'Gangnam Style' and Ylvis's 'The Fox' are unlikely to have happened without YouTube playing a significant part - in fact YouTube is responsible for the careers of many of pop's current crop of young(-ish) performers - Justin Bieber included. Younger generations of Germans are more than slightly frustrated and upset by GEMA's stance, whose net effect has been to enormously devalue the impact and worth of the German music industry.

The most recent chapter in this ongoing story concerns German publishing association / agency VG Media which launched a case against Google for its inclusion of snippets of VG's members' copyrighted text, as well as copyrighted images in the form of thumbnails used to punctuate search results under 'Google News'. VG Media

...

3 comments
|
permalink
|
email this
|

|





04 Jun 2014 3:38 PM

Popular

Comments

Profile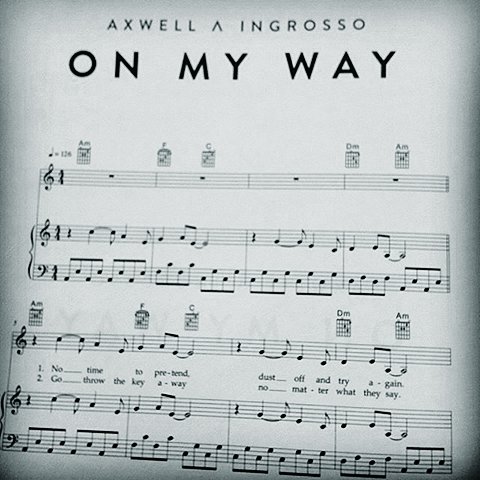 I'm a long term fan of Axel Hedfors aka Axwell from his earliest releases, avidly following the evolution of his label Axtone and his group projects and collaborations including Swedish House Mafia. Those who watched 'One Last Tour' will understand why the trio is no more, and the core of that group - Axwell and Sebastian Ingrosso have now struck out as a duo (Axwell Λ Ingrosso).

Their first move was to release their intro track as a free download:

And now they aim to revolutionise social participation by releasing the sheet music of their new song 'On My Way' - way ahead of its actual production release. The idea is to get the fans involved in the creation of the sound of the song - via their own demos and no doubt YouTube and SoundCloud posted variations.

I don't believe such an experiment has ever been done before in this way, and I am excited to see just what the fan community comes up with - and what / how much of this ends up being part of or influencing the final release.

Following on from Beyoncé's self-released album, it seems that the music industry still has plenty of innovation in store - albeit from the individuals now rather than the big labels ...

2 comments
|
permalink
|
email this
|

|





16 Apr 2013 2:01 PM

Popular

Comments

Profile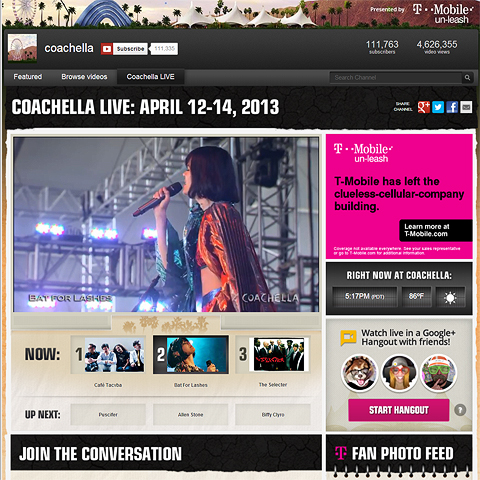 The Coachella festival always signals the start of Spring proper for me, I of course look forward to hearing some of my favourite bands play live, as well as seeing what advances YouTube / Google make in their coverage.
As far as the YouTube interface goes, I preferred last year's version - with the Social Media shout-outs appearing to the right of the main video. I also felt the who's playing and who's on next was better done last year too. As per last year - shout-outs were evenly split between Twitter and Facebook, with Google+ messages barely 1 in 50.
What really stood out this year though was the 'Rebroadcast' service YouTube provided - where they looped the live footage 2-3 times after each night. This is how I watched most of the acts - and it enabled me to dive right in and see who I wanted to see and skip those who did not spark my interest.
YouTube / Google are still fairly poor at the Video highlights / edit thing and the so-called 'Highlight Reels' are attrocious. The BBC is far better at the editing thing - and providing full and set highlights per artist.
Obvious trend this year was the dominance of what the American's like to call 'EDM'. In terms of legendary performances though, there were very few of these - Major Lazer put on a spirited show, but it's really only dance music acts like Basement Jaxx and Groove Armada who know how to put on a proper show for this genre of music. However good James Blake's music is, I'm not sure how well it works in a lively festival setting - I tend to agree with Glastonbury die-hards in that you need a proper spirited 'band' mechanic for a live performance to really work - and on that basis, the standout highlight for me was Janelle Monáe. Of Monsters and Men, Yeah Yeah Yeahs, Grimes, Bat for Lashes, La Roux, Metric and Poliça were pretty good too...
I caught whole or partial sets by the following artists:
Baauer
Bassnectar
Bat for Lashes
Beardyman
Benny Benassi
Blur
Disclosure
Franz Ferdinand
Grimes
Infected Mushroom
James Blake
Janelle Monáe
Jessie Ware
La Roux
Major Lazer
Metric
Moby
New Order
Of Monsters and Men
OMD
Poliça
Purity Ring
Yeah Yeah Yeahs
The XX
...

Add Comments
|
permalink
|
email this
|

|





13 Jan 2013 9:21 PM

Popular

Comments

Profile
Tags:
MySpace
,
youtube
,
iTunes
,
Discogs
,
Lana Del Rey
,
Online Music
,
Niki & The Dove
,
Santigold
,
Music Discovery
,
AlunaGeorge
,
Chvrches
,
Haim
,
K Koke
,
Future of Music Online 2013
,
Future of Music 2013
,
2013 Musical Trends
,
Music Discovery Resources
,
New Artists for 2013
,
Sounds of 2013
,
2013 Album Release Schedule
,
Online Music Retail
,
Grimes
,
Iamamiwhoami
,
Ava Luna
,
Kendrick Lamar
,
Crystal Castles
,
Purity Ring
,
Poliça
,
Sportify
,
Daley
,
Elliphant
,
Foxes
,
Inc.
,
Kate Boy
,
M.O.
,
Glass Candy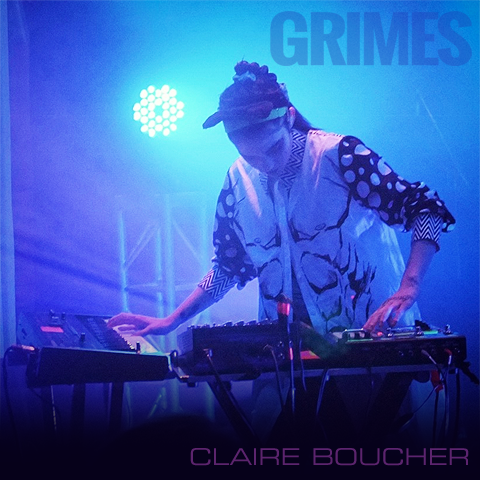 My Top 10 Albums of 2012
Visions - Grimes
Born to Die (Paradise Edition) - Lana Del Rey
Kin - Iamamiwhoami
Ice Level - Ava Luna
Good kid, m.A.A.d city - Kendrick Lamar
III - Crystal Castles
Shrines - Purity Ring
Instinct - Niki & The Dove
Master of My Make-Believe - Santigold
Give You The Ghost - Poliça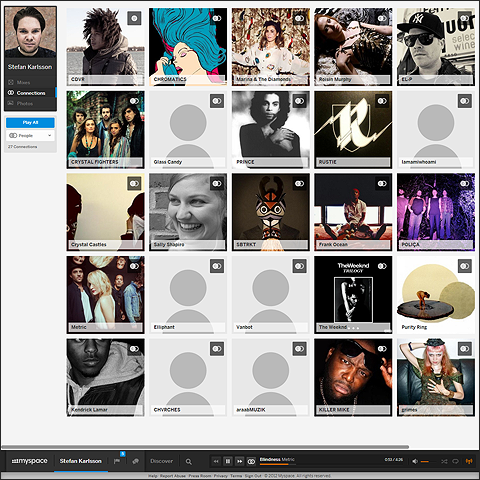 10 Musical Trends for 2013
MySpace will try to re-assert itself versus Spotify and iTunes - some nice features in the recent update, but not sure if it's enough to take on Spotify and become the defacto music discovery site - vs current front-runner YouTube
YouTube is still most likely to remain the dominant Musical discovery / promotion vehicle for most pop artists throughout 2013
iTunes and Spotify will hopefully bring out browser versions of their interfaces in 2013 - meaning we don't need to continue using clunky desktop applications
We will see more mixing apps and utilities in 2013 - allowing you to create seamless fx-laden DJ mixes and compilations from your own digital collections, YouTube, Spotify and iTunes, something along similar lines to Turntable.fm - but simpler and more stand-alone
We are still waiting for genuine competitors to Spotify; - iTunes was feted to launch a streaming service in 2012 but nothing materialised - perhaps we will see something more promising this year - perhaps MySpace can have a real impact
Expect to see further advancements and refinements in musical services SoundCloud and MixCloud - both could do with better music discovery facilities
In 2012 almost all my Music Album consumption was digital - I only bought a handful of CDs for albums which I was unable to acquire digitally - still suprising to see that not everything is yet available universally in commercial digital formats
Amazon is set to become sole purveyor of mass-market solid format music (CDs really) with the demise of Play.com's own products retail and HMV in dire trouble, digital music really is king (For me that means iTunes, Amazon, Beatport, Juno and even Spotify downloads on occasion)
Lady Gaga has announced a multi-media / apps extravaganza for her new album - along similar lines to Björk's Biophilia, kind of surprised more artist have not followed suit already
What with cinemas now showing Live Theatre, Opera, Concerts and Sporting Events,
...

17 comments
|
permalink
|
email this
|

|





03 Nov 2012 11:38 AM

Popular

Comments

Profile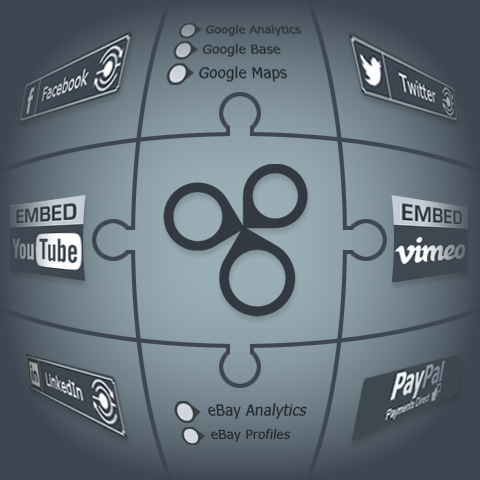 Doing business online is much bigger than any one website. You have to be where the people are, integrate your business hub with all the key sites out there, and make sure that everything integrates effectively with your back-end systems that you use day in and day out to get things done within your company.
Affino 7 integrates with over 100 systems, and of those 60 are out-of-the box integrations that you can simply enter your settings and connect to Affino. Affino also has a great API for connecting to any compatible system out there.
It's impossible to select any seven key integrations. Below are some of the best known and most used ones. It all depends on what kind of online business you're running:
Affino is integrated with a dozen Google services. Google's Analytics and Maps are still the world's benchmark, and the Google Merchant Centre continues to grow in influence. We do a great deal to optimise Affino for Google Webmaster Tools and to deliver great SEO.
Paypal is integrated directly into Affino's store checkout. Affino's PayPal integration supports direct / indirect, credit card / debit card / PayPal payments, single-page / offsite payment, one-off and renewable payments all just with PayPal. It is one of a dozen different payment systems supported.
One billion of the world's citizens interact via Facebook, it would be churlish not to be involved. Affino live-publishes your content directly to Facebook as required.
Affino syncs seamlessly with the world's largest professional network, pulling in profile and network information and syncing status updates.
Affino integrates seamlessly with Twitter for instant updates in both directions. It can notify you when high-following members join your community and much more.
You can drop any YouTube video anywhere into Affino by simply posting the URL. It doesn't matter where you use it whether it is blogs, media library, articles, chat, comments, wherever. Same goes for all the other top video and other media sites.
Affino stores integrate directly with eBay markeplace - giving store owners a far larger catchment area / audience, same goes for Google Merchant Centre and coming soon to Amazon.

...

Add Comments
|
permalink
|
email this
|

|





25 Jun 2012 11:52 PM

Popular

Comments

Profile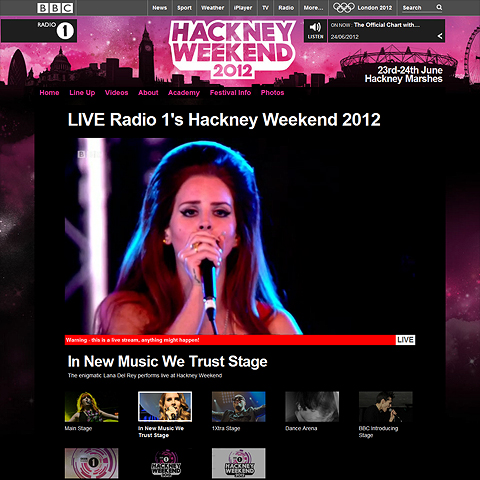 I'm an avid follower of the world's leading music festivals - specifically how they are broadcast and 'packaged' for the digital audience. I've kept tabs on the BBC's and YouTube's coverage of music festivals over the last few years, and reported back on how each has evolved their offering - benchmark events have been Glastonbury in the UK and Coachella in the US. In this Olympic year, there is no Glastonbury, so we will use BBC 1's Big Weekend extravaganza - the 2012 Hackney Weekend Music Festival as the UK benchmark.

Where the BBC always excels is in the depth and breadth of its broadcast coverage, and in its archiving. For this year's Coachella there was really just a smattering of play-back videos from the 3 days of live music, and no full sets. The BBC though has video highlights for pretty much every featured artist, including full sets for the festival headliners.

Watching live though was a different story, as YouTube's Coachella coverage had better broadcast quality and a much superior interface - with full interaction! For Coachella, fans were able to connect via Facebook, Google+ and Twitter and do comments and shout-outs during the performances - on a live update feed - obviously comments are enabled for most content on YouTube. YouTube also cleverly includes the hashtag #coachellalive on all the updates posted - for maximum exposure. Moreover YouTube's Coachella screen had a really clever rolling 'What's On' panel with dynamic thumbnails - which allowed you to mouse-over for live previews of each stage!

The BBC interface did not really makes the most of social media, and it was noway near as easy to organise your viewing schedule. I also noted that for last year's Carlisle Big Weekend, the BBC was much better at posting up setlists on the artist overviews. Currently the write-ups are mostly sans setlists, which is something we kind of expected after last year!

It's a tale of two very different approaches - as for live and direct coverage, YouTube's system was most obviously superior, but in terms of being able to really 'catch' the music - in terms of 'on demand access' - then the BBC comes up trumps, as you can view after the fact - most of what you missed, which was not the case for

...

2 comments
|
permalink
|
email this
|

|





20 Apr 2012 11:26 PM

Popular

Comments

Profile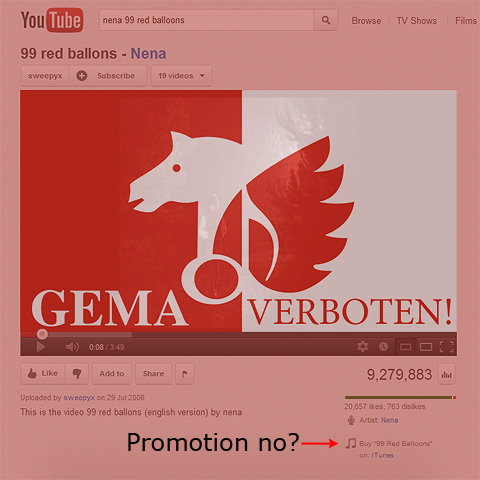 In yet another example of its failure to get a grip on Internet reality, the music industry - Germany's GEMA Association this time round, has somehow managed to win a court case in Hamburg - where YouTube has been held to be fully accountable for its users' uploads - at the point of upload.

The only model that can work for Social Media (User-Contributed-Content) - is post first, then screen and remove when copyright or other issue are reported; trying to screen everything at the point of entry just is not feasible or workable in any sense. YouTube is currently one of, if not THE most important Music discovery and promotion vehicles. The number of tracks / artists that YouTube has introduced me to is innumerable - and the amount of revenues I alone have contributed to said artists in singles / albums downloads surely pays for the odd track that is posted without permission from the copyright holder. The copyright holder can of course initiate removal requests for copyrighted material - which until now has been allowed to be actioned within 24 hours. The current system is fair and just, and most importantly is one that should work for all concerned - bar ignorant and greedy music industry types.

These Germans obviously don't see the benefit of music promotion, which is possibly why so few German acts make it into the global mainstream. As a counter example, Sweden's relatively tiny pop industry is immensely powerful in comparison to size of population - whilst Germany is the largest music marketplace in Europe, but contributes very few Internationally successful acts.

I have never been one to deny companies or artists a means of revenue - of course artists deserve to get paid for their work - but the process that GEMA is trying to introduce will ruin things for everyone - including their members. There's lots of very successful record labels running their own YouTube Channels - and making 'reasonable' revenues from them - a lot of labels are partly responsible for copyright infringed material - by failing to adequately service the latent need for their new music - like in any market, where there is demand, there needs to be supply - and people will generally orientate towards a quality product at the right price point.

The music industry has long felt the need to exert '

...

Add Comments
|
permalink
|
email this
|

|





18 Apr 2012 10:36 PM

Popular

Comments

Profile
Tags:
FaceBook
,
social media
,
youtube
,
Twitter
,
Firefox
,
BBC
,
Google Chrome
,
Coachella
,
Coachella Festival
,
Coachella Live
,
Coachella Valley Music and Arts Festival
,
Coachella Music Festival
,
Swedish House Mafia
,
Google+
,
Azealia Banks
,
Frank Ocean
,
The Weeknd
,
SBTRKT
,
Coachella 2012
,
Miike Snow
,
Datsik
,
Snoop Dogg + Tupac
,
Santigold
,
arabMUZIK
,
Lykke Li
,
Talk Talk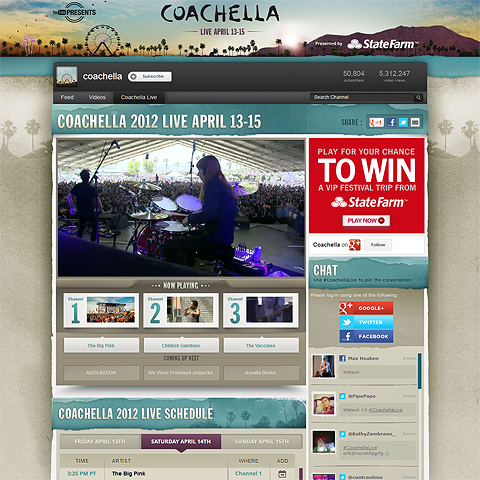 Last year I blogged about catching the year's first big music festival courtesy of YouTube - who broadcast live form the 5 stages over the 3 days. I raved about the really clever interface - how they included hashtags into their live updates - and how slickly the whole thing worked, including the uninterrupted streaming broadcast itself.
This year the layout of the interface was even better - with the current and upcoming bands listed in the centre, and the updates off to the right. It was interesting to see the addition of the 'Login with Google+' option - although I never saw a Google+ originated post - they were about 70% Twitter Updates, with 30% Facebook - I even logged on myself to post updates during the Azealia Banks and Miike Snow sets.
I did not really start watching properly until the Saturday - and thus caught a mix of highlights and full live gigs by the following artists:
AWOLNation
Azealia Banks
The Big Pink
Buzzcocks
Childish Gambino
Datsik
Dr Dre & Snoop Dogg + Eminem, Fiddy, Warren G, Wiz Khalifa et al.
Florence & The Machine
Kaiser Chiefs
Kasabian
Miike Snow
Noel Gallagher's High Flying Birds
Radiohead
Santigold
SBTRKT
Swedish House Mafia
I would have loved to have seen, but missed these:
Amon Tobin
araabMUZIK
Borgore
Dada Life
DJ Shadow
Feed Me
Flying Lotus
Frank Ocean
Girl Talk
Justice
Kaskade
M83
Noisia
SebastiAn
The Weeknd
I always compare YouTube's coverage of this with the BBC's coverage of its main music festivals. I think the actual live streaming and the social experience is better by YouTube, but overall the BBC still leads - as they provide so much better supporting materials - and actually post up much more of the video highlights - only 76 Videos are listed on YouTube's Coachella Page - and these are individual tracks, whilst for the BBC there is normally an extended highlights (circa 30 mins.) plus a couple of individual great moments from nearly all the featured performers - a number of the videos on Coachella Live are not even the best moments from those sets.

On my somewhat dodgy Talk Talk connection, I was astounded to get a totally seamless experience over the whole event - did not drop out once - and switching between the 3 live feed options was butter smooth!

As I've said before, I&

...

4 comments
|
permalink
|
email this
|

|





01 Mar 2012 12:01 AM

Popular

Comments

Profile
Tags:
FaceBook
,
social media
,
social networking
,
youtube
,
Twitter
,
iPhone
,
TED
,
Pinterest
,
Participation
,
Kevin Allocca
,
Hierarchy of Needs
,
Human Behaviour
,
Nyan Cats
,
Double Rainbow
,
Rebecca Black
,
Viral Video
,
Parody
,
Interaction
,
South Park
,
The Simpsons
,
Abraham Maslow
,
Comments
,
Opinions
,
Online Trends
,
Human Motiviation
,
Behavioural Science
,
Triangulation
,
Gallup
,
Social Interaction
,
Peer Influence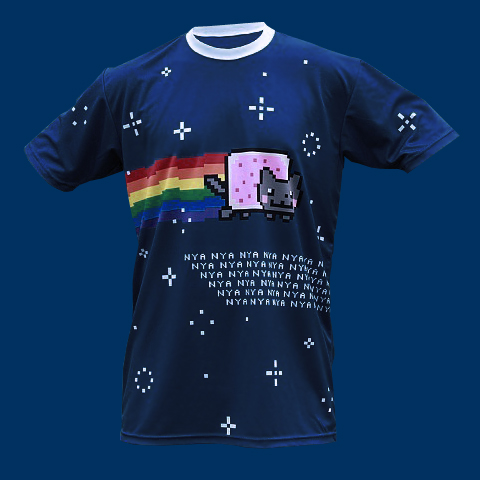 We people want to be involved in everything today - we want our say, we want our opinions to be heard and shared, and we want to be able to express ourselves artistically through clever parodies, skits and remixes of popular social media.

There's a brilliant, brief TED talk (below) by YouTube's Trends Manager - Kevin Allocca - where he tries to identify how out of millions of hours of video - phenomena 'Nyan Cats', 'Double Rainbow' and 'Rebecca Black's Friday' managed to stand out. Of course there are a myriad of causal factors there, but the obvious one is that of a shared experience and the ease of interaction and parody. Universally, we now live in the age of parody - as best exemplified by long-running animated shows 'The Simpsons' and 'South Park' where nothing is holy any more - everyhing is deconstructed, ridiculed and parodied - and the people love it!

A great part of the success of the aforementioned trio is the ease with which people could relate to them and parody them. Pretty much every decent pop song gets 'covered' in a million different ways within weeks of hitting the tops of the charts - punk versions, skiffle band folk versions, multi-tracked-acapellas, 2Cellos version, the ubiquitous dubstep remix etc. etc.

Twitter and Facebook's ubiquity in the ease of commenting, liking, re-tweeting and sharing is what makes them work, and what looks like a sound basis for new site Pinterest. Yet there are still forces out there that think that they can totally 'tailor' a user's experience - limit the amount of input, interaction and participation, and still create a successful marketplace - I'm not so sure any more.

By nature we humans are usually highly suspicious, increasingly cynical and often lonely and lacking in confidence in various aspects of our lives - we need regular interaction, recognition, support and approval - much as Abrahm Maslow identified all the way back in 1943. Much has been written about key influencers in human motivations, and one thing is for sure - and that is that complex communities of personal interactions are what best influence behaviour. Everything has to happen within a context and within the subjectivity of a person's activities, interests and tastes - yet the undeniable truth is that we are all

...

2 comments
|
permalink
|
email this
|

|


| | |
| --- | --- |
| Found: 31 Displaying: 1-10 | |

Subscribe to feed

Subscribe by email
Recent Visitors