You are here:
Home
|
Blogs
|
Stefan's Naturally Aspirated Blog





18 Feb 2014 9:26 AM

Popular

Comments

Profile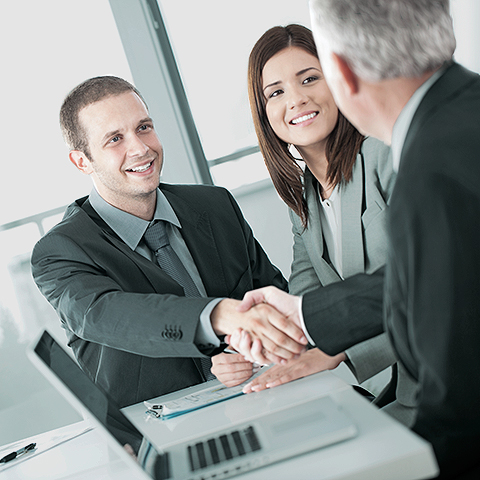 Society is going through a key step change at the moment - we're still in the throes of a major global move to urbanisation - prices are sky-rocketing and living space is shrinking. What with wage levels largely frozen since 2008 - your typical householder has less disposable income and less space to stow their goods.

Several rental-type businesses are already into maturity through technical innovation - most people rent or subscribe to music and video now - via iTunes / Google Play / Spotify / Netflix / Hulu / Sky and the like, and people mostly subscribe to literature now too via Kindle / eBooks.

As the new social / eco-conscious economy looks to cut down on wastage and the various different types of pollution, consumers are increasingly looking away from materialism towards more responsible means of accessing products and services. There's not just a change in consumption / consumerism, but also a change in how we utlise existing resources. A few of my neighbours for instance make use of Airbnb to get additional income via renting out a spare room. It's also getting fairly common in Reykjavik that several young professional couples are sharing a house - for the sake of more affordable rents.

Many retailers need to face up to these new challenges and find new means of delivering their services. What with the growing success of eBook monthly subscription service 'Scribd' I'm surprised that none of the publishing giants have really taken this to heart. I would be all for paying a £9.99 monthly fee for unlimited Kindle eBooks access (a la Spotify) - why hasn't Amazon done something about this - they already sell, and rent out videos. It's a no-brainer for media companies to offer different means of accessing / acquiring content - from short-term rental to longer term subscription and yes - outright purchase. The truth is most media buyers don't realise that when they buy a digital version of something (Kindle, iTunes) it is actually a long-term subscription, they don't really ever actually own the media (it's more of a licencing model). I'm really surprised that a major player like Amazon has not yet given its customers similar options with Music and Literature as to what it already provides for Video.

The car rental / traditional taxi business

...

1 comment
|
permalink
|
email this
|

|





03 Jul 2012 11:10 AM

Popular

Comments

Profile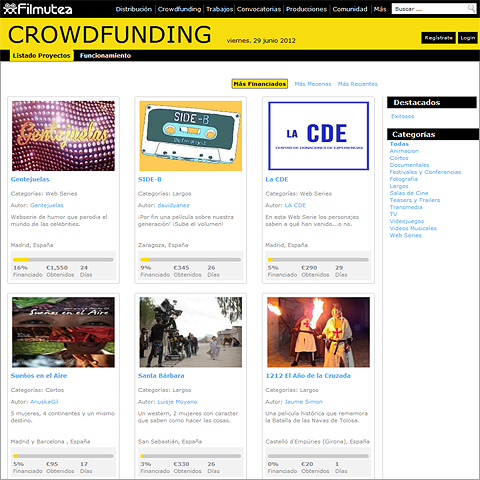 We're very proud of our relationship and collaboration with founding Filmutea members Robert and Gemma, whom we've been working with for the past 5 years. The intention was always to create the very best Film-Makers Resource - providing everything you might need to create motion picture magic.

The core of the site has long been the Jobs Boards, Classifieds, Events and Community - which help film makers network in order to find the cast, crew and equipment they need to produce their films.

Affino's new funding platform is the icing on the cake really - allowing film-makers to secure the capital required - through crowdfunding. The Funding Platform works along similar lines to Kickstarter - where members of the public can sponsor the production at different levels - each of which is usually recognised by some degree of reward or acknowledgment. Funding is enabled via PayPal transactions, and there are extensive settings and workflow profiles to handle the various projects posted. Typically the company that provides such a service (Filmutea in this instance) takes some form of commission - either a fixed rate or percentage of total collected.

Filmutea's holistic approach is summarised by it's current top level site structure:
Film Distribution | Crowdfunding | Jobs Board | Conferences / Festivals | Productions / Projects | Community

For us at Comrz this is the perfect showcase for Affino's full Social Commerce capabilties. In our opinion, this is one of the most rounded / complete professional networks on the Web, and the business model is incredibly strong - both for the service provider and service consumers. Currently Filmutea is targeted at Spain, and has 43,000 members; 19,000 Job Offers; nearly 6,000 Film Courses listed, and has its first major production under its belt.

If you are making films in Spain, this is your perfect launchpad. We look forward to seeing Filmutea expand into more territories in the next year or two. For anyone interested in creating a profitable professional social network, this is an excellent benchmark for how to do it.

...

1 comment
|
permalink
|
email this
|

|





19 Apr 2012 12:59 AM

Popular

Comments

Profile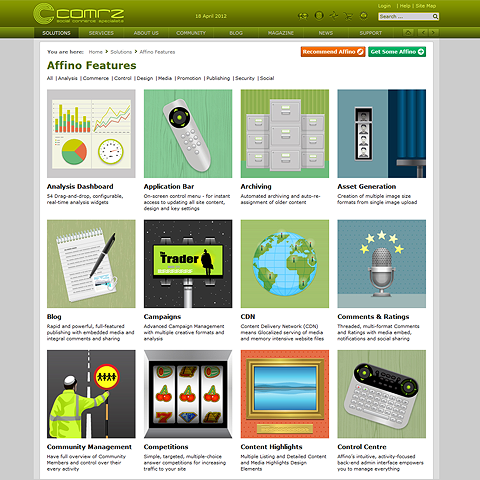 This project is the culmination of a year's work (for the Graphics!), in some ways it could be said to be the culmination of Affino's 15 years of development. We have long wanted an elegant means of showcasing the extensive Affino Features Set - and we have takled it a number of ways previously - trying to do a complete features listing (100's of individual elements - now archived for being too large), and the much celebrates 'Periodic Table of Affino Elements' - which has 128 listed features - yet still needs further essential additions.
This time it was going to be simpler, yet more detailed, more illustrative at the same time, and punctuated with some lovely iconographic and obviously meaningful pictures and screencaptures. We hand-picked a list of 50 key features as we saw them; alas 'Affino Messenger' still remains to be re-developed in HTML5 (some way off), but the other 49 can now be found listed on the pictured Affino Features screen; they are as follows:
| | | | | | | | | | |
| --- | --- | --- | --- | --- | --- | --- | --- | --- | --- |
| Analysis Dashboard | | | Application Bar | | | Archiving | | | Asset Generation |
| Blog | | | Campaigns | | | CDN | | | Comments & Rating |
| Community Management | | | Competitions | | | Content Highlights | | | Control Centre |
| Customer Ladder | | | Design Centre | | | Digital Goods | | | Directories |
| Discussion Boards | | | Ditribution Automation | | | Events | | | Forms |
| Groups | | | Incoming Feeds | | | Integration | | | Live Edit |
| Media Editor | | | Media Embeds | | | Media Library | | | Member Profiles |
| Membership | | | Mobile Formats | | | MP3 Player | | | Newsletters |
| Predictive Search | | | Recommendations | | | Related Items | | | Security |
| Social Commerce | | | Social Connectors | | | Social CRM | | | Store Profiles |
| Structure Management | | | Subscriptions | | | Syndication | | | Team Time |
| Topics and Keywords | | | Video Player | | | Web Services API | | | Workflows |
| WYSIWYG Editor | | | | | | | | | |
The intention is that they serve as a great reference for all of us, customers new and old - in getting a full and proper picture of Affino, and reminding us of useful features, functions and utilities that we were thinking of making use of but never quite got round to implementing on our site/s.

...

4 comments
|
permalink
|
email this
|

|





23 Mar 2012 1:36 PM

Popular

Comments

Profile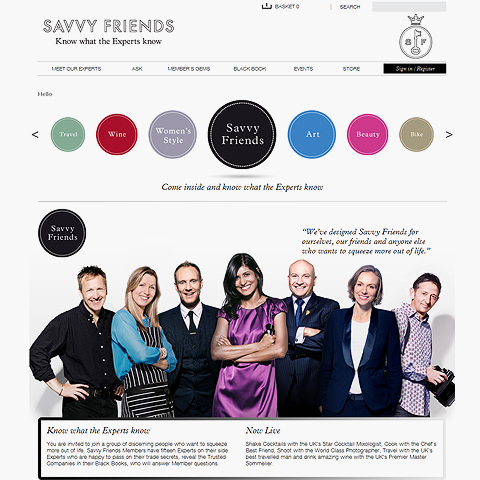 After months of planning, preparation, design, implementation and population, the Savvy Friends experience is finally ready for the world. It's been a largely enjoyable journey (great people involved), with constantly evolving procedural challenges, requirements for new channels of revenue and new business models.

What is actually launched now is in effect Phase 3 of the site - 3 generations of design templates and functional improvements have led to the current version running on the latest Affino release. All of this should give the site plenty of scope for flexibility and onward development and evolution.

It's amazing how much can be achieved with small teams - the Core of Savvy Friends - Simon, Warren, Yamit, David, James and Charlotte have put together all the design, content, media and refined detail touches. All of Comrz was involved too, but we're still just talking about a dozen or so individuals all together.

The attention to detail on the site is at a level we at Comrz have never before experienced - from the choice of the uniquely stylised fonts - Neue Helvetica and Plantin - down to the placement of the tiniest element - spacing, dimensions, proportions, use of integral social media - and a very refined approach to social interaction - everything has been carefully considered and layed out in optimal fashion.

The fine attention to detail is reflected in the exquisite photography, videos and products featured on the site. Markus and I attended the inaugural Savvy Friends Event last night - Wine Tasting at Master Sommelier Ronan Sayburn's Bistro du Vin on Dean Street, Soho. Our group of around 30 Savvy Friends founding members had the Salon / Library annex to ourselves, to enjoy Ronan's discourse on the first Savvy Wine Monthly Selection - and of course sampling thereof.

Ronan is the perfect ambassador for wine and for Savvy Friends - he conducted the wine tasting with affable charm and passion - keeping proceedings clear and unpretentious - yet peppered with thoughtful background vignettes. There were 3 wines as part of the formal tasting - all excellent, and of course available via the Savvy Friends Wine Store. Some were particularly enamoured with the Vouvray Les Argiles, which was excellent, but my personal favourite was the Côtes du Rhône, Clos du Caillou. All the wines were quite superb, and I also

...

4 comments
|
permalink
|
email this
|

|





01 Mar 2012 12:01 AM

Popular

Comments

Profile
Tags:
FaceBook
,
social media
,
social networking
,
youtube
,
Twitter
,
iPhone
,
TED
,
Pinterest
,
Participation
,
Kevin Allocca
,
Hierarchy of Needs
,
Human Behaviour
,
Nyan Cats
,
Double Rainbow
,
Rebecca Black
,
Viral Video
,
Parody
,
Interaction
,
South Park
,
The Simpsons
,
Abraham Maslow
,
Comments
,
Opinions
,
Online Trends
,
Human Motiviation
,
Behavioural Science
,
Triangulation
,
Gallup
,
Social Interaction
,
Peer Influence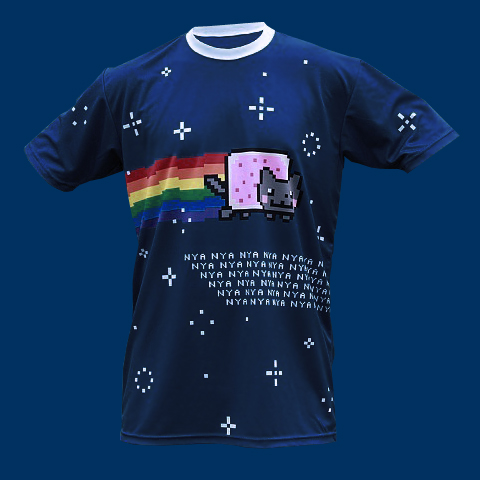 We people want to be involved in everything today - we want our say, we want our opinions to be heard and shared, and we want to be able to express ourselves artistically through clever parodies, skits and remixes of popular social media.

There's a brilliant, brief TED talk (below) by YouTube's Trends Manager - Kevin Allocca - where he tries to identify how out of millions of hours of video - phenomena 'Nyan Cats', 'Double Rainbow' and 'Rebecca Black's Friday' managed to stand out. Of course there are a myriad of causal factors there, but the obvious one is that of a shared experience and the ease of interaction and parody. Universally, we now live in the age of parody - as best exemplified by long-running animated shows 'The Simpsons' and 'South Park' where nothing is holy any more - everyhing is deconstructed, ridiculed and parodied - and the people love it!

A great part of the success of the aforementioned trio is the ease with which people could relate to them and parody them. Pretty much every decent pop song gets 'covered' in a million different ways within weeks of hitting the tops of the charts - punk versions, skiffle band folk versions, multi-tracked-acapellas, 2Cellos version, the ubiquitous dubstep remix etc. etc.

Twitter and Facebook's ubiquity in the ease of commenting, liking, re-tweeting and sharing is what makes them work, and what looks like a sound basis for new site Pinterest. Yet there are still forces out there that think that they can totally 'tailor' a user's experience - limit the amount of input, interaction and participation, and still create a successful marketplace - I'm not so sure any more.

By nature we humans are usually highly suspicious, increasingly cynical and often lonely and lacking in confidence in various aspects of our lives - we need regular interaction, recognition, support and approval - much as Abrahm Maslow identified all the way back in 1943. Much has been written about key influencers in human motivations, and one thing is for sure - and that is that complex communities of personal interactions are what best influence behaviour. Everything has to happen within a context and within the subjectivity of a person's activities, interests and tastes - yet the undeniable truth is that we are all

...

2 comments
|
permalink
|
email this
|

|





29 Feb 2012 1:22 AM

Popular

Comments

Profile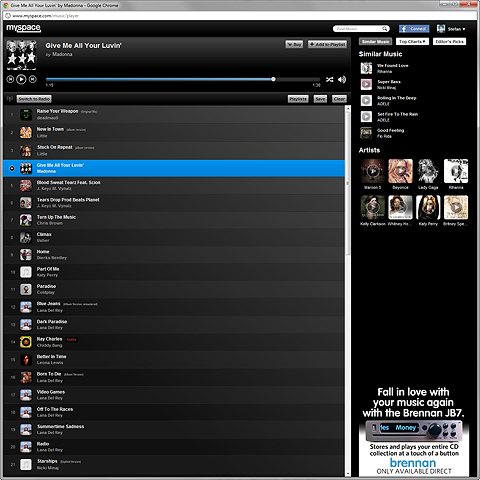 It seems MySpace is still very much in catch-up mode, as its latest offering does not really offer up anything close to the scene-changer that MySpace so desperately needs. I remember the older MySpace Player quite fondly - with its animated EQ bars and customisable colours; since then we have seen Spotify, Soundcloud, Tomahawk, Last.fm and even YouTube stealing a march on MySpace's former lead in the online music promo sector.

As a Music Player, it probably owes most to Spotify - in terms of its overall look and feel / usability, and recommended similar artists, playlists and 'radio' functions. Spotify though is much further ahead with all its really clever apps and integrations.

With Justin Timberlake's involvement in MySpace, I had high hopes that they would do something radical to try to take a leading stake in the music industry again. This Music Player is just an also-ran though, it really does not do anything better than what's already out there, and there's no cool function or even tiny detail touch which makes you sit up and take notice.

I'm not saying that MySpace is wholly doomed yet, but they have to do a lot better than this to make themselves relevant and worthy of our attentions once more. In the past I used to check in regularly with MySpace to listen to various artists' latest tracks - particularly new and up-and-coming artists. Nowadays, most artists make use of Tumblr or just upload a static image to YouTube to accompany their latest promo singles. I do regular record reviews, and the number of artists who use MySpace as a primary resource is dwindling fast, these days, music artists are more likely to lead on Twitter, Facebook and YouTube. It used to be the case that new music artists broke though on MySpace - a la Lily Allen, nowdays though it's YouTube a la Justin Bieber!

I have always said that for MySpace to succeed, they need to focus on the music-discoverability angle, which now has been largely taken over by sites like Last.fm and even Spotify, as I mentioned previously. MySpace has to come to market with something cleverer and slicker than what already exists - they need to be moving ahead, not toeing the line. If you compare the MySpace Music Player to Tomahawk for instance, MySpace is several steps off the pace, even though its presentation is more elegant. I have already

...

Add Comments
|
permalink
|
email this
|

|





18 Jan 2012 7:40 PM

Popular

Comments

Profile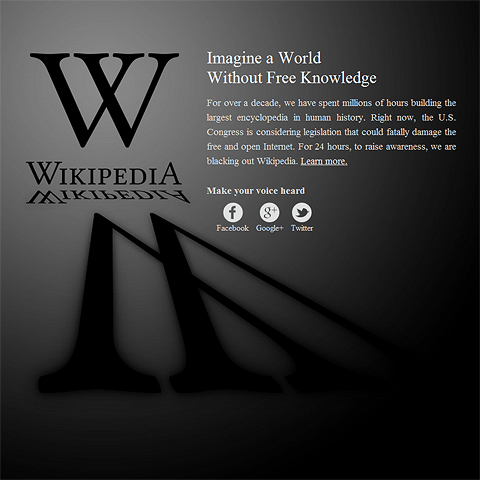 Wikipedia and Reddit were blacked out today in an attempt to highlight to Internet Users - the serious likely impact of this legislation on the basic rights of freedom of the typical netizen.

These 2 new bills - Stop Online Piracy Act (SOPA) and Protect IP Act (PIPA) - are in the process of passing through the House of Representatives and the Senate respectively. They would end up giving Copyright Owners way too much power in shutting down and commercially crippling any site/s they choose to target - fairly or unfairly. Copyright Owners already have the Digital Millennium Copyright Act (DMCA) to effect similar actions - in enforcing take-down notices, and there are already numerous cases where the DMCA legislation has been abused - even though it does require a degree of due process.

SOPA and PIPA are far too broad and far reaching in their applications, and would end up a weapon of censorship and restriction - closing down and curtailing the open and organic nature of the Internet. The legislation requires no court order to force a take-down notice, and can be so broadly applied that any vague 3rd party reference to another allegdly suspect site can result in an injunction against the referring party.

The problem with the Internet at large is that so many of the daily services we use are based / legislated from the USA - Google, Facebook, Twitter, Wikipedia - what with Social Content Contribution - any one of these could easily end up with potentially disputed copyrighted material and be forced to shut down.

UK citizens should be far more worried than most, as has been seen by the recent extradition case of Richard O'Dwyer - a UK citizen who has actually broken no UK or European laws with his UK-based links website - but is still being extradited to the US for summary judgment and punishment.

I'm certainly not a fan of piracy, but totally understand why it happens, and this draconionan legislation will not be the cure. The vast majority of media companies are overly greedy and totally out of touch with reality - and are almost as much a part of the problem as the pirates.

I can buy a pretty decent gaming app on the Apple App Store for just 69 pence - a venture which has taken several months to produce and contains sound and vision, and creative flare, and typically involves a significantly sized project team. Yet for a new sound file - 'single&

...

6 comments
|
permalink
|
email this
|

|





26 Sep 2011 2:01 AM

Popular

Comments

Profile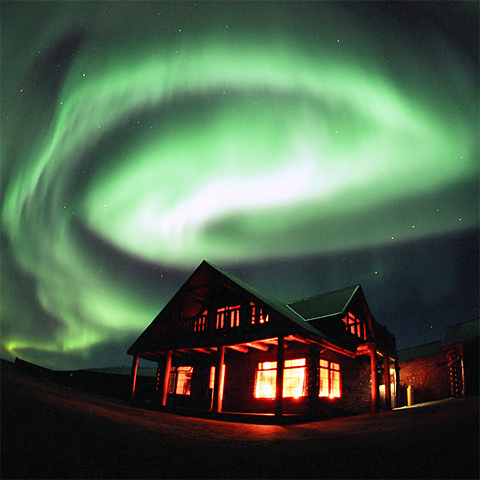 Yes indeed - I've just returned from a two week break home to Iceland, and it turned out to be even more action-packed than usual. To save me much repetition over the next few days, and in part to offer a decent reference point for my many friends and acquaintances who have indicated a desire to visit Iceland (soon Lucas!), I thought it might come in handy to commit the trip overview to a single blog post.

As anyone who knows our extended family (La Familia) is aware, we like to take extensive walks, eat out frequently, get some spa days / treatment days in, as well as regular cultural pursuit. Here follows the overview (PS - above pic is a stock photo of Northern Lights at Hotel Rangá):


Daily Walks:

Nauthólsvík - coastal path with great views - runs alongside Reykjavík airport and the West-side of town - starts with geo-thermally heated inlet and man-made beach
Öskjuhlíð - wooded hill surrounding Pearl / Perlan restaurant - contains remains of old WWII fort and several rabbits if you keep your eyes peeled
Garðabær - home town has a number of excellent walking routes - down and around the lava fields and down to the coast in particular
Heiðmörk - nearby National park was re-forrested in the 50's and 60's - offers excellent scenic walks
Around Rangá - quick walk around the Hotel's grounds - which are very close to the 2 recent Icelandic volcanic erruptions - returned to hotel covered in ash!


Days Out / Trips:

Trip to Icelandic Auntie's summerhouse (near Hvalfjörður) - classic Icelandic afternoon tea / coffee - open sandwiches, waffles and cakes
Trip to and overnight stay at extended family's summerhouse (near þingvellir) - evening grill and jacuzzi (most summerhouses in Iceland have a large outdoor jacuzzi), followed by extensive brunch the next day
Hotel Rangá - delightful Icelandic country hotel - sort of in the middle of nowhere, between Hella and Hvolsvöllur on Route 1. Jacuzzis are spaced outside every 3'rd room or so on the South-side - quite a superb experience sipping champagne in a jacuzzi under the big sky - with glaciers and volcanoes on the near horizon, and usually the best place to see Northern Lights - excellent restaurant too, great for dinner and breakfast - pricy, but good all-round
Fljótshlíð -

...

2 comments
|
permalink
|
email this
|

|





07 Sep 2011 4:07 PM

Popular

Comments

Profile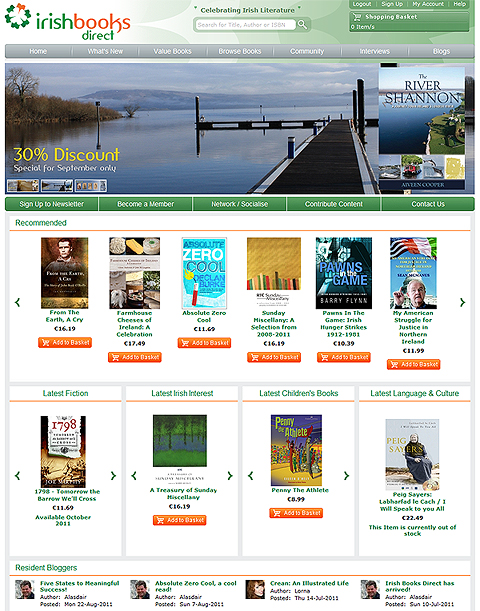 The new Irish Books Direct website, is the epitome of a modern family business; it's also a great example of proper Social Commerce. Affino and Comrz have always been great enablers, but nothing is achieved without a sound business vision and the right people behind it.

Alasdair Verschoyle has long been involved in book retail and distribution, and always had the goal of one day creating a community-centric book store focused on his Irish roots, and underlined by a passion for championing and sharing Irish Literature, Authors and Culture.

The idea was to hand-pick a broad spectrum of quality Irish books, published both locally and abroad, which would appeal to Irish Nationals at home, as well as ex-pat Irish and their descendants around the world. The key point of difference is not just in this particular selection of books, but in the use of Affino's numerous community tools to create a proper global sharing community for everyone interested in Irish Culture.

The site contains video interviews with authors, and frequent blogs and special features - offering extended background information on key titles, their authors, their motivations, inspirations and reference points - all in all giving the site visitor a fully immersive experience of Irish Literature.

Alasdair is the visionary partriarch, and Lorna Lawless and Jenny Coughlan take care of the day-to-day management of the site. This is typical of Affino sites - just a core of 3 people doing amazing things with the software.

We worked with Alasdair to ensure that he ended up with the best possible logo and positioning statement to underline his vision. We then oversaw the design of the site and some custom template creation, but pretty much all the work was done by the team of 3.

Of course this is just phase 1 really, and we look forward to seeing many more innovations to come.
3 comments
|
permalink
|
email this
|

|





25 Aug 2011 1:30 PM

Popular

Comments

Profile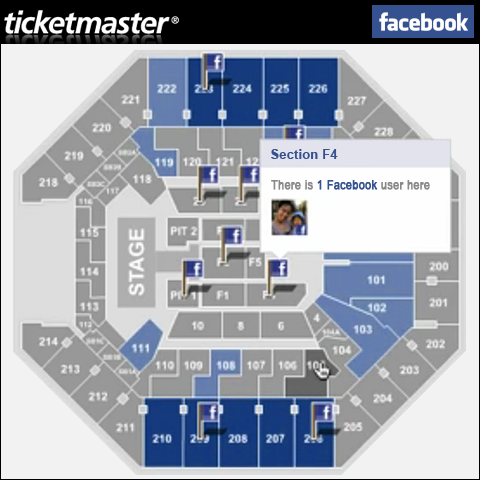 Ticketmaster has just announced an interesting collaboration with Facebook, where Facebook members can see which seats their friends have booked at a show / venue - and are then able to book seats next to those. To start with, the pilot project will be limited to 300 venues - which ones these are has yet to be fully confirmed.

At the core of this though, is the essence of Social Commerce - the model of 'Your friend bought this so you might like it too'. I can see a whole series of notification services which you obviously need to be able to opt out of / target in some way - I'm not sure you would like to send the following through: 'Billy just bought 'incontinent pants'..., 'We thought you might like 'incontinent pants' too'...

Anyway, back to serious matters again - this is absolutely the strongest means of persuasion. Within every circle of friends, there are always one or two 'Mavens' or 'Trendsetters' which have a significant influence on the buying patterns of their peers - a subject which is of course excellenty parodied in 'The Joneses' film from 2009.

With several ticketed events also having ticket number restrictions, this is the only way a large group could co-ordinate so that everyone can sit together. This system is sure to do well as it offers up genuine benefits for both customer and retailer. People feel much better when they can choose their own seats, and they feel even better when they can choose who they get to sit next to.

A number of years ago in a previous company, we did some interesting work with the Royal Opera House on Seating Plans - and in particular the view you got from each block of seats - very useful for avoiding balcony columns in old theatre-style venues.

The Ticketmaster app has very clever privacy / tagging settings - allowing you to choose whom you broadcast your seat info to - 'Everyone | Friends | No One'. As we evolve, I expect to see some kind of Google+ system where you choose which social circle you share your which information with.

All retailers have been wanting to do this kind of thing for years - it makes the offering more personal, and encourages further purchasing. Fashion and Home Décor sites have for a long time been able to allow users to create personal looks / outfits which they can share with

...

1 comment
|
permalink
|
email this
|

|


| | |
| --- | --- |
| Found: 31 Displaying: 1-10 | |

Subscribe to feed

Subscribe by email
Recent Visitors