16 Nov 2012 2:51 PM

Popular

Comments

Profile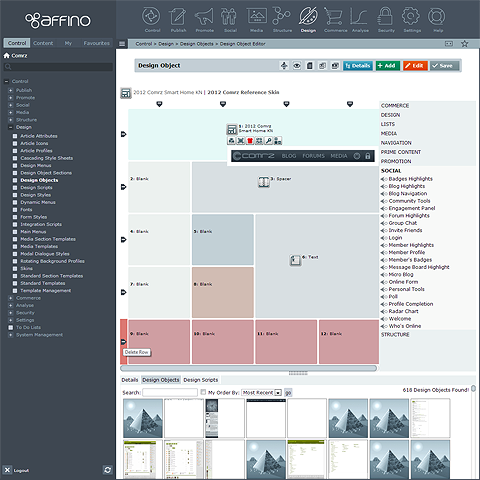 Since it's introduction in Affino in 2002, Design Centre has continued to blaze a trail of innovation for DIY site implementation. The only downside what that it was Flash based and therefore a technological dead end.

In Affino 7 the Design Centre has had to be re-written from the ground up, keeping all the elements which made it great and improving on it futher. The move to HTML 5 for the Object Designer means much more solid Design Object / Skin generation. Affino 7 has also made a more pervasive switch to CSS, this should mean experienced designers will have an easier time of achieving what they want with their custom CSS. The key changes are as follows:

Improved Interface
We have captured everything that you loved about the Flash Design Centre, and simplified it for a more instantly gratifying experience - the key elements are the same - in a new clearer, colour-coded look and feel.

Fully Customisable CSS

Design Styles can now be completely customisable. You can take the CSS code that Affino generates for the Design Styles and override it with any CSS you prefer.

Smarter Save
Now when you change things the 'Save' but switches from greyed-out to green - if you see the Green Save button it means you have made changes to the Design Object and need to hit Save to retain those changes - of course Affino still auto-saves if you hit the Preview Button too.

More Speed
Without a Flash and Flex display layer - Affino now processes Design Object arrays much more quickly and efficiently - which means that building Design Objects in Affino 7 should be a far quicker and more elegant process than ever before.

More Consistency
In Affino 6 we had clusters of buttons in different areas of the interface - now all the essential buttons are in the Live Edit Bar as for the rest of the system. Design Centre is still a fairly unique experience, although it now operates om much closer lines to the rest of Control Centre.

More Robust
We have re-worked how we store Design Objects and they are now less likely to error out and are much more robust.

Cell Padding
An essential requirement for Mobile Skin - Horizontal and Vertical Padding can now be applied on every single Design Object Cell.

...

1 comment
|
permalink
|
email this
|

|





14 Nov 2012 1:24 AM

Popular

Comments

Profile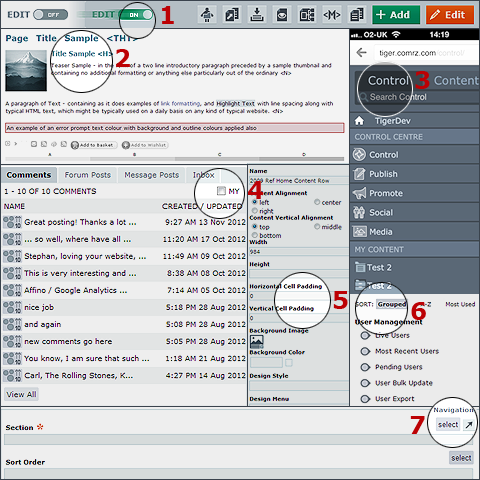 Along with the numerous innovations in look, feel and function, Affino sees some clever introductions in pretty much all areas of the day-to-day site-management experience.
We've always billed Affino as the most productive environment for full-featured site management, and even though some of these innovations are merely in the field of graphics or animation - they make for significant improvements to the overall satisfaction you get from using Affino. Here follow 7 highlights of what's coming in the new release:
The new Live Edit Bar visibly pings in from the left of the screen as you switch from 'Off' to 'On' mode - all icons have been made clearer and more refined too
Enhanced Design Style Preview conveying exactly the different font sizes, formats and colours in their onscreen appearance, and featuring newly introduced Line Height, Word Spacing and Letter Spacing options
Affino has a dedicated smart interface for Mobile Format - specifically Smartphones - where everything has been sized up and simplified for Affino control on the move
'
Control Centre Panels are now reduced into singular displays where users can filter out their own content for all the different relevant content categories - taking you from overview to granular detail in just one click!
An essential for Mobile Format skins - where cell spanning is a no-go and you don't want text butting up against the screen edge - all Design Object Cells now have Horizontal and Vertical Padding options
All Control Screen Category Selections now include a Sort mode where you can arrange listings to your own preferences via Grouped, A-Z or Most Used options
Every Content Selection now has an additional button where you can pop-up a contextual screen - to view, organise or add further categories, if what you require is not currently available for selection - this hugely simplifies the admin process for newbies

...

Add Comments
|
permalink
|
email this
|

|





30 May 2012 6:34 PM

Popular

Comments

Profile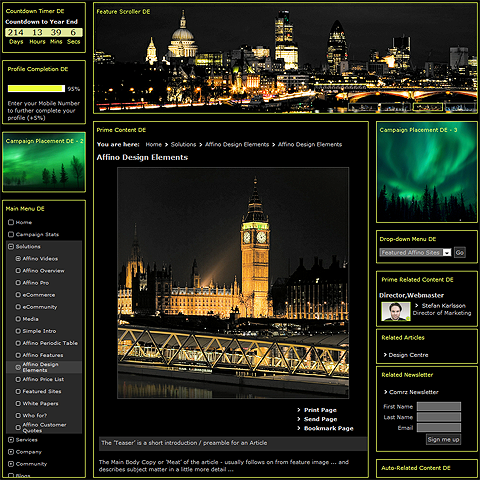 We've been meaning to do this for a while, and it actually turned out to be a lot less painful than I had originally envisaged - but here it is! - a comprehensive 'Affino Design Elements Overview' - featuring 76 of the 81 Design Elements currently available in Affino - including the 2 new Recruitment ones ('Job Search' and 'Member Profile').
I have managed to squeeze them all onto a single screen - and placed them in the position you would likely encounter / utilise those elements - Left Column, Middle Column or Right Column - with some overlapping / spanning.
To further help you Designers and Site Implementers, I have completed the 'Design Elements Feature' - which lists out every single Design Element by name. While you're at it you can check out Affino's other 50 key Features!
Both of these are best used together, and are essential reference guides for designing and implementing an Affino site - you are of course best off logging in, as more Design Elements appear for you when logged in. It is though also useful to compare the logged-in and logged-out states to get a fuller understanding / picture of exactly how some of Affino's Design Elements work.
For anyone considering buying into Affino or about to embark on a site implementation - this is a good starting point - don't try to shoe-horn it all in on one screen like us though - this is just a reference and showcase, and you can see by how long it take the page to load up, how impractical it would be to cram everything onto a single page...
NOTE - One word of warning - the MP3 Player currently has the annoying habit of auto-playing, so make sure you have your computer / laptop muted in advance - or on low volume!
4 comments
|
permalink
|
email this
|

|





19 Apr 2012 12:59 AM

Popular

Comments

Profile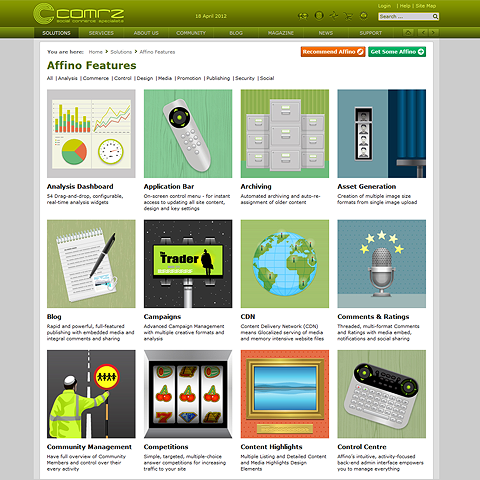 This project is the culmination of a year's work (for the Graphics!), in some ways it could be said to be the culmination of Affino's 15 years of development. We have long wanted an elegant means of showcasing the extensive Affino Features Set - and we have takled it a number of ways previously - trying to do a complete features listing (100's of individual elements - now archived for being too large), and the much celebrates 'Periodic Table of Affino Elements' - which has 128 listed features - yet still needs further essential additions.
This time it was going to be simpler, yet more detailed, more illustrative at the same time, and punctuated with some lovely iconographic and obviously meaningful pictures and screencaptures. We hand-picked a list of 50 key features as we saw them; alas 'Affino Messenger' still remains to be re-developed in HTML5 (some way off), but the other 49 can now be found listed on the pictured Affino Features screen; they are as follows:
| | | | | | | | | | |
| --- | --- | --- | --- | --- | --- | --- | --- | --- | --- |
| Analysis Dashboard | | | Application Bar | | | Archiving | | | Asset Generation |
| Blog | | | Campaigns | | | CDN | | | Comments & Rating |
| Community Management | | | Competitions | | | Content Highlights | | | Control Centre |
| Customer Ladder | | | Design Centre | | | Digital Goods | | | Directories |
| Discussion Boards | | | Ditribution Automation | | | Events | | | Forms |
| Groups | | | Incoming Feeds | | | Integration | | | Live Edit |
| Media Editor | | | Media Embeds | | | Media Library | | | Member Profiles |
| Membership | | | Mobile Formats | | | MP3 Player | | | Newsletters |
| Predictive Search | | | Recommendations | | | Related Items | | | Security |
| Social Commerce | | | Social Connectors | | | Social CRM | | | Store Profiles |
| Structure Management | | | Subscriptions | | | Syndication | | | Team Time |
| Topics and Keywords | | | Video Player | | | Web Services API | | | Workflows |
| WYSIWYG Editor | | | | | | | | | |
The intention is that they serve as a great reference for all of us, customers new and old - in getting a full and proper picture of Affino, and reminding us of useful features, functions and utilities that we were thinking of making use of but never quite got round to implementing on our site/s.

...

4 comments
|
permalink
|
email this
|

|





25 Oct 2010 2:35 PM

Popular

Comments

Profile
Tags:
content management
,
design
,
design centre
,
Comrz
,
News
,
Affino
,
BBC
,
Design Style
,
CNN
,
The Guardian
,
Topical News
,
Topicality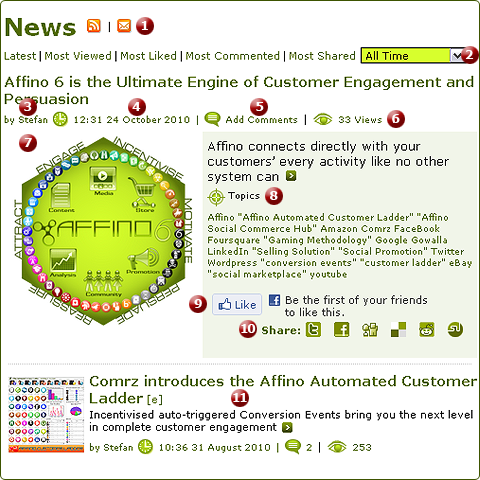 Markus was not happy with how our News pages looked on Comrz, and I was set the task to devise a new presentation template to showcase the very best of news delivery currently available on the web. I spent several days trawling all the major news sites, and was particularly impressed with several of these, largely - BBC , CNN and The Guardian . The idea was to produce the Ultimate Topical News Resource - where you could easily seek out, list and review key news stories by key criteria.
The make-up of the main listing template is as follows: RSS and Content Subscription appear with Section Header, as well as at base Articles can be listed out by time range - Latest | Most Viewed | Most Liked | Most Commented | Most Shared You can click through to the Public Profile of the Author Click on the Date to list out all articles within that Section published on the same date Click to add / view Comments Number of Views - also clicks through to article Most recent Article is highlighted with Larger Image and Teaser Text Article Topics are only revealed on mouse-over Facebook 'Like' is revealed on mouse-over Share icons / function is revaled on mouse-over The following articles are listed in summary format - mouse-over reveals Topics, Like and Share
We may still have a couple more tweaks to do, but so far it's working pretty well. The 'Detail' presentation utilises the 'Info Box' for 'Article Highlights', we also list Topics in a left hand column, and we include a new 'Quotation' field.
All the new icons are enabled via additional fields / settings on the Design Style. Some of these icons / elments may find their way onto other existing templates in the fairly near future ...
12 comments
|
permalink
|
email this
|

|





13 Oct 2009 9:36 AM

Popular

Comments

Profile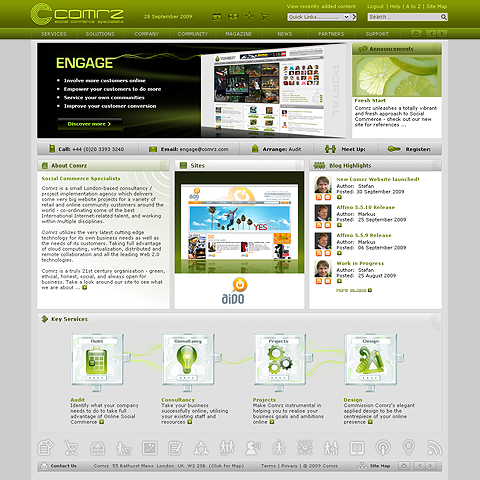 Well, it's finally happened ... Comrz.com is now sufficiently shiny and refined to be shared with the rest of the world.
It is certainly the most refined build of Affino currently in existence - featuring lots of little design details which are only likely to be discovered by those who take their time to review the entirety of every design page, possibly with the aid of a magnifying glass!
We've honed our approach to brand reinforcement with lots of brand echoes assigned to menus and frameworks. This has undoubtedly been an enormous undertaking, and still has some way to go. We still have Magazine, News, Partners and Store Skins to complete - but we are well on the way with those.
The build stats to date are as follows - in volume order! Design Objects = 227 Design Styles = 65 Skins = 42 Design Menus = 19 Form Styles = 3 Dynamic Menus = 1 Main Menus = 1
Almost 1,000 new Icons have been designed and added to the system for this site!
More to come on Structure and Content ...
1 comment
|
permalink
|
email this
|

|





25 Aug 2009 2:20 AM

Popular

Comments

Profile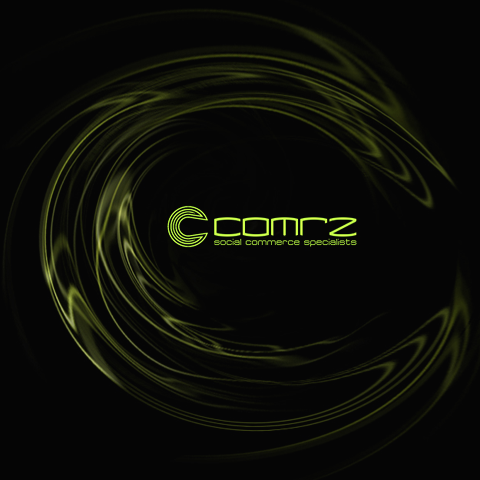 Throwing up a site quickly with Affino really isn't problem. The difficulty comes when you want to use and deploy everything at your disposal in as high quality a fashion as is practically possible.
I am in the process of building an enormous site - wholly from scratch - this involves originating hundreds of icons and dozens of Profiles, Channels and Skins.
We deemed that communication was the key factor, and as a result this is where I have concentrated my efforts in rolling out all the different Community aspects of Affino. I've been working on the site for a week now, and there is still a while to go - of course sales and marketing content needs to be populated and more imagery sourced.
In the meantime - please enjoy getting yourself acquainted with a new level of website refinement - we hope you enjoy the experience ...
Add Comments
|
permalink
|
email this
|

|