16 November 2012 2:51 PM GMT
design centre
website design
Comrz
design objects
Affino
Design Element
Affino 7
Cell Padding
Affino Design Centre
Affino Design Objects
Smart Save
DIY Site Implementatiion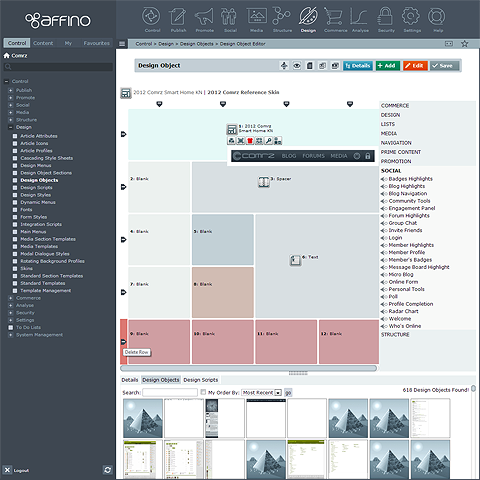 Since it's introduction in Affino in 2002, Design Centre has continued to blaze a trail of innovation for DIY site implementation. The only downside what that it was Flash based and therefore a technological dead end.
In Affino 7 the Design Centre has had to be re-written from the ground up, keeping all the elements which made it great and improving on it futher. The move to HTML 5 for the Object Designer means much more solid Design Object / Skin generation. Affino 7 has also
...
More
14 November 2012 1:24 AM GMT
design centre
Comrz
Affino
Affino 7
Smart Affino
Affino Innovations
Affino Introductions
Live Edit
Design Style Preview
Mobile Format
Site Admin
Cell Padding
Category Sort
Category Sorting
View Selection Button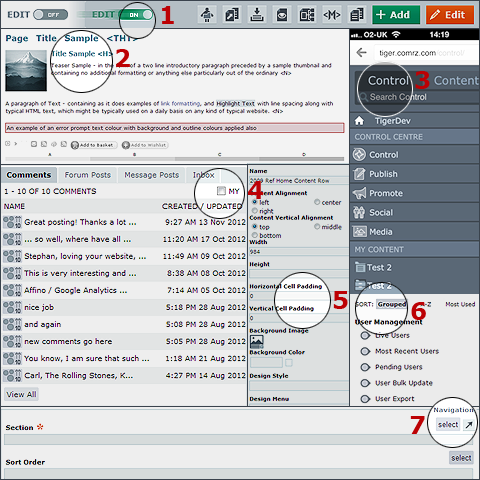 Along with the numerous innovations in look, feel and function, Affino sees some clever introductions in pretty much all areas of the day-to-day site-management experience.
We've always billed Affino as the most productive environment for full-featured site management, and even though some of these innovations are merely in the field of graphics or animation - they make for significant improvements to the overall satisfaction you get from using Affino. Here follow 7 highlights of
...
More
30 May 2012 6:34 PM GMT
design
design centre
design elements
design objects
Affino
Website Implementation
Look and Feel
Design Widgets
Content Highlights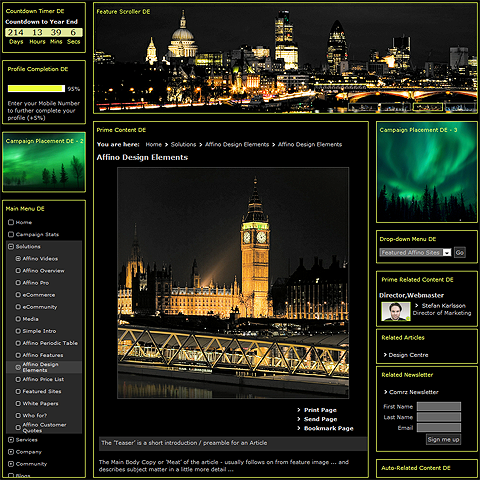 We've been meaning to do this for a while, and it actually turned out to be a lot less painful than I had originally envisaged - but here it is! - a comprehensive 'Affino Design Elements Overview' - featuring 76 of the 81 Design Elements currently available in Affino - including the 2 new Recruitment ones ('Job Search' and 'Member Profile').
I have managed to squeeze them all onto a single screen - and placed them in the position you would
...
More
19 April 2012 12:59 AM GMT
analysis
commerce
Control
control centre
design centre
Media
promotion
publishing
Security
social networking
Social
Comrz
social commerce
integration
Affino
Affino Features
Affino Feature Set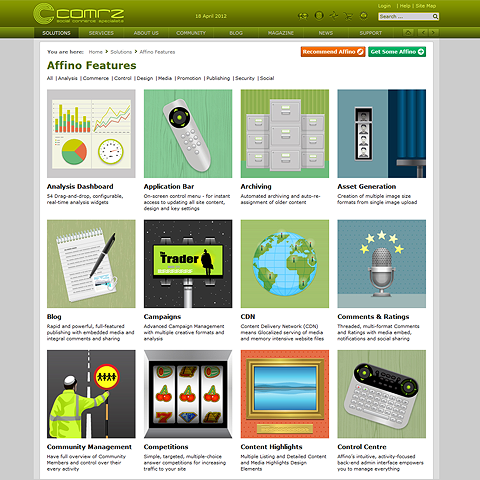 This project is the culmination of a year's work (for the Graphics!), in some ways it could be said to be the culmination of Affino's 15 years of development. We have long wanted an elegant means of showcasing the extensive Affino Features Set - and we have takled it a number of ways previously - trying to do a complete features listing (100's of individual elements - now archived for being too large), and the much celebrates 'Periodic Table of Affino Elements' -
...
More
25 October 2010 2:35 PM GMT
content management
design
design centre
Comrz
News
Affino
BBC
Design Style
CNN
The Guardian
Topical News
Topicality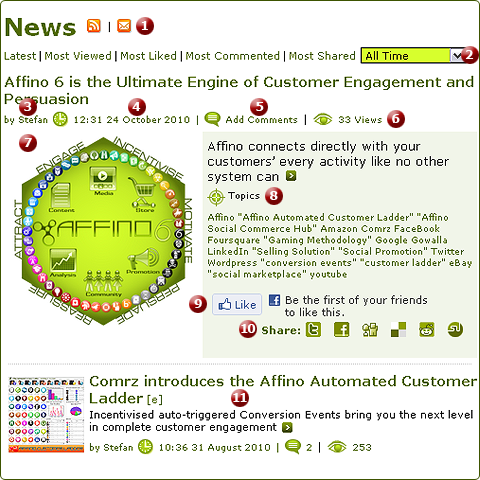 Markus was not happy with how our News pages looked on Comrz, and I was set the task to devise a new presentation template to showcase the very best of news delivery currently available on the web. I spent several days trawling all the major news sites, and was particularly impressed with several of these, largely - BBC, CNN and The Guardian. The idea was to produce the Ultimate Topical News Resource - where you could easily seek out, list and review key news stories by key criteria.
...
More
13 October 2009 9:36 AM GMT
design
design centre
Comrz
design objects
Affino
Comrz Website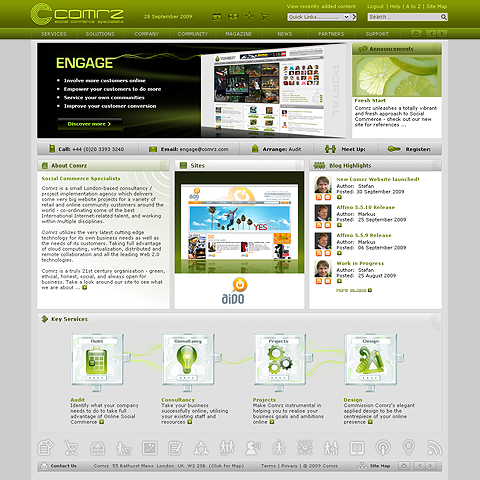 Well, it's finally happened ... Comrz.com is now sufficiently shiny and refined to be shared with the rest of the world.
It is certainly the most refined build of Affino currently in existence - featuring lots of little design details which are only likely to be discovered by those who take their time to review the entirety of every design page, possibly with the aid of a magnifying glass!
We've honed our approach to brand reinforcement with lots of brand echoes
...
More
25 August 2009 2:20 AM GMT
design
design centre
Comrz
design objects
Comrz Website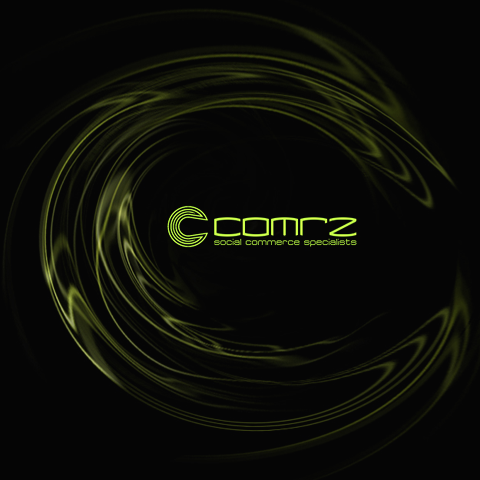 Throwing up a site quickly with Affino really isn't problem. The difficulty comes when you want to use and deploy everything at your disposal in as high quality a fashion as is practically possible.
I am in the process of building an enormous site - wholly from scratch - this involves originating hundreds of icons and dozens of Profiles, Channels and Skins.
We deemed that communication was the key factor, and as a result this is where I have concentrated my efforts in
...
More