30 May 2012 6:34 PM GMT
design
design centre
design elements
design objects
Affino
Website Implementation
Look and Feel
Design Widgets
Content Highlights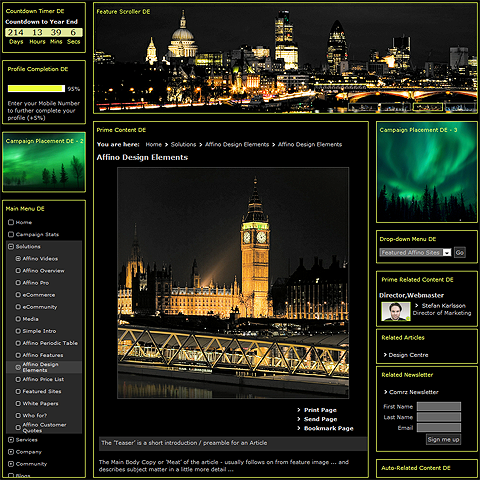 We've been meaning to do this for a while, and it actually turned out to be a lot less painful than I had originally envisaged - but here it is! - a comprehensive 'Affino Design Elements Overview' - featuring 76 of the 81 Design Elements currently available in Affino - including the 2 new Recruitment ones ('Job Search' and 'Member Profile').
I have managed to squeeze them all onto a single screen - and placed them in the position you would
...
More
07 September 2011 4:07 PM GMT
design
eCommunity
social marketplace
social media
social networking
Comrz
ecommerce
social commerce
Affino
Branding
Social Promotion
Brand Identity
Celebrating Irish Literature
Irish Books Direct
Irish Culture
Irish Literature
Irish Books
Book Retail
Books Online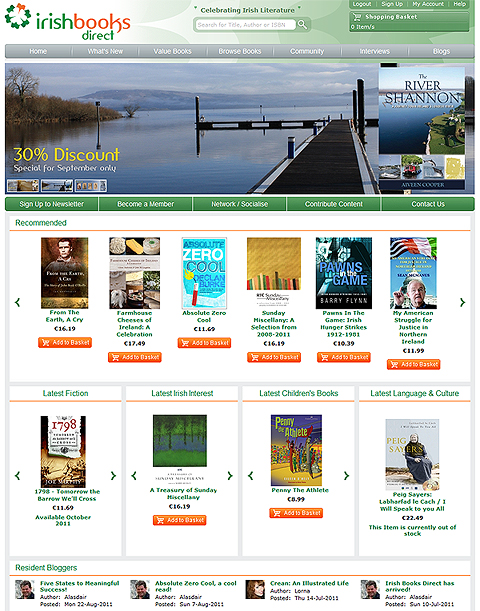 The new Irish Books Direct website, is the epitome of a modern family business; it's also a great example of proper Social Commerce. Affino and Comrz have always been great enablers, but nothing is achieved without a sound business vision and the right people behind it.

Alasdair Verschoyle has long been involved in book retail and distribution, and always had the goal of one day creating a community-centric book store focused on his Irish roots, and underlined by a passion for championing
...
More
08 November 2010 3:14 AM GMT
blog
blogging
design
FaceBook
internet retail
social marketplace
social media
ecommerce
social commerce
flickr
like
Affino
Wordpress
PayPal
Rebekka Guðleifsdóttir
Boutique
Shopify
Hand Made
Photograpy
Art
Sweater
Knitwear
Minds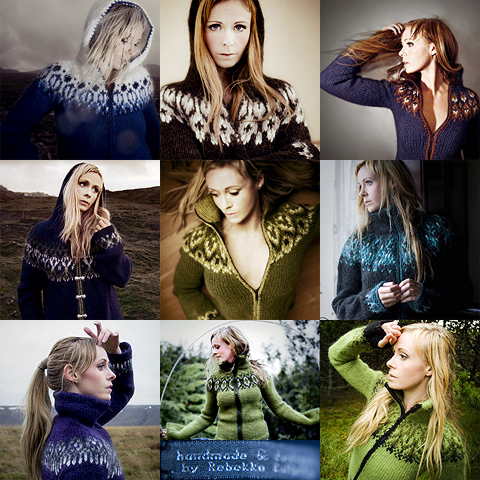 Those familiar with our website, may have seen Rebekka Guðleifsdóttir's name mentioned once or twice before on this site. I picked up on her several years ago (back in the days of Emojo) when her celebrated Flickr Photography Page first rose to prominence. She has many strings to her bow; apart from being a great photographer with an exceptional eye for composition, she is a competent pencil illustrator and superb knitter of stylish Icelandic 'Lopi' wool sweaters -
...
More
25 October 2010 2:35 PM GMT
content management
design
design centre
Comrz
News
Affino
BBC
Design Style
CNN
The Guardian
Topical News
Topicality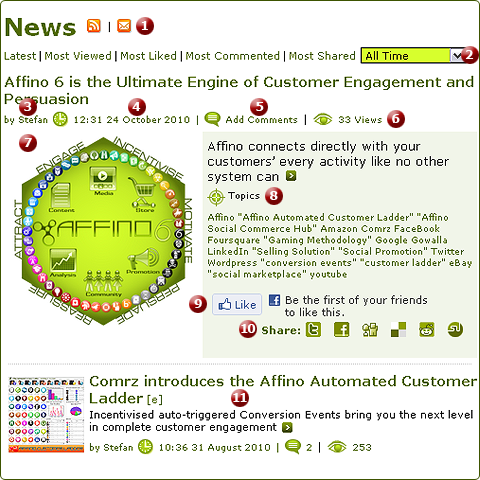 Markus was not happy with how our News pages looked on Comrz, and I was set the task to devise a new presentation template to showcase the very best of news delivery currently available on the web. I spent several days trawling all the major news sites, and was particularly impressed with several of these, largely - BBC, CNN and The Guardian. The idea was to produce the Ultimate Topical News Resource - where you could easily seek out, list and review key news stories by key criteria.
...
More
20 September 2010 11:49 PM GMT
adobe
apple
design
FaceBook
Google
Yahoo
youtube
Wordpress
eBay
Amazon
PayPal
Wikipedia
Microsoft
Branding
Brand Value
Blogger
Logo Design
AOL
COLOURlovers
Ask
Fox
Mozilla
Real Networks
About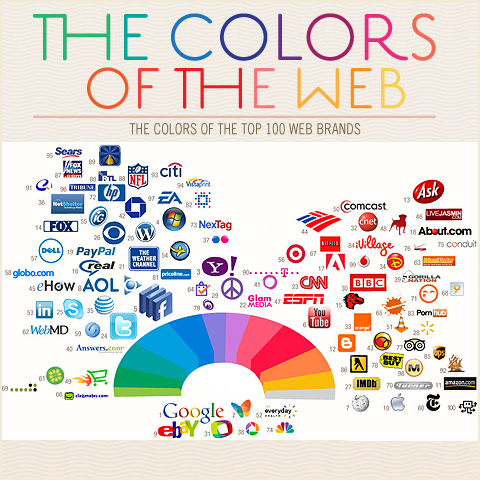 Design Community COLOURlovers recently produced an interesting piece on 'Colours of the Web' - reviewing logo colour preferences for the 100 leading web properties - in accordance with Alexa.

You can see that the full spectrum is fairly well covered all in all, but there is a significant dominance of blue and red, which funnily enough are the most popular brand / logo colours both offline and online. For a brand expert, there are no real surprises here - either by pattern or
...
More
13 October 2009 9:36 AM GMT
design
design centre
Comrz
design objects
Affino
Comrz Website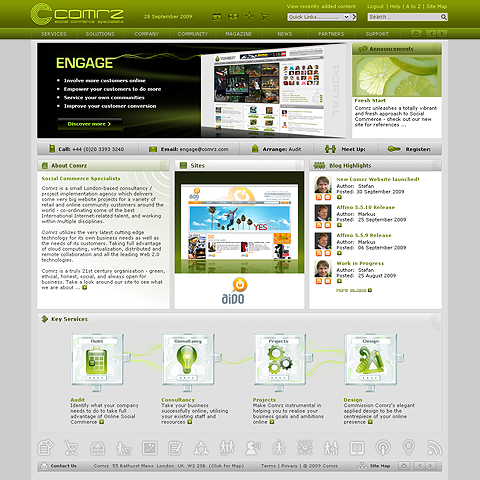 Well, it's finally happened ... Comrz.com is now sufficiently shiny and refined to be shared with the rest of the world.
It is certainly the most refined build of Affino currently in existence - featuring lots of little design details which are only likely to be discovered by those who take their time to review the entirety of every design page, possibly with the aid of a magnifying glass!
We've honed our approach to brand reinforcement with lots of brand echoes
...
More
25 August 2009 2:20 AM GMT
design
design centre
Comrz
design objects
Comrz Website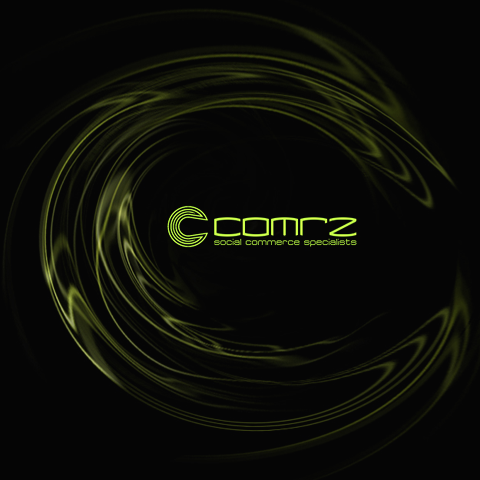 Throwing up a site quickly with Affino really isn't problem. The difficulty comes when you want to use and deploy everything at your disposal in as high quality a fashion as is practically possible.
I am in the process of building an enormous site - wholly from scratch - this involves originating hundreds of icons and dozens of Profiles, Channels and Skins.
We deemed that communication was the key factor, and as a result this is where I have concentrated my efforts in
...
More