You are here:
Home
|
Blogs
|
Stefan's Naturally Aspirated Blog





30 May 2012 6:34 PM

Popular

Comments

Profile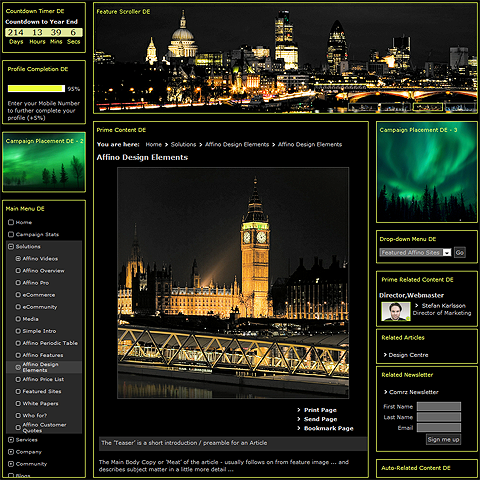 We've been meaning to do this for a while, and it actually turned out to be a lot less painful than I had originally envisaged - but here it is! - a comprehensive 'Affino Design Elements Overview' - featuring 76 of the 81 Design Elements currently available in Affino - including the 2 new Recruitment ones ('Job Search' and 'Member Profile').
I have managed to squeeze them all onto a single screen - and placed them in the position you would likely encounter / utilise those elements - Left Column, Middle Column or Right Column - with some overlapping / spanning.
To further help you Designers and Site Implementers, I have completed the 'Design Elements Feature' - which lists out every single Design Element by name. While you're at it you can check out Affino's other 50 key Features!
Both of these are best used together, and are essential reference guides for designing and implementing an Affino site - you are of course best off logging in, as more Design Elements appear for you when logged in. It is though also useful to compare the logged-in and logged-out states to get a fuller understanding / picture of exactly how some of Affino's Design Elements work.
For anyone considering buying into Affino or about to embark on a site implementation - this is a good starting point - don't try to shoe-horn it all in on one screen like us though - this is just a reference and showcase, and you can see by how long it take the page to load up, how impractical it would be to cram everything onto a single page...
NOTE - One word of warning - the MP3 Player currently has the annoying habit of auto-playing, so make sure you have your computer / laptop muted in advance - or on low volume!
4 comments
|
permalink
|
email this
|

|





07 Sep 2011 4:07 PM

Popular

Comments

Profile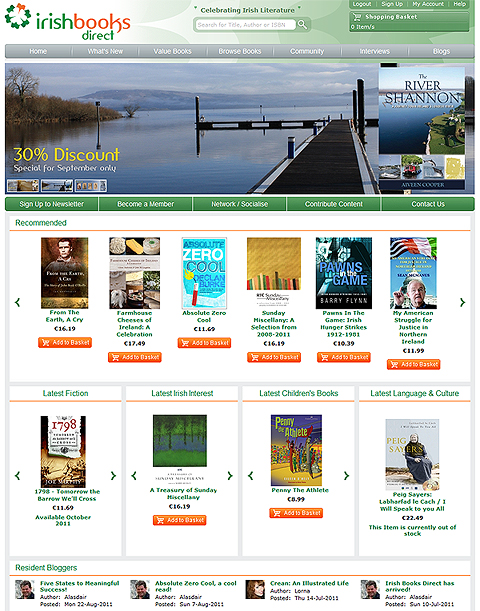 The new Irish Books Direct website, is the epitome of a modern family business; it's also a great example of proper Social Commerce. Affino and Comrz have always been great enablers, but nothing is achieved without a sound business vision and the right people behind it.

Alasdair Verschoyle has long been involved in book retail and distribution, and always had the goal of one day creating a community-centric book store focused on his Irish roots, and underlined by a passion for championing and sharing Irish Literature, Authors and Culture.

The idea was to hand-pick a broad spectrum of quality Irish books, published both locally and abroad, which would appeal to Irish Nationals at home, as well as ex-pat Irish and their descendants around the world. The key point of difference is not just in this particular selection of books, but in the use of Affino's numerous community tools to create a proper global sharing community for everyone interested in Irish Culture.

The site contains video interviews with authors, and frequent blogs and special features - offering extended background information on key titles, their authors, their motivations, inspirations and reference points - all in all giving the site visitor a fully immersive experience of Irish Literature.

Alasdair is the visionary partriarch, and Lorna Lawless and Jenny Coughlan take care of the day-to-day management of the site. This is typical of Affino sites - just a core of 3 people doing amazing things with the software.

We worked with Alasdair to ensure that he ended up with the best possible logo and positioning statement to underline his vision. We then oversaw the design of the site and some custom template creation, but pretty much all the work was done by the team of 3.

Of course this is just phase 1 really, and we look forward to seeing many more innovations to come.
3 comments
|
permalink
|
email this
|

|





08 Nov 2010 3:14 AM

Popular

Comments

Profile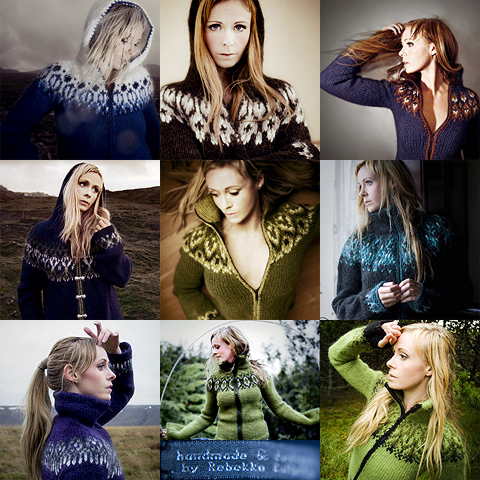 Those familiar with our website, may have seen Rebekka Guðleifsdóttir's name mentioned once or twice before on this site. I picked up on her several years ago (back in the days of Emojo) when her celebrated Flickr Photography Page first rose to prominence. She has many strings to her bow; apart from being a great photographer with an exceptional eye for composition, she is a competent pencil illustrator and superb knitter of stylish Icelandic 'Lopi' wool sweaters - as can be seen above.

I tend to shop for clothes largely twice per year - in Spring for the warm season, and in Autumn, around my birthday - for the cold season. I am a particular fan of funnel-necked zipped wool sweaters, with a compulsion for 2-way zips, and ideally the inclusion of hand-warming pockets.

As usual, I've been doing the rounds of the many London malls, stores and boutiques, and have found nothing to touch on the unique quality and design of Rebekka's handcrafted works of art. Rebekka takes commissions for $395 dollars for a zipped sweater / cardigan with pockets - approximately £250 - you can of course choose not to have pockets and have a hood instead of a funnel neck. This may seem expensive at first glance, but is actually quite a bit less than more mass manufactured Italian designer knitwear pieces, which typically are on sale for between 10 and 100% percent more and then upwards. Fully handmade fashion designer knitwear can retail up to and over the 1,000 dollar mark - so it's all relative really.

Rebekka tries on and photographs each of her unique creations - the production log currently stands at 54 pieces - as you can see on her Flickr Photostream . Each sweater is totally unique, and mine will be the first in the 'Burgundy' colour-way I believe.

My commission has been accepted, money has been transferred, and the initial dialogue has begun. Those who know me, know my love for the creative process, and I am very much looking forward to seeing the outcome of this project.

Back in May and July I wrote a couple of blogs - 'The New Industrial Revolution ' and 'World of Boutiques ' - about how small scale designer / manufacturers were commercially mobilising on the Internet and how they could take advantage of a global audience. In the same way, I first came across Rebekka on the Internet, I check her blog every now and again...

2 comments
|
permalink
|
email this
|

|





25 Oct 2010 2:35 PM

Popular

Comments

Profile
Tags:
content management
,
design
,
design centre
,
Comrz
,
News
,
Affino
,
BBC
,
Design Style
,
CNN
,
The Guardian
,
Topical News
,
Topicality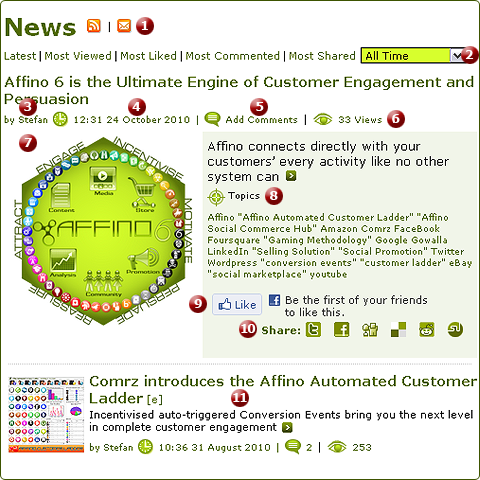 Markus was not happy with how our News pages looked on Comrz, and I was set the task to devise a new presentation template to showcase the very best of news delivery currently available on the web. I spent several days trawling all the major news sites, and was particularly impressed with several of these, largely - BBC , CNN and The Guardian . The idea was to produce the Ultimate Topical News Resource - where you could easily seek out, list and review key news stories by key criteria.
The make-up of the main listing template is as follows: RSS and Content Subscription appear with Section Header, as well as at base Articles can be listed out by time range - Latest | Most Viewed | Most Liked | Most Commented | Most Shared You can click through to the Public Profile of the Author Click on the Date to list out all articles within that Section published on the same date Click to add / view Comments Number of Views - also clicks through to article Most recent Article is highlighted with Larger Image and Teaser Text Article Topics are only revealed on mouse-over Facebook 'Like' is revealed on mouse-over Share icons / function is revaled on mouse-over The following articles are listed in summary format - mouse-over reveals Topics, Like and Share
We may still have a couple more tweaks to do, but so far it's working pretty well. The 'Detail' presentation utilises the 'Info Box' for 'Article Highlights', we also list Topics in a left hand column, and we include a new 'Quotation' field.
All the new icons are enabled via additional fields / settings on the Design Style. Some of these icons / elments may find their way onto other existing templates in the fairly near future ...
12 comments
|
permalink
|
email this
|

|





20 Sep 2010 11:49 PM

Popular

Comments

Profile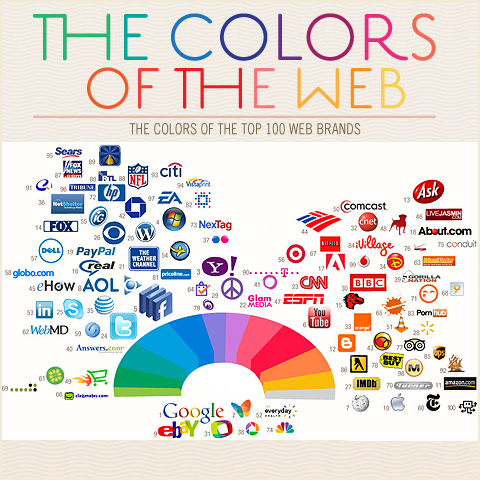 Design Community COLOURlovers recently produced an interesting piece on 'Colours of the Web' - reviewing logo colour preferences for the 100 leading web properties - in accordance with Alexa .

You can see that the full spectrum is fairly well covered all in all, but there is a significant dominance of blue and red, which funnily enough are the most popular brand / logo colours both offline and online. For a brand expert, there are no real surprises here - either by pattern or distribution / frequency. In colour separation, the primary colours are Red, Green and Blue. We use Red and Blue to indicate extremes of 'Hot' and 'Cool' both literally and figuratively. Visually as well, red and blue are very dominant - the Sky and Sea are Blue, Sunsets and Blood are Red - there is so much symbolism that can be conveyed by colour - even the tone of colour - pastels don't look as high quality as the rich-hued jewel colours. For logos and brands - you want them to stand out and be appealing. A trip to the supermarket soon confirms the dominance of a specific colour pallet - but in the supermarket Red is dominant, as red is the most appetising colour, whilst blue is the opposite - blue is used for frozen and refrigerated goods, but for other articles you will see a lot of red and warm colours, as well as earthy tones.
I did an article in the Branding Digest section of our Magazine not so long ago - 'The Colour of Brand Identity ' which features how certain logos are so strongly associated with certain colours, that they effectively 'own' them, at least within their space / market sector. For Comrz, we wanted to creat a fairly unique appeal to the brand, and settled on a very specific colour of 'Lime Green' which is not much in use at all. It has to be said, that brand colours play a very significant symbolic / interpretive role in how the brand communicates its values.

ANyway, I thought it might be interesting ro review the top 20:
(7 x Blue | 5 x Red | 3 x Multi | 2 x Orange | 2 X Grey | 1 x Purple) Google - Multi - Represents breadth of offering MSN / Windows / Bing - Multi - Represents breadth of offering Yahoo - Purple

2 comments
|
permalink
|
email this
|

|





13 Oct 2009 9:36 AM

Popular

Comments

Profile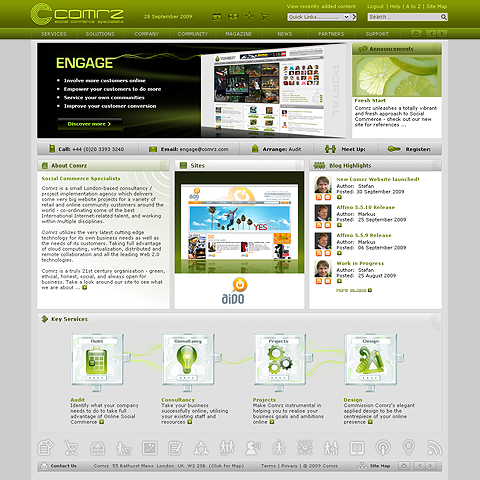 Well, it's finally happened ... Comrz.com is now sufficiently shiny and refined to be shared with the rest of the world.
It is certainly the most refined build of Affino currently in existence - featuring lots of little design details which are only likely to be discovered by those who take their time to review the entirety of every design page, possibly with the aid of a magnifying glass!
We've honed our approach to brand reinforcement with lots of brand echoes assigned to menus and frameworks. This has undoubtedly been an enormous undertaking, and still has some way to go. We still have Magazine, News, Partners and Store Skins to complete - but we are well on the way with those.
The build stats to date are as follows - in volume order! Design Objects = 227 Design Styles = 65 Skins = 42 Design Menus = 19 Form Styles = 3 Dynamic Menus = 1 Main Menus = 1
Almost 1,000 new Icons have been designed and added to the system for this site!
More to come on Structure and Content ...
1 comment
|
permalink
|
email this
|

|





25 Aug 2009 2:20 AM

Popular

Comments

Profile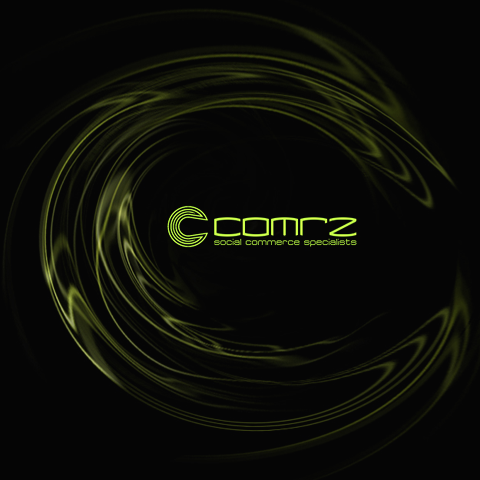 Throwing up a site quickly with Affino really isn't problem. The difficulty comes when you want to use and deploy everything at your disposal in as high quality a fashion as is practically possible.
I am in the process of building an enormous site - wholly from scratch - this involves originating hundreds of icons and dozens of Profiles, Channels and Skins.
We deemed that communication was the key factor, and as a result this is where I have concentrated my efforts in rolling out all the different Community aspects of Affino. I've been working on the site for a week now, and there is still a while to go - of course sales and marketing content needs to be populated and more imagery sourced.
In the meantime - please enjoy getting yourself acquainted with a new level of website refinement - we hope you enjoy the experience ...
Add Comments
|
permalink
|
email this
|

|



Subscribe to feed

Subscribe by email
Recent Visitors