You are here:
Home
|
Blogs
|
Stefan's Naturally Aspirated Blog





31 Jul 2011 11:58 PM

Popular

Comments

Profile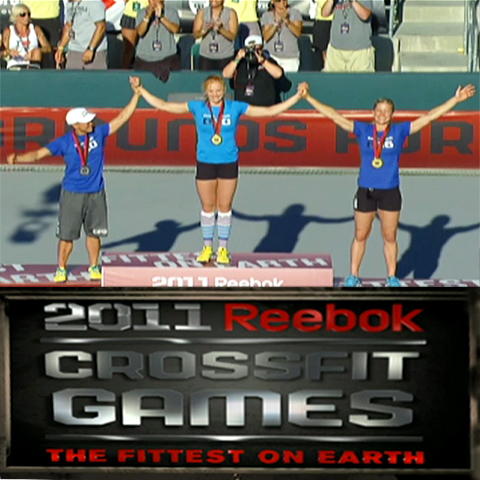 As you may have spotted on a previous blog, I have following Annie's progress right throughout the 10 events and over the 3 days - really willing her on to win. She performed admirably in the opening beach run / swim / pull-ups / squats event, placing fifth.
Annie's 'Ball Skills' let her down badly in Event 2, and she made a disastrous error on the L-Sit, barely hitting the 30 second mark, when she is capable of at least twice that - even though she outpaced everyone on the handstand-walk, she placed a lowly, unthinkable 29th. A win in the final event of the day though saw her move up to 4th overall.
Day 2 was a much more consistent affair with a 7th place, another 1st and a 3rd in events 4-6 - bringing her right up to the shoulders of her arch nemesis Kristan Clever - who was leading at the end of day two.
First event of Day 3 and Annie scored another win, putting her very marginally in the lead ahead of Kristan. In the frantic triple final sequence - Annie just had to place more consistently than Kristan to win the whole competition, and she did this admirably by scoring 3rd in each of the final 3 events - a place or two above Kristan; every one else was too far back really to overtake Annie.
On the Winner's podium, as pictured, were the following:
Annie Thorisdottir (Iceland) with 842 points
Kristan Clever (USA) with 799 points
Rebecca Voigt (USA) with 775 points
Scores out of a maximu of 1000, with 100 scored for first, 95 for second, 90 for third in each event etc.

The UK's Samantha Briggs placed a very credible 4th - just outside the medals with 752 points. No one won more individual events than Annie (3), her margin could have been that more impressive but for a couple of silly mistakes - but then that it part of the winning spirit too - overcoming adversity; and there's no knowing that the poor performance in event 2 was not what spurred Annie on to win the competition.

For me this year's final was not as thrilling as last year's mega obstacle course - I think the obstacle courses are a much better means of audience entertainment for a final event. Even though the overall event was bigger and better this year, the individual components were not quite as satisfying, and the time keeping was about as good as Iceland Express's!

&

...

1 comment
|
permalink
|
email this
|

|





30 Jul 2011 3:27 PM

Popular

Comments

Profile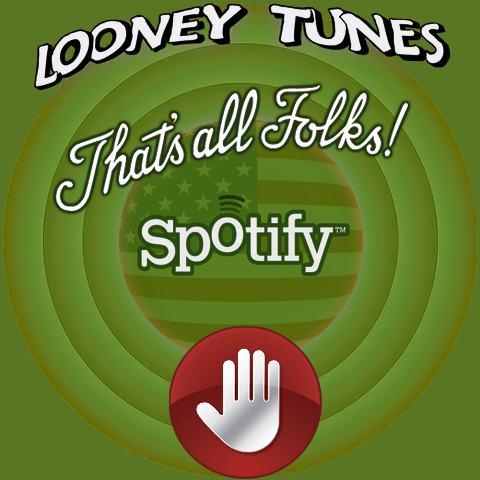 This whole year has been the year of litigation - with the still ongoing Lodsys debacle (inn-app purchasing), the insane suits and countersuits by all the leading technology companies - Apple, Google, Samsung, HTC etc., and the most recent episode of PacketVideo vs Spotify - in the former making a claim for a patent infringement on a 'Device for the Distribution of Music in Digital Form' or in short form, attacking anyone who streams or distributes music in a digital format (in particular cloud-based distribution) - which is just about everyone. How so many generic patents are being granted is not entirely a complete mystery, as there is whole industry of lawyers and judges and court officials which benefits enormously from these vagaries - and who loses out? That will be you and me - the members of the humble public, who have been ripped off for years by the financial services industries, and will now be targeted more by the legal industries - directly and indirectly as in these cases.

Have you wondered why 90% of Hollywood's recent output is in the form of sequels? Significantly - because they don't wish to have to fight some sort of licencing or copyright claim - as would undoubtedly be the case for brand new popular content. It's just more bankable and less troublesome to re-hash the same already-copyrighted material over and over again.

Every other slightly original song that gets to the top of the charts ends up having a number of copyright claims against it - part of the melody or lyrics or sounds or whatever were supposedly 'borrowed' from another track (released 10 years ago with no success) - when the fact is that probably most popular melodies could be traced back to some older folk song of some description - which existed for several centuries already somewhere around the world. 2011 has been the year of the musical re-hash - with chart toppers sampling all manner of existing content - even nursery rhymes and the banana boat song - to by-pass potential litiginous actions.

It is Government, fuzzy laws and opportunistic lawyers that are killing it for everyone. The notion that a generic idea or relatively abstract concept can be patented - without any kind of pertinent scientific application, schema or invention - is just plainly wrong. Individuals should not be able to patent and claim royalties on a generic

...

1 comment
|
permalink
|
email this
|

|





29 Jul 2011 4:52 PM

Popular

Comments

Profile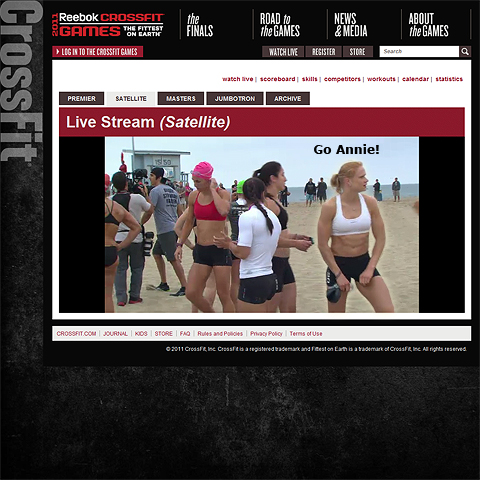 As I explained in a blog post around about the same time last year, 'The Crossfit Games' really are the alternative olympics, or even the endurance olympics. The winners of the 3-day games are officially crowned World's Fittest Man and Woman - quite literally.

Over the 3 days, Friday to Sunday - every single muscle and sinew is tested as the athletes start with a mini triathlon, and then a mixture of athletics, gymnastic and weights-based disciplines. This is true full-body fitness, and is the natural extrapolation of the Olympic's more traditional decathlon.

Parts of this are distance running, parts are old-school gym workouts - chin-ups and the like, and then the most insane of obstacle courses. As any good gymnast will tell you, it's as much about rate of recovery as endurance and flexiblity. The events come so thick and fast, that there is often very little time to recover inbetween.

Last year, Iceland's Annie Mist Thorisdottir was just pipped to the gold by Kristan Clever of the USA. This year, we're all hoping Annie will go one better and bring home the gold, the $250,000 prize money, and 'The World's Fittest Woman' title.

You can all watch and cheer live with me via the Live Crossfit Games Online Satellite Stream. All the contestants compete simultaneously - so you get to see everyone together at all times. It's somewhere between watching the Krypton Factor obstacle course, a triathlon and the World's Strongest Man all at the same time.

I'm sure most of you will enjoy this almost as much as I do - 'Go Annie!'.
4 comments
|
permalink
|
email this
|

|





29 Jul 2011 3:35 PM

Popular

Comments

Profile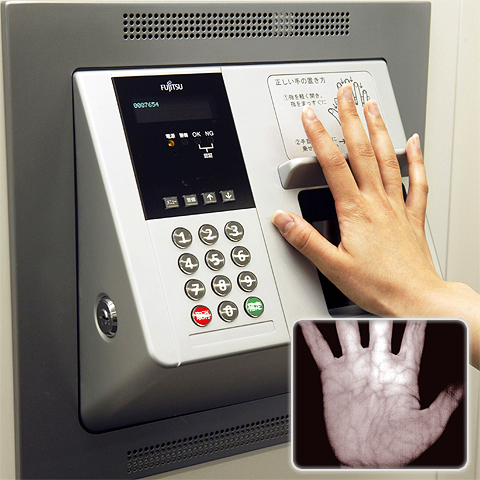 Finger-print scanning is too easy to fake, and iris-scanning can be a little fiddly, and yes, if you really want to - you can probably by-pass that with a glass eye too.

The Security Industry has long been searching for a contactless and non-invasive (i.e. non dna-scraping) foolproof biometric security authentication technique that is quick and easy, and difficult to hack or circumvent.

Largely developed by Fujitsu, and now used mostly by US healthcare centres to ward of fraudulent health-insurance claims - by way of identity theft. Palm Vein Authentication uses an infrared scanner to trace the vein patterns of a human palm. A key advantage of this technology is that the subject must be alive, so a chopped off hand won't do; it's also sufficiently detailed and unique to make it very difficult to replicate with other props or even mechanical parts.

The Fujitsu scanner pictured above is a rather large industry strength one, but the scanners can be as small as smartphone dongles - pretty much the same outer dimensions of the phone, and less than a couple of inches in height.

I've long blogged about the need for an improved biometric technology to replace pin codes, ID cards and the like. As the smartphone rapidly accelerates on its path to absorb most of your daily transactions and interactions - keyless entry, electronic wallet, ID cards, Tickets etc. - this would really seem to be the perfect solution to the current elevated security need we now have.

What with pincodes and login passwords increasingly becoming liabilities, perhaps Palm Vein Authentication is the one-fits-all solution that really works!
Add Comments
|
permalink
|
email this
|

|





21 Jul 2011 3:10 PM

Popular

Comments

Profile
Tags:
apple
,
Comrz
,
Guide
,
Careers
,
Support
,
Smart
,
Section
,
Item
,
iPhone
,
Nordic Walking
,
Paramo
,
Leki
,
Salomon
,
Sennheiser
,
X-Socks
,
The North Face
,
Nordic Walking Exercises
,
Nordic Walking Stretches
,
Lifeventure
,
Orca
,
Camelbak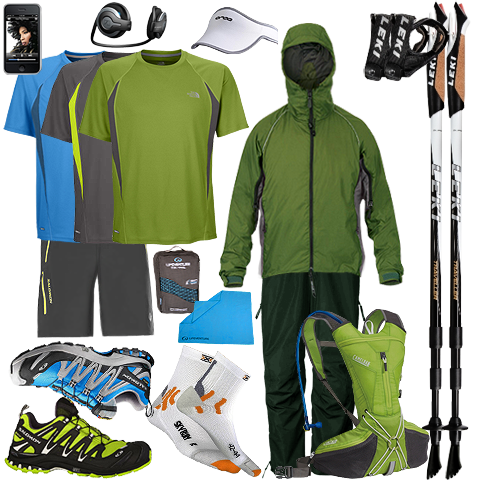 Ah - the splendor of a British Summer! After a truly spectacular April and May, we now get all the rain we should have had then. There's been a few nice days in between, but for the most part June and July have been a complete washout! There was one scorchio day when I was trekking through London - I believe the temperature touched on 30 degrees - I sweated much and became somewhat dehydrated as a result, prompting me to acquire yet more equipment (See Trek Towel and Hydration Pack below!).

It seems contrary, but for a British Summer you actually need more equipment than in Winter - to get you through every conceivable eventuality! I also finally found a proper solution to my Sun Visor challenge - after product testing nearly half a dozen varieties, I finally settled on the Orca Visor, which combines great aesthetics with perfect functionality, shame it only comes in black and white!

My other big discovery 6 months into my regime is the need for proper stretching exercises. By all means do a warm up as well, but make sure you slow down the pace at the end of your walk and do some stretches to ward of stiffness and sprains. I acquired my first exercise-related injury, which did not occur during the walk, but on a following rest day, when I tweaked (sprained) a couple of muscles which were overly taught and stiff. Regular stretching, as per the exercises below, should minimise the potential for sprains and muscle ache.


Recommended equipment (Row-by-row - left-to-right)



Apple iPhone - Your portable music player, map, compass, pedometer, field guide and emergency communicator!

Sennheiser MM100 Headphones - Wireless Bluetooth headphones are perfect for Nordic Walking

Orca Sun Visor - Like I said above - great aesthetics - in fact all the 5Fs (Fabric, Finish, Fit, Form, Function)

Paramo Quito Jacket - Paramo's lightest water-resistant jacket - the Paramo Vista is also great - and just very slightly heavier by a few grammes!

Leki Carbon Traveller Poles - Leki's finest telecopic Nordic Walking Poles

North Face GTD Crew Tees - Featuring smart 'Minerale' fabric for ultimate 'cool' comfort - great wicking properties as well

Salomon Wayfarer Bermuda Shorts - Technical wicking shorts with 4 zipped pockets

Lifeventure Small Trek Towel - Mini portable towel perfect for wiping a sweaty brow - with permanent anibacterial properties and rapid

...

2 comments
|
permalink
|
email this
|

|





21 Jul 2011 12:05 PM

Popular

Comments

Profile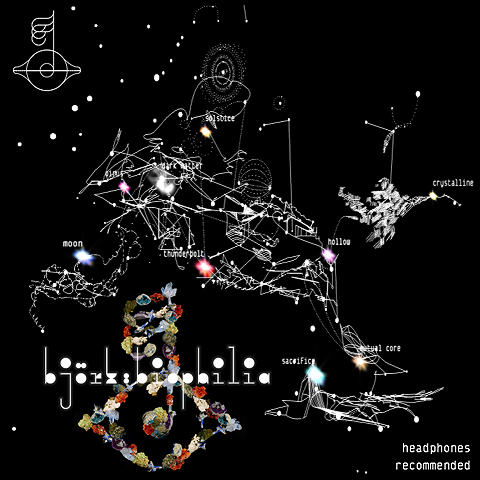 Following Björk's debut of the Biophilia opus at the Manchester International Festival - featuring elaborate custom-made instruments, nature videos and animations, she now releases said work in the form of iPhone and iPad Apps. The content is nigh identical, although the iPad benefits from greater resolution and larger screen real estate of course.

The main Biophilia App - a 'shell' in fact - is free to download, you then pay for each track in addition.

With the launch of the App, tracks Crystalline and Cosmogony were made available. This new material explores the connection between Nature, Music and Technology. Each track is accompanied by an animation which illustrates the song structure and displays the lyrics. All songs are also accompanied by some sort of interactive app or game, which allows you to interact with the music in some way, and further underlines the meaning of the music. For Crystalline for instance the game consists of chasing and collecting crystals through a series of vectorised 3D tunnels.

There's a great David Attenborough Biophilia Introduction which explains the purpose of the work, and encourages the audience to 'Listen, Learn and Create'. The shell of the app is actually represented by a cosmos of heavenly bodies which you can spin around and manipulate in 3 dimensions to access each individual celestial body - which represents a song.

There is a new Björk logo ident in the form of a stylised musical note, which sits top left of the screen, and allows you to access different points of the navigation - so that tracks can be accessed directly from a flat menu also, rather than navigating through the cosmos in 3 dimensions.

This is surely a sign of things to come for popular music - I see the floodgates opening for artists to create their own capsule Album Apps - which will contain a video for every track, alongside lyric sheets, 'making of' media, blogs and several more interactive apps.

This was all kind of inevitable really, I'm proud it's a fellow countryman who got there first. This is still somewhat a novelty though - the Björk App is not particularly polished, and it does not compare well for instance with the best App currently available on the iPad - 'The Elements'.

I'm sure these kind of album apps will soon become commonplace - they do

...

Add Comments
|
permalink
|
email this
|

|





15 Jul 2011 3:10 PM

Popular

Comments

Profile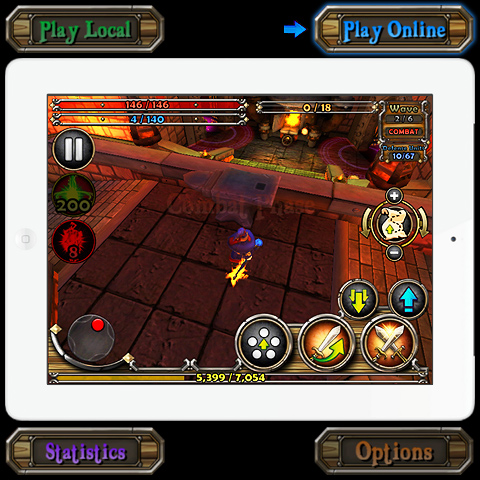 This week, for the regular Comrz team meet-up, we 4 staffers currently in London headed for Boyd's Brasserie Bar at Charing Cross with tablets in hand - an even split of Android tablets and iPads - for an experiment in tablet-based social gaming.

This being my first venture into online multi-player co-operative gaming, I was a little non-plussed initially. In advance of the meet-up we had each downloaded the Dungeon Defenders Game, as well as set up accounts on Gamespy - to allow for multi-player action.

Boyd's Brasserie Bar proved to be an inspired venue choice for the experiment - it's dusky lighting providing just the right environment / ambience for tablet gaming - and of course it has free wi-fi. We each started up the game and selected 'Play Online'; logging in to Gamespy to get multi-player access. Then it was just a matter of one player setting up as the host for a Custom Game, and the rest of the players looking up said Game Name and logging in with agreed password.

I initially thought the experiment was going to be a bit too geeky for my liking, but it actually proved to be surprisingly entertaining - we had plenty of beers and snacks to keep our energy and concentration up. I've noticed that my iPad has a somewhat worrying tendency to eject me out of applications every now and again, wich proved a little wearisome on this occasion - re-starting the game involves several option choices and 2 different logins, which did not always work on first attempt.

I guess the network dropped us all a few times, but over the circa 4 hours of the experiment, we mostly managed to maintain a highly spirited online gaming experience. After the first half hour or so I was really enjoying it. There aren't many games out yet which allow for such a fluid cross-platform experience, but there are all sorts of goodies waiting in the wing for future release, including the tablet version of online gaming streaming service - OnLive.

Dungeon Defenders is a surprisingly good game; the controls can be a little tricky, but you soon get used to it, and all the power-ups and strategy considerations make for really decent gameplay - sure, it can be improved, but all 4 of us, regular gamers and not, really enjoyed the experience.

I see all kinds of potential here for tablet-style collaborative experiences - both work and play-wise. It&rsquo

...

8 comments
|
permalink
|
email this
|

|





06 Jul 2011 9:49 PM

Popular

Comments

Profile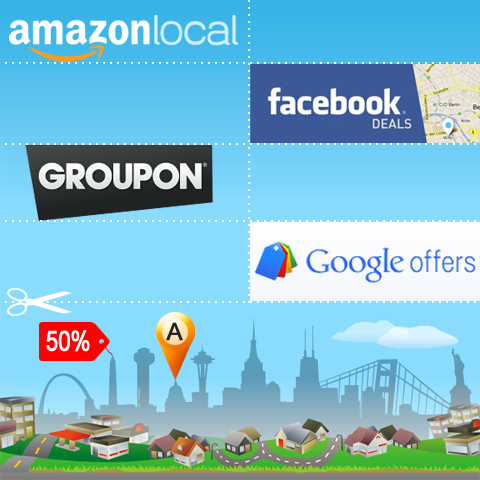 With so many of the key Internet players now muscling in on the Groupon action - Amazon Local, Facebook Deals, Google Offers etc., it is quite evident that 'couponing' and group buying is here to stay in a big way.

Whilst 'couponing' has long been a way of life for many an American, it's not really had the same immersive impact on this side of the pond.

As a brand engineer and marketeer, I've always supported the couponing concept for company / product introductions / launches, but have never really been in favour of couponing as an ongoing marketing exercise. For me these companies are always far better off at employing accumulative loyalty bonus / points systems which are more impactful and more long-term rewarding for both customers and the service providers. A great example of this is Clinique's bonus system where all buyers receive bonus gifts when they spend over a certain value at specific times throughout the year. My other favourite loyalty scheme is Boots's - where you collect points on a card - I am really looking for all of these schemes to be wrapped up in an electronic wallet soon. A lot of these coupon schemes look to 'cheat' the customer by limiting the scope and uptake of the coupon - so that it's only valid for certain things at certain times - coupons are set up in such a way that a large number of customers will fail to 'cash in' their coupons - this is why for my the Tesco system is so much worse than Boots - for Boots you always keep your points on your card - for Tesco you need to remember to tear off and take the paper coupons with you when you go shopping - HMV goes one worse with its loyalty scheme - allowing you only to access your points online, and you can only spend them on products in-store - which are pricier than the online equivalents - sure there are other bonuses, but as a supposed universal loyalty scheme, it is seriously flawed. The universal points schemes will always be much better propositions in every way - for customers and retailers alike.

For research purposes I get more than my fair share of these special offers coming my way every day - mostly restaurant offers, spa and beauty treatments, with the occasional 'day out' type of activity. Service providers need to be aware that, as in the case of Groupon - that Groupon gets 50%

...

Add Comments
|
permalink
|
email this
|

|



Subscribe to feed

Subscribe by email
Recent Visitors