Savvy Friends Goes Live!
23 March 2012
1:36 PM

Stefan Karlsson
Affino
Bistro du Vin
Comrz
Ronan Sayburn
Savvy
Savvy Event
Savvy Friends
Savvy Wine
social marketplace
social media
social networking
Wine Store
Wine Tasting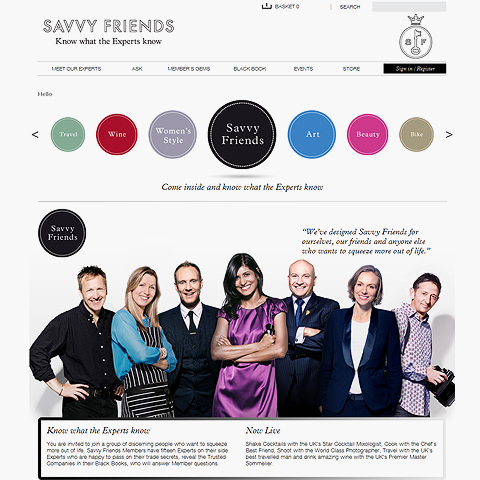 After months of planning, preparation, design, implementation and population, the Savvy Friends experience is finally ready for the world. It's been a largely enjoyable journey (great people involved), with constantly evolving procedural challenges, requirements for new channels of revenue and new business models.

What is actually launched now is in effect Phase 3 of the site - 3 generations of design templates and functional improvements have led to the current version running on the latest Affino release. All of this should give the site plenty of scope for flexibility and onward development and evolution.

It's amazing how much can be achieved with small teams - the Core of Savvy Friends - Simon, Warren, Yamit, David, James and Charlotte have put together all the design, content, media and refined detail touches. All of Comrz was involved too, but we're still just talking about a dozen or so individuals all together.

The attention to detail on the site is at a level we at Comrz have never before experienced - from the choice of the uniquely stylised fonts - Neue Helvetica and Plantin - down to the placement of the tiniest element - spacing, dimensions, proportions, use of integral social media - and a very refined approach to social interaction - everything has been carefully considered and layed out in optimal fashion.

The fine attention to detail is reflected in the exquisite photography, videos and products featured on the site. Markus and I attended the inaugural Savvy Friends Event last night - Wine Tasting at Master Sommelier Ronan Sayburn's Bistro du Vin on Dean Street, Soho. Our group of around 30 Savvy Friends founding members had the Salon / Library annex to ourselves, to enjoy Ronan's discourse on the first Savvy Wine Monthly Selection - and of course sampling thereof.

Ronan is the perfect ambassador for wine and for Savvy Friends - he conducted the wine tasting with affable charm and passion - keeping proceedings clear and unpretentious - yet peppered with thoughtful background vignettes. There were 3 wines as part of the formal tasting - all excellent, and of course available via the Savvy Friends Wine Store. Some were particularly enamoured with the Vouvray Les Argiles, which was excellent, but my personal favourite was the Côtes du Rhône, Clos du Caillou. All the wines were quite superb, and I also really enjoyed the Sainte Marguerite Rosé and the Trimbach Riesling.
The Savvy Friends mission is to provide the most discerning selection of products and services - at the most reasonable prices for that level of excellence - it's all about introducing its members to amazing, great value products and services that they would not otherwise know about, or be able to source from mainstream suppliers.

We heartily congratulate everyone involved on a job well done, and look forward to a very successful Savvy future.