Congratulations to The Stage for winning Team of the Year and getting a Highly Commended Award for Podcast of the Year at this Evening's PPA IPN Awards
19 November 2020
1:15 AM

Stefan Karlsson
PPA
PPA Independent Publisher Awards
PPA Independent Publisher Conference & Awards
The Stage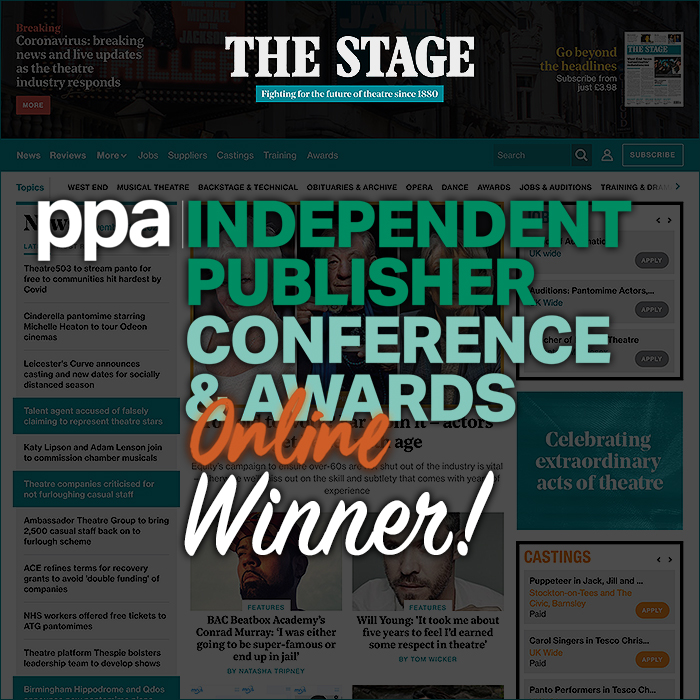 Congratulations and commiseration are due to the hard working team at The Stage Media Company. At this evening's PPA Independent Publisher Awards they rightly came aways with the Team of the Year - for the sterling work of The Stage's News Team. This was also reflected in The Stage receiving a Highly Commended Award in the Podcast of the Year Category.
The Judging Panel shared :
"The news team at The Stage is passionate, going the extra mile to save the industry it serves. The small team responded well to the crisis and they have made a significant contribution to the overall performance of the company."
The big target here though was the highly deserved, yet unfortunately not forthcoming Website of the Year Award. Considering the adversity the Performing Arts Sector has had to face down this year, it was not necessarily an auspicious time for a complete site revamp. Yet that's exactly what happened - and the vast majority can agree that The Stage is for sure one of the very finest performing arts resource to be found anywhere in the world.
This year it's almost as if The Stage has had to settle for a couple of lesser awards, where it fully deserves to be lauded as one of the very finest website browsing experiences in any sector or discipline. The level and flow of detail throughout The Stage website is unsurpassed, and seldom equalled.
We felt sure that al the prevailing body of evidence and great works within a tempestuous time of adversity would rightly recognise and reward The Stage as being the Best New / Renewed Website this Year. Yet such was not to be. It would be churlish to belittle the success of other nominees - while we feel that the time and conditions were right this time around for a The Stage Win.
I'm sure The Stage will continue to move onto bigger and better things - awards are of course nice-to-haves rather than essentials. And the randomness of life and judging panels in general means you alas don't always get what you deserve.
In any case still hearty congratulations on what was won, and better luck for what's to come.