29 Nov 2011 9:45 AM

Popular

Comments

Profile
Tags:
apple
,
comments and ratings
,
FaceBook
,
social media
,
youtube
,
Twitter
,
LinkedIn
,
Forum
,
Affino
,
Disqus
,
Skype
,
Google Talk
,
Google Mail
,
Tweets
,
Blackberry
,
Email
,
Dropbox
,
Updates
,
group chat
,
Social Messaging
,
SMS
,
Texting
,
Message Board
,
iMessage
,
Messenger
,
Apple Store
,
Billing
,
Receipts
,
Communication Platform
,
Blackberry Messaging
,
Mark Zuckerberg
,
Online Privacy
,
Online Security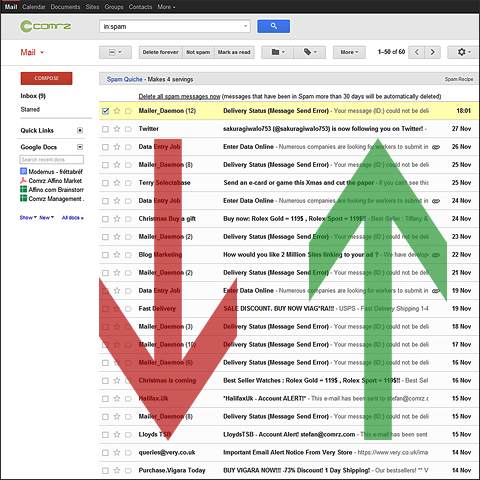 We've heard it several times now - that with the growth of Social Messaging - email is on its way out! However, for me if anything - email is on the way up! I have various Social Media subscriptions which all come to my inbox - from Facebook, Twitter, LinkedIn, YouTube etc. - all my receipts, including those from the various Apple stores - as well as all my key bills and statements, these are all now notified electronically via email!

I really don't understand what these Social Media types propose is going to happen to all that content! As far as I'm concerned, there are lots of different kinds of communications platforms - each for very specific purposes. If you need to send smallish attachments, then email is still a decent format, if you need to send something larger, then any kind of message with a Dropbox URL in it will do. There's lots of clever 'Messenger' type services now, like Apple's 'iMessage' - which provides free Blackberry style text messages to its customers.

On a daily basis, I make use of iMessage / SMS, Forums, Message Boards, Group Chat, Comments and Ratings, Skype and Google Talk. For me the biggest significance has been in the Disqus-type comments systems, very much like Affino's Comments and Ratings - this means that the discussion element is very much aligned to the content, whereas with Forums - they are usually divorced from the content, and very quick to go off-topic.

As far as the statistics go, the number of email messages being sent is still on the way up globally. Messaging / iMessaging / SMS is simply just replacing other forms of communication - like the more traditional phone call, as they are more cost effective and more expedient. You don't expect the person on the end of the line to available 24/7 - so sending an SMS is far better than leaving a voicemail - that said, many people do both!

A lot of people used to do proper blogs, then they got bored / lazy and switched to tweets, now they're even lazier and just do comments and re-tweets. It would be interesting to know the proportion of original to recycled / regurgitated content in the twittersphere.

Of course people like Mark Zuckerberg have vested interests in their platforms, and will make broad sweeping statement to push home a point, much like Steve Jobs used to do in his heyday. For sake of

...

Add Comments
|
permalink
|
email this
|

|





04 Oct 2011 1:37 PM

Popular

Comments

Profile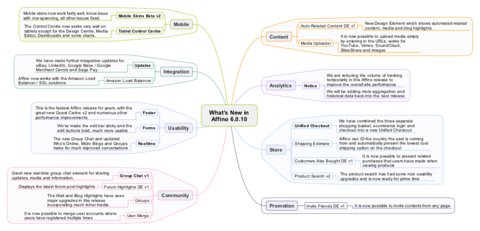 The most important developments in this release are speed and usability. We've made Affino more usable and approachable across the board. There has been great progress in our three main target areas for 2011: usability, mobile / tablet and ecommerce; and we're on course to deliver transformed experiences with all three this year.
All the key areas of Affino: publishing, promotions, media, commerce, communication and analytics have all evolved in key directions as well with great new functionality in each area.
Add Comments
|
permalink
|
email this
|

|





04 Oct 2011 11:04 AM

Popular

Comments

Profile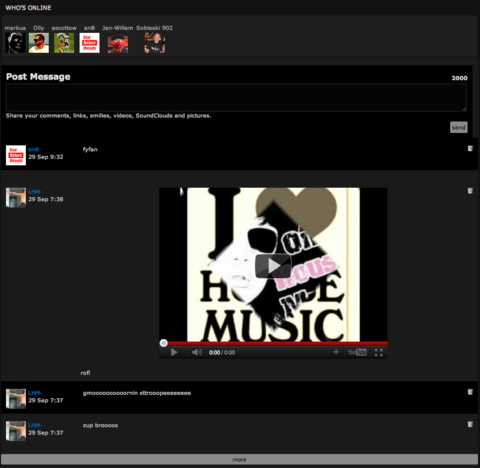 This is the most polished version of Affino that we have ever released. The user experience is smoother, faster and more intuitive. This is also the first release where nearly everything works well on tablets (with a few Flashy exceptions). The single biggest project for this release has been to improve the speed and performance of Affino something that will be very clear a couple of days after you've updated (and the new Guest Cache is working for you).
There are updates in every aspect of Affino: shopping is easier with the new unified checkout; adding content is faster with the improved forms and sticky edit bars; uploading media is easier now that Affino can pull in the media simply from URLs in the Media Uploader; inviting friends and contacts can now be done from every page; chatting and connecting is greatly improved with the new Group Chat; and Affino works better with many of the key sites we integrate with.
There are some great new styling enhancements with Horizontal Design Menus, square form buttons, improved styling on many elements including the Newsletter Sign-ups, Engagement Panel, Who's Online and Radar Charts. The Control Centre has also had a further makeover and is sleeker and cleaner.
There are over 160 updates in this release and many are focused on resolving key issues that people have been having so the experience will be much smoother once you've updated to this release.
This is a major performance update, and is recommended for everyone. It means that there is a lot of optimisation which takes place during the update, making this one of the most intensive updates ever released. It is recommended that you liaise with your account manager / support team when running this update to ensure that someone is on-hand to support you should something go awry.
It is essential that you run through the complete update process starting with the Affino Updater, followed by the System Update, Re-Initialise Site, Design Element Update and Skin Update; all of which are available on the Settings > Update screen.
Performance

It has been noticeable that Affino has been progressively slowing down this year with the volume of new features we've been putting in place over the past 10 releases. Although we did a number of

...

Add Comments
|
permalink
|
email this
|

|



Subscribe to feed

Subscribe by email
Recent Visitors