03 Nov 2012 11:38 AM

Popular

Comments

Profile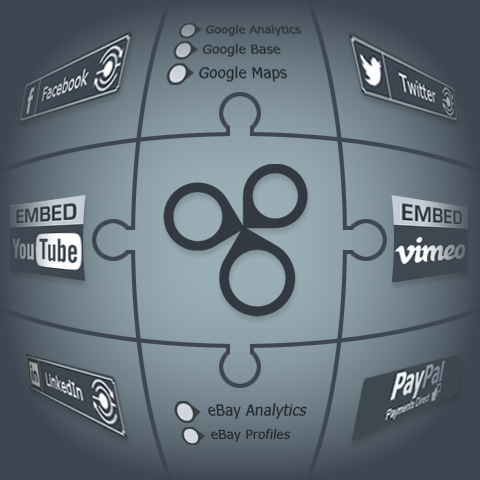 Doing business online is much bigger than any one website. You have to be where the people are, integrate your business hub with all the key sites out there, and make sure that everything integrates effectively with your back-end systems that you use day in and day out to get things done within your company.
Affino 7 integrates with over 100 systems, and of those 60 are out-of-the box integrations that you can simply enter your settings and connect to Affino. Affino also has a great API for connecting to any compatible system out there.
It's impossible to select any seven key integrations. Below are some of the best known and most used ones. It all depends on what kind of online business you're running:
Affino is integrated with a dozen Google services. Google's Analytics and Maps are still the world's benchmark, and the Google Merchant Centre continues to grow in influence. We do a great deal to optimise Affino for Google Webmaster Tools and to deliver great SEO.
Paypal is integrated directly into Affino's store checkout. Affino's PayPal integration supports direct / indirect, credit card / debit card / PayPal payments, single-page / offsite payment, one-off and renewable payments all just with PayPal. It is one of a dozen different payment systems supported.
One billion of the world's citizens interact via Facebook, it would be churlish not to be involved. Affino live-publishes your content directly to Facebook as required.
Affino syncs seamlessly with the world's largest professional network, pulling in profile and network information and syncing status updates.
Affino integrates seamlessly with Twitter for instant updates in both directions. It can notify you when high-following members join your community and much more.
You can drop any YouTube video anywhere into Affino by simply posting the URL. It doesn't matter where you use it whether it is blogs, media library, articles, chat, comments, wherever. Same goes for all the other top video and other media sites.
Affino stores integrate directly with eBay markeplace - giving store owners a far larger catchment area / audience, same goes for Google Merchant Centre and coming soon to Amazon.

...

Add Comments
|
permalink
|
email this
|

|





02 Nov 2012 4:23 PM

Popular

Comments

Profile
Tags:
apple
,
FaceBook
,
Google
,
Comrz
,
LinkedIn
,
Affino
,
Amazon
,
BBC
,
Affino 7
,
London 2012
,
London 2012 Olympics
,
2012 London Olympics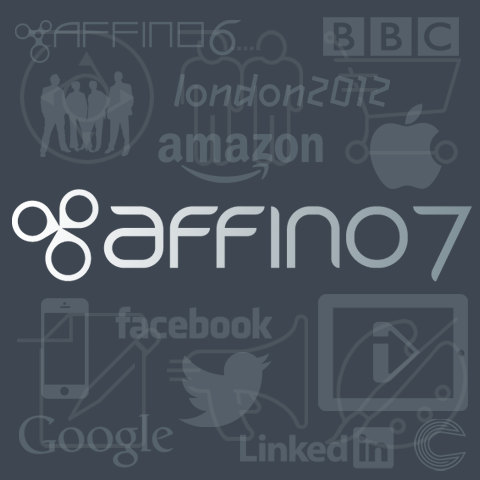 An enormous amount of input goes into every major Affino version release, and Affino 7 is no exception. Front and centre to all our considerations are our customers' ongoing requirements and feature requests - Affino almost wholly evolves along collaborative lines between the Comrz Team and every single one of Affino's users.
It's frequently a tough job consolidating all the different diverse requirements into a single streamlined system, but this is what we do every day. Pretty much every tiny nuanced functionality has been specified for a particular business scenario and activity. For every major release we endeavour to simplify the user experience, which is not always as simple as it sounds as no two Affino users deploy the system in exactly the same manner.
Every consideration is made to imbue Affino with simplicity, elegance and ease of use. It thus follows that the key technological inspirations convey those same values of clarity of purpose, elegance and simplicity:
The degree of detail and finish of the many elements of the London Olympics are a key influence in the look of the new interface. In particular, we took inspiration from the dynamic keyline pictograms - which elegantly convey movement and modernity. Affino's Key Navigation Icons are largely inspired by those pictograms - harnessing the same values of forward movement and dynamism
Still the benchmark for online retail, now with a vastly improved elegant interface - Amazon continues to inspire with its ever increasing depth and breadth and yet singularity of purpose
Apple still remains the benchmark for elegant product and interface design, and supreme ease of use. It's focus on learnability remains a significant design influence in how we consider Affino's daily usability and overall customer experience
Despite its detractors, the BBC is a significant pioneer online - with its iPlayer representing the first and the best of the Internet TV Players, and the relatively recent BBC.co.uk update being the first significant move towards tablet-style navigation for the main website interface
The world's most popular people-connector maintains its position for a reason. Despite lacklustre performance on the stock exchange,

...

1 comment
|
permalink
|
email this
|

|





29 Nov 2011 9:45 AM

Popular

Comments

Profile
Tags:
apple
,
comments and ratings
,
FaceBook
,
social media
,
youtube
,
Twitter
,
LinkedIn
,
Forum
,
Affino
,
Disqus
,
Skype
,
Google Talk
,
Google Mail
,
Tweets
,
Blackberry
,
Email
,
Dropbox
,
Updates
,
group chat
,
Social Messaging
,
SMS
,
Texting
,
Message Board
,
iMessage
,
Messenger
,
Apple Store
,
Billing
,
Receipts
,
Communication Platform
,
Blackberry Messaging
,
Mark Zuckerberg
,
Online Privacy
,
Online Security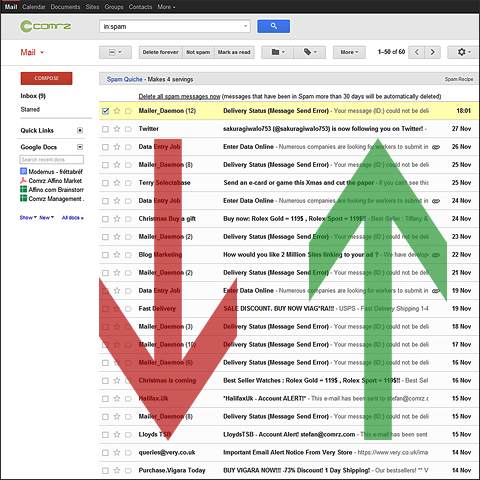 We've heard it several times now - that with the growth of Social Messaging - email is on its way out! However, for me if anything - email is on the way up! I have various Social Media subscriptions which all come to my inbox - from Facebook, Twitter, LinkedIn, YouTube etc. - all my receipts, including those from the various Apple stores - as well as all my key bills and statements, these are all now notified electronically via email!

I really don't understand what these Social Media types propose is going to happen to all that content! As far as I'm concerned, there are lots of different kinds of communications platforms - each for very specific purposes. If you need to send smallish attachments, then email is still a decent format, if you need to send something larger, then any kind of message with a Dropbox URL in it will do. There's lots of clever 'Messenger' type services now, like Apple's 'iMessage' - which provides free Blackberry style text messages to its customers.

On a daily basis, I make use of iMessage / SMS, Forums, Message Boards, Group Chat, Comments and Ratings, Skype and Google Talk. For me the biggest significance has been in the Disqus-type comments systems, very much like Affino's Comments and Ratings - this means that the discussion element is very much aligned to the content, whereas with Forums - they are usually divorced from the content, and very quick to go off-topic.

As far as the statistics go, the number of email messages being sent is still on the way up globally. Messaging / iMessaging / SMS is simply just replacing other forms of communication - like the more traditional phone call, as they are more cost effective and more expedient. You don't expect the person on the end of the line to available 24/7 - so sending an SMS is far better than leaving a voicemail - that said, many people do both!

A lot of people used to do proper blogs, then they got bored / lazy and switched to tweets, now they're even lazier and just do comments and re-tweets. It would be interesting to know the proportion of original to recycled / regurgitated content in the twittersphere.

Of course people like Mark Zuckerberg have vested interests in their platforms, and will make broad sweeping statement to push home a point, much like Steve Jobs used to do in his heyday. For sake of

...

Add Comments
|
permalink
|
email this
|

|





19 Mar 2011 10:36 AM

Popular

Comments

Profile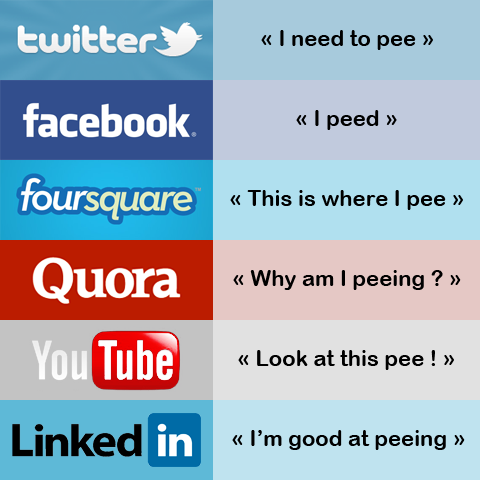 I believe this great diagramatic explanation of Social Media first appeared on French Blog site 'Vanished Omen '. I spotted it on 'Gizmodo ', obviously the graphics were a bit ropey - so I did my own version.

I would have liked to have included 'Flickr ' in there as well, as I believe this is still a significant Social Media resource, but the original's simplicity and symmetry bore out.

We obviously integrate 'Twitter ', 'Facebook ', 'LinkedIn ' and 'YouTube ' with our Social Commerce Solution 'Affino '; location-logging 'Foursquare ' is less significant for our customers, as is question and answer site 'Quora '.

This is one of those rare gems which totally hits the mark, and delivers maximum impact from the simplest of explanations - I love it!
1 comment
|
permalink
|
email this
|

|





28 Nov 2010 9:18 PM

Popular

Comments

Profile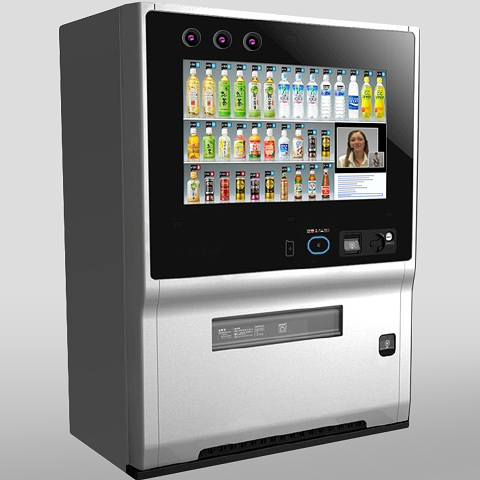 I'm sure many of you have heard of the Social Commerce definition of placing tills next to water coolers and water coolers next to tills. This is how the vast majority of Social Commerce is implemented - as a bolt-on or add-on, not necessarily central to the main consumer experience.

The purpose of Social Commerce - is to integrate social interactions with commercial transactions, so that when someone buys something - they can get advice, influence and a second opinion on their purchases - at the point of purchase. To truly do Social Commerce properly, the social element has to be fully ingrained within the retail experience - which is what Affino does. Affino is an all-in-one, seamless Social Commerce Hub - where all consumer interactions and transactions are handled simultaneously by the same system. Here the social commerce analogy is having water coolers within vending machines and vice versa - not as an aside or adjunt, but as a key element of the central experience.

Some years ago we worked with the designer jeans label Diesel on a number of website projects - at the time, we recommended having a webcam and monitor next to a communal store mirror - where shoppers could canvas opinions from users browsing the Diesel website. At that time there was no Facebook , and the technology was not up to much more than a one-way exchange of opinions. Just recently, Diesel put a similar idea into practice using a touchscreen monitor - where shoppers could login on their Facebook account, take snaps of their outfits and upload directly to their own User Profile. Such is the state of Internet technology today, that we can achieve all kinds of clever integrated interactions within the consumer experience - incorporating dynamic, intelligent recommendations, fully immersive media and multiple interactions.

In the visual above I have combined the latest in Acure touchscreen vending machine technology with Microsoft's Kinect and Skype's video call and text messaging - in order to illustrate point-of-sale social commerce. This is what Affino does on the web; our latest release will have the revived and updated 'Affino Messenger' which gives you largely the Skype type interactive experience - with text messaging, video calling and file sharing functionality. Affino has several other types of clever in-built functionality; our Comme...

3 comments
|
permalink
|
email this
|

|





23 Nov 2010 10:50 PM

Popular

Comments

Profile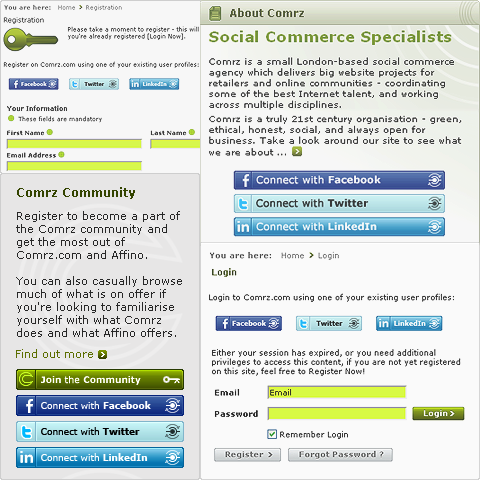 Lots of websites have icons with 'Facebook Connect', 'Connect with Twitter' or 'Connect to LinkedIn' and the like. In most cases, these are simply just links to company or brand-specific pages on those Social Networking Sites - nothing dynamic or revolutionary happening there.

On some sites you see 'Login with Facebook' or 'Login with Twitter', this is more along the lines of what the Affino Proto Account offers, but not quite the whole shebang!

The Affino Proto Account functionality now running on this site actually enables 3 things: Login with your Facebook , Twitter or LinkedIn Credentials Register using your Facebook , Twitter or LinkedIn Credentials Update your User Account info by syncing across info already input on Facebook , Twitter or LinkedIn
For a while now, Affino Users have been able to sync in two-directions with Facebook and Twitter - to share Tweets, Updates and Posts both ways. We recently added LinkedIn to this; LinkedIn is much more rarely synced, and particularly in the way Affino does it.

With LinkedIn , Affino can pull in CV and Biography details - suitable for professional career sites, job applications and recruitment.

This is the 3rd phase of Affino's Social Networking integration, and there is plenty more to come, including deep-level integration with the Facebook Marketplace , as well as adding the OpenId option for User Account connection.

For those who have been following the recent developments on MySpace - particularly with a view to the Facebook Mashup, this is exactly the kind of functionality that Comrz constantly works at bringing to Affino - enabling Affino owners to have a powerful Social Commerce Hub which pulls in and distributes all manner of value-added content and commercial output.

Please feel free to explore the new functionality by registering, logging-in or updating your existing account using your Facebook , Twitter or LinkedIn credentials...

2 comments
|
permalink
|
email this
|

|





20 Nov 2010 3:12 PM

Popular

Comments

Profile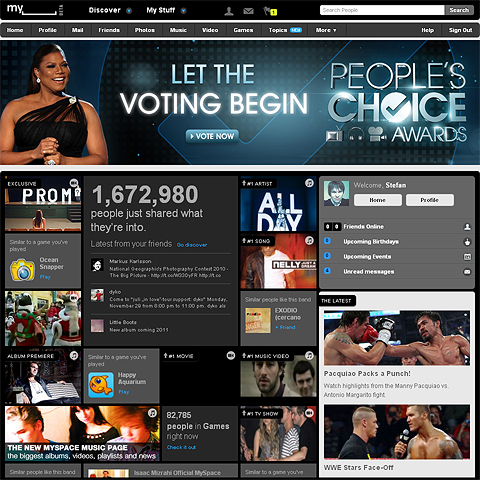 I have updated my MySpace profile now for the first time in about 3 years or more. I rarely use my MySpace Profile, although I use MySpace a whole lot for checking out the latest releases from my many favourite bands.

MySpace has just recently gone through one amazing upheaval - I love the brand evolution, the - my [_____] - ident / motif is genius. The new look and feel is fantastic, and the new Facebook Mashup feature is equally inspired. As MySpace CEO Mike Jones explains:

"We are thrilled to further our collaboration with Facebook through Mashup with Facebook . This new feature is a great illustration of our strategy around social entertainment and enabling the real-time stream. The stream is one of our most popular features on Myspace , and it is now delivering an even richer entertainment experience of relevant content for our users to enjoy. I'm particularly excited because so many people will be able to have the immediate satisfaction of enjoying their own entertainment program that they have customized themselves as well as connecting to all their passions and to the Myspace community at large."

MySpace's customisation / templating wizard is also much better, and all in all the User experience is about 100% improved.

I'm still not convinced how much 'action' it will take away from Facebook , as I still believe Facebook has a myriad of advantages over MySpace . I will of course continue to utilise the 'Music' space on MySpace - I don't believe I will really be doing much with my own Profile area though.

This of course raises the larger questions about syncing information between different profiles - and how you decide on how to store said information and prioritise different categories and likes, and which information you actually copy / sync across - do you every override preferences?

At Comrz , we are about to introduce our new Affino 'Proto Accounts' functionality which allows users to connect / utilise login / registration details from Facebook , LinkedIn and Twitter - with OpenID to follow in the next release. Affino really pushes the envelope for what information is captured on a User Profile basis; we will be following up that exercise with the 'Content Streaming' -type features found on Facebook , and w...

3 comments
|
permalink
|
email this
|

|





01 Oct 2010 6:18 PM

Popular

Comments

Profile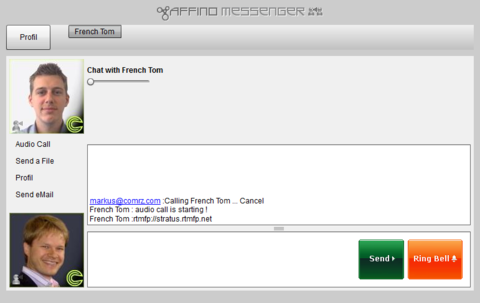 We're heavily into R & D at the moment in the Comrz Virtual Research and Development Labs. Three projects in particular are going to have a big impact over the coming year.
One of the things we get asked about the most is "when will the next generation of Affino Messenger come out so that we can re-enable instant messaging on our site". The good news is that it is now well under-way and we are looking to release a Beta version with the next Affino release.
The nature of the Instant Messaging hosting setup is that this will only be offered as a premium service. Not just that, but there will be different levels of service depending on whether it's just text chat or you want voice and video as well.
You can see from the screen cap above that we're at the very early discovery phase with a lot of the technology but have got working prototypes for text and voice chat.
We've already tried (and discarded) a number of approaches and have ended up deciding to write the core messaging client and server ourselves. We tried hard to work with existing standards such as XMPP, but the problem is that nothing we tried came close to doing what we want to achieve.
The tech we're going to be using is Adobe Flex 4 and Adobe Air 2.x. We're also writing our own Java Sockets server; with ColdFusion based webservices which will link together each Affino site and community with our new centralised Affino Messaging Service; which in turn we'll be hosting on the Amazon EC2 cloud.
Our twin goal priorities are reliability and security, so everything we do will only be released when we have confidence it will perform effectively. The key feature priorities we have are:
Peer to Peer Instant Messaging Group Instant Messaging Chat / Conference Room Messaging Support Chat Sales Chat
Peer to Peer Voice Chat Peer to Peer File Transfer Peer to Peer Video Chat Status Updates sync with the site, Twitter, Facebook and LinkedIn News Feed
Android Client (Air)...

10 comments
|
permalink
|
email this
|

|





18 Aug 2010 9:36 PM

Popular

Comments

Profile
Tags:
FaceBook
,
MySpace
,
social media
,
social networking
,
Twitter
,
LinkedIn
,
Habbo
,
Bebo
,
Friendster
,
Orkut
,
Hi5
,
Badoo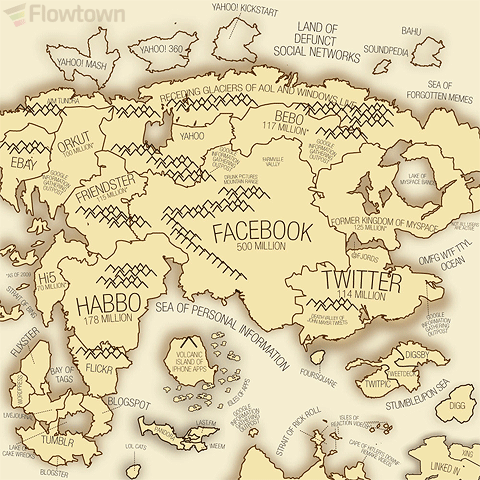 Social Marketing Platform FlowTown have created a JR Tolkien 'Middle Earth'-like topographic map / infographic of the main Social Networking / Social Media Players in 2010.
The top 8 places below come from the FlowTown data, while numbers 9 and 10 come from Wikipedia . It is interesting to see that even though the placings of the top 10 are pretty much the same, both sources disagree over the exact figures.

There are also some nebulous networks like Windows Live Spaces (120m) and country specific networks Vkontakte (Russia - 82m) and QZone (China - 200m) which I am excluding as they're not properly global platforms; that leaves the following: Facebook - 500 million members Habbo - 178 million members MySpace - 125 million members Bebo - 117 million members Friendster - 115 million members Twitter - 114 million members Orkut - 100 million members LinkedIn - 75 million members Hi5 - 70 million members Badoo - 69 million members
As most staff members at Comrz have multiple accounts with many of these networks, the figures can probably be extrapolated and adjusted by as much as -10% if not more.

There is only one real surprise here - Habbo (formerly Habbo Hotel) is the number 2 ranked Social Network in the world. Most of you may not be aware of it, which is just as well really, as it is targeted at teens.

There are a number of other interesting statistics to be had in terms of changing patterns of access, particularly with something like Twitter , where often both the author and audience post and view their 'Tweets' through some kind of app or 3rd party aggregator. Several Social Networks will simply evolve into some kind of data or feeder hub, with the actual 'live' interaction taking place on a different platform and via a different medium.

There are huge changes afoot as we engage in more and more social networking activities through our Smart Phones. Google TV will further revolutionise these formats by channelling Social Media and Social Networking through the family lounge television.

Facebook may be way out in the lead at the moment, but the race is far from over, and an...

5 comments
|
permalink
|
email this
|

|





17 Aug 2010 8:41 PM

Popular

Comments

Profile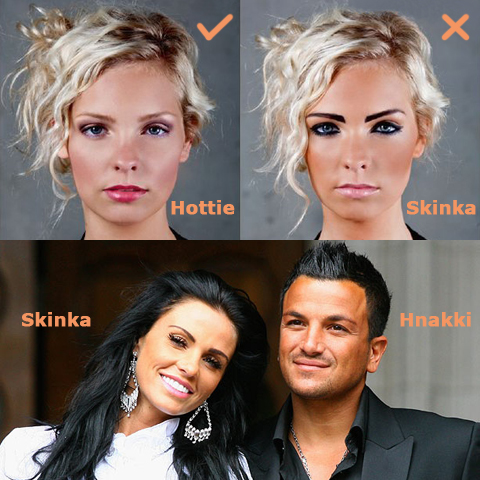 Are you familiar with 'txt spk', 'rickrolling', 'lols' / 'lulz'; do you 'Google' and 'Tweet' text in abbreviated leet or chatspeak?

Do you indulge in this kind of malarky?:
'thx daz 2g2bt cya thr l8r 2mro'
(Thanks that's too good to be true, see you there later tomorrow)

SMS and Instant Messenger chat were the last signficant leaps forward in stimulating language development, and currently Blogs, Micro Blogs and Tweets are the key means of etymological evolution.
In terms of cultural milestones and benchmarks, all are familiar with the stereoptycially over-tanned (tango'd), heavily made-up, over-preened and under-dressed role models in society. The UK has Peter Andre and Katie Price, who continue to influence even though split up; the US has Snooki and the Situation and the remaining cast of the GTL lifestyle show 'Jersey Shore' (Gym, Tanning, Laundry). It's taken the Icelanders to come up with a generic name for these stereotypes - 'Skinka' for girls (Skinka = Cured Ham, possible associated derivation also from 'Skank'); overly tanned, muscled and preened boys are known as 'Hnakki' (Hnakki = Nape of neck / Saddle; tanned leather derivation). One of these words - 'Skinka' although Icelandic, has already found its way into the Urban Dictionary , which has become the de-facto reference for modern language use, alongside various snippets on Wikipedia and other specialised blogs.
Music journalism has long been responsible for coming up with the descriptive terms and genres to describe emerging musical movements, fairly recent derivations have included grunge, crunk and dubstep. But back then, terms first appeared in print, within musical journals and newspapers, now they almost always appear online first, in someone's blog or tweet, or even in an associated comment or message.
Back in the day when we worked for Emojo, we introduced and popularised a number of industry phrases which have now found their way into common usage, among them were 'Social Content Management' , 'Social Marketplace', and indeed 'Social Commerce'. We needed to 'invent' these terms to best...

1 comment
|
permalink
|
email this
|

|





22 Dec 2009 8:28 PM

Popular

Comments

Profile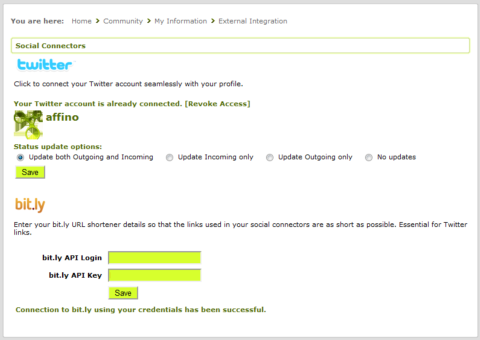 As you might have noticed from our Affino Tweets lately on twitter.com/affino , we've been doing a lot of work to integrate Affino seamlessly with Twitter. This is just the first phase of our Social Integration project which will be launched in January.
You can see the settings screen above, which anyone with a Comrz account can now try out. We've made things as simple as possible with our connectors, using the two-click approval process wherever possible so users simply click through to the relevant social site, be it Twitter , Facebook or LinkedIn and then click to approve the connection with Comrz (using OAuth and Facebook Connector).
We've also integrated with Bit.ly so that any user with their own bit.ly account can use it to shorten their URLs where required, and provide them with dedicated analytics.
The first phase has been primarily for us to prove the concept and identify clear guidelines for using Social Connectors. Right now Affino just works with Twitter and Bit.ly. The next step is to expand that to Facebook and LinkedIn. It is also to expand from just syncing Status Updates to also promoting blog posts.
The third development phase is all about running Social Camplaigns. This will allow you to promote any 'standard' Affino content, e.g. news, events, products, reviews etc. on the leading social portals.
The first incarnation of Social Campaigns will be incredibly simple to use so that Affino users can launch campaigns quickly with instant benefits. There are three aspects:
Set up your Social Connectors Set up your URL Shortener account(s) Create your Social Campaigns by selecting the Section you wish to promote content from, the Social Connector, the URL Shortener and then by fine-tuning the feed.
We'll keep you posted as we roll more features out on Comrz in the run-up to the release.
Add Comments
|
permalink
|
email this
|

|



Subscribe to feed

Subscribe by email
Recent Visitors