03 November 2012 11:38 AM GMT
FaceBook
Google
youtube
Comrz
Twitter
LinkedIn
Affino
PayPal
Vimeo
Affino 7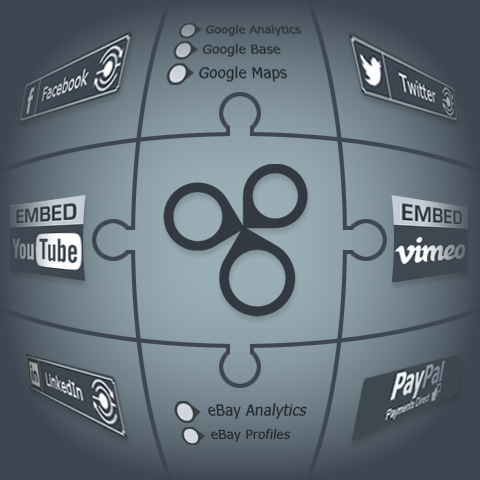 Doing business online is much bigger than any one website. You have to be where the people are, integrate your business hub with all the key sites out there, and make sure that everything integrates effectively with your back-end systems that you use day in and day out to get things done within your company.
Affino 7 integrates with over 100 systems, and of those 60 are out-of-the box integrations that you can simply enter your settings and connect to Affino. Affino also has a great
...
More
02 November 2012 4:23 PM GMT
apple
FaceBook
Google
Comrz
LinkedIn
Affino
Amazon
BBC
Affino 7
London 2012
London 2012 Olympics
2012 London Olympics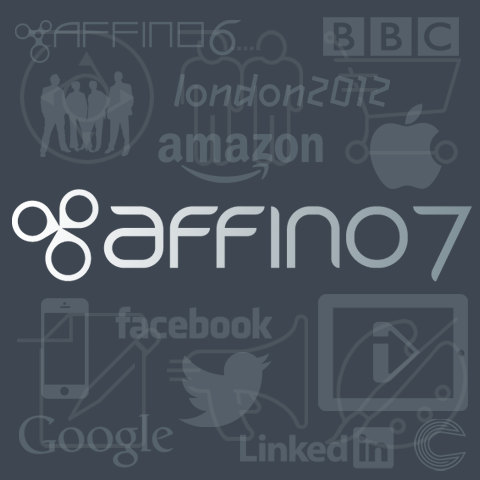 An enormous amount of input goes into every major Affino version release, and Affino 7 is no exception. Front and centre to all our considerations are our customers' ongoing requirements and feature requests - Affino almost wholly evolves along collaborative lines between the Comrz Team and every single one of Affino's users.
It's frequently a tough job consolidating all the different diverse requirements into a single streamlined system, but this is what we do every
...
More
29 November 2011 9:45 AM GMT
apple
comments and ratings
FaceBook
social media
youtube
Twitter
LinkedIn
Forum
Affino
Disqus
Skype
Google Talk
Google Mail
Tweets
Blackberry
Email
Dropbox
Updates
group chat
Social Messaging
SMS
Texting
Message Board
iMessage
Messenger
Apple Store
Billing
Receipts
Communication Platform
Blackberry Messaging
Mark Zuckerberg
Online Privacy
Online Security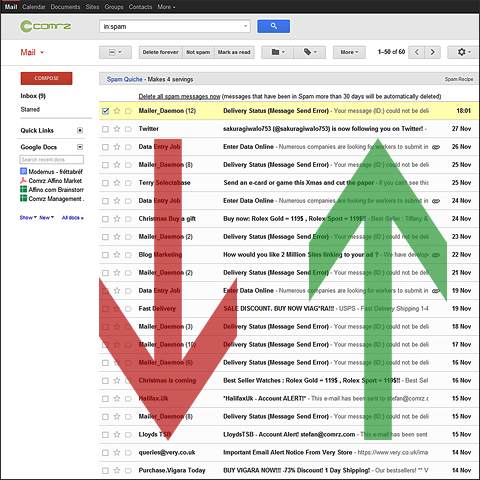 We've heard it several times now - that with the growth of Social Messaging - email is on its way out! However, for me if anything - email is on the way up! I have various Social Media subscriptions which all come to my inbox - from Facebook, Twitter, LinkedIn, YouTube etc. - all my receipts, including those from the various Apple stores - as well as all my key bills and statements, these are all now notified electronically via email!

I really don't understand what these Social Media
...
More
19 March 2011 10:36 AM GMT
FaceBook
social media
youtube
Twitter
LinkedIn
flickr
Affino
Foursquare
Quora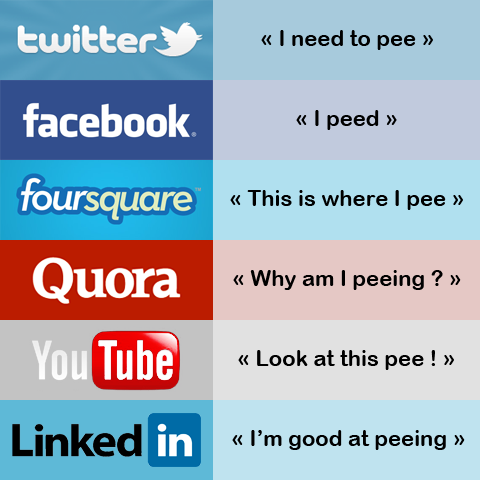 I believe this great diagramatic explanation of Social Media first appeared on French Blog site 'Vanished Omen'. I spotted it on 'Gizmodo', obviously the graphics were a bit ropey - so I did my own version.

I would have liked to have included 'Flickr' in there as well, as I believe this is still a significant Social Media resource, but the original's simplicity and symmetry bore out.

We obviously integrate 'Twitter', 'Facebook', &
...
More
28 November 2010 9:18 PM GMT
Affino messenger
FaceBook
social marketplace
Comrz
Twitter
LinkedIn
ecommerce
social commerce
Affino
Microsoft
Skype
Diesel
Acure Vending Machines
Microsoft Kinect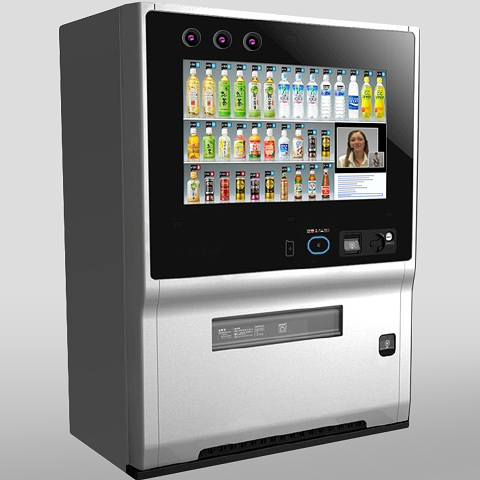 I'm sure many of you have heard of the Social Commerce definition of placing tills next to water coolers and water coolers next to tills. This is how the vast majority of Social Commerce is implemented - as a bolt-on or add-on, not necessarily central to the main consumer experience.

The purpose of Social Commerce - is to integrate social interactions with commercial transactions, so that when someone buys something - they can get advice, influence and a second opinion on their purchases -
...
More
23 November 2010 10:50 PM GMT
FaceBook
MySpace
social media
social networking
Comrz
Twitter
LinkedIn
integration
Affino
Social Promotion
OpenID
Facebook Connect
Twitter Connect
LinkedIn Connect
OpenID Connect
Content Share
Account Syncing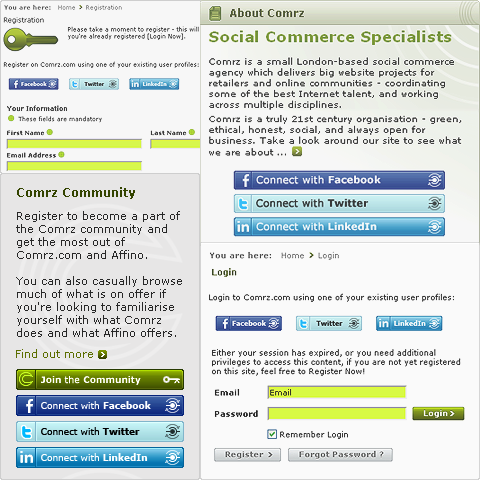 Lots of websites have icons with 'Facebook Connect', 'Connect with Twitter' or 'Connect to LinkedIn' and the like. In most cases, these are simply just links to company or brand-specific pages on those Social Networking Sites - nothing dynamic or revolutionary happening there.

On some sites you see 'Login with Facebook' or 'Login with Twitter', this is more along the lines of what the Affino Proto Account offers, but not quite the whole
...
More
20 November 2010 3:12 PM GMT
FaceBook
MySpace
social media
social networking
Website Management
music
Comrz
Twitter
LinkedIn
Affino
Proto Account
User Account
OpenID
Login Sync
Entertainment
Real-time strem
Update Stream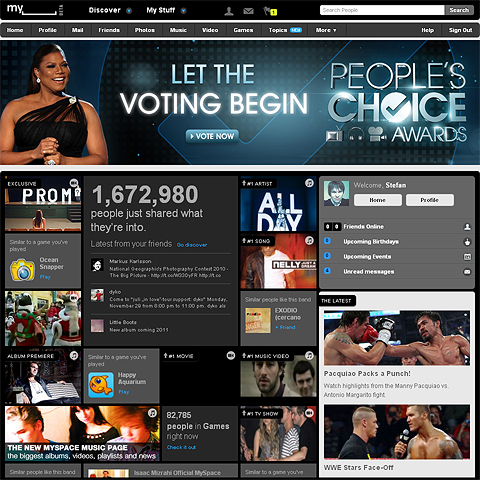 I have updated my MySpace profile now for the first time in about 3 years or more. I rarely use my MySpace Profile, although I use MySpace a whole lot for checking out the latest releases from my many favourite bands.

MySpace has just recently gone through one amazing upheaval - I love the brand evolution, the - my [_____] - ident / motif is genius. The new look and feel is fantastic, and the new Facebook Mashup feature is equally inspired. As MySpace CEO Mike Jones explains:

"We are
...
More
01 October 2010 6:18 PM GMT

Markus
Affino messenger
analysis
FaceBook
media library
Comrz
News
Development
Projects
Twitter
LinkedIn
Beta Labs
Affino
hardcore
research
R & D
Social Profiling
templating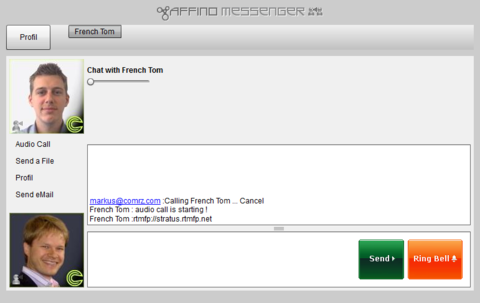 We're heavily into R & D at the moment in the Comrz Virtual Research and Development Labs. Three projects in particular are going to have a big impact over the coming year.
Affino Messenger v2
One of the things we get asked about the most is "when will the next generation of Affino Messenger come out so that we can re-enable instant messaging on our site". The good news is that it is now well under-way and we are looking to release a Beta version with the next Affino
...
More
18 August 2010 9:36 PM GMT
FaceBook
MySpace
social media
social networking
Twitter
LinkedIn
Habbo
Bebo
Friendster
Orkut
Hi5
Badoo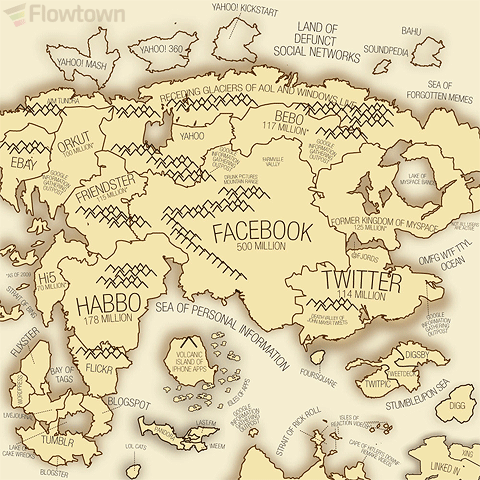 Social Marketing Platform FlowTown have created a JR Tolkien 'Middle Earth'-like topographic map / infographic of the main Social Networking / Social Media Players in 2010.
The top 8 places below come from the FlowTown data, while numbers 9 and 10 come from Wikipedia. It is interesting to see that even though the placings of the top 10 are pretty much the same, both sources disagree over the exact figures.

There are also some nebulous networks like Windows Live Spaces (120m
...
More
17 August 2010 8:41 PM GMT
Twitter
LinkedIn
Affino
Wikipedia
Urban Dictionary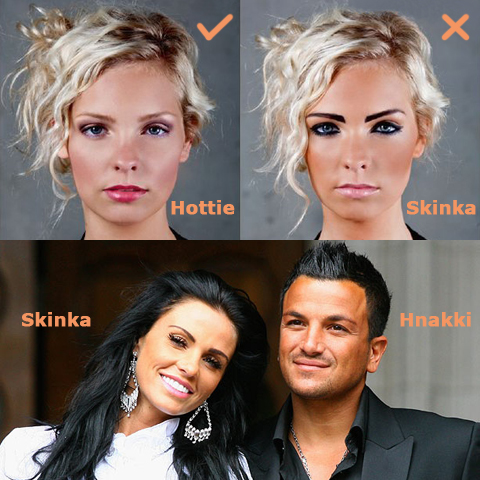 Are you familiar with 'txt spk', 'rickrolling', 'lols' / 'lulz'; do you 'Google' and 'Tweet' text in abbreviated leet or chatspeak?

Do you indulge in this kind of malarky?:
'thx daz 2g2bt cya thr l8r 2mro'
(Thanks that's too good to be true, see you there later tomorrow)

SMS and Instant Messenger chat were the last signficant leaps forward in stimulating language development, and currently Blogs
...
More