25 Apr 2014 11:32 AM

Popular

Comments

Profile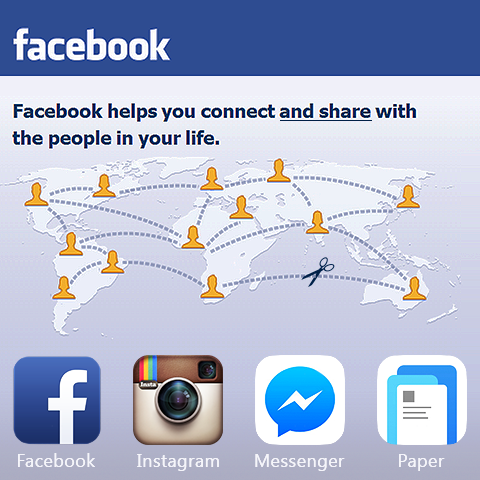 Regardless of the many predictions of Facebook's imminent demise, I still use the site on a daily basis to keep tabs on friends and family. The beauty of the desktop version is that everything is seamless and together (well almost everything). Conversations usually evolve around a recently posted photograph (often via Instagram), event or video, or shared topical / amusing social media. The main thrust being that Facebook on the desktop holds together the context and the conversations. Many a time is a Facebook Chat sparked off by some mutually connected media - and the conversations stay focused on the context when all elements are presented together.

When we worked on the UKTV sites many years ago, we saw the impact on their many sites' Forums of 'lack of context' - as Forum conversations very quickly lost their topicality and focus when there was no context to the conversations. That is why I stated some years ago that threaded comments were the new Forums as they ensured that the conversations always maintained context.

Facebook is currently engaged in lots of different mobile 'experiments' - nothing is fixed or final yet, but there does seem to be a concerted move now away from 'all-in-one' and towards individual apps. As a starter, Instagram has never been fully seamlessly integrated into Facebook, and now the Chat component is being pulled out on mobile into the separate 'Messenger' app. Americans also have the benefit of using 'Facebook Paper' which is Facebook's version of Flipboard, and a possible replacement for the main News Feed - all these actions essentially eroding the 'sum of the parts' strength of desktop Facebook.

One of the main reasons I like Facebook vs Twitter - is its 'togetherness' - the fact that all the necessary ingredients are included in the same flow - this encourages contextual conversations. With Twitter you have to click away from the main conversation to view images etc. and the conversations quickly become fragmented and die off. With Facebook you often see new comments on older topical conversations, while Twitter is more of a fire-and-forget - with little archival value or interest.

There's obviously pros and cons of going the individual Apps route vs bundling them together -

...

2 comments
|
permalink
|
email this
|

|





29 Jan 2013 2:16 PM

Popular

Comments

Profile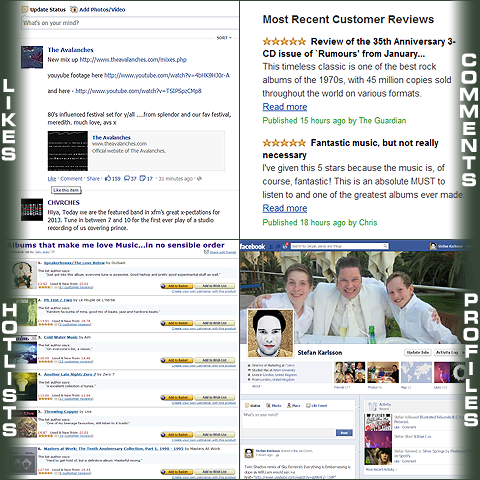 In my definition, the essence of Retail Social Commerce is not just the ability for customers to interact with ecommerce catalogue items and convey their likes and recommendations - it is the ability for other customers to correlate those recommendations with their own personal preferences.

The above illustration touches on the 4 key areas in my opinion, and I will reference examples of each here below:

LIKES - largely popularised by Facebook, these are now pretty much ubiquitous on most sites - you simply tick an option or click on a 'thumbs up' icon to indicate you like something - Facebook then cleverly references all these likes on the User's Timeline. This is the simplest form of recommendation.

HOTLISTS - Amazon popularised these with their ListMania Lists, but there are lots of different examples of this - for instance the various DJ charts on juno.co.uk. In some ways these are really just more structured listings of 'liked' items, but their impact is far stronger as when you see several examples of something you like in a list, you are more likely to check out the other entries. In various types of retail, Lists and Featured Charts are key to the selling process.

COMMENTS - The postive ones of these are a stronger form of 'likes' - in that a positive comment not only indicates a liking for something, but offers up additional collateral / reasons to buy. 'Likes' may have a nominal value of recommendation while the impact of positive comments / reviews is far stronger. I particularly like how Amazon lists the comments on the same page - I find comments hidden behind a tab are less impactful - far better to have a summary list of a couple with a more link than hiding all of them behind a one click selection.

PROFILES - Profiles are really useful as the final convincer for a recommendation, and this is one of the few areas where Amazon needs a lot of improvement. Being able to go to a user's profile - something like the Facebook Timeline - and get a real context for a person's likes and recommendations is key to the impact of those recommendations. We humans are always looking for like-minded souls, and really only pay heed to those we think are on the same wavelength as ourselves. In viewing a User's profile - with a full outline of

...

Add Comments
|
permalink
|
email this
|

|





03 Nov 2012 11:38 AM

Popular

Comments

Profile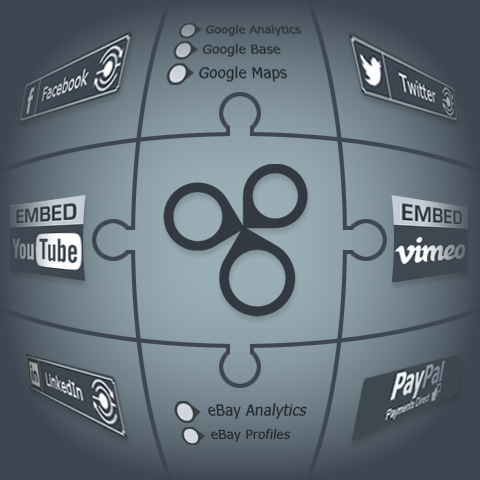 Doing business online is much bigger than any one website. You have to be where the people are, integrate your business hub with all the key sites out there, and make sure that everything integrates effectively with your back-end systems that you use day in and day out to get things done within your company.
Affino 7 integrates with over 100 systems, and of those 60 are out-of-the box integrations that you can simply enter your settings and connect to Affino. Affino also has a great API for connecting to any compatible system out there.
It's impossible to select any seven key integrations. Below are some of the best known and most used ones. It all depends on what kind of online business you're running:
Affino is integrated with a dozen Google services. Google's Analytics and Maps are still the world's benchmark, and the Google Merchant Centre continues to grow in influence. We do a great deal to optimise Affino for Google Webmaster Tools and to deliver great SEO.
Paypal is integrated directly into Affino's store checkout. Affino's PayPal integration supports direct / indirect, credit card / debit card / PayPal payments, single-page / offsite payment, one-off and renewable payments all just with PayPal. It is one of a dozen different payment systems supported.
One billion of the world's citizens interact via Facebook, it would be churlish not to be involved. Affino live-publishes your content directly to Facebook as required.
Affino syncs seamlessly with the world's largest professional network, pulling in profile and network information and syncing status updates.
Affino integrates seamlessly with Twitter for instant updates in both directions. It can notify you when high-following members join your community and much more.
You can drop any YouTube video anywhere into Affino by simply posting the URL. It doesn't matter where you use it whether it is blogs, media library, articles, chat, comments, wherever. Same goes for all the other top video and other media sites.
Affino stores integrate directly with eBay markeplace - giving store owners a far larger catchment area / audience, same goes for Google Merchant Centre and coming soon to Amazon.

...

Add Comments
|
permalink
|
email this
|

|





02 Nov 2012 4:23 PM

Popular

Comments

Profile
Tags:
apple
,
FaceBook
,
Google
,
Comrz
,
LinkedIn
,
Affino
,
Amazon
,
BBC
,
Affino 7
,
London 2012
,
London 2012 Olympics
,
2012 London Olympics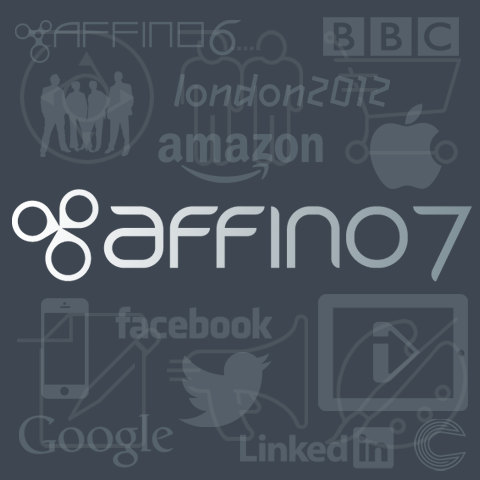 An enormous amount of input goes into every major Affino version release, and Affino 7 is no exception. Front and centre to all our considerations are our customers' ongoing requirements and feature requests - Affino almost wholly evolves along collaborative lines between the Comrz Team and every single one of Affino's users.
It's frequently a tough job consolidating all the different diverse requirements into a single streamlined system, but this is what we do every day. Pretty much every tiny nuanced functionality has been specified for a particular business scenario and activity. For every major release we endeavour to simplify the user experience, which is not always as simple as it sounds as no two Affino users deploy the system in exactly the same manner.
Every consideration is made to imbue Affino with simplicity, elegance and ease of use. It thus follows that the key technological inspirations convey those same values of clarity of purpose, elegance and simplicity:
The degree of detail and finish of the many elements of the London Olympics are a key influence in the look of the new interface. In particular, we took inspiration from the dynamic keyline pictograms - which elegantly convey movement and modernity. Affino's Key Navigation Icons are largely inspired by those pictograms - harnessing the same values of forward movement and dynamism
Still the benchmark for online retail, now with a vastly improved elegant interface - Amazon continues to inspire with its ever increasing depth and breadth and yet singularity of purpose
Apple still remains the benchmark for elegant product and interface design, and supreme ease of use. It's focus on learnability remains a significant design influence in how we consider Affino's daily usability and overall customer experience
Despite its detractors, the BBC is a significant pioneer online - with its iPlayer representing the first and the best of the Internet TV Players, and the relatively recent BBC.co.uk update being the first significant move towards tablet-style navigation for the main website interface
The world's most popular people-connector maintains its position for a reason. Despite lacklustre performance on the stock exchange,

...

1 comment
|
permalink
|
email this
|

|





25 Jun 2012 11:52 PM

Popular

Comments

Profile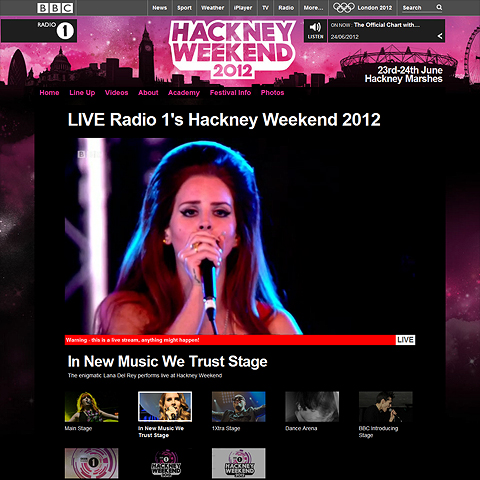 I'm an avid follower of the world's leading music festivals - specifically how they are broadcast and 'packaged' for the digital audience. I've kept tabs on the BBC's and YouTube's coverage of music festivals over the last few years, and reported back on how each has evolved their offering - benchmark events have been Glastonbury in the UK and Coachella in the US. In this Olympic year, there is no Glastonbury, so we will use BBC 1's Big Weekend extravaganza - the 2012 Hackney Weekend Music Festival as the UK benchmark.

Where the BBC always excels is in the depth and breadth of its broadcast coverage, and in its archiving. For this year's Coachella there was really just a smattering of play-back videos from the 3 days of live music, and no full sets. The BBC though has video highlights for pretty much every featured artist, including full sets for the festival headliners.

Watching live though was a different story, as YouTube's Coachella coverage had better broadcast quality and a much superior interface - with full interaction! For Coachella, fans were able to connect via Facebook, Google+ and Twitter and do comments and shout-outs during the performances - on a live update feed - obviously comments are enabled for most content on YouTube. YouTube also cleverly includes the hashtag #coachellalive on all the updates posted - for maximum exposure. Moreover YouTube's Coachella screen had a really clever rolling 'What's On' panel with dynamic thumbnails - which allowed you to mouse-over for live previews of each stage!

The BBC interface did not really makes the most of social media, and it was noway near as easy to organise your viewing schedule. I also noted that for last year's Carlisle Big Weekend, the BBC was much better at posting up setlists on the artist overviews. Currently the write-ups are mostly sans setlists, which is something we kind of expected after last year!

It's a tale of two very different approaches - as for live and direct coverage, YouTube's system was most obviously superior, but in terms of being able to really 'catch' the music - in terms of 'on demand access' - then the BBC comes up trumps, as you can view after the fact - most of what you missed, which was not the case for

...

2 comments
|
permalink
|
email this
|

|





18 Apr 2012 10:36 PM

Popular

Comments

Profile
Tags:
FaceBook
,
social media
,
youtube
,
Twitter
,
Firefox
,
BBC
,
Google Chrome
,
Coachella
,
Coachella Festival
,
Coachella Live
,
Coachella Valley Music and Arts Festival
,
Coachella Music Festival
,
Swedish House Mafia
,
Google+
,
Azealia Banks
,
Frank Ocean
,
The Weeknd
,
SBTRKT
,
Coachella 2012
,
Miike Snow
,
Datsik
,
Snoop Dogg + Tupac
,
Santigold
,
arabMUZIK
,
Lykke Li
,
Talk Talk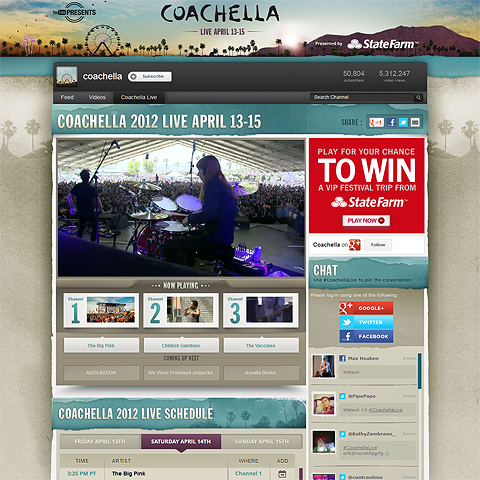 Last year I blogged about catching the year's first big music festival courtesy of YouTube - who broadcast live form the 5 stages over the 3 days. I raved about the really clever interface - how they included hashtags into their live updates - and how slickly the whole thing worked, including the uninterrupted streaming broadcast itself.
This year the layout of the interface was even better - with the current and upcoming bands listed in the centre, and the updates off to the right. It was interesting to see the addition of the 'Login with Google+' option - although I never saw a Google+ originated post - they were about 70% Twitter Updates, with 30% Facebook - I even logged on myself to post updates during the Azealia Banks and Miike Snow sets.
I did not really start watching properly until the Saturday - and thus caught a mix of highlights and full live gigs by the following artists:
AWOLNation
Azealia Banks
The Big Pink
Buzzcocks
Childish Gambino
Datsik
Dr Dre & Snoop Dogg + Eminem, Fiddy, Warren G, Wiz Khalifa et al.
Florence & The Machine
Kaiser Chiefs
Kasabian
Miike Snow
Noel Gallagher's High Flying Birds
Radiohead
Santigold
SBTRKT
Swedish House Mafia
I would have loved to have seen, but missed these:
Amon Tobin
araabMUZIK
Borgore
Dada Life
DJ Shadow
Feed Me
Flying Lotus
Frank Ocean
Girl Talk
Justice
Kaskade
M83
Noisia
SebastiAn
The Weeknd
I always compare YouTube's coverage of this with the BBC's coverage of its main music festivals. I think the actual live streaming and the social experience is better by YouTube, but overall the BBC still leads - as they provide so much better supporting materials - and actually post up much more of the video highlights - only 76 Videos are listed on YouTube's Coachella Page - and these are individual tracks, whilst for the BBC there is normally an extended highlights (circa 30 mins.) plus a couple of individual great moments from nearly all the featured performers - a number of the videos on Coachella Live are not even the best moments from those sets.

On my somewhat dodgy Talk Talk connection, I was astounded to get a totally seamless experience over the whole event - did not drop out once - and switching between the 3 live feed options was butter smooth!

As I've said before, I&

...

4 comments
|
permalink
|
email this
|

|





01 Mar 2012 12:01 AM

Popular

Comments

Profile
Tags:
FaceBook
,
social media
,
social networking
,
youtube
,
Twitter
,
iPhone
,
TED
,
Pinterest
,
Participation
,
Kevin Allocca
,
Hierarchy of Needs
,
Human Behaviour
,
Nyan Cats
,
Double Rainbow
,
Rebecca Black
,
Viral Video
,
Parody
,
Interaction
,
South Park
,
The Simpsons
,
Abraham Maslow
,
Comments
,
Opinions
,
Online Trends
,
Human Motiviation
,
Behavioural Science
,
Triangulation
,
Gallup
,
Social Interaction
,
Peer Influence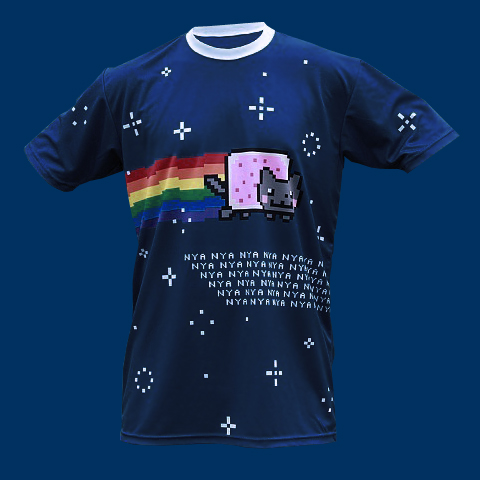 We people want to be involved in everything today - we want our say, we want our opinions to be heard and shared, and we want to be able to express ourselves artistically through clever parodies, skits and remixes of popular social media.

There's a brilliant, brief TED talk (below) by YouTube's Trends Manager - Kevin Allocca - where he tries to identify how out of millions of hours of video - phenomena 'Nyan Cats', 'Double Rainbow' and 'Rebecca Black's Friday' managed to stand out. Of course there are a myriad of causal factors there, but the obvious one is that of a shared experience and the ease of interaction and parody. Universally, we now live in the age of parody - as best exemplified by long-running animated shows 'The Simpsons' and 'South Park' where nothing is holy any more - everyhing is deconstructed, ridiculed and parodied - and the people love it!

A great part of the success of the aforementioned trio is the ease with which people could relate to them and parody them. Pretty much every decent pop song gets 'covered' in a million different ways within weeks of hitting the tops of the charts - punk versions, skiffle band folk versions, multi-tracked-acapellas, 2Cellos version, the ubiquitous dubstep remix etc. etc.

Twitter and Facebook's ubiquity in the ease of commenting, liking, re-tweeting and sharing is what makes them work, and what looks like a sound basis for new site Pinterest. Yet there are still forces out there that think that they can totally 'tailor' a user's experience - limit the amount of input, interaction and participation, and still create a successful marketplace - I'm not so sure any more.

By nature we humans are usually highly suspicious, increasingly cynical and often lonely and lacking in confidence in various aspects of our lives - we need regular interaction, recognition, support and approval - much as Abrahm Maslow identified all the way back in 1943. Much has been written about key influencers in human motivations, and one thing is for sure - and that is that complex communities of personal interactions are what best influence behaviour. Everything has to happen within a context and within the subjectivity of a person's activities, interests and tastes - yet the undeniable truth is that we are all

...

2 comments
|
permalink
|
email this
|

|





18 Jan 2012 7:40 PM

Popular

Comments

Profile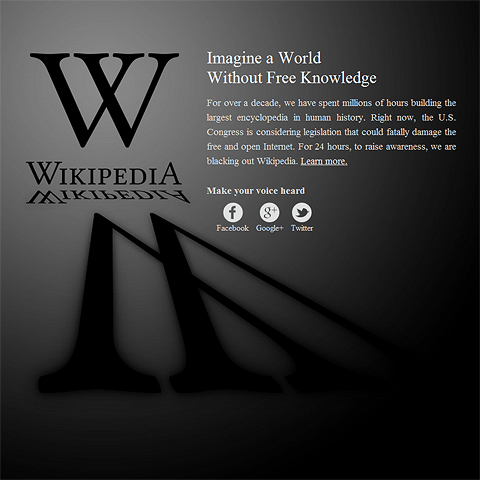 Wikipedia and Reddit were blacked out today in an attempt to highlight to Internet Users - the serious likely impact of this legislation on the basic rights of freedom of the typical netizen.

These 2 new bills - Stop Online Piracy Act (SOPA) and Protect IP Act (PIPA) - are in the process of passing through the House of Representatives and the Senate respectively. They would end up giving Copyright Owners way too much power in shutting down and commercially crippling any site/s they choose to target - fairly or unfairly. Copyright Owners already have the Digital Millennium Copyright Act (DMCA) to effect similar actions - in enforcing take-down notices, and there are already numerous cases where the DMCA legislation has been abused - even though it does require a degree of due process.

SOPA and PIPA are far too broad and far reaching in their applications, and would end up a weapon of censorship and restriction - closing down and curtailing the open and organic nature of the Internet. The legislation requires no court order to force a take-down notice, and can be so broadly applied that any vague 3rd party reference to another allegdly suspect site can result in an injunction against the referring party.

The problem with the Internet at large is that so many of the daily services we use are based / legislated from the USA - Google, Facebook, Twitter, Wikipedia - what with Social Content Contribution - any one of these could easily end up with potentially disputed copyrighted material and be forced to shut down.

UK citizens should be far more worried than most, as has been seen by the recent extradition case of Richard O'Dwyer - a UK citizen who has actually broken no UK or European laws with his UK-based links website - but is still being extradited to the US for summary judgment and punishment.

I'm certainly not a fan of piracy, but totally understand why it happens, and this draconionan legislation will not be the cure. The vast majority of media companies are overly greedy and totally out of touch with reality - and are almost as much a part of the problem as the pirates.

I can buy a pretty decent gaming app on the Apple App Store for just 69 pence - a venture which has taken several months to produce and contains sound and vision, and creative flare, and typically involves a significantly sized project team. Yet for a new sound file - 'single&

...

6 comments
|
permalink
|
email this
|

|





12 Jan 2012 12:42 AM

Popular

Comments

Profile
Tags:
FaceBook
,
MySpace
,
social media
,
youtube
,
SoundCloud
,
Spotify
,
MTV
,
Lana Del Rey
,
Björk
,
Azealia Banks
,
Frank Ocean
,
Michael Kiwanuka
,
Niki & The Dove
,
The Weeknd
,
Future of Music Online 2012
,
Internet Music
,
Music Online
,
2012 Music Trends
,
New Artists for 2012
,
Key Sounds for 2012
,
2012 Album Release Schedule
,
Rustie
,
Araabmuzik
,
Oh Land
,
Vanbot
,
Katy B
,
Adele
,
SBTRKT
,
Rihanna
,
Music Apps
,
Turntable.fm
,
Music-Sharing
,
Mix-Tapes
,
Adrian Lux
,
Amanda Mair
,
Charli XCX
,
Clement Marfo & The Frontline
,
Delilah
,
Emeli Sandé
,
Ronika
,
Euro Dance
,
Retro
,
Alt Folk
,
80s Electropop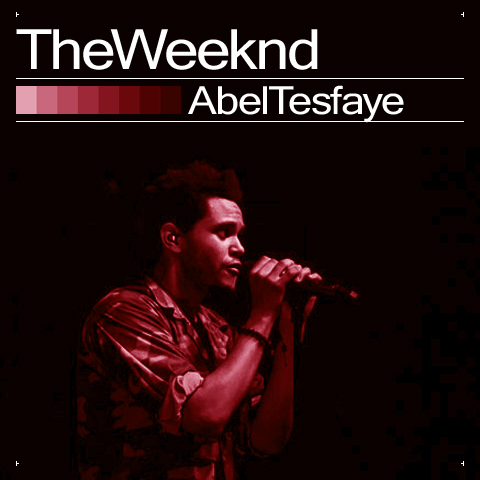 (Note that this post will be updated regularly throughout 2012)
My Top 10 Albums of 2011
(Note - SBTRKT was missing from previous end of year listing)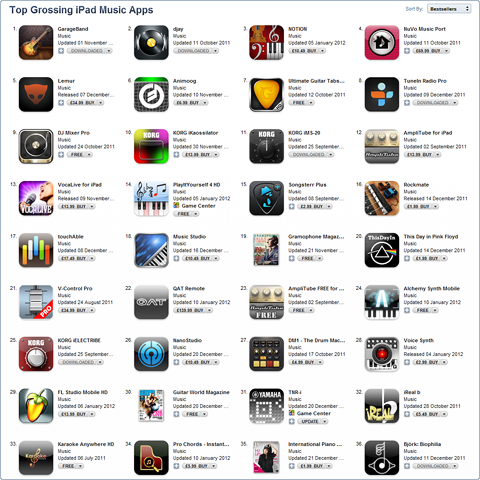 11 Musical Trends for 2012
Some artists will move away entirely from Album releases; Rihanna is currently the most successful singles artist (47.5 million downloads since 2005), and I believe several artists will move to just releasing singles and then compilations of singles rather than proper albums
YouTube will continue to grow in relevance as a music discovery resource - it is after all the new MTV
Artists will embrace more technology in their music delivery - in a similar vein to Björk's Biophilia - expect to see more interactive albums and artist / album apps
2012 sees a make or break renaissance for MySpace - but is it too late to take on YouTube, SoundCloud, Spotify and Facebook - which have each taken over a part of MySpace's key areas of expertise / influence?
We will see more apps - in both internet and tablet-based form - to allow even easier music production / collaboration and remixing, along with simpler, fully-integrated music publishing and distribution platforms
2012 will also see more entrants into the group sharing / interaction category of music - along the same lines as Turntable.fm
A leading electronic musician will employ Kinect-type technology into their core music-making and performance activities
There will arise at least one new significant music-sharing platform, with a very innovative means of revenue generation / sharing which holds enormous appeal for both musicians and fans
Spotify will strengthen its position as the leading music streaming platform - with yet further apps and integrations
Music unit prices - i.e. median album and single prices will be streamlined further in 2012
We will see even more free-to-download mix-tape type albums - DatPiff could become a household name!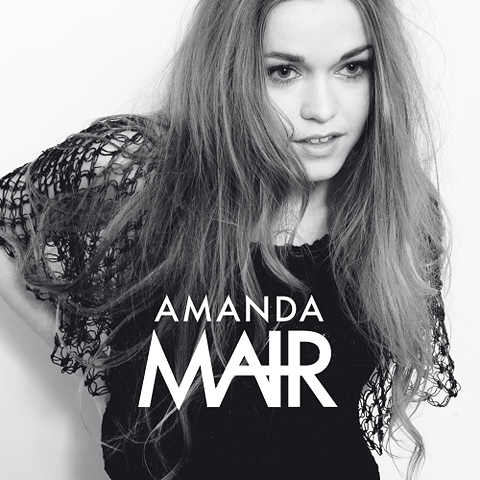 11 New Artists for 2012

(Note that I consider Frank Ocean, Skrillex and The Weeknd to be significantly active in previous years and thus not properly eligible as 'New' in 2012, the same could be said

...

30 comments
|
permalink
|
email this
|

|





03 Jan 2012 1:47 PM

Popular

Comments

Profile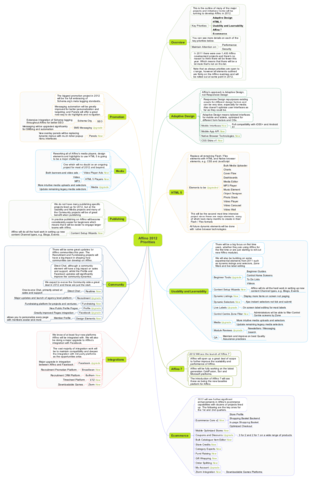 There is a major programme of developments lined up for Affino in 2012. This post outlines many of the key ones. Whereas 2011 was something of a transitional year for Affino (although we made some great headway see here and here). 2012 will see many key milestones reached which will open up Affino to provide great sites on all devices for great commercial and community based sites.
For an indepth look have a look at the Mindmap here. For a quicker overview see below.
Key Priorities:
Adaptive Design
HTML 5
Usability and Learnability
Affino 7
Ecommerce
You can see more details on each of the key priorities below.
We will also maintain attention to:
Performance
Security
Overall Product Quality
In 2011 there were over 1,400 Affino development projects and there's no reason to think there will be fewer this year. Which means that there will be a lot more that's not on this list.

Note that as always priorities are open to change, however all elements outlined are firmly on the Affino roadmap and will be rolled out at some point in 2012.

Affino's approach to Mobiles and Tablets is Adaptive Design, as opposed to Responsive Design. Responsive Design repurposes existing assets for different design factors and can be very slow on mobile, especially for media, it also so doesn't optimize user interfaces as far as they could be.

Adaptive Design means tailored interfaces for mobile and tablets, optimized for different form factors and OSs. This means that we'll be tailoring the way different elements in Affino work on different form factors, and whilst you will need to put thought into how you lay out your mobile sites in particular, much of what Affino does will be to handle the transition between devices gracefully.

We'll also be rolling out a Mobile App API which initially will support iOS and Android.

HTML 5 is a term which actually covers a lot of developments which are aimed at providing native browser capabilities to replace many plugins, in particular to replace Flash. We started replacing Flash elements in Affino over a year ago and the goal this year is to replace all remaining Flash / Flex elements with native browser elements. We won't just be replacing them, we'll be

...

17 comments
|
permalink
|
email this
|

|





29 Nov 2011 9:45 AM

Popular

Comments

Profile
Tags:
apple
,
comments and ratings
,
FaceBook
,
social media
,
youtube
,
Twitter
,
LinkedIn
,
Forum
,
Affino
,
Disqus
,
Skype
,
Google Talk
,
Google Mail
,
Tweets
,
Blackberry
,
Email
,
Dropbox
,
Updates
,
group chat
,
Social Messaging
,
SMS
,
Texting
,
Message Board
,
iMessage
,
Messenger
,
Apple Store
,
Billing
,
Receipts
,
Communication Platform
,
Blackberry Messaging
,
Mark Zuckerberg
,
Online Privacy
,
Online Security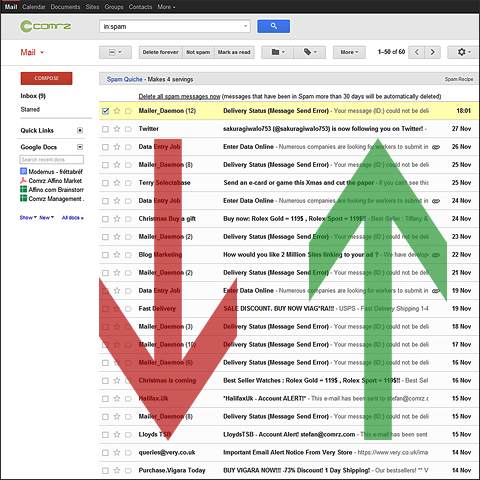 We've heard it several times now - that with the growth of Social Messaging - email is on its way out! However, for me if anything - email is on the way up! I have various Social Media subscriptions which all come to my inbox - from Facebook, Twitter, LinkedIn, YouTube etc. - all my receipts, including those from the various Apple stores - as well as all my key bills and statements, these are all now notified electronically via email!

I really don't understand what these Social Media types propose is going to happen to all that content! As far as I'm concerned, there are lots of different kinds of communications platforms - each for very specific purposes. If you need to send smallish attachments, then email is still a decent format, if you need to send something larger, then any kind of message with a Dropbox URL in it will do. There's lots of clever 'Messenger' type services now, like Apple's 'iMessage' - which provides free Blackberry style text messages to its customers.

On a daily basis, I make use of iMessage / SMS, Forums, Message Boards, Group Chat, Comments and Ratings, Skype and Google Talk. For me the biggest significance has been in the Disqus-type comments systems, very much like Affino's Comments and Ratings - this means that the discussion element is very much aligned to the content, whereas with Forums - they are usually divorced from the content, and very quick to go off-topic.

As far as the statistics go, the number of email messages being sent is still on the way up globally. Messaging / iMessaging / SMS is simply just replacing other forms of communication - like the more traditional phone call, as they are more cost effective and more expedient. You don't expect the person on the end of the line to available 24/7 - so sending an SMS is far better than leaving a voicemail - that said, many people do both!

A lot of people used to do proper blogs, then they got bored / lazy and switched to tweets, now they're even lazier and just do comments and re-tweets. It would be interesting to know the proportion of original to recycled / regurgitated content in the twittersphere.

Of course people like Mark Zuckerberg have vested interests in their platforms, and will make broad sweeping statement to push home a point, much like Steve Jobs used to do in his heyday. For sake of

...

Add Comments
|
permalink
|
email this
|

|





13 Nov 2011 10:39 PM

Popular

Comments

Profile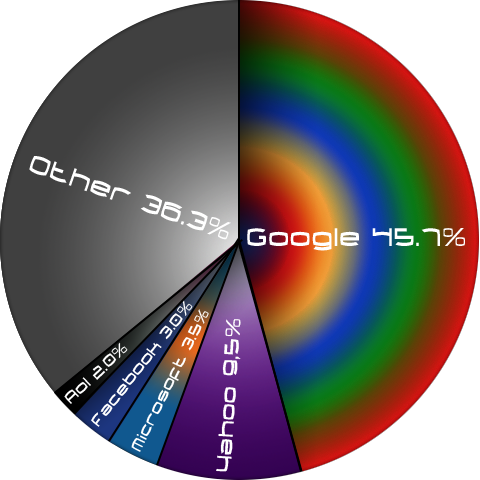 According to the 2010 overall figures for Digital Ad Spend, courtesy of Darren Herman, of the circa $64 billion Worldwide 2010 Digital Advertising Revenues, Google is responsible for nearly half, i.e. $29 billion or circa 45.7%.

The revenues of the 5 biggest; i.e. Google + Yahoo + Microsoft + Facebook + AOL is equivalent to nearly 64% of the total market share of Online Advertising or two-thirds.

Most of these big players of course own a number of digital properties:

Google = Google + Blogger + Doubleclick + Picasa + Plaxo + YouTube etc.

Yahoo = Yahoo + Delicious + Flickr + Geocities + Upcoming etc.

Microsoft = Microsoft + Bing + MSN + Skype + XBox Live etc.

AOL = AOL + Bebo + CNN + Engadget + Joystiq + Truveo etc.


The breakdown in overall figures is as follows:

2010 Total Digital Revenues
| | | | | | | | | | | | | |
| --- | --- | --- | --- | --- | --- | --- | --- | --- | --- | --- | --- | --- |
| | | | | | | Revenue | | | | | | Percentage |
| | | | | | | | | | | | | |
| Google | | | | | | $29 bn | | | | | | 45.7% |
| Yahoo | | | | | | $6.0 bn | | | | | | 9.5% |
| Microsoft | | | | | | $2.2 bn | | | | | | 3.5% |
| Facebook | | | | | | $1.9 bn | | | | | | 3.0% |
| AOL | | | | | | $1.3 bn | | | | | | 2.0% |
| Other | | | | | | $23 bn | | | | | | 36.3% |
...

1 comment
|
permalink
|
email this
|

|





25 Aug 2011 1:30 PM

Popular

Comments

Profile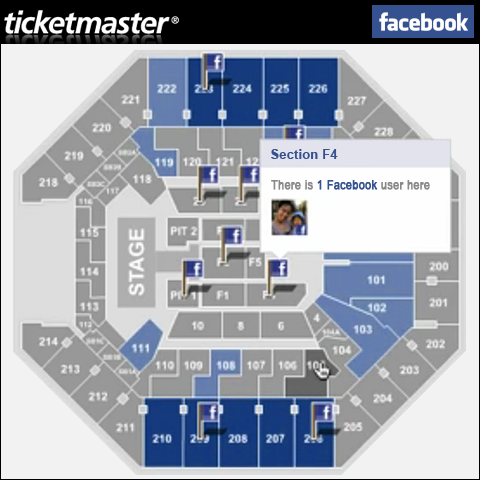 Ticketmaster has just announced an interesting collaboration with Facebook, where Facebook members can see which seats their friends have booked at a show / venue - and are then able to book seats next to those. To start with, the pilot project will be limited to 300 venues - which ones these are has yet to be fully confirmed.

At the core of this though, is the essence of Social Commerce - the model of 'Your friend bought this so you might like it too'. I can see a whole series of notification services which you obviously need to be able to opt out of / target in some way - I'm not sure you would like to send the following through: 'Billy just bought 'incontinent pants'..., 'We thought you might like 'incontinent pants' too'...

Anyway, back to serious matters again - this is absolutely the strongest means of persuasion. Within every circle of friends, there are always one or two 'Mavens' or 'Trendsetters' which have a significant influence on the buying patterns of their peers - a subject which is of course excellenty parodied in 'The Joneses' film from 2009.

With several ticketed events also having ticket number restrictions, this is the only way a large group could co-ordinate so that everyone can sit together. This system is sure to do well as it offers up genuine benefits for both customer and retailer. People feel much better when they can choose their own seats, and they feel even better when they can choose who they get to sit next to.

A number of years ago in a previous company, we did some interesting work with the Royal Opera House on Seating Plans - and in particular the view you got from each block of seats - very useful for avoiding balcony columns in old theatre-style venues.

The Ticketmaster app has very clever privacy / tagging settings - allowing you to choose whom you broadcast your seat info to - 'Everyone | Friends | No One'. As we evolve, I expect to see some kind of Google+ system where you choose which social circle you share your which information with.

All retailers have been wanting to do this kind of thing for years - it makes the offering more personal, and encourages further purchasing. Fashion and Home Décor sites have for a long time been able to allow users to create personal looks / outfits which they can share with

...

1 comment
|
permalink
|
email this
|

|





15 Aug 2011 9:12 AM

Popular

Comments

Profile
Tags:
FaceBook
,
social media
,
social networking
,
Twitter
,
Blackberry
,
Smartphones
,
UK Riots 2011
,
London Riots 2011
,
Mark Duggan
,
Looting
,
Rioting
,
BBM
,
Youth Referral Order
,
Baton Rounds
,
Riot Police
,
The West Londoner
,
Tottenham Riots
,
londonriots
,
riotcleanup
,
Social Underbelly
,
Social Exclusion
,
Criminality
,
Social Underclass
,
Use of Reasonable Force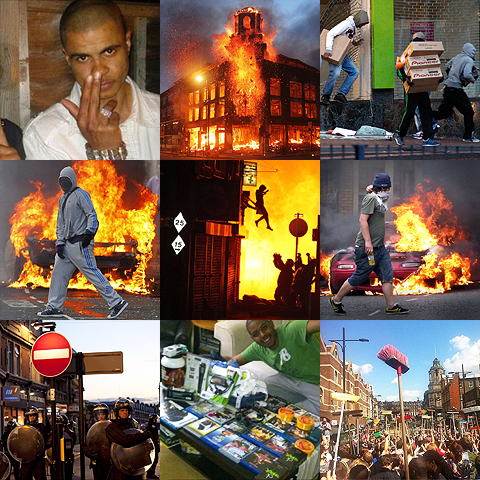 Intro

I followed the riots live across multiple resources for 3 of the 4 main days of rioting. I caught pretty much all the reportage and interviews, updates, aftermaths and expositions; and the following is my own personal POV roundup:


Probable Causes?

The BBC posted a list of 10 likely contributors to the Riots, to which I have added a few more:

Welfare Dependence - The mix of people involved in the riots does not really underline this - rich kid brats, postmen, teaching assistants, Olympic ambassdors and real estate agents were all arrested and charged. Also, the age of arrested ranged from 11 to 50 and included several walks of life - many of them quite unexpected, and outside the presumed criminal / social underbelly

Social Exclusion - Talk of a social underclass / criminal underclass was not entirely justified as perpetrators came from a much wider social demographic; there was though a high proportion from low / no-income council estates

Lack of Parenting - Presiding judges noted that very few minors (under 18s) had their parent/s in tow for court hearings. Scandinavian studies have shown that single parent families can be equally competent in raising high achieving children, so it's not necessarily lack of fathers as many say, just a lack of parenting full stop

Spending Cuts - The current government's cutbacks, in order to tackle the mounting national debt / deficit, cannot really be substantiated as yet, as the spending cuts have not fully set in - largely opposition party politiciking

Weak Policing - I actually agree with a lot of commentators on this; I have watched a number of interviews with the perpetrators and almost all stated that they participated after they witnessed the non-action of the Tottenham Police ("The Police just stood by and did nothing!"). Had the Police weighed in heavier from the start, it is unlikely that the riots would have spread in the way that they did. Also, the lax / slow / poor response from the IPCC to the initial incident was the cause of the first flare-up

Racism - The original Mark Duggan shooting was not necessarily what sparked the initial Tottenham riots, it was how the Police and the IPCC in particular dealt with the family of the deceased and the initial peaceful gathering of demonstrators - had this been handled properly, it is far less likely that violence would have

...

3 comments
|
permalink
|
email this
|

|





30 Jun 2011 11:40 PM

Popular

Comments

Profile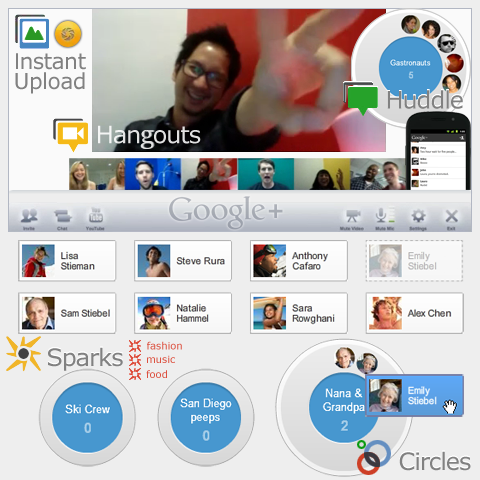 With Google's announcement of Google Plus, it finally looks like Google is getting its Social Network on the right path. In the recent announcement about the now beta-testing site, Google introduced 5 new weapons to fire across Facebook's bow; these are as follows:





Circles - a really neat 'groups' app where you simply drop selected contacts into a specified category circle - based on family, friends and other interest groups. Then when you want to share media etc. with this same group, you simply drag and drop it onto the same circle. A seemingly very usable and elegant solution

Hangouts - this is really just group video chat, with seemingly very clever software which centres on the active / noisiest participant involved. The demo looks very slick - you can simply drop in and out of hangouts - like trawling interesting gatherings at a party

Huddle - this is group texting - you can start a 'Huddle' with one of your Circle groups, and simply blast spam the whole lot of them! - and vice versa of course

Instant Upload - an area where Google has distinct advantages over Facebook - piggy-backing off its own Android Platform and devices - allows you to set up some kind of loosely defined folder in the cloud - which your snaps get automatically uploaded to immediately as you take a picture

Sparks - the least interesting of the new introductions is simply a kind of interest topic filter - which pulls in pictures, videos and articles on said topic - you can then share said 'Spark' with your various social Circle groups



It's not yet clear how all these elements will be seamlessly knitted together, and how the overall profile and wall experience which Facebook is so strong on will be met / challenged.

As I said above, Google's real weapons here are the Android Smartphones, Chrome Browser, Chromium OS and various other bits of soon-to-be seamlessly-interconnected hardware. With more and more people using Smart Phones and Tablets, anyone who sets up automated syncs for content upload and sharing is onto a winner. Google also has an advantage with its already massive GMail audience.

It will be very interesting now to see how Facebook, Microsoft, Apple and Amazon react. This is definitely a step changer, and much will depend on how slick and 'convenient' the whole experience is. If Google comes close to

...

Add Comments
|
permalink
|
email this
|

|





22 Jun 2011 12:16 PM

Popular

Comments

Profile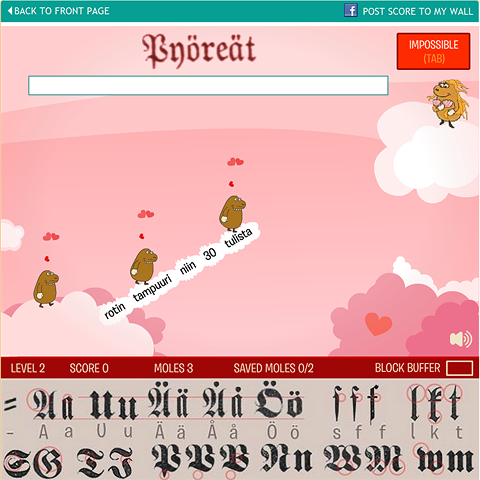 There has been a significant amount in the press recently about Finnish National Library microsite - 'Digitalkoot' which has managed to combine the best elements of gamification and crowdsourcing to get members of the public to willingly participate in menial data entry.

Hundreds of thousands of documents have been scanned into the national library archives, but a lot of the printed material is too fuzzy for automatic text recognition to work. This is where games 'Mole Bridge' and 'Mole Hunt' come in - the first game involves deciphering individual words against the clock, each word becomes a segment of a bridge which helps the moles get to safety; if you are too slow or enter a wrong word, then one or more moles will plummet to their death! The second game 'Mole Hunt' is more of a verification style game, where you simply approve or reject the suggested transcripts.

Both games are actually easy and tricky at the same time. You need to be very quick for 'Mole Bridge' and the words are often very hard to decipher and quite long really - also, you really need a Finnish keyboard for the special characters! The system cleverly verifies the words through mass public opinion, and then slots them back in their correct order in the many reference documents they were originally pulled from, quite genius really!

In any case, this social experiment has been brilliantly successful at getting members of the public to do free work in return for just a little recognition via a leaderboard mechanic - where results can also be posted to the major social networking sites.

When I graduated from university and was deciding exactly what to do, I took on a number of tedious office admin jobs - 'Data Entry!' - which would have benefitted enormously from having some kind of gaming element to make those tasks more enjoyable. The more enjoyable a repetitive task is, the less likely one is to loose focus / interest and therefore start making mistakes. The thing about mundane repetitive tasks is that they are a spiral of ever decreasing results as interest and concentration quickly wanes. The gaming mechanic helps sustain interest and focus, and makes it more enjoyable to participate in mundane repetitive tasks.

With several tasks on the internet, you can make them as usable and learnable as you like, but if they are

...

Add Comments
|
permalink
|
email this
|

|





20 May 2011 3:48 PM

Popular

Comments

Profile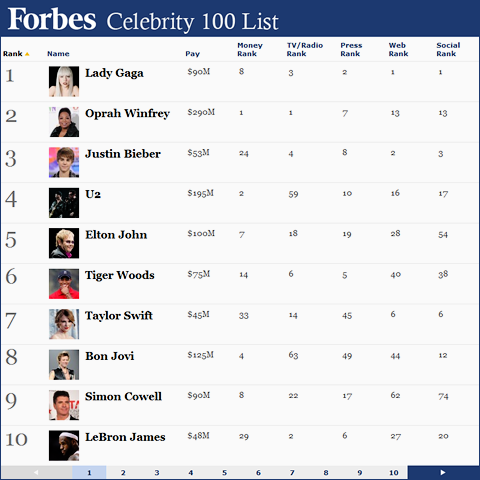 As with any Chart-based data, it's the underlying algorithms and qualitative decision-making which is usually key. In terms of public 'Hype-Meters', I doubt there's many that have not at least heard the name Lady Gaga - her contemporary influence is pretty pervasive, as this accolade attests to.

The 5 Key Criteria for Forbes' Celebrity 100 List:
Pay: Annual Earnings
Money Rank: Overall Wealth Ranking
TV/Radio Rank: Minutes of exposure / coverage on TV and Radio - includes Music / Video Playback, Interviews and Appearances
Press Rank: Frequency of appearance and column inches in all publishing media
Web Rank: Number of visitors to celebrity's main sites
Of the top Rankings, Lady Gaga outranks all for Web and Social Rank, and Oprah tops the Money and TV / Radio Rankings, leaving a lowly Roger Federer (25th Overall) to head up the Press Rankings.

For us Brits, the #10 ranked - basketball player LeBron James of the Miami Heat is not quite yet a household name on this side of the water; #14 Kobe Bryant of the LA Lakers is possibly better known here, but otherwise there are no real surprises in the top 20, although the listing does seem to be heavily skewed towards American media, as one would expect.

The perennial Brit - Elton John places at #5, with Simon Cowell still rising fast op to the 9th spot.

I Have a feeling that Oprah's Star is waning, and it's nice to have two youngsters in the top 10 - in the form of Justin Bieber and Taylor Swift; it will be interesting to see if these two can hold out on their placings and popularity. I expect Lady Gaga to have a very strong 2011, along with Simon Cowell. It will be most interesting to come back next year and compare the relative placings then.

Both Lady Gaga and Justin Bieber owe a lot of their sucess to their mastery over the Internet and Social Media in particular. Being a successful celebrity today is totally changed from the model even a few years ago. If you want to be successful today, you must take advantage of and master the Internet - there is no alternative to this now.

...

1 comment
|
permalink
|
email this
|

|





15 May 2011 11:19 PM

Popular

Comments

Profile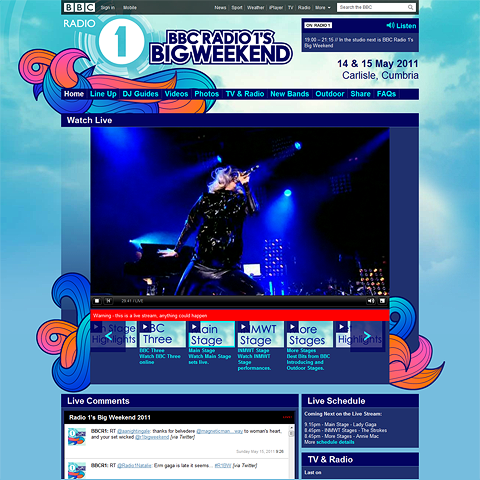 As I often do, I caught the odd snippet of live coverage of the first of the big summer festivals - BBC Radio 1's Big Weekend, this time from Carlisle. I made sure I 'tuned-in' online for the main headline act - Gaga, and I was not disappointed as she played most of her hits, plus a smattering of new material, some jazzy numbers, a couple of ballads and a latin track - Lady Gaga entered in heavily pregnant guise inside a gold coffin, nice touches included dedication of 'Orange Colored Sky' to Will and Kate; highlight was current personal favourite Gaga track 'Judas' right at the end.

Other highlights included a commanding performance by Tinie Tempah and a masterclass in proper dance music programming and sequencing from those 3 funky Swedes - Axwell, Sebastian and Steve (SHM) whose clever edits and mashups were included in the following tracks:

01. Swedish House Mafia vs. Tinie Tempah - Miami 2 Ibiza (Swedish House Mafia Intro Edit)
02. Ting Tings - Hands (Edit)
03. Style of Eye - We Are Boys
04. Arty - Around The World
05. Swedish House Mafia - One w/ Rune RK - Calabria
06. 2000 And One - Spanish Fly (Butch Remix) w/ Calvin Harris - Flashback w/ Calvin Harris - Awooga
07. Axwell vs. R.E.M - Heart Is My Religeon (Blake Jarell Mash-Up)
08. Pendulum - The Island (AN21, Max Vangeli & Steve Angello Remix)
09. Steve Angello pres. Who's Who - Yeah
10. Hard Rock Sofa & St. Brothers - Blow Up (Thomas Gold vs. Axwell Remix) w/ Adele - Rolling In The Deep (Acapella)
11. Axwell - Nothing But Love (Remode)
12. Depeche Mode - Personal Jesus (Eric Prydz Remix)
13. Steve Angello & Alex Metric - Open Your Eyes (Tim Mason Festival Dub) w/ Depeche Mode - Personal Jesus (Acapella)
14. Alesso - Dynamite w/ Daft Punk - Around The World (Acapella) w/ Sebastian Ingrosso - Kidsos
15. Swedish House Mafia feat. John Martin - Save The World [John Martin Live]

This really was one of the best club sets I have heard in a long time, quite brilliant from start to finish.

As far at the live coverage goes, BBC are still best with providing in-depth content, in and around the live performances with off-stage antics, interviews and accoustic performances all featured - as well as archived videos from most of the artists featured.

YouTube's coverage of Coachella, had a couple of great innvovations which would have been nice to have seen on the BBC

...

4 comments
|
permalink
|
email this
|

|





16 Apr 2011 10:28 PM

Popular

Comments

Profile
Tags:
FaceBook
,
internet tv
,
social marketplace
,
social media
,
social networking
,
youtube
,
music
,
Twitter
,
BBC
,
Google TV
,
Social Promotion
,
Live Music
,
Live Concert
,
Live Music Streaming
,
Coachella
,
Coachella Festival
,
Coachella Live
,
Coachella Valley Music and Arts Festival
,
Coachella Music Festival
,
Live Streaming
,
Apple TV
,
Moving Units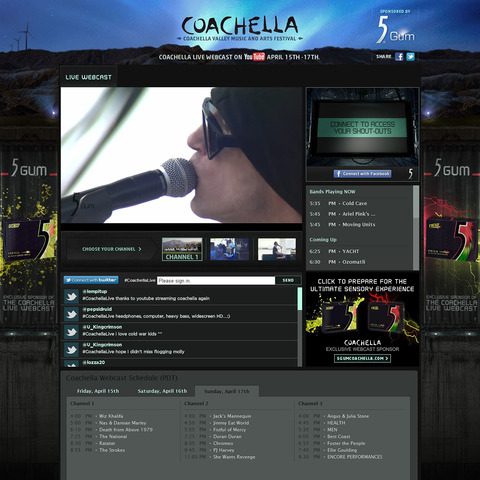 I always thought the BBC were the masters of live music coverage, and in many ways they still are - in terms of all the behind the scenes footage, biographies, interviews, escapades and impromptu live accoustic sets. For this year though, YouTube has done a sterling job in letting non-attendees witness the live spectacle of Coachella , America's Glastonbury of sorts, at least a little brother to Glastonbury in most ways.

I'm not going to split hairs on the lineup, I have watched a number of bands now, and I'm really impressed with the simplicity and elegance of the YouTube Coachella Festival interface, and the cleverness of the Twitter and Facebook connects. For Twitter , YouTube are automatically embedding the "#CoachellaLive' hash tag for superb Twitter trending performance. Via integration with Twitter and Facebook they allow Fans to easily post 'Shout Outs', at the same time promoting the festival and YouTube itself.

The interface has a simple Programme Guide and What's on Now / Coming Up listing - everything you really need for live music coverage. BBC goes a little further with Artist Biographies, Videos and backgrounds - linking into the enormous archives that make up the complete BBC experience. I don't expect YouTube do to this, but it would be nice to have some king of tag-indexed library of officially related videos for each of the featured artists, and a means to access the elements of the live stream individually post gig also.

I can really see YouTube becoming a forerunner in this, and can foresee a two-stream concert ticketing system where a lower priced tariff allows you to experience the concert from the comfort of your home sofa - allowing to to neatly forego the pleasures of stinky chemical toilets, endless queues and the potential of rain and mud.

With the rapid development of Internet Television services - connecting with a variety of home streaming devices - Apple TV , Google TV etc. I see this as a big potential money earner for YouTube . Mainstream cinemas are already on the bandwagon - providing streamed access to live events - operas, pop concerts and sporting events - giving global access, as well as more convenient access in some ways - to a much larger audience. This is certainly an object lesson in how to do things well. The sound and video - were great for the whole of my viewi...

Add Comments
|
permalink
|
email this
|

|





13 Apr 2011 11:14 AM

Popular

Comments

Profile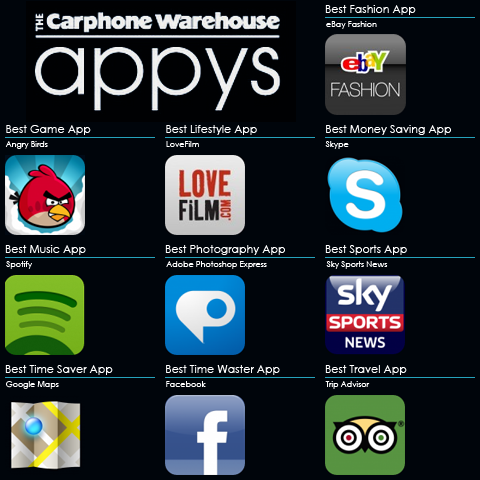 The Carphone Warehouse Appys almost passed me by unnoticed; I came across an article on Digital Spy ; was not aware that this award ceremony was going down this last Monday (11th April). It's about time we had Awards for Apps - so well done Carphone Warehouse for seizing the opportunity. Some of the categories need to be better defined, and possible a few more added - Best News App, Best Blog App ... etc. Lots of very obvious and deserving winners, and a commendable effort all round ...


Best Fashion App: eBay Fashion

Also nominated - GQ Style Picks, Net-A-Porter, Pocket Gok: Christmas, Shop Style

(Not really tried any of these, in no position to comment!)


Best Game App: Angry Birds

Also nominated - Doodle Jump, FIFA 11, Flight Control, Sonic

(Worthy winner, although I prefer Fragger on a similar theme, and my favourite all-time iPhone game is Plants vs Zombies - perfect graphics, music, gameplay - flawless execution)


Best Lifestyle App: LoveFilm

Also nominated - Amazon, BBM, Jamie Oliver's 20 Minute Recipes, Tesco Groceries

(Truly bizarre collection of nominees - possibly category ill-defined; for films, I use mostly iTunes - I would expect to see Google or Wikipedia here - which I certainly use very heavily)


Best Money Saving App - Skype

Also nominated - Money Supermarket, Shop Savvy Barcode, Tastecard, Voucher Cloud

(Another worthy winner)


Best Music App - Spotify

Also nominated - Last FM, My Music Anywhere, Shazam, Virtuoso Piano

(Another great winner, I also recommend Internet Radio app - RadioBox)


Best Photography App - Adobe Photoshop Express

Also nominated - Fatbooth, Hipstamatic, iMovie, Instagram

(Worthy winner, although the only one here I use regularly is Hipstamatic)


Best Sports App - Sky Sports News

Also nominated - Adidas MiCoach, Endomondo Sports, Football Manager, Nike + GPS

(I use Sky Football News [more specific], and Pedometer - the other 3 fitness apps are more structured training apps, will check them out)


Best Time Saver App - Google Maps

Also nominated - Dragon Dictati...

1 comment
|
permalink
|
email this
|

|


| | |
| --- | --- |
| Found: 39 Displaying: 1-20 | |

Subscribe to feed

Subscribe by email
Recent Visitors