10 Jan 2012 11:30 AM

Popular

Comments

Profile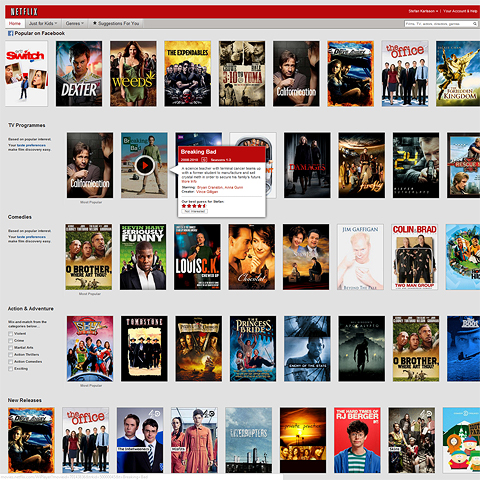 I've been waiting a while now for the arrival of Netflix on these shores, so was it worth the wait?

When I received the initial email invitation, it's poor quality made me unsure as to whether this was some sort of phishing effort. This was not helped by the very basic Netflix holding page presented to UK users.

In any case, I had been waiting a while for this so I dipped my toes into the 30 day free trial. You have to enter you credit card details during registration, which will likely put off some users, but I triangulated the security certificate to be sure. Once registered, you get presented with a very elegant browsing interface, not a million miles from the one for iTunes films, but much the superior in my opininon - especially how it pops up detail information when you hover over the film / programme image.

I caught up with 'Gone Baby Gone' - a film I had not got around to watching yet, but had always wanted to see. The whole experience from browsing, to selecting and watching is truly slick, simple and elegant. For those worried about signing up via Facebook - for everything you watch, you get the option to not share to Facebook - so that you can continue to watch trashy TV and movies without exposing your viewing choices to friends and family.

Currently, the only thing that really counts against Neflix at the moment is the rather slim selection of video available. Like many other users, I expected there to be a lot more US TV Series. Also - you don't get the very latest films or TV - it's mostly a series or two behind. But great if you want to catch up with films and TV you missed when they were initially releases - a couple or so years ago.

The £5.99 all-inclusive monthly fee is the perfect price point as far as I'm concerned - Netflix just needs to work on signing more studio deals and providing a larger selection.

In terms of overall experience, this is currently my favourite way of watching video online - I'm of course interested to see what Apple, Amazon (LoveFilm), YouTube and the BBC do in response to this.

I wrote a blog not so long ago about the poor state of online video, and how poorly it compared to the more traditional model of Blockbuster - which is unfortunately fast waning. There is no online service yet though which is able to deliver as wide a video libary, as quickly as Blockbuster.

...

4 comments
|
permalink
|
email this
|

|





29 Nov 2011 10:07 AM

Popular

Comments

Profile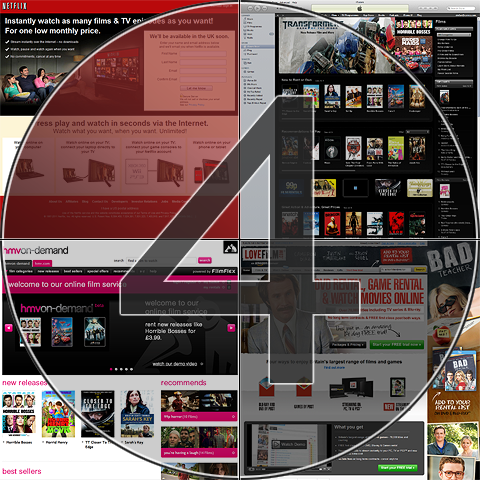 In order to further safeguard its future, HMV has just recently launched HMV On-Demand - a video streaming / download service running on the FilmFlex Movies Platform. This service introduces further competition to iTunes and LoveFilm, and comes just ahead of the 2012 launch of American video behemoth Netflix. There are of course numerous other movie services through set-top boxes and consoles - such as Movies on the Play Station 3, but the big four are seen to be Netflix, Hulu, Amazon Instant Video and iTunes. Amazon of course recently bought up LoveFilm, which makes up its European offering.

I must admit that I used to be a huge fan of Blockbuster Video Stores, and if there was one next door to me, I would probably still use it, as they still have by far and away the best range of movies, have the earliest release dates, and their price point is only £2.99. Apple iTunes currently has downloads only - you can start viewing progressively at 10-15 minutes in, but it's not streaming, this is at £3.49 for standard definition, and £4.49 for high definition where available (Older films are at £2.49 and specials at £0.99). LoveFilm has a subscription service also at £5.99 per month, with some films only available on subscription, and new films are typically at £3.49, with older ones at £2.49 - on a par with iTunes. The issue for me on LoveFilm is that it's overly fussy and overly complex - giving you different options to rent DVD, watch online, sign up for subscription, buy on Amazon etc. Moreover, beyond the optional subscription it offers no great advantage over iTunes as it pretty much has the same fairly slim selection of films which are largely made available for rent a week or two after Blockbuster.

HMV has gone against the grain by launching at a higher level one tier standard price of £3.99 - it's not clear yet as to what the quality of the stream is though. For HMV you can of course download to watch, as well as stream directly. Again, browsing through their library - there are still enormous holes in the catalogue, although I could find some films here that were not listed on iTunes or LoveFilm.

The point is that the old format - DVD - which is 'Blockbuster' really still has by far and away the best selection and the best price. Online video has the advantage of convenience

...

Add Comments
|
permalink
|
email this
|

|



Subscribe to feed

Subscribe by email
Recent Visitors