25 Nov 2012 11:59 AM

Popular

Comments

Profile
If you want a closer sit-back look at Affino then here's a video guide to some of the great new features in Affino 7.
It's quite detailed, so grab a cup of tea first.
We'll make shorter guides in the near future. Meanwhile we've updated all the Control Centre Video Guides to showcase Affino 7 so you can see the latest and greatest directly from your Affino Control Centre.
Let us know what you think.

3 comments
|
permalink
|
email this
|

|





25 Nov 2012 10:05 AM

Popular

Comments

Profile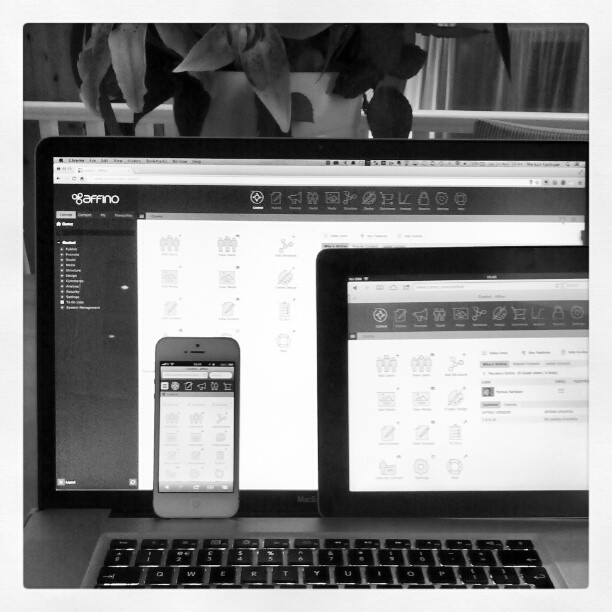 For the first time, Affino runs great on mobiles and tablets. It's been a long-term project we've been working on for the past two years, and it will be a year or so until everything is likely to be perfect across all mobile platforms.

For anyone working in mobile, it's a minefield, and lots of decisions have to be made along the way. I've posted previously about how under-developed mobile browsers are, but that has largely changed in the past year. For the most part they're now great, in particular Safari on iOS and Chrome on Android.

With Affino 7 out initial target devices are the latest generation IOS (iPhone / iPad) and Android (mobile / tablet) devices. Mobile browsers will continue to improve in their capabilities and standards support.

When we brought out the alpha version of our mobile tech last year we did all kinds of optimisations to work around limitations with iOS 4 / Android Browser. Apple and Google have since then updated their platforms a couple of times (4 in the case of Google) and the browsers are far better than before. A side effect of the updates though was that all of the work-arounds we did for earlier mobile browser versions were broken when those browsers were fixed.

It has lead us to a principle for our mobile platform development which is that we won't code for mobile browser bugs, instead we will do our best to work around the issues, and if that is not possible then the expectation is that the mobile browsers will be fixed soon enough.

We've tested Affino 7 on a lot of mobile devices. Many different Android phones and tablets (most of the leading ones and all Nexus devices), half-a-dozen iOS variants from old iPhones to the latest iPods / iPads and iPhones. We have also tested Affino on Windows Phone 7 and the Kindle HD. Both WP7 and the Kindle have some minor issues, but these issues are platform specific and the expectation is that they will be solved by Microsoft / Amazon respectively.

In practice 90% of users and above should have a great experience using Affino on their mobiles, and now that we've completed the initial phase of mobile optimisation, we will be accelerating to roll out mobile optimisations throughout all Affino's interfaces both on the Control and Display sides.

...

Add Comments
|
permalink
|
email this
|

|





03 Jul 2012 4:14 PM

Popular

Comments

Profile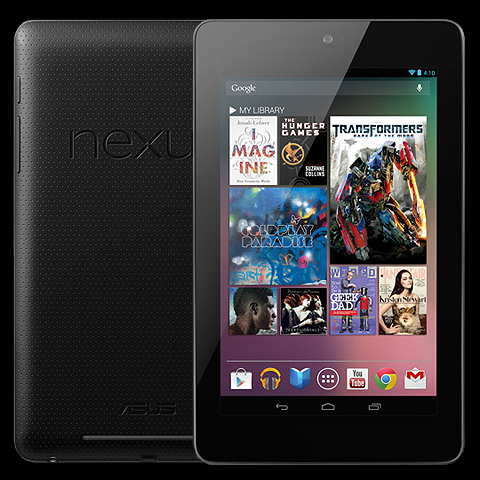 Google's first foray into tablets is part of a double-headed attack on Amazon - to reclaim Android for the Android vanilla experience. Everyone is well aware now of how fragmented the Android landscape is - not just in terms of different version releases, but with every device manufacturer producing their own skinned-up derivation of Android - from HTC Sense, to Samsung's TouchWiz to Amazon's Silk Browser. Here Google is aiming to show that the standard Google Android experience really is the best. This is backed up by the relaunch of the various Google Android stores under the singular 'Google play' brand, to compete with iTunes in some ways, but really to take the initiative away from Amazon's Appstore.

The Google Nexus 7 equals the current Kindle Fire in price - for the base 8GB model, and serves up faster processor and better screen for a far superior experience to that of the Kindle Fire. For a little more money (£199 vs £159 and dollar equivalents) you get the 16GB of Google's top ranked Nexus 7 model.

The Nexus 7 is built by Asus - who are responsible for purportedly the best Android tablet experience currently - by way of the Transformer series. I don't really see this troubling Apple too much in terms of a head-to-head comparison with the higher specced iPads, but it should really worry everyone involved in the more budget end of the market. In stark contrast to Microsoft - who's Surface Tablet launch was all hyperbole and bluster - with no pricing, launch date or even proper tech specs. Go to the Google play site though, and you will see that the Nexus 7 ships in 2-3 weeks (£159 for 8GB model and £199 for 16GB model). Admittedly this is only a 7" tablet, and it lacks typical Android staples in terms of plug-in memory or replaceable battery. There's nothing new or innovative here - the form itself is about as standard as you can get, but if you were going to buy a tablet for £159-199 - this is probably where you should be spending your money; by comparison the cheapest iPad model is the 16GB iPad 2 at £329.

Google has a few more tricks up its sleeve with clever Cloud syncing and Google+ integration - which should enable some smart social media sharing and automatic backups, photo archiving etc. Google play + Google Nexus 7

...

8 comments
|
permalink
|
email this
|

|





13 Nov 2011 4:16 PM

Popular

Comments

Profile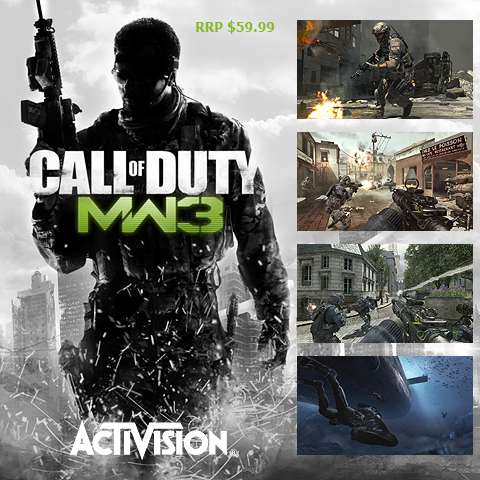 Released on 8th of November in USA and UK, Activision's Call of Duty Modern Warfare 3 saw sales of 6.5 million copies in just 24 hours - producing a record first day takings of around $400 million.

In comparison, Harry Potter and the Deathly Hallows Pt II which is the record daily film box office, took $91 million on its first day. Music sales are not recorded on a daily basis typically, the best data we have is in terms of weekly sales statistics. It's somewhat strange to report that the one week sales record goes to *NSYNC's 'No Strings Attached' album which shipped 2.4 million units in its first week back in April of 2000. In terms of digital sales, it would seem that Lady Gaga's 'Born This Way' would have the current record of first week 662,000 unit digital sales, contributed to in no small part by a special 99 cent deal on Amazon.com - which shifted 440,000 copies in just 2 days.

Lil Wayne currently holds the US iTunes record of circa 300,000 units of 'Tha Carter IV' downloaded in the first 4 days. Coldplay's 'Xylo Myloto' holds the international iTunes record - across all 35 stores, achieving in excess of 500,000 downloads in its first week.

It's somehwat heartening to see that the most liquid / profitable entertainment medium is no longer music or film, but games. I would go one step further and highlight software overall - in terms of apps and programmes. The digital economy is now truly gigantic, and Apple and Android are capturing an ever bigger share of the gaming marketplace. That said, Call of Duty MW3 is an old-fashioned console game, shipped mostly in hardcopy format.

I have always hinted that the music and film industries would eventually copy the most successful parts of the gaming economy. Sure gaming suffers piracy and blackmarket copies of its titles, but the size and scope of many of these games means enormous data, which does not make for easy downloads; a lot of games also make use of hardware peripherals which make it difficult for pirates to replicate the whole experience. One of the key reasons that the movie industry has got so heavily behind the 3D format is also because of the fact that it's more difficult to replicate that experience via illegal means.

In an article I wrote a while ago about the Icelandic economy, I highlighted the success of

...

6 comments
|
permalink
|
email this
|

|





04 Nov 2011 1:32 AM

Popular

Comments

Profile
Tags:
Android
,
apple
,
Google
,
iPhone
,
Firefox
,
Microsoft
,
Chrome
,
Google Chrome
,
Browser
,
Internet Browser
,
Desktop Browser
,
Mobile Browser
,
Browser Usage Statistics
,
IE
,
Internet Explorer
,
Safari
,
Dolphin
,
Skyfire
,
Opera Browser
,
Opera Mini
,
Android Browser
,
Symbian Browser
,
Blackberry Browser
,
Ars Technica
,
Browser Market Share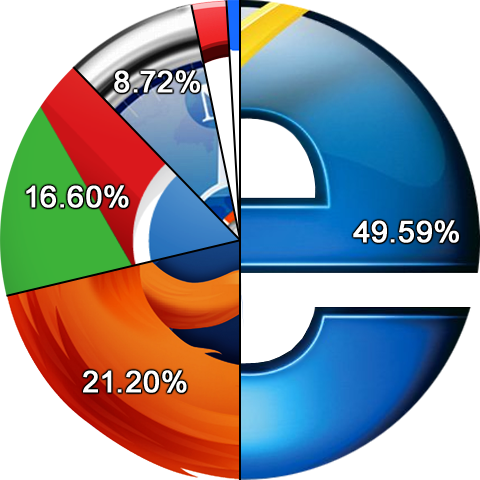 The latest Ars Technica browser usage figures show that Internet Explorer has dropped below 50% market share for the first time - for combined browsing platforms (Desktop + Mobile)
Combined Browser Market Share October 2011
| | | | | | | |
| --- | --- | --- | --- | --- | --- | --- |
| Internet Explorer | | | | | | 49.59% |
| Firefox | | | | | | 21.20% |
| Chrome | | | | | | 16.60% |
| Safari | | | | | | 8.72% |
| Opera | | | | | | 2.55% |
| Android Browser | | | | | | 0.76% |
Worldwide Desktop Browser Market Share October 2011
| | | | | | | |
| --- | --- | --- | --- | --- | --- | --- |
| Internet Explorer | | | | | | 52.63% |
| Firefox | | | | | | 22.51% |
| Chrome | | | | | | 17.62% |
| Safari | | | | | | 5.43% |
| Opera | | | | | | 1.56% |
| Other | | | | | | 0.25% |
Worldwide Mobile Browser Market Share October 2011
| | | | | | | |
| --- | --- | --- | --- | --- | --- | --- |
| Safari Mobile | | | | | | 62.17% |
| Opera Mini | | | | | | 18.56% |
| Android Browser | | | | | | 13.12% |
| Symbian | | | | | | 2.55% |
| Blackberry | | | | | | 2.04% |
| Opera Mobile | | | | | | 0.49% |
| Internet Explorer | | | | | | 0.16% |
| Other | | | | | | 0.82% |
Here at Comrz we are an even split between Chrome and Firefox, with development preferring to work on Firefox because of its still superior developer toolset, whilst we others prefer the speed and elegance of Chrome.

We all know why IE figures have remained so high - thousand of poorly run institutions and archaic public services still tend to be running very old versions of IE - it's quite surprising just how many of these PCs are on IE6.

I'm not sure the mobile figures entirely stack up here either - there are currently nearly as many Android handsets in global circulation as iPhones, of course several Android users favour Dolphin and Skyfire, but the Android browser figure does seem unusually low.

By now I am of course an iPhone user of many years, and as you may have read on my other blogs, don't see myself switching to Android or Windows Mobile any time soon. As far as desktop browsing goes though, I can't see anything better out there than Chrome - Google Chrome revolutionised the web browser in a very subtle way when it was first introduced back in September of 2008, and all the major browsers have since been busy copying Chrome's

...

5 comments
|
permalink
|
email this
|

|





28 Oct 2011 6:07 PM

Popular

Comments

Profile
Tags:
Android
,
apple
,
mobile
,
nokia
,
htc
,
iPhone
,
Samsung
,
Blackberry
,
smartphone
,
Sony Ericsson
,
iOS
,
Windows
,
Galaxy Nexus
,
Mobile Platform
,
RIM
,
Porsche Design
,
BB 9900
,
P'9981
,
BlackBerry Bold
,
Lumia 800
,
Vertu
,
Vertu Constellation
,
Tag Heuer
,
Meridiist
,
D&G
,
Armani
,
Prada
,
LG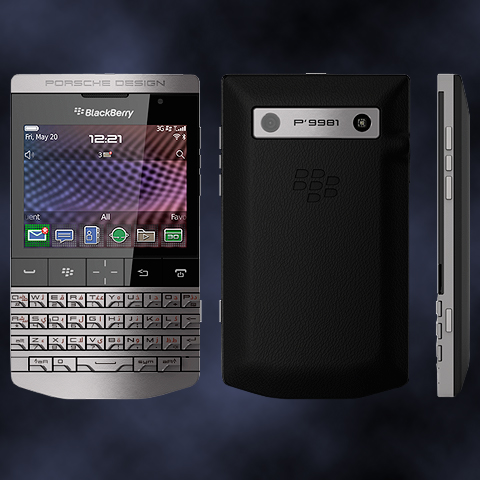 With all the column inches these days being devoted to the 3-way tussle between iOS, Android and Windows platforms, and each seeing a new platform flagship phone launch in October, RIM obviously thought they would need to maintain current mindshare by launching a flagship model of their own.

This BlackBerry flagship is a Porsche Design P'9981 - based on the 9900 Bold model - but made with premium materials, and having its own unique skinned interface. It comes up very slightly larger than the 9900, but then again it does have a hand-wrapped leather back and entire forged steel chassis. It will mostly be sold via Porsche Design outlets - for circa $2,000, and is classified as a restricted, rather than limited edition. As a piece of industrial design,it is obviously head and shoulders above the other BlackBerry phones, this is very much a deluxe model with a premium price.

I guess it's very much aimed at the bankers and suits brigade which still largely supports this kind of phone. It should compete well with the Vertu and Tag Heuer phones of this world, but its price point very much excludes it from the rank and file.

In this internet age - where other phone manufacturers are increasingly enlarging their screen real estate, is there still place for a 2.8" 640 x 480 display? My thinking is that screen real estate really is essential these days, and for those who really need a physical keyboard, some kind of keyboard slider arrangement is preferable to a diminutive screen.

Vertu is very much focusing on its full touchscreen 'Constellation' variant, so it's interesting to see that RIM commissioned Porsche Design to rejig its more old-fashioned keuboard format.

Specs-wise, with 1.2GHz processor, 768MB RAM, Onboard Memory of up to 32GB of onboard storage, 5MP camera - it really stacks up quite well. It's obviously quite a striking phone which is a plus, but then again, it has an odd form factor compared to the most useful current batch of phones. Apps-wise, RIM's work in gaining compatibility with Android apps should put it in a fairly decent position.

It's a shame the other phones in the BlackBerry portfolio aren't as good looking as this one. Its price puts it out of the reach of most, and I don't see it becoming a big seller like the iPhone 4S, Samsung Galaxy Nexus or Nokia Lumia 800.

We had a whole spate of

...

6 comments
|
permalink
|
email this
|

|





27 Oct 2011 12:15 AM

Popular

Comments

Profile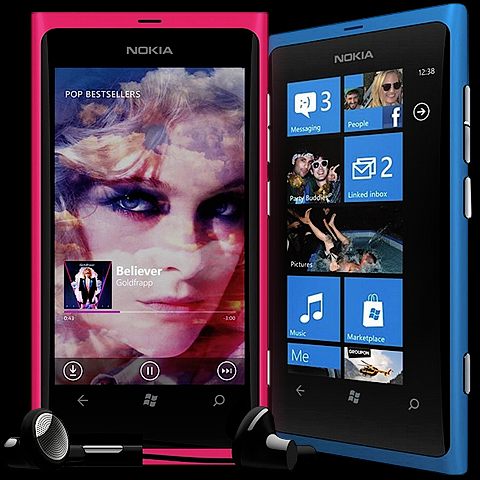 In the wake of the slightly disappointing iPhone 4S and equally disappointing Galaxy Nexus launches, we now have the supposed saviour of both Nokia and the Windows Mobile Platform to contend with.

Much has been written about the fabuolous usability of the Metro Tiles which are the cornerstones of the Windows experience, versus the app icons of Android and iOS. For those that first come to Windows Mobile, the interface initially seems highly intuitive and seemingly the wave of the future. However, as you live with it, you discover, much like any interface - that it has its various weaknesse as well as strengths. In fact, this latest incarnation of Windows Mobile (as a platform, not Mango!) has been out for a while now, and it has failed to get any real traction with consumers.

Both iOS and Android are significantly ahead of the Windows Platform - in terms of maturity, apps, ability and consumer uptake. The Windows Mobile Platform has just a tiny percentage of the market - so was Nokia right in choosing Windows over Android?

Before we answer that question, we cannot fail to be impressed by the flawless elegance of Nokia's new design. In my opinion, in pure hardware design terms, this is unequivocally the prettiest smartphone currently on the market. Whichever way you turn it, the minimal detailing is quite stunning. I would have gone one further and omitted the chrome panel around the camera - but then again, I really like minimalistic design. The liquid-like curved screen and concealed ports just add to the quality feel of the single piece polycarbonate shell (available in Magenta and Cyan as pictured, as well as regulation black!). So as far as we are concerned, design-wise it is amazing, and it features a separate and specific camera button - to match its superb 8MP Carl Zeiss lensed camera.

Now for the obvious downsides - only 16GB of onboard memory (with no memory card slot), and no front-facing camera (which is now a must for helping teenage girls apply their makeup!); also no 4G and no NFC. The limited memory and camera are totally a Windows restriction, as Nokia's identical Meego-running N9 handles upto 64GB of memory, and features a front-facing camera!

What actually lets the Nokia Lumia 800 phone down therefore really is Windows - through its lack of apps, lack of memory support, and lack of forward-facing camera support. When you put this

...

2 comments
|
permalink
|
email this
|

|





20 Oct 2011 7:23 PM

Popular

Comments

Profile
Tags:
Android
,
apple
,
Google
,
phone
,
iPhone
,
smartphone
,
iOS
,
NFC
,
iPhone 4S
,
4G
,
Galaxy Nexus
,
Samsung Galaxy Nexus
,
Ice Cream Sandwich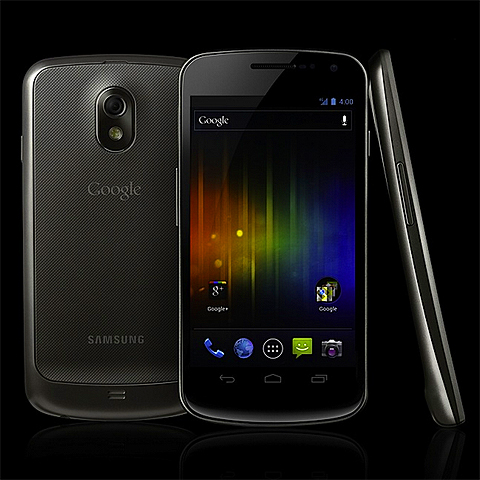 As with the iPhone 5! launch (actually iPhone 4S as it turned out) there was lot of hype around the launch of the new official Google Phone. There were rumours of a super processor of 1.7Ghz, a 10MP camera on the reverse and an ingenious new form factor.

Both phones benefitted from major version releases of operating systems - Android updating to 4 (Ice Cream Sandwich), whilst iPhone 4S jumped up to iOS 5.

For me, I am actually a little disappointed with both launches. Neither one is really the runnaway success I thought they might be. The obvious draws on the Nexus are the amazing 4.65" Super Amoled HD Screen - which is even better than the gorgeous Galaxy SII screen, also the new Barometer sensor, along with NFC and 4G capabilities that the iPhone 4S lacks.

I still contend that the construction of the iPhone 4 series is seriously flawed - as can be seen in the latest drop tests, where both back and front glass screebs of the iPhone 4S shatter way too easily. It is also my opinion that the dodgy antenna issue has been fudged with clever electronics - which switch the signal between two halves, depending on how the antenna is being shorted / obstructed by finger or thumb. That said though, Samsung's phones tend to be a little 'plasticky', and for certain the iPhone uses better quality materials in its construction - bar possibly the glass, which seems overly brittle.

The biggest thing for me was the 64GB boost in internal storage for the iPhone 4S - the Galaxy Nexus omits SD Card slot, and is stuck therefore with a maximum of 32GB - which is no good for my mobile jukebox needs! I really wanted the iPhone to have a larger screen, and here the Galaxy Nexus certainly comes up trumps.

As for the other head-to-head specs they are much of a muchness really - battery performance is as much to do with hardware and software than actual size of battery - same goes for processor clock speed and RAM.

Android Ice Cream Sandwich seems to be largely an aesthetic update, although it does have some very nifty bandwidth management widgets, as well as clever 'bump' sharing of content from phone to phone. To compete with the obviously superior iPhone 4S camera, the Nexus has a clever automated panorama picture mode.

Side-by-side specs are as follows, apologies if I've got any of these wrong! They're from a variety of sources obviously.

&nbsp

...

1 comment
|
permalink
|
email this
|

|





04 Oct 2011 9:55 PM

Popular

Comments

Profile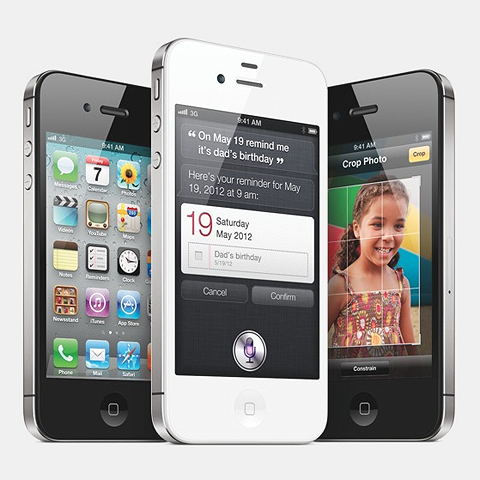 Apple fails to meet the weight / wait of expectation by way of an overdose of déjà vu! After a summer of lacklustre Hollywood blockbuster sequels, we get a lacklustre sequel from Apple.

I followed the whole of the tedious iPhone Keynote event via the always excellent Engadget Liveblog. Huge chunks of the presentation seemed to be entirely lifted from the previous mid-year WWDC. About 20 minutes into the hyperbolic statistics, I had a feeling that I was going to be disappointed.

Don't get me wrong! I'm a huge iPhone fan, and had been looking forward enormously to upgrading my now aging 3GS to a shiny metallic iPhone 5. My current phone contract ran out at the start of this year, and I waited expectantly for a June upgrade - that was then delayed to the Autumn, and the level of expectation increased enormously with the additional wait.

I had assumed that the Apple engineers had been busy on a larger form factor screen and enormously improved chassis. It now turns out that it was the software engineers who were busying themselves away with innovating a special feature that they hoped would otherwise overcome the disappointing lack of hardware innovation - the Siri Voice-activated assistant - which is still a Beta version!

I have always believed the iPhone 4 design to be inherently flawed, both in terms of its relatively fragile glass sandwich surround, and the problematic antenna, which even in its recent Verizon phone version, still did not seem to have entirely solved the well-documented connectivity issues. The new antenna looks not much different to the Verizon one.

Whilst HTC, Samsung and the like are continually innovating with slick new hardware features, larger, brighter screens and Electronic Wallet / NFC and 4G capabilities, I was hoping to see Apple leapfrog the competition yet again. In truth though, this phone is really just on par with its current contemporary peers - with all the other hardware companies on the point of launching even newer and more impressive models, Apple really did need to push the boat out a little further!

Here follows my brief Hits & Misses overview:

Hits
Faster A5 Chip - better graphics handling
8GB Camera
64GB Storage Memory
Siri - Voice-controlled assistant (Still in Beta)
Misses
No 4" Screen
No 4G
No NFC
No real chassis improvements - same but different antenna, same fragile glass
...

17 comments
|
permalink
|
email this
|

|





28 Sep 2011 10:29 PM

Popular

Comments

Profile
Tags:
Android
,
apple
,
iPhone
,
Amazon
,
iPad
,
iOS
,
Windows
,
iMac
,
Amazon Kindle
,
eBooks
,
Cloud Computing
,
Cloud
,
Kindle Keyboard
,
Kindle Fire
,
Kindle Touch
,
Amazon Silk
,
Amazon Cloud
,
Cloud Streaming
,
3G
,
WiFi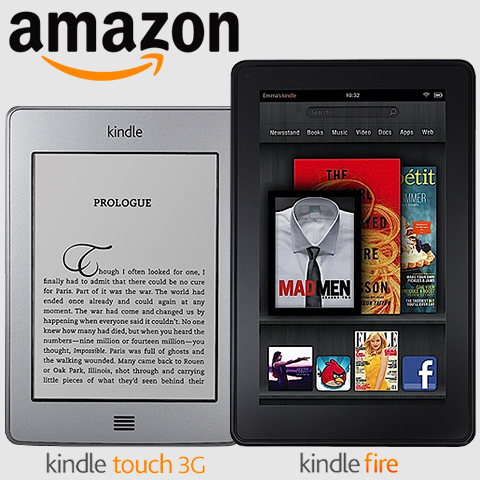 I have been a considerable fan of the Amazon Kindle - the model that is now called the Kindle Keyboard 3G; I also have a 27" iMac runnning Windows, a Samsung Windows laptop, iPad 2, currently iPhone 3GS - but soon most likely iPhone 5 - So I'm currently evenly split between Windows and iOS - with a sprinking of Amazon Kindle magic.

My brother Markus reads most of his Kindle eBooks on his iPhone or iPad devices - for me, there is no substitute for the easy legibility and form factor of the Kindle - a smartphone is too small for reading comfort, and a typical 10" tablet is too large / weighty for holding in one hand for prolonged periods.

Amazon is actually offering 3 new devices:
Kindle - 6" 'Kindle Keyboard' minus the keyboard in very slightly smaller form factor - $79 / $109 (with or without advertising)
Kindle Touch - 6" E Ink touchschreen display with even sleeker form factor - WiFi Version is $99 / $139 (with or without advertising), 3G Version is correspondingly $149 / $189
Kindle Fire - 7" full colour touchscreen tablet with 8GB onboard memory an unlimited cloud storage - $199
The base level new Kindle is the only one currently listed on Amazon.co.uk (at £89) shipping mid october. If we extrapolate the prices, we're talking circa £169 for the 3G Kindle Touch and £179 for the Kindle Fire - which are likely to be made available in the UK in time for Christmas - at least the Kindle Touch is, there may be media licencing issue which would postpone the Kindle Fire launch to the new year.


Kindle Touch 3G

I see this as a direct upgrade / replacement for my Kindle Keyboard 3G - in my review at the start of the year, I marked it down for its clunky keyboard, and lack of touchscreen interaction. Memory remains the same (4GB) although battery life is likely somewhat affected, I still have no hesitation in getting this device when it is made available in the UK. I read several books a month, and the convenience of sub 60 second downloads - and the fact that you are always carrying a couple of books spare - is simply incomparable. The paperback form factor and usability make this my perfect everyday book replacement device. I much prefer reading E Ink to the shiny, bright glare of LCD screens - so I will stick with this format and form factor.

The Kindle Touch has some added smarts via new X-Ray feature which pops

...

2 comments
|
permalink
|
email this
|

|





15 Jul 2011 3:10 PM

Popular

Comments

Profile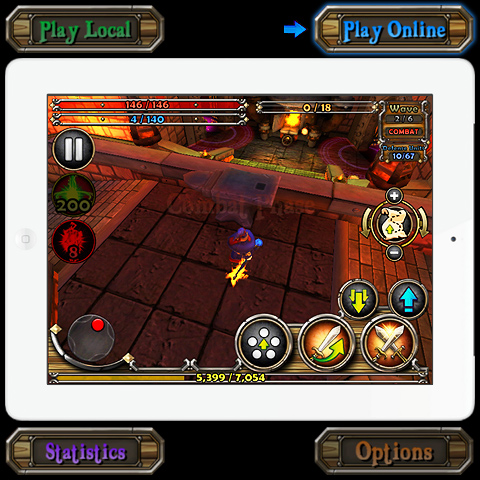 This week, for the regular Comrz team meet-up, we 4 staffers currently in London headed for Boyd's Brasserie Bar at Charing Cross with tablets in hand - an even split of Android tablets and iPads - for an experiment in tablet-based social gaming.

This being my first venture into online multi-player co-operative gaming, I was a little non-plussed initially. In advance of the meet-up we had each downloaded the Dungeon Defenders Game, as well as set up accounts on Gamespy - to allow for multi-player action.

Boyd's Brasserie Bar proved to be an inspired venue choice for the experiment - it's dusky lighting providing just the right environment / ambience for tablet gaming - and of course it has free wi-fi. We each started up the game and selected 'Play Online'; logging in to Gamespy to get multi-player access. Then it was just a matter of one player setting up as the host for a Custom Game, and the rest of the players looking up said Game Name and logging in with agreed password.

I initially thought the experiment was going to be a bit too geeky for my liking, but it actually proved to be surprisingly entertaining - we had plenty of beers and snacks to keep our energy and concentration up. I've noticed that my iPad has a somewhat worrying tendency to eject me out of applications every now and again, wich proved a little wearisome on this occasion - re-starting the game involves several option choices and 2 different logins, which did not always work on first attempt.

I guess the network dropped us all a few times, but over the circa 4 hours of the experiment, we mostly managed to maintain a highly spirited online gaming experience. After the first half hour or so I was really enjoying it. There aren't many games out yet which allow for such a fluid cross-platform experience, but there are all sorts of goodies waiting in the wing for future release, including the tablet version of online gaming streaming service - OnLive.

Dungeon Defenders is a surprisingly good game; the controls can be a little tricky, but you soon get used to it, and all the power-ups and strategy considerations make for really decent gameplay - sure, it can be improved, but all 4 of us, regular gamers and not, really enjoyed the experience.

I see all kinds of potential here for tablet-style collaborative experiences - both work and play-wise. It&rsquo

...

8 comments
|
permalink
|
email this
|

|





30 Jun 2011 11:40 PM

Popular

Comments

Profile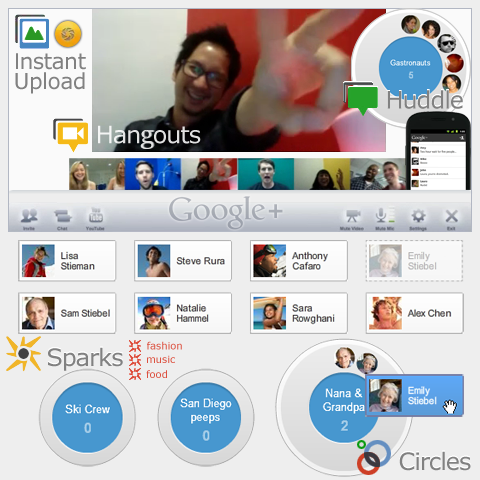 With Google's announcement of Google Plus, it finally looks like Google is getting its Social Network on the right path. In the recent announcement about the now beta-testing site, Google introduced 5 new weapons to fire across Facebook's bow; these are as follows:





Circles - a really neat 'groups' app where you simply drop selected contacts into a specified category circle - based on family, friends and other interest groups. Then when you want to share media etc. with this same group, you simply drag and drop it onto the same circle. A seemingly very usable and elegant solution

Hangouts - this is really just group video chat, with seemingly very clever software which centres on the active / noisiest participant involved. The demo looks very slick - you can simply drop in and out of hangouts - like trawling interesting gatherings at a party

Huddle - this is group texting - you can start a 'Huddle' with one of your Circle groups, and simply blast spam the whole lot of them! - and vice versa of course

Instant Upload - an area where Google has distinct advantages over Facebook - piggy-backing off its own Android Platform and devices - allows you to set up some kind of loosely defined folder in the cloud - which your snaps get automatically uploaded to immediately as you take a picture

Sparks - the least interesting of the new introductions is simply a kind of interest topic filter - which pulls in pictures, videos and articles on said topic - you can then share said 'Spark' with your various social Circle groups



It's not yet clear how all these elements will be seamlessly knitted together, and how the overall profile and wall experience which Facebook is so strong on will be met / challenged.

As I said above, Google's real weapons here are the Android Smartphones, Chrome Browser, Chromium OS and various other bits of soon-to-be seamlessly-interconnected hardware. With more and more people using Smart Phones and Tablets, anyone who sets up automated syncs for content upload and sharing is onto a winner. Google also has an advantage with its already massive GMail audience.

It will be very interesting now to see how Facebook, Microsoft, Apple and Amazon react. This is definitely a step changer, and much will depend on how slick and 'convenient' the whole experience is. If Google comes close to

...

Add Comments
|
permalink
|
email this
|

|





27 May 2011 3:08 PM

Popular

Comments

Profile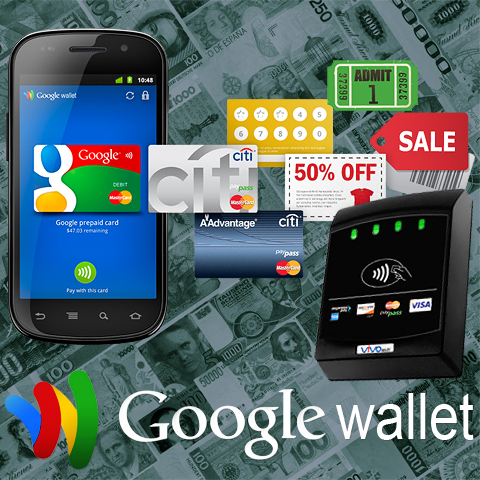 The world of 'finance' has up until now seen 6 essential step changes in how people have consumed / exchanged goods and essentials:
Simple Barter - 6-8 sheep exhanged for 1 cow etc.
Account - Ledger system where Incoming / Outgoing values are recorded in written form
Precious Metal Coins - Money where coins carry their own value
Paper Money - Proxy payments / promissory notes usually based on state bank / national / international currency
Credit Card - Electronic transfer of funds with physical counterpart
Electronic Payment - Electronic transfer of funds with no physical counterpart
Electronic Wallets are really just another ehancement of the electronic funds transfer system - as you will still be transferring funds electronically, you just won't have to carry a wallet full of plastic to back up such transactions any more. Payment via Mobile Phone is often called Mobile Commerce or MCommerce.

Most Londoners are already quite familiar with NFC payments by way of the 'Oyster Card' which is used to pay for public transport / travel such as the Tube and Buses. Some years ago, Barclaycard introduced its own standard of NFC payment - the 'Wave' system, which is now standard on all its payment cards; at one point you could even get a combined Wave / Oyster Credit Card - known as the Barclaycard OnePulse.

Over in Japan, Near Field Communication Payment has long since moved from credit cards and onto personal mobile phones - after all it's just the smart chip that contains the technology. Many / most Japanese now swipe their phones to access the various Japanese public transport systems.

There are 2 factors that control the rate of adoption of this kind of new technology - the availability of systems and devices obviously, but also the number of retailers who decide to make use of this standard. In the UK, apart from public transport, NFC payment is largely restricted to just a few fast food restaurants and cinemas thus far.

Google's partnerships with First Data, MasterCard, Citibank and Sprint are not just about NFC payments though. The Google Wallet solution is envisaged to cover a range of financial services, as well as domestic uses, including the following:
Swipe / Bump payments - Standard NFC Payments
Credit Card Wallet - All your Credit Cards in one place in electronic format - you simply
...

Add Comments
|
permalink
|
email this
|

|





13 May 2011 3:41 PM

Popular

Comments

Profile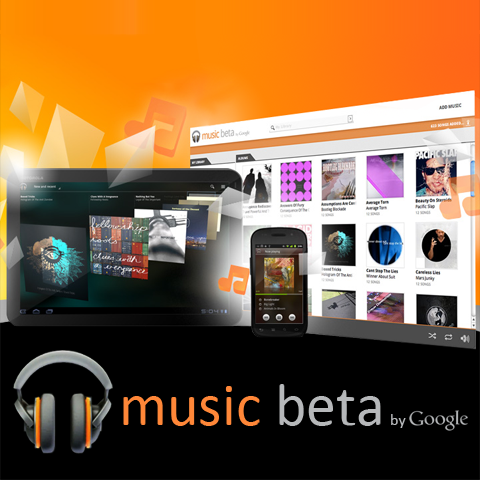 Google Music Beta was one of the main introductions at the recent Google I/O Conference. In essence, it is a Cloud-based music file storage system which has a number of clever features enabled by the Android software that powers / manages it from Android devices.

The idea is that you can store 20,000 or so MP3 files in the Google Cloud, and access these music files in streaming fashion - through any of your Android devices at any time. The software does some clever syncing which allows you to add files and create playlists and auto-generated mixes from any location. Additional smarts is provided by and offline syncing system which downloads recently played tracks to the local device, so that the files can also be played offline.

Obviously, it's not long since Amazon launched its Amazon Cloud Player, which offers similar functionality on the storage front, albeit not backed up by the same clever multi-device software. Spotify is an obvious competitor which offers a very similar service, but rather from an extended music library angle. For Google Music Beta - you upload all your own tracks versus Spotify where you typically stream from a larger general library of music. No doubt Apple is watching and waiting in the wings, as it's own rumoured Cloud Storage / Streaming Solution is due around the middle of this year.

In a conversation with my younger colleague Chris, I was somewhat surprised that he operates by a similar music collector system to me - buying cherished / favourite tracks / albums on CD and then transferring to digital library, whilst downloading more spontaneous and adhoc tunes and tracks in digital format. As a contrast, my brother Markus gets pretty much all his music from Spotify.

I'm still of a mind that the global network / Internet infrastructure- particularly for the UK, is wholly NOT up to the task of providing a decent uninterrupted streaming service. I still see the cloud as a virtual attic - where you store your overflow files and materials which are not in daily use. I cannot see any substitute for having the actual files on your portable device - if you want to ensure quality and reliable music playback. One of the main reasons I like my iPhone is that its 32GB of inbuilt memory allows me to carry circa 26GB worth of current music with me wherever I go. I keep hoping the next generation of iPhone is going to up the memory size to at

...

Add Comments
|
permalink
|
email this
|

|





12 May 2011 3:09 PM

Popular

Comments

Profile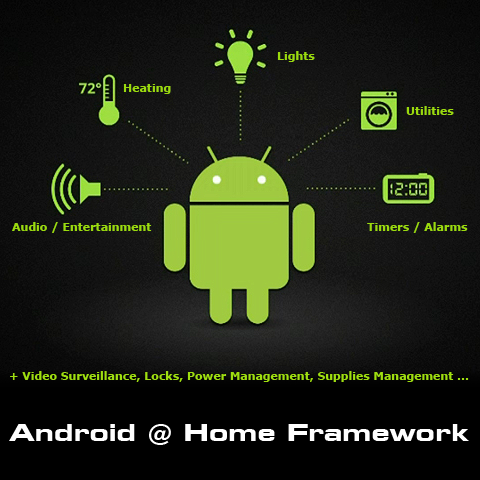 Over the years, technology magazines and technorati have continued to make a lot of noise about the wonderful benefits of Home Automation, ever since the Jetsons, we have been aware of the potential of automating and computerising / remote-controlling various aspects of domestic life. Over the years a number of consumer brands have dabbled, including Sony and Nokia; but it has become almost exclusively the preserve of the rich and famous, with Home Automation specialists Zensys, Sigma Designs, Express Controls, AMX Corp, Control 4, Echelon and Jung - all being relatively expensive.

As is Google's way, it is now looking to bring all the benefits of Home Automation into the hands of the everyman. There are 2 core components to this project - the actual android protocol / control system - which utilises Android-based tablets and smartphones in this case 'Android@Home Framework'; and then there is 'Project Tungsten' which is a wireless base-station protocol / wifi control box, which will allow Android devices to communicate with a variety of domestic utilities and appliances. Typically toasters are dumb technology, but a 'tungsten' enabled toaster will allow you to control it from your Android phone. A toaster is possibly a bad analogy - you might say 'why would you bother to automate this?', but far more clever automations are possible, such as fridge supplies control - with an automated shopping list, as well as in-fridge camera and live updated fridge inventory!

In the above diagram, Google outlines 5 control areas; some of which were demoed at the recent I/O conference:
Audio / Entertainment - Google's equivalent of Apple Airplay, with a major difference in that music is streamed directly from the Cloud (I believe Cloud storage will become more and more like a virtual 'Attic' (for 'overflow' storage) with a real need for media servers on ground level to ensure smooth and uninterrupted service)
Heating - Control your house's thermostat / central heating remotely
Lights - Get an overview and manage your domestic lighting arrangements from afar
Utilities / Appliances - Control a variety of domestic appliances and utilities from your smartphone or tablet - think you left the cooker on? Switch it off remotely, or even get alarms if cooker is unattended for more than a
...

1 comment
|
permalink
|
email this
|

|





13 Apr 2011 11:14 AM

Popular

Comments

Profile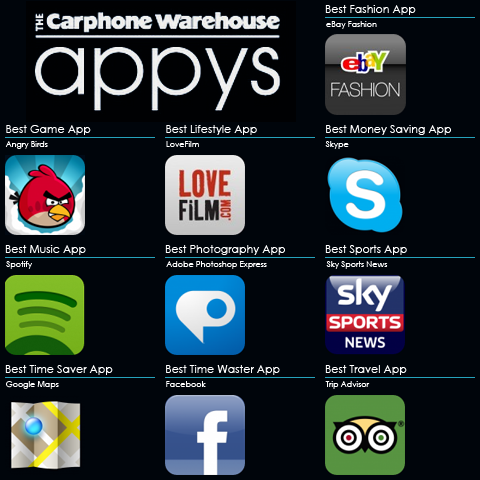 The Carphone Warehouse Appys almost passed me by unnoticed; I came across an article on Digital Spy ; was not aware that this award ceremony was going down this last Monday (11th April). It's about time we had Awards for Apps - so well done Carphone Warehouse for seizing the opportunity. Some of the categories need to be better defined, and possible a few more added - Best News App, Best Blog App ... etc. Lots of very obvious and deserving winners, and a commendable effort all round ...


Best Fashion App: eBay Fashion

Also nominated - GQ Style Picks, Net-A-Porter, Pocket Gok: Christmas, Shop Style

(Not really tried any of these, in no position to comment!)


Best Game App: Angry Birds

Also nominated - Doodle Jump, FIFA 11, Flight Control, Sonic

(Worthy winner, although I prefer Fragger on a similar theme, and my favourite all-time iPhone game is Plants vs Zombies - perfect graphics, music, gameplay - flawless execution)


Best Lifestyle App: LoveFilm

Also nominated - Amazon, BBM, Jamie Oliver's 20 Minute Recipes, Tesco Groceries

(Truly bizarre collection of nominees - possibly category ill-defined; for films, I use mostly iTunes - I would expect to see Google or Wikipedia here - which I certainly use very heavily)


Best Money Saving App - Skype

Also nominated - Money Supermarket, Shop Savvy Barcode, Tastecard, Voucher Cloud

(Another worthy winner)


Best Music App - Spotify

Also nominated - Last FM, My Music Anywhere, Shazam, Virtuoso Piano

(Another great winner, I also recommend Internet Radio app - RadioBox)


Best Photography App - Adobe Photoshop Express

Also nominated - Fatbooth, Hipstamatic, iMovie, Instagram

(Worthy winner, although the only one here I use regularly is Hipstamatic)


Best Sports App - Sky Sports News

Also nominated - Adidas MiCoach, Endomondo Sports, Football Manager, Nike + GPS

(I use Sky Football News [more specific], and Pedometer - the other 3 fitness apps are more structured training apps, will check them out)


Best Time Saver App - Google Maps

Also nominated - Dragon Dictati...

1 comment
|
permalink
|
email this
|

|





03 Mar 2011 11:05 PM

Popular

Comments

Profile
Tags:
Android
,
apple
,
Google
,
PC
,
iPad
,
Samsung
,
Blackberry
,
Motorola
,
iOS
,
App Store
,
eBooks
,
iPad 2
,
Tablet
,
Android Honeycomb
,
Home Computing
,
Motorola Xoom
,
Apple iPad
,
Steve Jobs
,
HDMI
,
Apple App Store
,
BlackBerry PlayBook
,
Xoom
,
iPad 1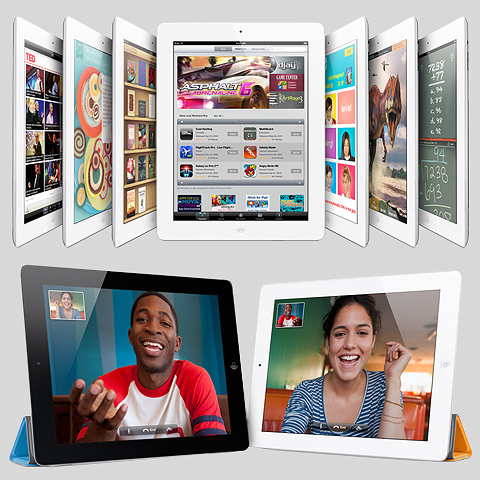 As a marketing man, I am always slightly uncomfortable when watching Steve Jobs present, the experience is a little akin to being in the presence of an overly committed evangelical street preacher or snake oil salesman for that matter.

Steve will always try to dazzle you with 'statistics' and 'facts' which are always presented as being concrete and absolute, but are usually marketing distortions of the truth. I contend that he was largely wheeled out on this occasion to cover up what was actually a relatively lackclustre update of revolutionary yet flawed product. Before the fanboys get on my case, I think everyone agrees that the lack of cameras on the first device was a major oversight - anyway, I digress.

Steve callously abused one of his main suppliers - Samsung by using a mis-quoted reference in his presentation, one which had already been corrected in all the major tech press, several weeks ago; that sentence (About the Samsung Galaxy Tab ) was:

"As you heard, our sell-in was quite agressive ... around two million. In terms of sell-out, we believe it was quite small" - Samsung VP Lee Young-hee (small was a mis-translation, Young-hee said 'smooth' not 'small'!)

Of course Samsung has several million dollars riding on a supply deal with Apple, so they're unlikely to complain, but it's one hell of a way to treat a supply partner. Steve then proclaimed that the iPad 2 would be the first dual-core processor tablet to ship 'in volume' - which is a likely prediction, but not an accurate statement at the point of delivery, as Motorola's Xoom is already out on sale to the mass-market, albeit without Apple's extensive retail base.

In the presentation, a disproportionate amount of time was spent on 4 elements - 'Photo Booth', 'iMovie' and 'GarageBand' - all apps; as well as the new 'Smart Cover ' - which is a partial rip-off of InCase's 'Convertible Magazine Jacket' - year of the copycat you say Steve ?

One thing Apple certainly has not copied is topline hardware specs, for sure the iPad 2 is slimmer, still has a 10 hour batter life, and has a faster dual-core processor and 2-way cameras. However, it only (supposedly) has 512MB of RAM, where current devices are shipping with 1 GB, the screen resolution is also static, but we will see that i...

3 comments
|
permalink
|
email this
|

|





09 Jun 2010 9:34 AM

Popular

Comments

Profile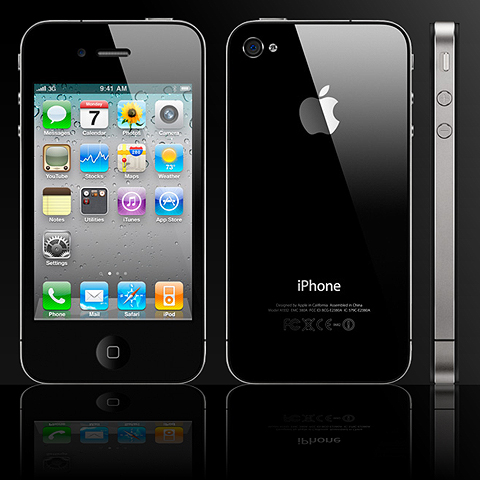 Let's start with the good news - the new iPhone 4 looks pretty gorgeous, and looks like it's beautifully put together from superior materials and components. It has the iPad 's fast A4 processor, although this is probably being underclocked on the iPhone to save on battery life. Also, the phone has a much improved OS (iOS 4 ) and around 100 or so new features. That said, a lot of the 'New Features' showcased are Apple simply catching up with much of the current technology that other companies had already premiered some time ago. What's worse, is that this box of tricks is still strictly un-upgradeable and serviceable in the true sense, as its predecessors also were. You cannot slot in any standard peripherals (bar headphones) or extended memory cards or even change the battery. Anyway, let's see what's Cool, and what's Steve Jobs Hype:


What's Great about the new iPhone : Breathtaking High Res 'Retina' Display - high pixel density with 326 pixels per inch (960 x 640 Resolution) New scratch, scuff and knock resistant super-toughened glass, similar to sapphire glass found on watches, featuring on front and back of phone Superb Manufacture and Materials, the specially manufactured toughened laminated glass, antennae integrated into superbly organised and ingenious casing - aerospace quality fit and finish Battery Life extended by up to 40% 'FaceTime' Video Calling with front and back camera switching 'Multitasking' at last!?! iOS 4 iMovies allows HD Video Recording and Editing on the fly 5 Megapixel Camera with LED Flash Three-Axis Gyroscope brings amazing new control parameters to games and augmented reality iPhone 4 has new iBooks store premiered on iPad iPhone 4 has new Dynamic iAds advertising platform!?!

What's not so great about the new iPhone : Does not support Flash (hence needs lots of additional Apps to replace content / functionality that is otherwise rendered natively by Flash on the 'Internet') Still only has max 32GB memory, other devices take changeable SD Cards which are already at 64GB and have a maximum potenital of 2TB The basic Interface has hardly changed at all (Folders! Changeable Wallpapers! Multitasking Ribbon!) - there are no dynam...

3 comments
|
permalink
|
email this
|

|





01 Jun 2010 5:53 PM

Popular

Comments

Profile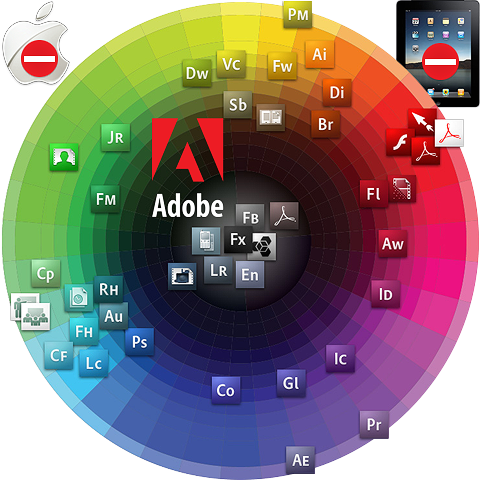 A lot of our customers have asked us for our stance on the whole Apple vs Flash debate, and how this might impact on Affino . Most of you will know that Affino is underpinned by Adobe 's ColdFusion and utilises Flash , Flex and Air for a number of key Affino functions - parts of the Control Centre, the Dashboards and Media Editor for example. (Flex and Air = Dynamic Flash )
Many of our Apple -based users are somehow of the opinion that everyone has given up on Flash and is simply moving on to HTML 5 . Well... let us set the record straight and attempt to unravel some of the myths, hype and falsehoods at the centre of this 'debate'.

At the core of this issue is the fact that Apple has chosen not to support Flash for its mobile devices, including the latest iPad family of devices. Moreover, Apple has issued strict terms within its developer toolkits, forbidding developers from utilising any of Adobe 's developer tools to help them to create their Apple applications. This is obviously a double blow for Adobe , and its millions of developer users - the key question is of course 'FOR WHOSE BENEFIT???'. Steve Jobs keeps on talking up the User Experience, and how 'buggy' Flash affects the User Experience in such a detrimental fashion, that the only right thing to do was to ban Flash altogether.
The more 'true' version though is that Apple seems now to be more concerned with profit margins and lining its own pockets than just the User Experience that used to be core to its values. I myself am an avid iPhone fanboy and do admire many of the technologies that emanate from Cupertino; I don't even mind too much that my iPhone does not support Flash , at least I did not mind until my brother Markus showed me all the Affino Flash sites working perfectly on his Android 2.2 (Froyo) Nexus One Phone. As I have most of my needs rendered by individual Apps, I have not until now really missed Flash on my iPhone . For the iPad though, one of its key functions is website browsing, and how can it justify its efficacy in this area when there are so many websites you just cannot access on your iPad .
Deliberately omitting Flash , is not genuinely a User Experience decision, but more to do with Control. What Steve Jo...

2 comments
|
permalink
|
email this
|

|



Subscribe to feed

Subscribe by email
Recent Visitors