30 April 2016 10:26 PM GMT
Affino
Affino Pedigree
Affino Unified Digital Business Platform
Affino Platform
Business Drivers
Business Technology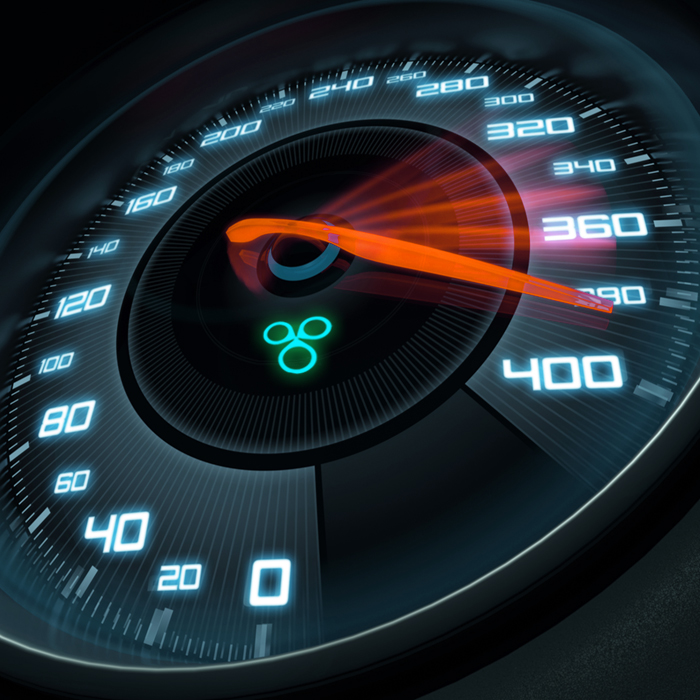 Extreme Programming has been pushing the Affino platform forward since its inception in 1998 - for a long while now encompassing the Agile Sprint methodology. Affino has had prodigious intent from the start, and the pace of development can best be described as turbo-charged for all these past 18 years. Right from the beginning, Affino was different - being launched originally as 'The Interactive CMS' because of its wholly integrated social / community functions + features - way
...
More
18 April 2016 3:26 PM GMT
Affino
Digital Business Platform
Affino Unified Digital Business Platform
Single Sourcing
Complete Digital Front-end
Complete Digital Business Solution
Unified Platforms
Universal Systems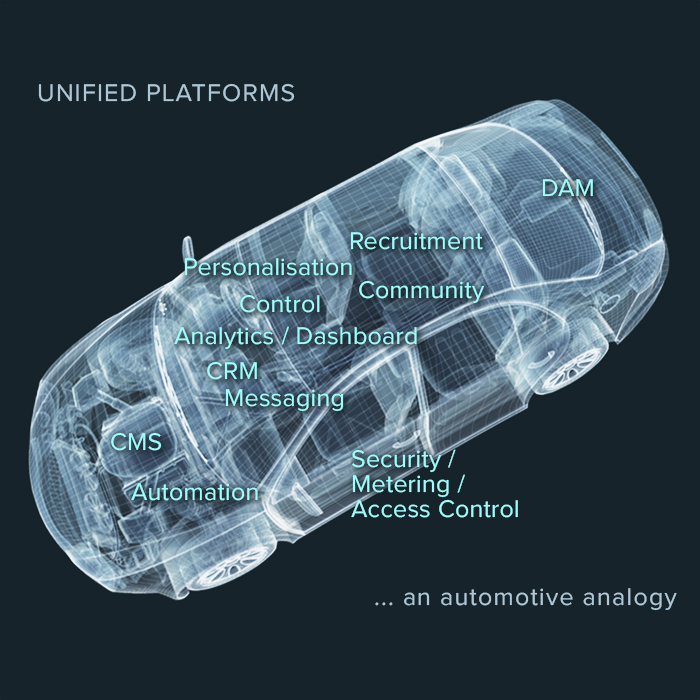 Back in the day - when you bought a car, say 10-20 years ago, you really just got the basics for your money. Pretty much everything we now expect as standard kit was an optional extra back then. Quite a number of the optional extras were procured from 3rd party suppliers - things like your In-Car-Entertainment systems.
In fact In-Car-Entertainment has now moved several steps forward as we no longer see the luxury screens embedded into the back of head-rests - nowadays passengers prefer
...
More
13 April 2016 5:52 PM GMT
Affino
Affino Unified Digital Business Platform
Affino Single-source Media Business Platform
Affino Solution
Affino Platform
Unified Digital Busness
Complete Digital Front-end
Single-Source Solution
Complete Digital Business Solution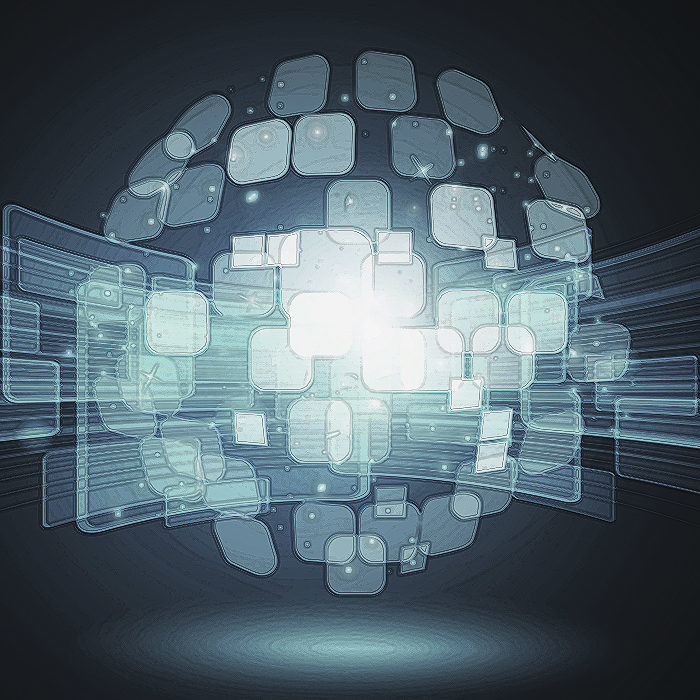 For business owners taking on the digital domain - there are thousands of different systems catering to their needs. Most of these systems have been developed to take on one or two areas of a business's operation - CMS, CRM, DAM, Ecommerce, Marketing Solution / Sales and Marketing Automation, Analytics etc. etc. The default position for most companies today is creating a patchwork of integrations between a variety of solutions in order to meet the full spectrum of requirements needed by
...
More
29 February 2016 5:00 PM GMT
analysis
Channel
contacts
Control
control centre
design
design centre
design elements
Images
login
Media
publish
registration
Search
Social
Upgrade
Start
News
Access
Display
Smart
Newsletters
Settings
CRM
Section
Item
Affino
Starting
Skin
Image
Script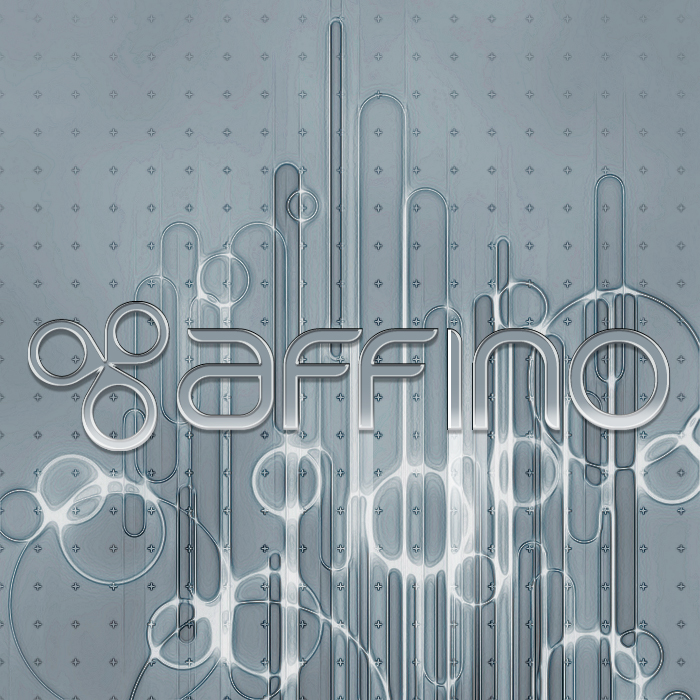 This is primarily a quick Bug Fix release, but nonetheless it has some nice new features for responsive sites with the updated Site Search being the most anticipated as it now allows for reverse chronological searches with a greatly improved look and feel. We've also launched the new responsive newsletter sign-up page which has been keenly awaited.
More significantly in many ways, this release sees the v1 version or the Responsive Prime Related Content DE which will
...
More
18 February 2016 5:42 PM GMT
Affino
Sales and Marketing Automation
Cookie Armageddon
Single Customer View
Affino Unified Digital Business Platform
Mobilegeddon
Adblock-alypse
Seamless Customer Journey
Single Sourcing
Process Automation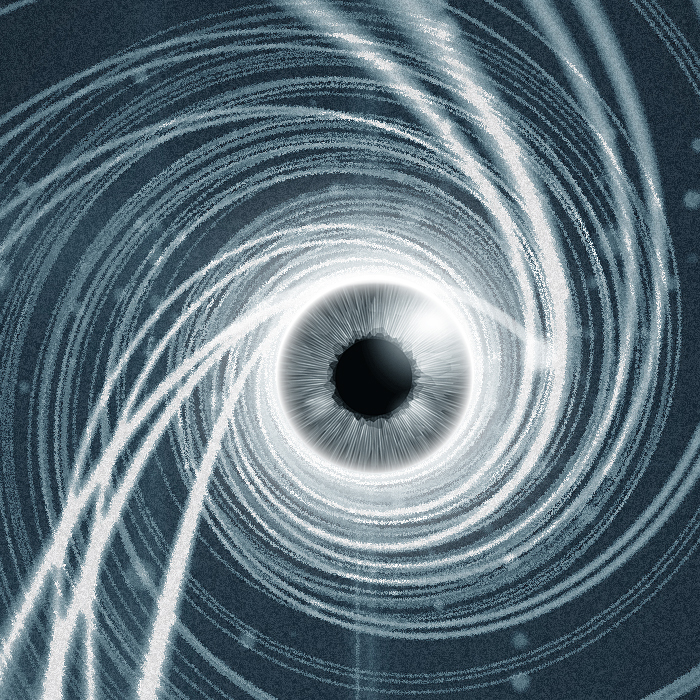 Most complete digital solutions out there are a hybrid mix of as many as a score of different component elements. Buying and integrating lots of disparate systems has certain advantages, but there are twice as many disadvantages, particularly within the current climate of Cookie Armageddon and Mobilegeddon - whereby hybrid and disconnected solutions are being penalised across the board - by browsers, operating systems, platforms, search engines etc.; more than that though, they are
...
More
12 February 2016 12:06 AM GMT
Affino
Cookie Armageddon
Privacy Tools
Affino Unified Digital Business Platform
Ad Blocking
Ad Blockers
Adblock-alypse
Adblockalypse
Ad Blocker Strategies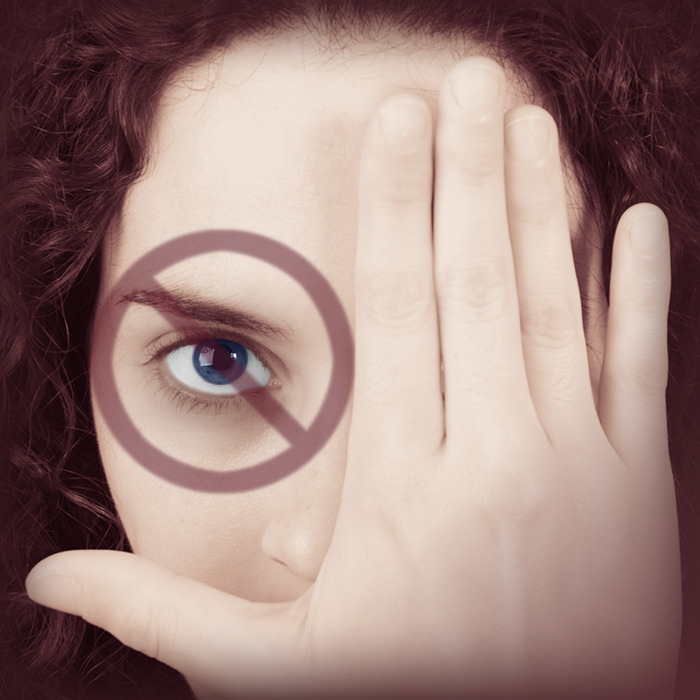 Like it or not Ad Blockers are here to stay and their impact is growing every day. Germany and Poland already passed 50% last year, the rest of the world's browser-based audience is catching up fast, and there's no mystery as to why all this is happening. Ads are generally woefully poorly targeted (I got a Pampers pre-roll ad on a Nine Inch Nails Vevo Video???), too invasive and pervasive, eat into your bandwidth costs, slow down you page loading speeds, often carry malware, and
...
More
27 January 2016 1:34 AM GMT
Projects
Affino
new release
Responsive
v7
Affino Highlights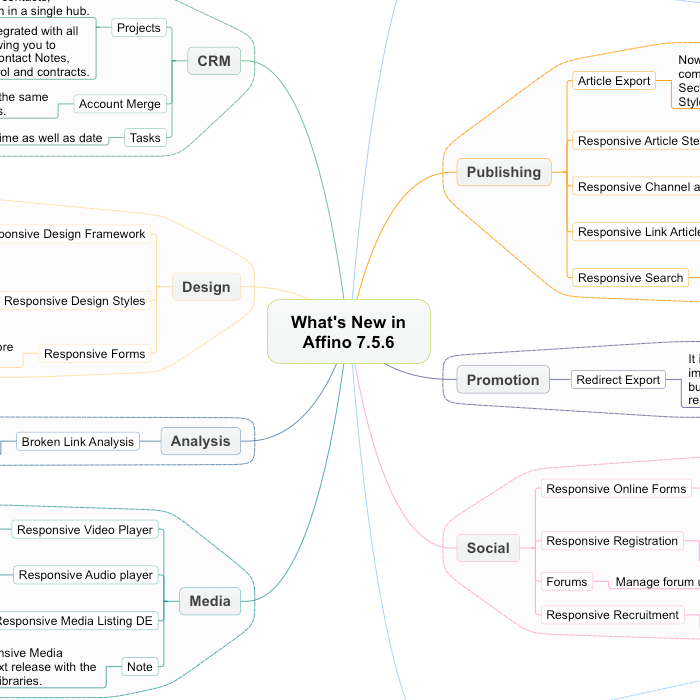 The Affino 7.5.6 release sets a new baseline for easy management of responsive content in Affino, with across the board improvements for how articles and products are presented and highlighted. Download the Mindmap for a quick insight into the latest Affino release.
Other highlights include the new Projects management centre in the CRM, as well as the breakthrough v7 Affino Responsive Design framework and greatly improved styling throughout Affino.
More
26 January 2016 11:59 PM GMT
design centre
Projects
Affino
new release
responsive design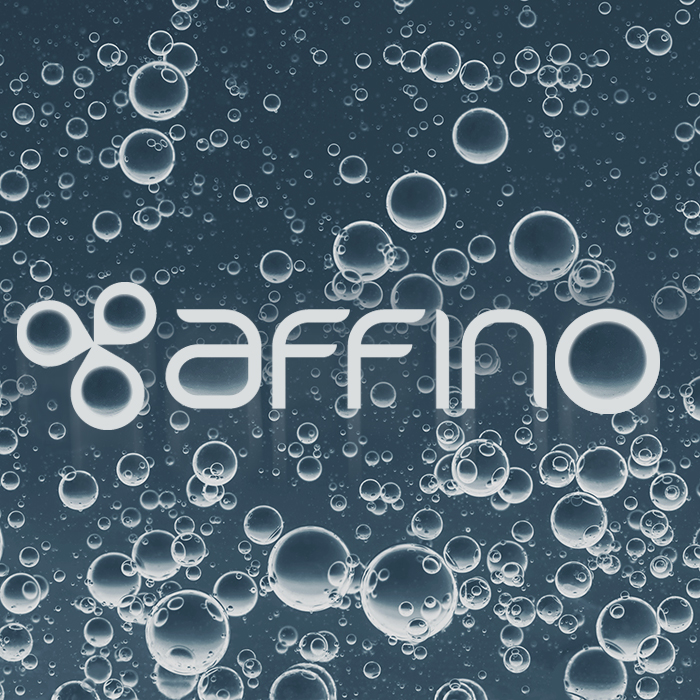 Managing your Responsive Affino site just got a lot easier with the Affino 7.5.6 release. There are a number of great enhancements focused on making you more productive, and opening up more of Affino on the responsive side. We've made it much easier to add new content listings, create great looking advanced articles, add online forms, and showcase your content and media with greatly improved highlights elements such as the article and media listing design elements.
All of these
...
More
26 January 2016 10:05 PM GMT
Affino
engagement
business development
Digital Business
Cookie Armageddon
Single Customer View
Affino Unified Digital Business Platform
Business Growth
Digital Business Growth
Business Automation
Seamless Customer Journey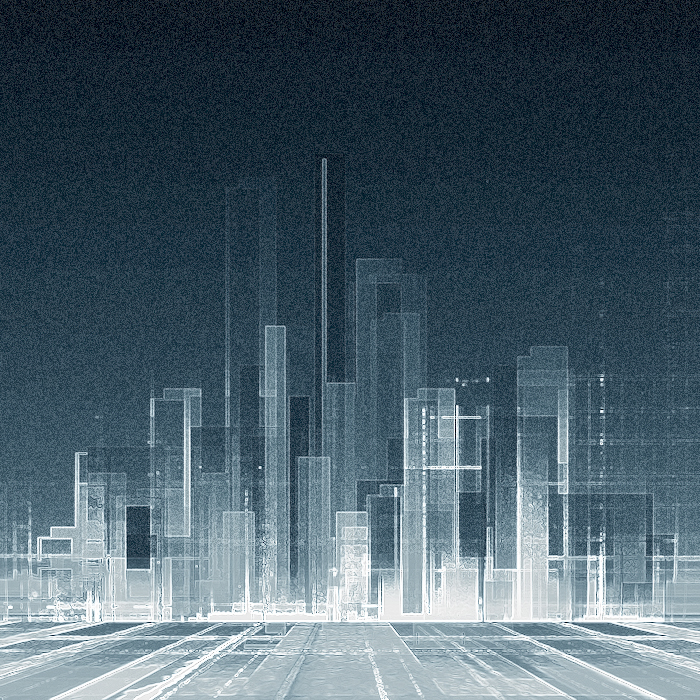 You may have heard some of these before, some are more vital than others no doubt, at least a couple here are business-critical, yet all can and likely will contribute to your business being more successful this year - either by elevating its market presence, or introducing efficiencies and economies of scale with greater flexibility and speed of change / reaction, as well as increased productivity.

Responsive Design
If you haven't done it already, now's the time. Your
...
More
15 January 2016 6:16 PM GMT
success
Affino
solution
Procurement Leaders
Collaboration
farmers guardian
TTG
Unified Digital Business Platform
Briefing Media
Affino Onboard
Onboarding
Business Success
Business Devlopment
Mash Media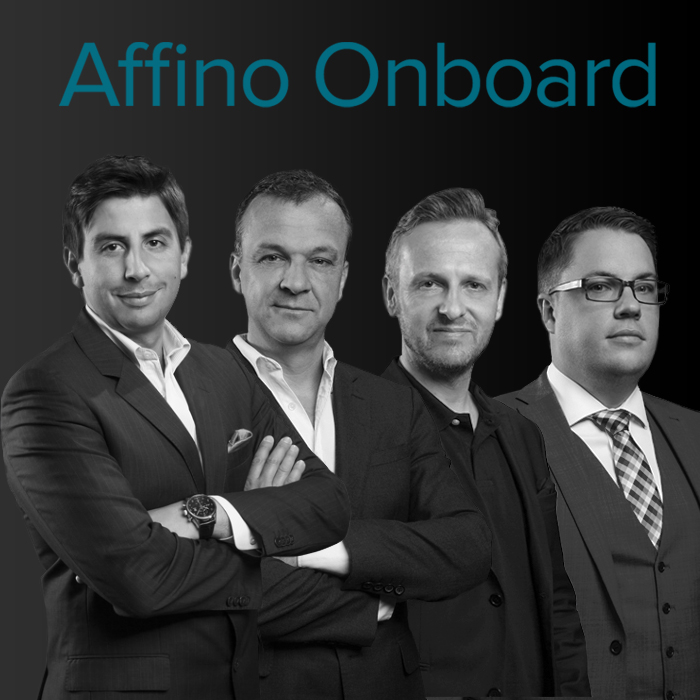 Beyond most technology companies, Affino is truly all in it for the long run. We have a special Onboarding process for our Clients - where we introduce them to our people and expertise, and our own unique, unified approach and solutions platform. By the same measure we encourage our Clients to fully take Affino Onboard and to collaborate with us to build and keep evolving a better business.
Our expertise is very much in the business of ongoing change management and innovation - leading
...
More