29 Mar 2012 2:02 PM

Popular

Comments

Profile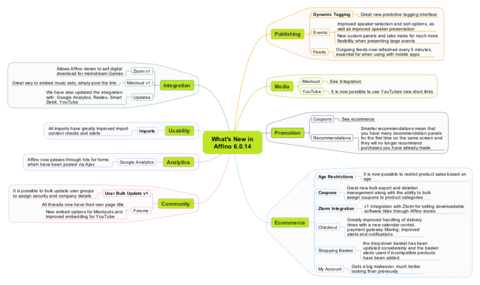 The key focus for Affino 6.0.14 has been to fix the issues which arose from the major 6.0.13 release, to deliver on some much requested usability improvements and to continue advancing Affino's ecommerce capabilities.
Events managers, content contributors and mobile publishers are going love the enhancements we've made to events, tagging and outgoing feed respectively. Events now cater for more customisation and give you more control for managing speakers; the new Dynamic Tagging engine is second to none for classifying content; and feeds now update much more frequently for mobile apps.
We've rolled out integration with Mixcloud and updated the integration with Vimeo and YouTube to handle the new sharing methods they have to offer. Recommendations also get significant improvements and are now better personalised than ever before.
Ecommerce has the lion's share of the updates in this release with new age restrictions possible on products; great updates for managing coupons; Ztorm integration for selling downloadable software; smart shopping baskets and checkout and some stylish updates to My Account.
We've launched a User Bulk Update screen so that it is possible to easily update all the members of a company to reflect changing contracts / services. Community members can now also share more social media than ever before with improved YouTube and vimeo integration and the addition of Mixcloud.
One of the biggest support issues with Affino is the lack of feedback when imports fail. We've greatly improved the imports so that they give much better feedback and are able to handle a number of scenarios which would previously have resulted in no content being imported.
As always we have updated a number of our existing integrations so they keep working, and we've added in the great Ztorm integration for dowlnload games sales, and Mixcloud for sharing mixes.
Altogether there are nearly 200 updates in this release and hundreds more tasks just got easier to do.

Add Comments
|
permalink
|
email this
|

|





29 Mar 2012 12:34 PM

Popular

Comments

Profile

Initially Affino 6.0.14 was aimed at being primarily a bug fix release to follow up Affino 6.0.13, which was a major leap in Affino's evolution. It has evolved somewhat though and there are some great usability and ecommerce focused improvements also in this release. Altogether there are nearly 200 updates in this release.
We have tackled a number of key Affino usability issues with this release: The checkout is much more intelligent in how it handles mixed baskets, i.e ones with incompatible purchases like a subscription which needs to be paid for by Direct Debit and a set of knives which needs to be paid for up-front and the user has to meet specific age requirements; coupon management has been updated for using on large catalogues; and the new Dynamic Tagging engine means that we've rolled out what we believe is the best possible tagging interface ever seen.
The ecommerce aspects of Affino have again had the most attention, and we're rapidly approaching our goal to making the store management experience second to none. There are dozens of refinements in this release, which when added together will make the experience that much slicker and easy to use.
Overall this release is really aimed at smoothing out wrinkles with the Affino management experience and it really delivers.
Upgrade Guidance
This is a minor Affino release which is primarily focused on bug fixes and usability improvements. It means that the upgrade experience will be very smooth for most users with minimal disruption. For users upgrading from Affino 6.0.12 it is essential to also read the Affino 6.0.13 release notes since it was a very significant one.
It is essential that you run through the complete update process starting with the Affino Updater, followed by the System Update, Re-Initialise Site, Design Element Update, Skin Update and finally Clear Guest Cache; all of which are available on the Settings > Update screen.
Key Enhancements
Dynamic Tagging

In the last release saw the new universal tagging engine in Affino, however it introduced some limitations for users who are actually tagging the content. This release sees the introduction of a superb tagging engine which combines free-form tagging, predictive drop-downs and hints and a Topic selector.

This should cater for all

...

2 comments
|
permalink
|
email this
|

|





23 Mar 2012 1:36 PM

Popular

Comments

Profile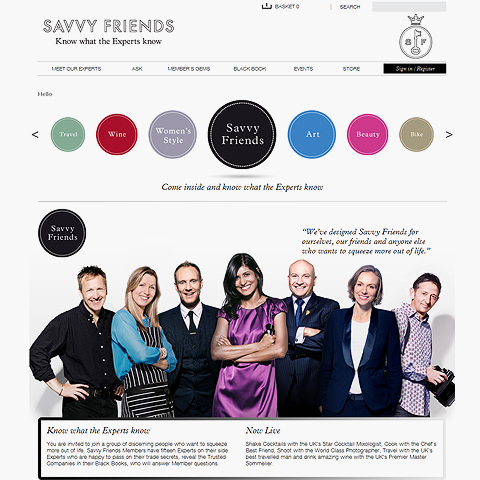 After months of planning, preparation, design, implementation and population, the Savvy Friends experience is finally ready for the world. It's been a largely enjoyable journey (great people involved), with constantly evolving procedural challenges, requirements for new channels of revenue and new business models.

What is actually launched now is in effect Phase 3 of the site - 3 generations of design templates and functional improvements have led to the current version running on the latest Affino release. All of this should give the site plenty of scope for flexibility and onward development and evolution.

It's amazing how much can be achieved with small teams - the Core of Savvy Friends - Simon, Warren, Yamit, David, James and Charlotte have put together all the design, content, media and refined detail touches. All of Comrz was involved too, but we're still just talking about a dozen or so individuals all together.

The attention to detail on the site is at a level we at Comrz have never before experienced - from the choice of the uniquely stylised fonts - Neue Helvetica and Plantin - down to the placement of the tiniest element - spacing, dimensions, proportions, use of integral social media - and a very refined approach to social interaction - everything has been carefully considered and layed out in optimal fashion.

The fine attention to detail is reflected in the exquisite photography, videos and products featured on the site. Markus and I attended the inaugural Savvy Friends Event last night - Wine Tasting at Master Sommelier Ronan Sayburn's Bistro du Vin on Dean Street, Soho. Our group of around 30 Savvy Friends founding members had the Salon / Library annex to ourselves, to enjoy Ronan's discourse on the first Savvy Wine Monthly Selection - and of course sampling thereof.

Ronan is the perfect ambassador for wine and for Savvy Friends - he conducted the wine tasting with affable charm and passion - keeping proceedings clear and unpretentious - yet peppered with thoughtful background vignettes. There were 3 wines as part of the formal tasting - all excellent, and of course available via the Savvy Friends Wine Store. Some were particularly enamoured with the Vouvray Les Argiles, which was excellent, but my personal favourite was the Côtes du Rhône, Clos du Caillou. All the wines were quite superb, and I also

...

4 comments
|
permalink
|
email this
|

|





15 Mar 2012 2:52 PM

Popular

Comments

Profile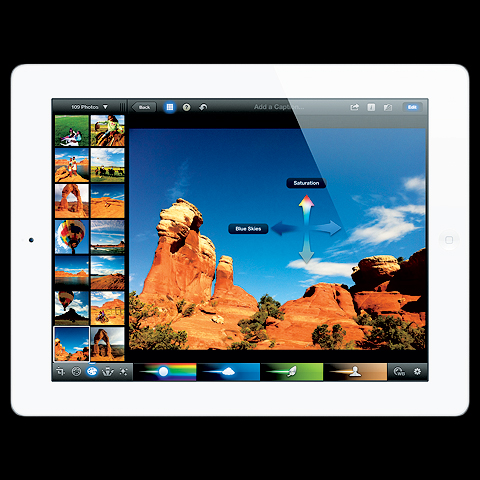 'New iPad' (not '3'!) was launched with the usual hyperbolic aplomb last Thursday - including axes- and context-free comparative charts, and weighing in at just a fraction more than its predecessor, as well as being a fraction thicker. Appearance-wise though, it looks as different to the iPad 2 as iPhone 4S does to the 4! Of course it's available from the Apple Store tomorrow.

So what's genuinely new?
Retina Screen - 2048 x 1536 pixel resolution - into a 9.7 inch screen - properly amazing!
A5X Quad Core Processor - Supposedly great for graphics handling, yet processor clock speed remains the same, at circa 1 GHz
1GB of Ram - Finally Apple steps into line with the now majority of Android devices which boast 1 Gig of RAM
5MP iSight Camera - Obviously improved rear camera, now available to record HD video too at 1080p and 30 fps
4G LTE Support - 4th generation cellular network support - will find little use in Europe at the moment, UK 4G auction is not due until next year (2013)!
As to whether the new one is worth it - this is entirely dependent on how you use your device!

I've never used my iPad Camera for snaps, so it's kind of irrelevant how high res the cameras are - as long as they work well enough for Skype! 4G is a non-starter for me as a UK citizen, in any case I would probably favour the Wi-Fi model, as I don't take the iPad around and about so much in that sense, I more rely on my iPhone when I'm out and about.

I'm sure the RAM expansion will help, as will the improved graphics processor aid my enjoyment of High Res games and video. The real reason to update though is the vastly improved resolution, and thus increased real-estate of the screen.

I recently returned from vacation in Gran Canaria, and I took my iPad (2) along to keep abreast of emails and various happenings at work. The iPad is fine for scanning through emails, and summary replies, but leaves a lot to be desired as a proper work-horse (e.g. trying to work with interlaced browsing). The current screen resolution is too small, and the absence of Flash still hurts. I was at one stage trying to check opening times for some of the clubs in the area - and these still relied on largely Flash websites. There is of course a gradual shift over to HTML 5, but it is surprising just how much Flash there still is out there on the

...

7 comments
|
permalink
|
email this
|

|





02 Mar 2012 7:44 PM

Popular

Comments

Profile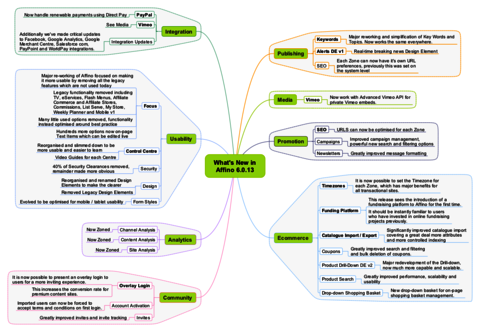 This release sees the biggest leap in Affino's usability we have ever made. There have been hundreds of improvements made so that Affino is easier to learn and use. The biggest change is the complete reworking of the Control Centre, and although many of the changes are subtle, everything is now within easy reach. Two clicks and a swipe when using tablets or mobiles.

The usability changes go further to make it much easier to set up security, build page designs, style your sites, run stores and tailor the SEO on each Zone. We also removed a great deal of legacy functionality which has allowed us to streamline Affino further and innovate the new flat navigation that you get in this release.

Ecommerce is the second area which has seen some dramatic improvements. We now have Timezone support for the first time in Affino, so that you can run sites and stores across multiple regions on the same instance. Campaign driven commerce is greatly improved with better campaign management, catalogue management, coupon and order management, product search and product drill-down menu.

We have also improved the shopping experience with a great new drop-down shopping basket and the login overlay which allows for improved direct selling of subscriptions / memberships from the login page.

A major new feature is the introduction of the Funding Platform into Affino. People familiar with KickStarter and similar fundraising sites will be at home using the Affino version.

Many more elements have been Zoned particularly within lookups and Analytics, where Channel, Content and Site Analysis are all now Zoned for the first time. This takes Affino further towards our goal of being able to Zone the whole Control Centre. Watch out also for the tweaks we've made to the App Bar, they take a bit of getting used to, but you'll notice that you speed up over time.

Altogether there were nearly 300 projects completed for this release, and we had to re-write the Affino updater to be able to handle the scope of all the changes, making this by far the biggest update yet.

We see Affino 6.0.13 as great foundation release to build on this year, and the changes we've made will allow us to drive forward on the plans for 2012 and accelerate Affino's development moving ahead. Expect another release later in March

...

Add Comments
|
permalink
|
email this
|

|





02 Mar 2012 4:29 PM

Popular

Comments

Profile
This release is primarily focused on Usability, with a whole range of updates for campaign driven ecommerce sites. We continue to be driven by the desire to speed things up for our users, removing un-used functionality is a major aspect of that, and this release is the biggest 'spring clean' we've ever done for Affino.
With Affino evolving to be more and more touch and mobile driven we have completed a major review of all the aspects which need to be updated over the coming year. Along the way we have identified dozens of little used Affino elements which we have decided to remove rather than update. This will allow us to focus our resources so that we can update all the elements which are used heavily both faster and to make them better than ever. It also clears out a great deal of 'clutter' that was serving no great purpose.
Key Enhancements
We have removed a fifth of Affino's Design Elements and reorganised the rest; removed 40% of the Security Clearances and reorganised the rest; reorganised the Control Centre whilst removing 15% of the Controls; simplified Form Styles to make them mobile and tablet optimised; and simplified dozens of interfaces to remove complexity and 'gotchas'.
In removing and reorganising all these elements and many more, we have greatly simplified Affino and reduced the learning curve for all users and especially new ones. The day to day impact on existing sites will be absolutely minimal since we have extensively researched how Affino sites are being used and which elements are under-used.
A great deal of our focus has also gone into improving the usability of the existing elements. Dozens of management interfaces have been improved, ranging from minor fixes such as adding new filtering options through to complete overhauls. These will add up to a great deal of time saved each day for actively managed sites.
The Control Centre has now been firmly built around each of the ken key management screens, e.g. Publish, Promote, Communicate. Each has its own video guide and all the management tools for that area are immediately accessible from each Centre.
We cover each element in brief which has been removed below, and in more detail in a separate Blog post.
This

...

7 comments
|
permalink
|
email this
|

|





01 Mar 2012 12:01 AM

Popular

Comments

Profile
Tags:
FaceBook
,
social media
,
social networking
,
youtube
,
Twitter
,
iPhone
,
TED
,
Pinterest
,
Participation
,
Kevin Allocca
,
Hierarchy of Needs
,
Human Behaviour
,
Nyan Cats
,
Double Rainbow
,
Rebecca Black
,
Viral Video
,
Parody
,
Interaction
,
South Park
,
The Simpsons
,
Abraham Maslow
,
Comments
,
Opinions
,
Online Trends
,
Human Motiviation
,
Behavioural Science
,
Triangulation
,
Gallup
,
Social Interaction
,
Peer Influence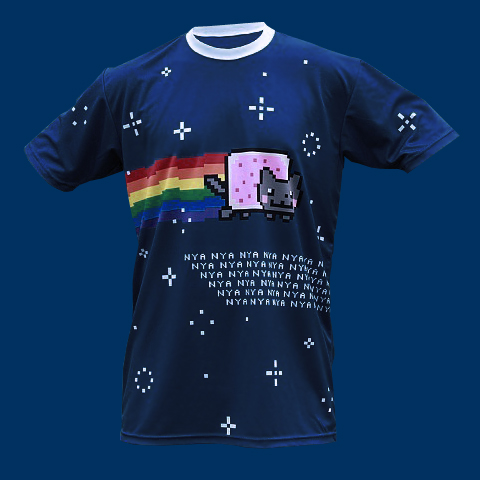 We people want to be involved in everything today - we want our say, we want our opinions to be heard and shared, and we want to be able to express ourselves artistically through clever parodies, skits and remixes of popular social media.

There's a brilliant, brief TED talk (below) by YouTube's Trends Manager - Kevin Allocca - where he tries to identify how out of millions of hours of video - phenomena 'Nyan Cats', 'Double Rainbow' and 'Rebecca Black's Friday' managed to stand out. Of course there are a myriad of causal factors there, but the obvious one is that of a shared experience and the ease of interaction and parody. Universally, we now live in the age of parody - as best exemplified by long-running animated shows 'The Simpsons' and 'South Park' where nothing is holy any more - everyhing is deconstructed, ridiculed and parodied - and the people love it!

A great part of the success of the aforementioned trio is the ease with which people could relate to them and parody them. Pretty much every decent pop song gets 'covered' in a million different ways within weeks of hitting the tops of the charts - punk versions, skiffle band folk versions, multi-tracked-acapellas, 2Cellos version, the ubiquitous dubstep remix etc. etc.

Twitter and Facebook's ubiquity in the ease of commenting, liking, re-tweeting and sharing is what makes them work, and what looks like a sound basis for new site Pinterest. Yet there are still forces out there that think that they can totally 'tailor' a user's experience - limit the amount of input, interaction and participation, and still create a successful marketplace - I'm not so sure any more.

By nature we humans are usually highly suspicious, increasingly cynical and often lonely and lacking in confidence in various aspects of our lives - we need regular interaction, recognition, support and approval - much as Abrahm Maslow identified all the way back in 1943. Much has been written about key influencers in human motivations, and one thing is for sure - and that is that complex communities of personal interactions are what best influence behaviour. Everything has to happen within a context and within the subjectivity of a person's activities, interests and tastes - yet the undeniable truth is that we are all

...

2 comments
|
permalink
|
email this
|

|



Subscribe to feed

Subscribe by email
Recent Visitors