Vestax Handy Trax

by Stefan

19 March 2009 10:12 PM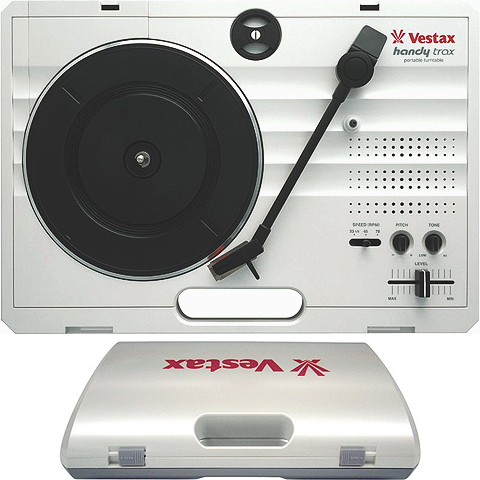 The portable record player for all vinyl addicts
There are of course a number of portable record players available, but the original and best of the most recent batch is still undoubtedly Vestax's Handy Trax. I have had mine for several years now, and it looks and plays like new. The sound quality, although not quite amazing is still nonetheless remarkable for such a device.

Controls are minimal - speed selector (33 / 45/ 78 RPM), volume control, pitch adjustment and tone control. There is an adapter for early vinyl which had a wider aperture. Then there is a line out and connectors for power adaptor and headphones. Most of my listening is done via headphones, or via the headphone output; I've not yet tried the phono stage output. Sound is crisp and clean, with adequate depth and soundstage - tending toward the mid to high ranges, although there is adequate bass, which suits my mostly electronic input.

For most people the choice is a head-to-head with Numark's squarer, but fatter competitor; as far as I am aware the feature set is almost identical. For those in the know though, the Vestax has the edge in sound quality and in the slightly neater and more compact format.

I use my Handy Trax on almost a daily basis, similar to how I used to use an Audio Technica Sound Burger in the 80's. The Sound Burger undeniably still has the edge in aesthetics if you can get your hands on one, and the sound quality is excellent too. The Handy Trax though wins in its durable ruggedness, as Sound Burgers were damaged quite easily.

My Handy Trax is actually my most used record player these days, and comes highly recommended for all the vinyl aficionados still out there.
Overview
Topic



Website / URL
www.vestax.com/v/produc...

Features / Highlights
Line Input: Headphone (MINI JACK)x1
Output: Headphone (MINI JACK)x1
Line out: (RCA)x1
Motor: Belt Drive
Parts: EP Adaptor / 100V AC Adapter
Dimension(s): 370(W) x 97(H) x 260(D)mm
Weight: 2.5kg
Power: AC12V / Batteries
RPM: 33 1/3 / 45 / 78

Pros
Portable
Versatile
Decent sound quality

Cons
It is undoubtedly plasticky, its ruggedness, acoustics and aesthetics could be further improved

Verdict
The best all-round portable turntable available today