You are here:
Home
|
Blogs
|
Stefan's Naturally Aspirated Blog





30 Jul 2014 10:15 AM

Popular

Comments

Profile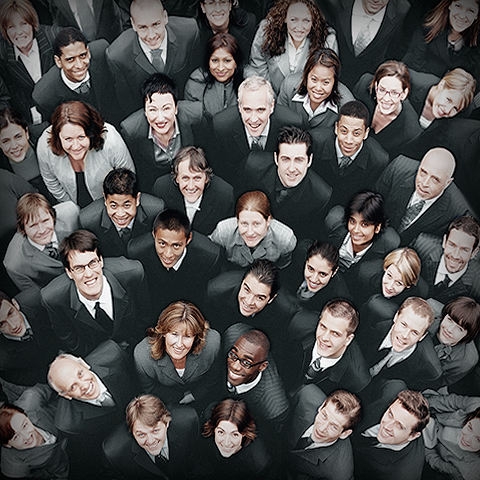 Affino is looking to grow its Projects Team to handle an expanding workload. We seek a dedicated, self-motivated individual who works well as part of a team, and can also operate independently. The Affino Team / A-Team is a closely knit collaborative unit even though we are a distributed company and all members work largely from home. The team dynamic is vital to the success of the company, so the successful candidate must possess the right skill-set, as well as get on really well with all their colleagues. We communicate regularly, using tools like Skype, and good written and verbal communication skills are essential. Affino works at the cutting-edge of Internet Technology, delivering global, class-leading and multiple-award-wining social commerce / business platform / vertical industry hub websites.
Here follow the pertinent details:
Key Experience & Responsibilities:
The ideal candidate will possess a proven track record working with ColdFusion
Be proficient in ColdFusion 8 (and above) including the use of CFC's
Must have a good understanding of HTML, CSS and JavaScript including libraries
Have experience in MSQL 2005 (and above) and Java
Have an understanding of mobile apps such as iOS or Android
Will be working on new and existing client projects
Education & Skills requirements:
Provide relevant certificates of education / qualifications
Must have excellent verbal and written communication skills
Ability to work well as part of a team and be motivated to work independently
Desire to learn new things
Be open and friendly
Ability to think outside the box when delivering solutions
Location:
Based from home with occasional travel into London for meetings and social gatherings
Salary:
£25,000 – 45,000 depending on experience
Interested parties please send CV with relevant references to sam.kennel@affino.com
Add Comments
|
permalink
|
email this
|

|





23 Jul 2014 12:09 PM

Popular

Comments

Profile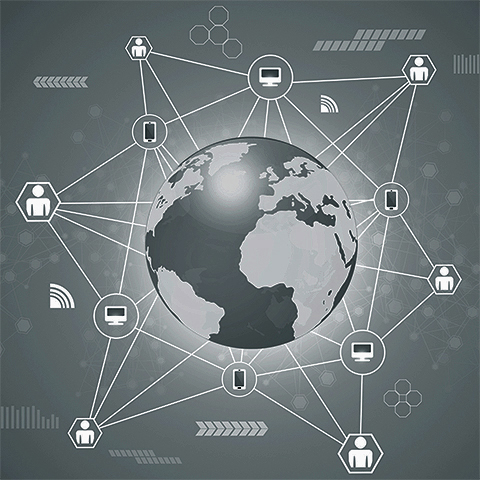 Readers of this blog will know that I'm a big fan of music and movies. I subscribe to all manner of mailing lists and regularly read up on latest releases on a variety of online movie and music resources. On Facebook I am fan to countless musicians and bands, and am very aware when new releases are out in the marketplace. I initially wrote about this issue 10 years ago, and I'm sad to report that global media availability is still highly idiosyncratic.

Big artists like Justin Timberlake and Beyoncé know that if they don't make their music available globally when it is released, they will become victims of piracy and will loose significant earnings potential. I still though come across even promo videos on YouTube which have for some reason not been enabled for my location - the UK! The UK still being one of the major entertainment marketplaces in the world - particularly from the perspective of promotional potential.

I get notified that Artist A has a new release out today, I go to iTunes, and it's 'Not available for your Region'. I then go to the Artist or record label website, and am heartened to see that yes they sell digital downloads on-site. But when I try to add to basket / checkout, it says that the website caters only for the local market where that website is based - USA, Australia etc. I'm still surprised this happens at all in today's global economy. Fans like me like to get their hands on the latest media content as soon as it is made available. If they cannot acquire the MP3 or Video etc. by legitimate means, they will often resort to alternative means of acquisition.

In the past, record labels used to stagger releases between Regions - we still have new UK releases appearing on a Mondays, while new US releases appear on the following day - Tuesday. The most famous recent global media release was Beyoncé's new album which was simultaneously released to all markets / territories overnight. In fact, pretty much all major artists know to release simultaneously or fall victim to piracy. Even Radiohead, who pioneered independent releasing, don't restrict the availability of their music by region. I find it very peculiar when I come a across a fairly minor artist with little or no presence in the UK, and little content on either Amazon or iTunes,

...

Add Comments
|
permalink
|
email this
|

|





22 Jul 2014 9:46 AM

Popular

Comments

Profile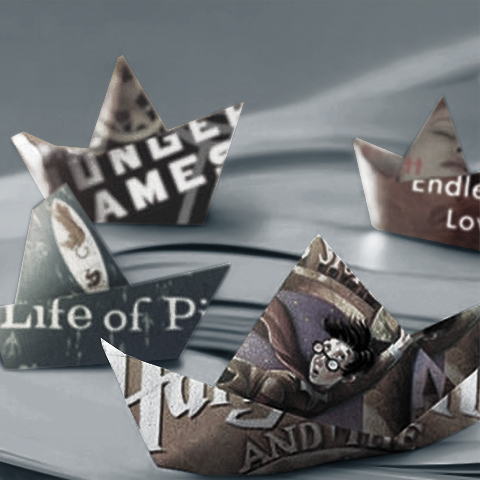 As an avid Amazon Prime member and a somewhat dedicated bookworm, I was exceedingly glad to read the announcement of Kindle Unlimited - a new service to provide unfettered access to 600,000+ Kindle books for a monthly $9.99 fee. Book series - Lord of the Rings, Harry Potter, The Hunger Games, as well as personal favourite 'Life of Pi' were used to punctuate the announcement to show that there were some big titles in the mix. I predicted that Amazon would launch its own Spotify for books some day soon, and I was really rather hoping that this would be it.

Unfortunately, the big 5 publishers still feel threatened by Amazon (possibly rightly so, but more of that later) and have largely refused to play ball. They would rather put their support behind one of the competitors to Kindle Unlimited - say 'Oyster', 'Scribd' or 'Zola'. All three currently have a slightly better selection of what I would call premium books, than Kindle Unlimited does. Turns out that most of Kindle Unlimited is currently made up of books out of copyright and various minor works, although there are of course some interesting titles in the mix.

However, and this is rather critical, none of the services mentioned here is really a practical usable resource for me, as not one of them contains even one of the last 10 books I read. Even one of my favourites from 3 years ago - Erin Morgenstern's 'The Night Circus' is noticeably absent. Spotify has a vast library of music to satisfy pretty much all tastes, Netflix has a very broad library of video - mostly TV, and mostly 2-3 years old or older, while Spotify is bang up to date with what it provides. The 4 book services named here seems to be odds and sods really, I searched for 20 of my favourite authors, and Oyster came out as the best choice for me, but still not really worth the monthly fee for what I would want to access. I have an ever-growing written reading list, as well as several already-downloaded books on my kindle - near enough none of these are represented on these subscription libraries.

Publishers need to wake up and smell the coffee to some degree here, as they are not fully aware yet of how much their marketplace is still changing. 90% of books I buy these days are on Kindle, I still buy the occasional hardcopy coffee table / art book or

...

Add Comments
|
permalink
|
email this
|

|





18 Jul 2014 2:31 AM

Popular

Comments

Profile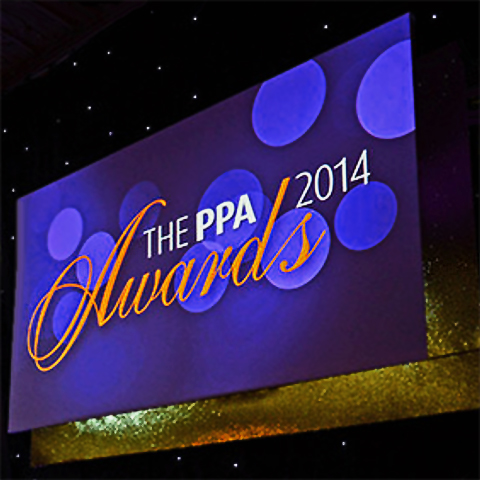 Congratulations to Procurement Leaders on a very impressive back-to-back win of PPA Business Media Brand of the Year. Few companies have won this award even once, but twice in a row is quite the accomplishment.
There's a reason Procurement Leaders keeps picking up awards, and how it can take the same award many years running. Alex, Quang and the team at Procurement Leaders never let up on innovating and improving the site. From the very first day Affino started collaborating with Procurement Leaders, it's been a continuous process of growth and advancement. The Procurement Leaders website is already way ahead of the competition, and with new services being launched all the time, there is no sign of any slow-down.
If you have not yet taken the time to browse through this excellent website and experience the numerous quality services members can avail themselves of, we encourage you to do it now - to witness first-hand what all the fuss is about:
3 comments
|
permalink
|
email this
|

|





15 Jul 2014 4:56 PM

Popular

Comments

Profile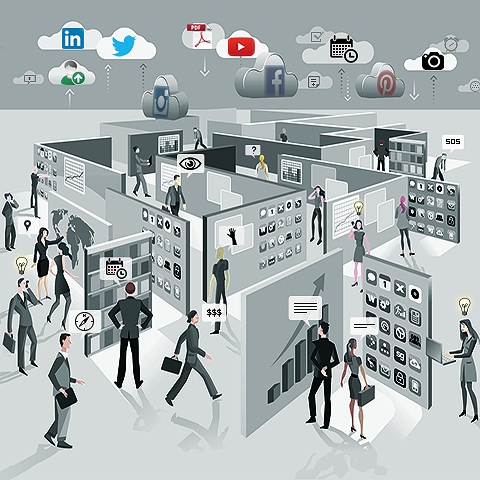 I've been attending trade and industry shows and exhibitions since I was a nipper. My earliest recollections of these were as a kid visiting the annual motorshows in Iceland, then as a graduate working for a market research company at the NEC in Birmingham, then working for an advertising agency which designed and built stands and provided all complementary marketing services / materials, and finally as a business owner commissioning my own show stand and attending as an exhibitor.
Show websites arrived in the early 90's, and truly most have not evolved much since then. I always felt that a show / exhibition website should give some of the flavour of the real event - a little hustle and bustle but essentially a feeling of activity and vibrancy. What you usually get though is little more than an exhibitors directory with a company logo, some very basic text and a couple of attachments. Mostly the site plans / maps are not interactive, and the whole online experience ends up as very one dimensional, static, and dare I say boorish!
Events are at their core, social happenings with social interactions, yet most events websites completely forsake any kind of interactivity. There have been attempts to achieve some sort of virtual or augmented reality in the past - with a kind of vectorised 3D format where site visitors could in effect immerse themselves within an online facsimile / walk-through of the real show - none of these really worked though, and ended up being rather clunky and not providing a good user experience.
I propose that the most obvious area for improvement is in the interactive department, but other small but significant changes can also be made to improve the overall online events experience. After all, online Webinars have largely taken over from their physical real-world Seminar counterparts - there is already great technology / software for attending and then participating in a final Q&A session at an online Webinar.
These following 10 recommendations are what I would propose to improve the vibrancy, impact and long-term reach of online events - considering both the exhibitor and visitor experience:
Long-term Engagement
Most events are treated as one-offs, with little real continuity from one to the next - typically a show website is trashed and re-done from scratch from

...

Add Comments
|
permalink
|
email this
|

|





09 Jul 2014 1:24 PM

Popular

Comments

Profile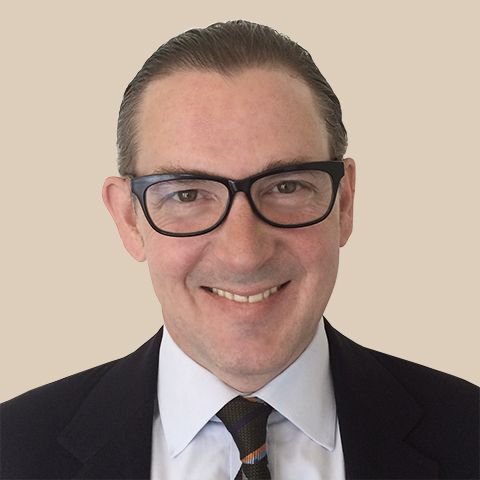 Both Affino and Jonathan Collins & Associates (JCA) have a long standing and successful working history with publishing companies and agencies. Affino from a solutions / technical architecture standpoint, while JCA has considerable industry insider knowledge as its key personnel have worked with and for many of the largest publishers at the highest level, and for the greater part of their careers.
The intention of the Partnership is to pool resources, knowledge and experience with a view to providing publishers with the very best consultancy and solutions for monetising the digital side of their business and achieving enduring success online.
To assuage any fears for existing customers, this is to be a working partnership where both companies remain entirely independent. Affino's existing publishing clients can avail themselves of JCA's expertise and insights. For customers active in other sectors, there will be no discernible changes at all.
Affino and JCA are dedicated to creating the very best online experiences for customers and service providers alike. Both partners share an ethos of close and collaborative relationships working towards common goals. We firmly believe this partnership will be invaluable for publishing companies wanting to transform their businesses to succeed in this digital age.
You can contact Jonathan Collins of JCA on +44 (0)20 3393 3240 or by sending an email to jonathan.collins@affino.com
Add Comments
|
permalink
|
email this
|

|





04 Jul 2014 5:39 PM

Popular

Comments

Profile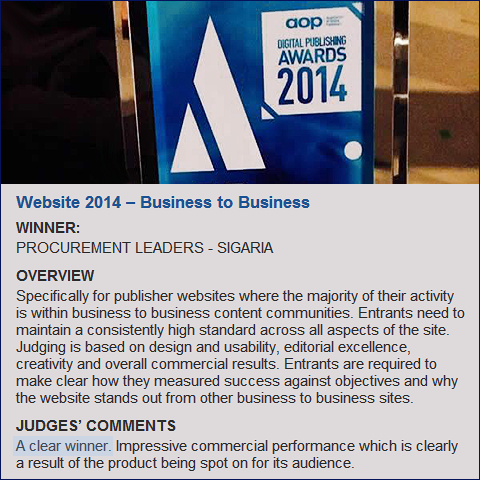 After a hat-trick of PPA awards in 2013, Procurement Leaders are back on the awards trail for 2014 - picking up their first major award of the year - 'Best Business to Business Website' at the annual Association of Online Publishers (AOP) Digital Publishing Awards.
As you can see in the above screencapture, and referenced on the [AOP Awards page] Judges' comments are:
"A clear winner. Impressive commercial performance which is clearly a result of the product being spot on for its audience."
Procurement Leaders is continuing to blaze a trail of innovation, with new membership services launching imminently.
We heartily congratulate Alex, Quang and the team at Procurement Leaders - well deserved for all their ongoing hard work.
3 comments
|
permalink
|
email this
|

|





30 Jun 2014 1:12 PM

Popular

Comments

Profile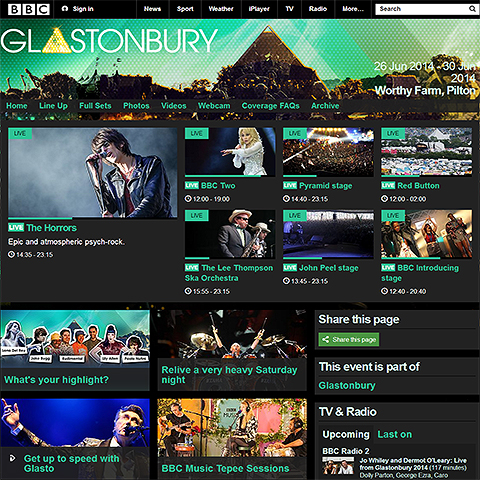 From previous blog posts you will know that I'm a huge music fan and sometime armchair festival attendee. The two big annual music festivals are of course Coachella (covered by YouTube) and Glastonbury (covered by BBC). These are very different events in many ways and Glastonbury has far more scale and complexity than Coachella. That said, this year's Coachella coverage by YouTube was a high water mark as you can read in my [previous post].

I love the way that YouTube had the 3 Stages option selector with excellent 'On Now' / 'Up Next' menus - really easy and quick to operate - and a doddle to flit from one live feed to another. As indicated in the title, flitting from one stage to the next on the BBC site was a little more arduous and I think the BBC can learn quite a bit from YouTube. On YouTube the live feeds were looped around and interspersed with interviews and Coachella general interest pieces - when waiting for bands to setup, or if there was a delay in the proceedings - there was always some content being broadcast. On the BBC site conversely when the lightning strike hit on Friday - there were just notices on all the feeds saying that there was an interruption to the usual programme because of inclement weather conditions. Broadcasters usually live in mortal fear of 'dead-air' - those moments then the broadcasts are unintentionally interrupted because of technical reasons - or when a presenter runs out of things to say - or literally just nothing happens for a period of time. On the BBC we had lots of dead-air on the live feeds - something I feel could be handled a lot better.

It was interesting to see that the BBC music websites are still largely adaptive in design - with dedicated versions for mobile platforms as per below screen. Some parts of the BBC have moved to responsive - like the iPlayer for instance, but in the main the design format in operation is still adaptive.

As for the actual content of this year's festival, I must say I rather enjoyed it - and technically, the streaming was excellent in quality, not sure it was necessarily a vintage year though. I loved the inclusion of Metallica whose set I mostly watched, but did not majorly resonate with me. My favourite bit of the Metallica set was when they covered the great Thin Lizzy standard 'Whiskey

...

1 comment
|
permalink
|
email this
|

|





25 Jun 2014 5:05 PM

Popular

Comments

Profile
Tags:
customer ladder
,
conversion events
,
Automated Customer Ladder
,
Customer Journey
,
sales automation
,
marketing automation
,
Customer Experience
,
Customer Experience Management
,
User Journey
,
Sales and Marketing Automation
,
Customer Dashboard
,
User Dashboard
,
Sticky Navigation
,
Customer Utilities
,
Customer Tools
,
Activity Triggers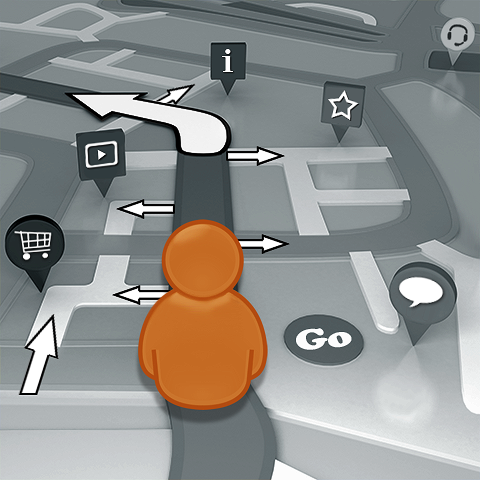 During my visit to Internet World last Wednesday, I noted that a number of companies had their own angle on 'Customer Experience Management'. Recent empirical evidence shows that customers no longer make linear journeys through websites or the Internet as a whole. I myself am a tangential interlaced-browsing aficionado who thinks nothing of popping open another browser window and exploring frequently obtuse or out of the ordinary avenues.

My thoughts veer towards motorcar travel - with GPS assistance of course, and a variety of roadside signage, and how a journey by road is impacted by various major junctions (landing pages) and complex road networks (sitemap). Most people use some form of route planning, with numerous different options and pathways available through the same areas.

With the onset of responsive sites, sticky navigation or heads-up dashboards are very much in favour - much like the modern motorcar dashboards - hovering continuously within eye-line - and providing the journeyman with all necessary tools within easy reach. In terms of user journeys through a website, there are multiple points of entry, as well as multiple points of navigation and exit. The earliest websites which consisted of static fixed hierarchy content are very much a thing of the past. Modern websites use personalisation, multi-display, topic-tagging and user perspectives to present individual customers with very different content on the same URL screen - or even the same content on different URLs!

There are very few linear journeys taken these days, so you cannot really expect a customer to necessarily follow a pre-set sequence. Instead, you need to use sales and marketing automation (Customer Ladder/ Conversion Events in Affino) to monitor and prompt customers and notify admin / support staff when a user journeys to or stalls at a particular junction of the site. At the same time you need various 'sticky' tools, as well as navigation to always stay visible on the screen no matter where a customer journeys to. These include shopping basket, help chat and user's clipboard / wishlist. Like I said previously, most new sites have sticky navigation which allows customers to access any point of the site at any time. Right on the page / screen though you also need to have obvious Calls to Action, help buttons and prompts

...

Add Comments
|
permalink
|
email this
|

|





19 Jun 2014 9:07 AM

Popular

Comments

Profile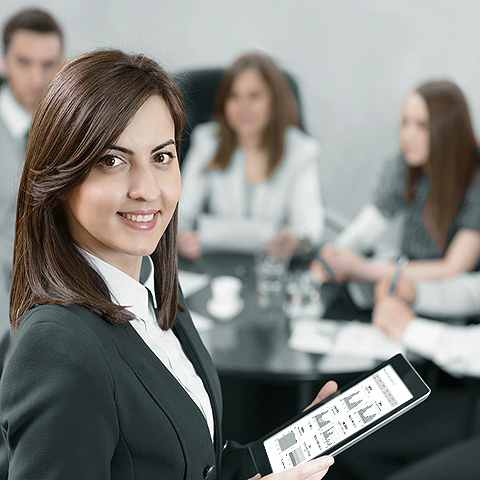 IMRG and Affino have been working together since the turn of the year to produce an Ecommerce benchmarking system that will allow for a fully-automated data collection and analysis process.

The new service will be embedded on a client's website, using a smart code and revolutionary sampling algorithms driven through the Affino Social Commerce platform.

Retailers will be able to compare performance with their sector peers - including metrics such as conversion rates, average order values and checkout abandonment – in order to improve their business.

Users of the service will be able to access the daily index at any time, a process that will become the barometer for the Ecommerce industry and measuring sector performance.

Graeme Howe, Managing Director of IMRG, said: "This new dynamic benchmarking service will be revolutionary for our members, and we're really excited to see them get so closely involved. Beta testing has been going really well."

The smart sampling provides accurate trends without affecting the performance of a client's website.

The official launch date for the new service will be announced in due course.
Add Comments
|
permalink
|
email this
|

|


| | |
| --- | --- |
| Found: 246 Displaying: 1-10 | |

Subscribe to feed

Subscribe by email