25 Feb 2014 12:21 AM

Popular

Comments

Profile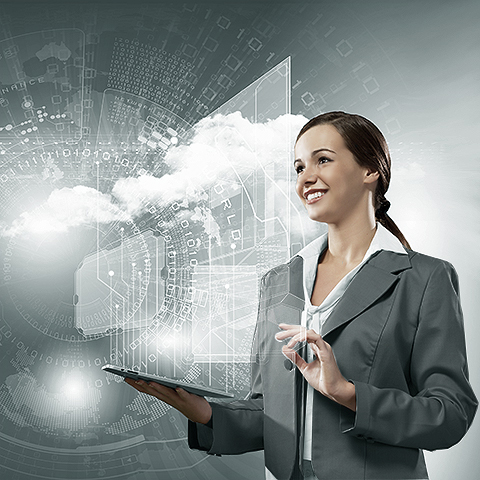 A recent Econsultancy feature discussed the challenges Integration poses for business growth. No matter what type of website / online business you run, there's likely some need for Integration to provide you with the full solution you require. Ecommerce websites typically have a large number of Integration requirements - I have listed the key areas below. Integration is often a costly and time-consuming activity, and one which needs to be maintained in perpetuity. There are of course a number of different Integration strategies, and consumers should be well aware that not all systems are created equal. Here below, I outline the 4 key considerations for businesses to think about before starting down the long road of Integration.

Key Integration Areas:
Analytics and SEO
Mailing Lists and Sales & Marketing Automation
Social Media
Ratings and Reviews
Customer Relationship Management (CRM)
Content Management System (CMS)
Digital Asset Management (DAM)
Enterprise Resource Management / Planning (ERM / ERP)
Payment Gateways
Warehouse Management System
Product Information Management
Search and Merchandising
Fraud Management
Carrier Management / Order Management

Need for Integration
It pays dividend to have full oversight of your business requirements at the start of your project process. There are some very different systems in the marketplace, and some will be far better tailored to your needs than others. It almost goes without saying that some degree of Integration will be required, but the more holistic a core solution is, the lesser the up-front cost. With a solution like the Affino Social Commerce Platform, most of the key Integration Areas are already catered for. For instance, you may not choose to use the Affino CRM Component in the longer-term, but you can make use of it in the first phases of your roll-out while you build up your business. Having more elements of your overall solution included in the core system greatly reduces costs and overheads - and makes for a simpler owneship experience.

Speed of Deployment
Many companies we deal with are tempted to do too much, too soon - that is to say, to fit too much into phase one of their project - this can be both a costly and risky strategy - as well as being time-consuming. With a solution like Affino though - where there's a large

...

Add Comments
|
permalink
|
email this
|

|





21 Feb 2014 10:01 AM

Popular

Comments

Profile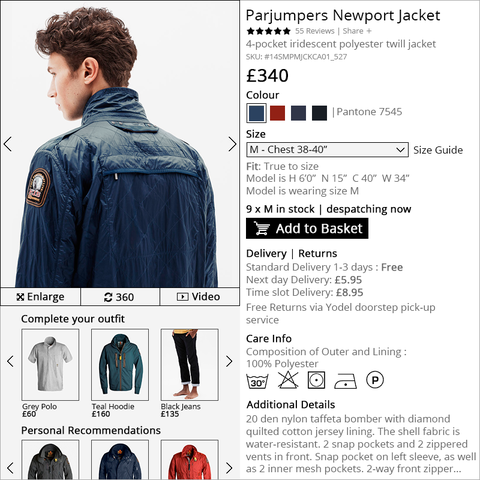 Retail is increasingly moving online, although there will always be some forms of shopping more suitable for a personal hands-on experience. When I buy clothing, I always try to bear in mind the following five criteria (The 5 F's):
Fabric - What is the garment made of? Is it machine-washable? How does the fabric drape? Is the fabric water resistant and breathable? How will it stand the crumple test?
Fit - Exactly what size and shape is the garment? How well will it fit me - is it slim / loose? Is the garment true-to-size or larger / smaller than advertised?
Finish - How well is the garment put together? How tight / defined is the stitching? What little details elevate the quality of the garment?
Form - What is the garment's overall styling - colour, shape etc.?
Function - I like all my jackets to have minimum 4 sealable pockets. I love 2-way zips. Special functions include overall purpose of garment - e.g. athletic garments need to enable free movement, wick away sweat etc.
So when I buy something in-store, I can run my fingers along the stitching and seams to ascertain quality, I can also obviously try on the garment to ascertain how good the fit is, how well it suits my frame etc. - all people are different shapes and sizes and not all brands will suit.
When buying online, as you cannot easily apply all the 5 criteria, there will obviously be a fair degree of returns, so for Fashion Retail, the returns process is an essential component. Overall though, you are trying to overcome various barriers to sale - to put the shopper's mind at ease and remove all doubts they may have. I devised the above template to include all the necessary details to give a shopper full confidence to buy from you. I buy a fair amount of clothing online, and have distilled best practices from the leading fashion retail sites, as well as extrapolated some finer nuances which appeal to my own discerning nature.
NOTE - that I was limited by space (800 x 800 pixel visual) and that the above concept is obviously a little cramped for space - the final implementation would of course have a more spread-out layout.
The key purposes of the included elements are as follows:

Ratings | Reviews | Share +
Social elements are key to encouraging purchases onsite (Ratings + Reviews) as well as through distributed social media

...

1 comment
|
permalink
|
email this
|

|





18 Feb 2014 9:26 AM

Popular

Comments

Profile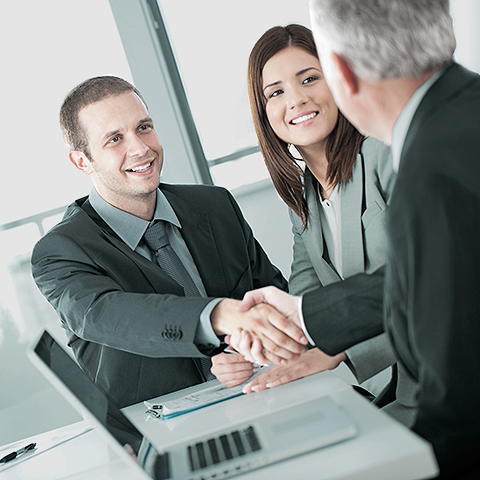 Society is going through a key step change at the moment - we're still in the throes of a major global move to urbanisation - prices are sky-rocketing and living space is shrinking. What with wage levels largely frozen since 2008 - your typical householder has less disposable income and less space to stow their goods.

Several rental-type businesses are already into maturity through technical innovation - most people rent or subscribe to music and video now - via iTunes / Google Play / Spotify / Netflix / Hulu / Sky and the like, and people mostly subscribe to literature now too via Kindle / eBooks.

As the new social / eco-conscious economy looks to cut down on wastage and the various different types of pollution, consumers are increasingly looking away from materialism towards more responsible means of accessing products and services. There's not just a change in consumption / consumerism, but also a change in how we utlise existing resources. A few of my neighbours for instance make use of Airbnb to get additional income via renting out a spare room. It's also getting fairly common in Reykjavik that several young professional couples are sharing a house - for the sake of more affordable rents.

Many retailers need to face up to these new challenges and find new means of delivering their services. What with the growing success of eBook monthly subscription service 'Scribd' I'm surprised that none of the publishing giants have really taken this to heart. I would be all for paying a £9.99 monthly fee for unlimited Kindle eBooks access (a la Spotify) - why hasn't Amazon done something about this - they already sell, and rent out videos. It's a no-brainer for media companies to offer different means of accessing / acquiring content - from short-term rental to longer term subscription and yes - outright purchase. The truth is most media buyers don't realise that when they buy a digital version of something (Kindle, iTunes) it is actually a long-term subscription, they don't really ever actually own the media (it's more of a licencing model). I'm really surprised that a major player like Amazon has not yet given its customers similar options with Music and Literature as to what it already provides for Video.

The car rental / traditional taxi business

...

Add Comments
|
permalink
|
email this
|

|





10 Feb 2014 9:11 AM

Popular

Comments

Profile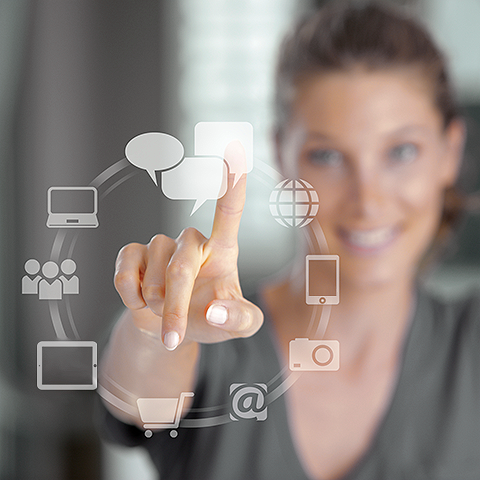 Not only am I an Ecommerce Specialist for Affino, I am also an avid International Internet shopper. I buy goods from pretty much every part of the civilised world - from USA to Hong Kong and Japan and all the major states of Europe in between (20+ countries). I have bought all manner of goods at all manner of prices / currencies and dealt with various returns processes, goods forwarding services and general customer services - including advanced goods and customs / imports handling. My day-to-day trifecta are Amazon, Ebay and Ocado, but I also have a love for Juno.co.uk (Vinyl) Wiggle.co.uk (Sportswear) and Parajumpers.it (Sportswear) - getting next day delivery from Italy for £22 is seriously good! Generally I love fast and efficient service best - and I love that Amazon uses Yodel to arrange doorstep pick-ups for returns - everyone should do this!
Here follow my recommendations for how everyone could sell better online:

1: Full Disclosure
Too many sites still get this wrong - not telling you everything you need to know to check-out with confidence. The bare minimum info you need is whether an item is actually in stock and ready for despatch, and EXACTLY how much it is likely to cost. Details need to be something like this:
9 in Stock, despatching now
Price £10.00
Standard 1-3 day delivery from £3.00
The above is clear and to the point, and has no ambiguity - many sites that don't display stock levels, don't actually have the items that they are listing 'in stock' - this should always be made clear to the consumer. I still see sites that don't include pricing on listings, and have no reference to delivery costs until you are in the final stages of checkout - all these are major cases for shopping basket abandonment.

2: Compact Info
Grouping all the essential order data together in one compact location makes it easier for customers to see what they're in for, and therefore better predisposed to actually making an order. Many sites hide essential information behind tabs, or locate it in different areas of the page. A single at-a-glance box with everything you need to know compactly contained within it is the ideal here.

3: Reassurance
You will often hear me talking about 'Post Purchase Dissonance' i.e. the doubts a consumer

...

Add Comments
|
permalink
|
email this
|

|





05 Jan 2014 11:59 PM

Popular

Comments

Profile
Tags:
online retail
,
publishing
,
seo
,
ecommerce
,
social commerce
,
Affino
,
Affino 7
,
Online Incentives
,
responsive design
,
Affino Social Commerce
,
Affino Social Commerce Solution
,
Multi-domain
,
Multi-domain Delivery
,
Replatforming
,
Enabling Platform
,
Online Engagement
,
Easy Back-end Integration
,
SEO Structure
,
Content Personalisation
,
Web Personalisation
,
Instant Anlytics
,
Web ROI
,
Web Business ROI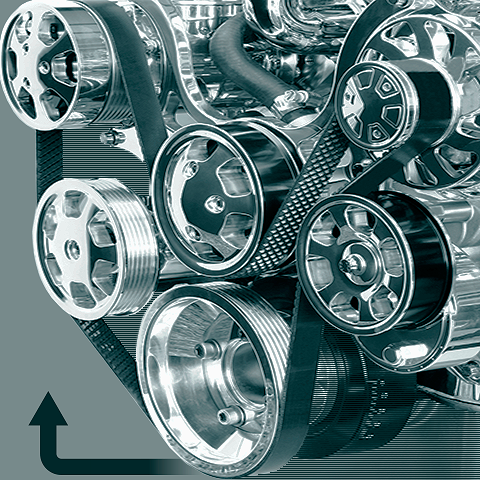 Over the last 12 months, we have heard a lot about the need for replatforming, owing to game changers and paradigm shifts in the online retail industry. The chiefest of these is the increasing consumer shift to mobile devices and the need to provide a seamless high-level customer experience across all channels of involvement. Responsive Design will of course be essential, but there are several other key criteria which will need to be seriously considered too.
Here follows a quick checklist vs your current platform as to whether you need to change-up to a more powerful engine to grow your business effectively in 2014:

Current Platform is not Responsive
According to IMRG, in 2013 it was mobile devices that were responsible for the net growth in eCommerce - you need Responsive Design to be able to provide your customers with a seamless experience across all their chosen touchpoints.
Current Platform is not Enabling
Can you update content. structure. layout, design and campaigns without agency assistance? Speed of reaction is critical of course to maintaining a healthy competitive advantage, and if you can do more yourself you save on overheads...
Current Platform is not Engaging
Are your customers actively engaged on your sites - by means of social and participative functionalities? Customers need a platform for communication and participation, they want a voice, and are no longer content to just pass silently through checkout.
Current Platform does not support Multi-Domain Delivery
It is essential for marketing effectiveness to be able to target each customer demographic with their perfect experience on a dedicated and relevant domain. Failure to provide a high-level dedicated experience will mean customers look elsewhere for satisfaction.
Current Platform does not support easy Back-End-Integration
It is inevitable that the website front-end will need to be integrated with key back-office technologies, for many platforms this can be a very high-level overhead experience. Indeed, for many platforms this can be the chief bugbear and often means the web team spends more time managing the system than developing and evolving the customer experience.
Current Platform does not offer Customer Incentives
A successful retail platform requires ongoing customer incentivisation and activity triggers, relatively

...

2 comments
|
permalink
|
email this
|

|





27 Nov 2013 12:46 AM

Popular

Comments

Profile
Tags:
apple
,
downloads
,
Google
,
ecommerce
,
Affino
,
Amazon
,
Mobile Commerce
,
Product Placement
,
Affino 7
,
website revenue streams
,
Store Credits
,
Affino Social Commerce Solution
,
Maximising Revenue
,
Total Monetization
,
Customer Journey
,
Online Presence
,
Derive Revenues Online
,
Make money through site
,
Make money online
,
Online Revenue Streams
,
Digital Commerce
,
Online Funding Platform
,
Online Services Platform
,
Advertising Online
,
Online Sponsorship
,
Charging for content
,
On-demand services
,
Online Membership
,
Uploads
,
Content Subscription
,
Content Syndication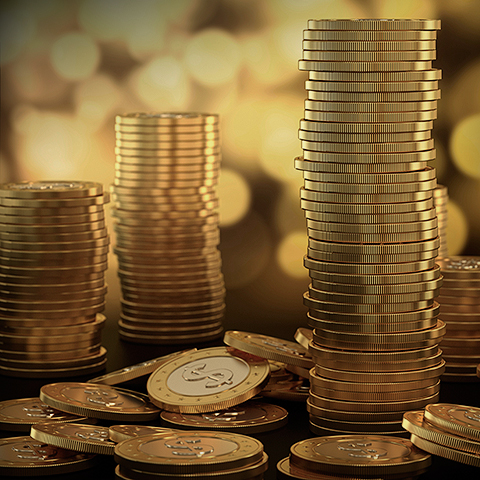 Many people don't realise quite how many ways you can have to derive revenues through your online presence. In this article we focus on generating revenues from and through a website and its associated online activities. There are other ancillary monetizing streams like App creation and merchandising, but these typically require additional resources and expertise so they are omitted on this occasion.
We always encourage our solution customers to consider their own consumers' onsite journeys. Obviously you have several different types of consumer: Suspect > Prospect > Customer > Regular > Advocate - and each will use the website in their own different variety of ways. Early stage consumers are more interested in prospecting, research and validation, whilst latter stage consumers require their own voice and a dialogue / input with the site owners and other site members.
It's fascinating to see how Amazon, Apple and Google have evolved their offerings and ramped up their customer bases. If we take Amazon as an example - with its gradual evolution from hard copy to digital formats (eBooks, Music & Video) and the creation of devices (Kindle) to consume those services. Apple and Google have always been digital players so their evolution was much more straight-lined. Although each has come from the opposite side of the spectrum - Apple moving from digital devices (computers initially) into digital services, whilst Google evolved the other way round - from services into devices. All three companies though are highly proficient at monetizing different touchpoints and activity centres.
All website owners should be tuned into a similar mindset - if you are a solid products player, you need to evolve digital offerings as the marketplace is becoming more and more 'mobile-oriented'. As a digital services provider - which category all websites fall into now, you cannot get away from focusing on the mobile devices with which consumers will increasingly consume your products and services.
Most people think of monetizing in terms of either straightforward ecommerce or advertising sponsorship. There are however many more ways to accrue revenues if you have the correct type of website platform. Here are some of the key examples:
Charge for site / area access / membership - e.g. access to
...

2 comments
|
permalink
|
email this
|

|





07 Nov 2013 1:13 PM

Popular

Comments

Profile
Tags:
internet retail
,
online retail
,
Comrz
,
ecommerce
,
social commerce
,
Affino
,
PayPal
,
Internet Shopping
,
Affino 7
,
Affino Social Commerce Solution
,
Maximising Revenue
,
Abandoned Shopping Basket
,
Abandoned Shopping Cart
,
Shopping Basket Abandonment
,
Econsultancy
,
Experian
,
TolunaQuick
,
Delivery Prices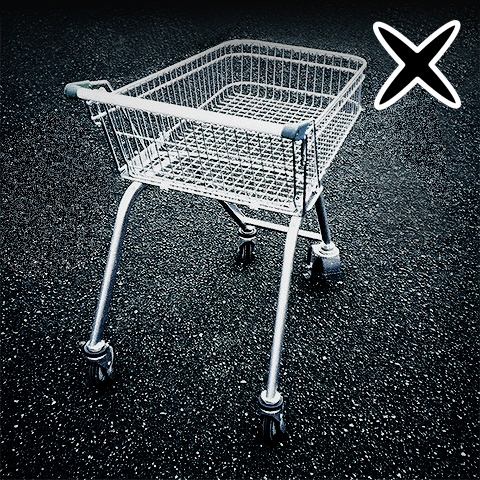 An interesting piece on Econsultancy indicates the key reasons for Shopping Basket abandonment, which Experian estimates is costing UK retailers £1bn+ each year. In an online survey conducted by Econsultancy and TolunaQuick, 44% of customers indicated that they had abandoned a purchase, and cited high delivery charges as the key reason.
Results and key questions as follows:
After adding items to your basket, what would make you abandon your purchase?
77% - High delivery charges
55% - Technical problems
49% - Prices too high
26% - Needing to register before buying
Once you are in the checkout process, what would deter you from completing the purchase?
71% - Hidden charges
58% - Concerns about payment security
44% - Technical problems or slow loading pages
37% - The process takes too long
33% - Lack of contact details
26% - Difficulty filling in forms
23% - Security features such as Verified by Visa or MasterCard SecureCode
How to combat the key causes of Shopping Basket Abandonment
No surprises! Be upfront and transparent about all charges
Always try to give at least 2 delivery options, e.g. cheaper normal post and more expensive express courier
Always try to give at least 2 payment options, e.g. PayPal and Credit Cards
Have an SSL Certificate on Checkout, Registration and Login - most shoppers will be reassured by HTTPS designation in browser
Belong to a relevant retail association - e.g.ABTA or Internet Shopping is Safe
Sign up to Trustpilot for unbiased customer reviews
Use a Single Page Checkout - everything simply laid out on a single screen means faster and easier checkout
Allow shoppers to buy with PayPal - without needing to register or logon
Ensure business address is clearly visible - shoppers are far happier doing business with someone they can place geographically
Have a named customer service representative with picture and contact details on site - shoppers are even happier doing business with someone they can put a face to
Our Social Commerce Solution Affino has been engineered to tackle all the key points indicated above - Contact our Business Development Director Marcus Svensson on maxrevenue@affino.com for further insights on Affino's revenue generating abilities.

...

2 comments
|
permalink
|
email this
|

|





01 Nov 2013 1:47 PM

Popular

Comments

Profile
Tags:
internet retail
,
online retail
,
publishing
,
Comrz
,
ecommerce
,
Affino
,
Zone
,
Affino 7
,
Gill & Macmillan
,
Affino Social Commerce Solution
,
Gill & Macmillan Education
,
Gill & Macmillan Books
,
eTest
,
eTest.ie
,
More Success
,
Sounds Good Phonics
,
Multi-domain
,
Multi-domain Delivery
,
Gill & Macmillan Fireworks
,
Affino Zone
,
Multiple Stores
,
Maximising Revenue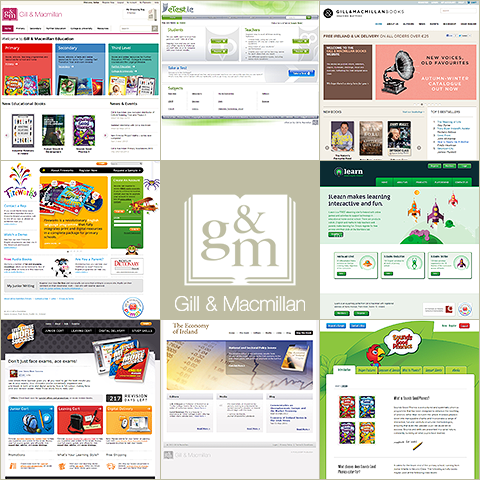 We were somewhat surprised to find that the majority of eCommerce platforms cannot easily be set up or extended for Multi-domain Delivery. By this I mean the ability to target different market segments - whether geographic or other specialisation, by adjusting settings on the same site licence.

The Affino Social Commerce Solution offers just such an ability out-of-the-box; we call it a 'Zone'. You can set up numerous Zones on your Affino site licence - all with different URLs or domain subsets and all with unique design and content. Affino further has built-in tools like 'Structure Copy', 'Restructure' and 'Design Smart Copy' to make it easier for you to adapt existing content, structure and look-and-feel - to create new targeted derivations.

In this way you can create the absolute optimal experience for each of your key target audiences, without any need for compromise. All retailers agree that you get the best results when you are able to provide each customer segment with their own optimised, dedicated retail environment.

When Gill & Macmillan first deployed Affino, they used their site licence for a single site - their eLearning platfrom eTest.ie. The various Gill and Macmillan sites were spread across several different systems, which meant no resource / content sharing and a much larger management overhead for the admin team. The last few years have seen Gill & Macmillan implement a program whereby all the key sites now run on the same Affino licence; these include:
"At Gill & Macmillan, we have many different parts to our business, so it is essential for us to be able to run multiple stores effectively. Affino allows us to easily set up new stores which we can segregate and tailor exactly to our customers' needs"
Stuart Bannon, Webmaster, Gill & Macmillan

Affino Multi-domain delivery can best be defined by the 5 following benefits:
Higher Conversion Rates
Improved Customer Satisfaction
Easier Discoverability
More Relevant SEO
More Effective Targeting
Contact our Business Development

...

3 comments
|
permalink
|
email this
|

|





27 Oct 2013 6:35 PM

Popular

Comments

Profile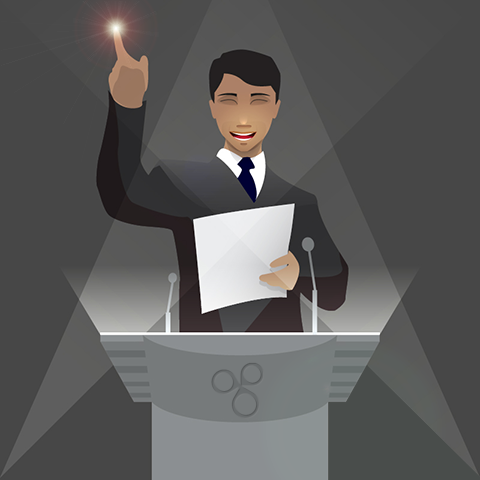 When Affino was first launched back in 2000, the central focus was always for the site owners to have full hands-on control over their online retail environments. Affino has always been developed with a view to being a holistic Social Commerce Platform - combining Online Retail with core CMS, Community and Deep Analysis.
Here are some of the essential facets of the Affino Social Commerce Solution which give Affino users more control:
Structure - Set up, copy and adapt multiple nested or fully independent content / product hierarchies. By utilising separate 'Zones' you can build a Multi-Channel and Multi-Brand Platform with ease
Design Centre - Affino's Design Centre is still as revolutionary today as it was when first introduced in 2002 - DIY Design Implementation via currently 86 Design Element Widgets, Design Styles, Menus, Frames, Design Objects and Skins, with advanced CSS customisation options available for those who have the skills
Personalisation - Using a combination of Affino's Granular Security and Assignable Topics with configurable Design Elements, you can set up highly targetted shop fronts with distinct customer journeys
Application Bar / Control Centre - Total control over everything you see onscreen - Affino has extensive settings profiles to give admin users enormous scope for making instant changes
Live Edit / Design Edit - Edit Content, Text Labels and Design Element Settings on the live Display Screen
Sell Almost Anything - Affino has extensive selling abilities, mixing up standard Product Catalogues with Digital Media, Events, Saleable Articles and Memberships - via Granular Security assignment you can pretty much put a price on any of your site activities
Social CRM + Customer Ladder - Have complete oversight over every activity your site users engage in, track them, incentivise and reward them
Instant Analysis - Affino has several bulit-in dedicated Social Commerce analytics tools as well as the wholly configurable Customer Ladder Conversion Events Analysis, and Configurable Analysis Dashboard with 19 dedicated Commerce widgets
Shopping Basket Management - Track and assist customers with their purchases
Core vs Integrated - Affino contains everything you need to run several high level, socially-enhanced stores in a single solution, but it also integrates with 3rd party solutions including
...

2 comments
|
permalink
|
email this
|

|





27 Oct 2013 12:44 AM

Popular

Comments

Profile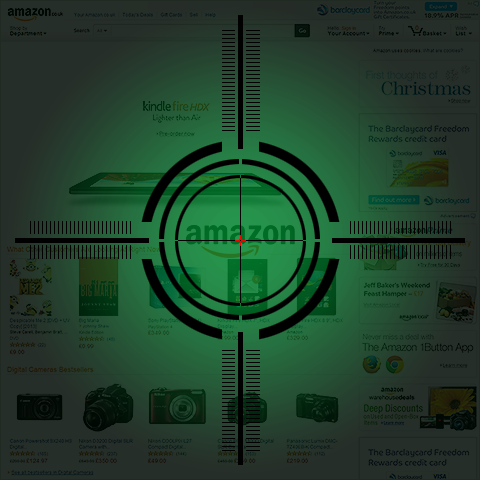 Since it's origin as an American online bookseller in 1994, Amazon has gone on to conquer the world. In most regions where it is active, it is the pre-eminent Internet Retailer, and now covers near enough every conceivable area of shopping, albeit not equally in every territory.
I've been an Amazon Prime Member for some time now, and alongside the Ocado Smart Pass, consider this an everyday essential service! I love the ease at looking something up, and fire and forget ordering with next-day noon delivery in almost all cases - even Sunday to Monday ordering on occasion.
There are many reasons how and why Amazon still maintains its lead:
Range - The Range of goods on Amazon is without equal
Price - In most cases (certainly not all though) Amazon has one of the lowest price points available - particularly for Books / Music / Video / Games
Stock - Amazon typically has a larger stock, so it's less likely to sell out of the item/s you want
Delivery - Plenty of delivery options including same and next day delivery, even with the option of secure lockers and 3rd party location pick-up points
Reliability - You have to be a little careful with Amazon Marketplace, but with a bit of reading between the lines you can usually spot the right moves, pretty much everything I order gets delivered the next day or two
Returns - Amazon uses the Yodel service to pick up packages from customers' doorsteps - I have used it several times and it works brilliantly
Reviews - Even though there is a slight proliferatin of semi-dodgy reviews, by-and-large you get a good indication of suitablity of product from customer reviews
Recommendations - Every area you browse on the site you get sent recommendations via email, not always wholly relevant, but very cool and frequently useful nonetheless
ListMania - Top 10 / 20 lists of customer favourites help you spot new products that are likely to appeal
Wishlists - The ability to file away preferred products for later purchase, great as a reminder for future releases
Amazon is usually my preferred retailer on the basis of a combination of range, cost and service, there are certain areas though that would benefit from improvements.
Areas Amazon could Improve Service:
Packaging - A lot of the packaging is not particularly re-useable for returning goods in - why do Amazon
...

2 comments
|
permalink
|
email this
|

|





26 Oct 2013 3:22 AM

Popular

Comments

Profile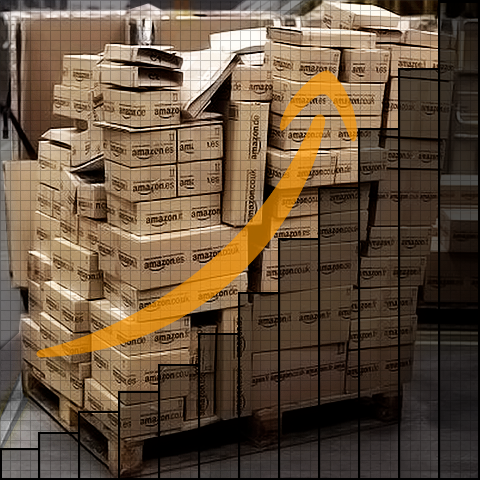 In Britain, the 'Internet Shopping Capital of the World' (q.v.), sales for September 2013 rose 13% from August, like-for-like comparison with September 2012 saw a rise of 20% between years (IMRG / Capgemini).
Clothing, especially lingerie and undergarments, saw strong increases on the success of sites like ASOS.com.
Mobile devices, including smartphones from Apple and Samsung saw a rise of 150% compared with 2012 - which directly impacts on shopping via mobile devices also.
Experts say that online sales have been boosted in particular by rapid delivery options, such as same-day delivery offered by companies like Amazon, ASOS, Dixons and Next. The September 2013 figures see the fastest increase per month since the e-Retail Sales Index was set up 13 years ago.
Over 10% of all UK Retail Sales are now online, with the ratio predicted to rise to 20%+ by 2020.
21% of UK families shop online for food and groceries compared to under 10% for the rest of the world. EU research shows that 82% of British Internet users regularly shop online, which is the highest figure within the 28 member states:
..1: UK 82%
=2: Denmark 79%
=2: Sweden 79%
..4: Germany 77%
..5: Luxembourg 73%
..6: Finland 72%
--------------------------
=26: Italy 29%
=26: Estonia 29%
..28: Romania 11%
UK leads the EU for online purchases of clothing and food, Sweden is top for travel, and Luxembourg is top for books (perhaps something to do with Amazon European HQ?)
UK Shoppers are more active than US as online food and grocery retail has not taken off to the same extent in America.
Like for like comparisons with September 2012 in the UK see clothing up 18%, lingerie 30%, accessories 20% and footwear 20%.
Current trends seem to indicate a likely strong Christmas season for online retailers - time to get all your ducks in a row then ...
2 comments
|
permalink
|
email this
|

|





26 Oct 2013 1:44 AM

Popular

Comments

Profile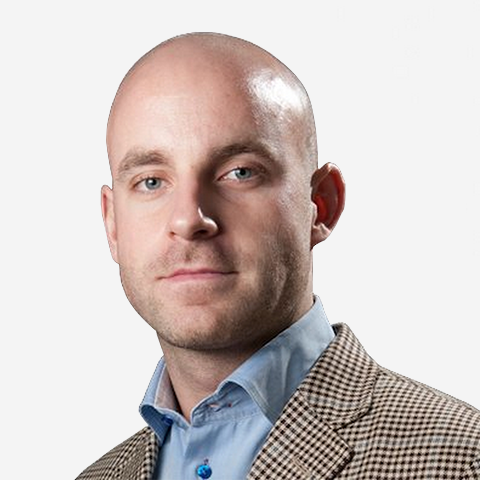 We're very pleased to welcome Marcus Svensson to the Affino team. He comes to us with over 14 years of experience with a wide range of eCommerce and CRM technologies across all delivery models.
He brings a strong background in business development and is an experienced entrepreneur in his own right. He's lived and worked in Europe, the Middle East and the US, and is a polyglot.
We like him a great deal and feel that he's going to be a key addition to the team. His role will be focused on establishing Affino as the go-to provider for Social Commerce solutions. This means leading our business development initiatives and helping Affino to build a great rapport with the wider Social Commerce market.
You can see a great deal more info at Marcus's LinkedIn Profile.
Add Comments
|
permalink
|
email this
|

|





07 May 2013 8:26 AM

Popular

Comments

Profile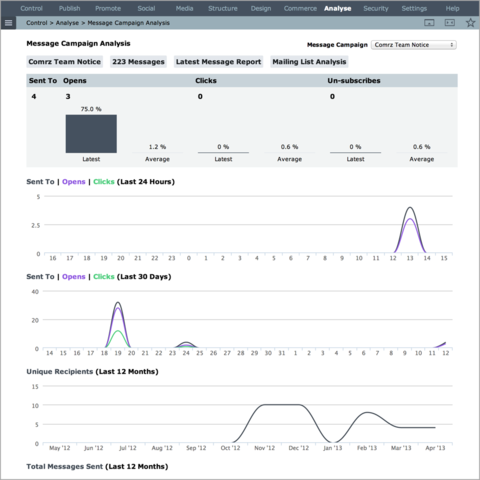 The new Messaging 2 suite in Affino is not simply an incremental update, it is a complete re-imagining of how messaging should work for businesses online.

It has meant a fundamental re-think of how bulk and targeted messages work, and breakthrough improvements for notifications and auto-responders.

Messaging is at the heart of sales and marketing automation. Typically though it is necessary to integrate with many different systems to achieve even the basics of an effective messaging campaign.

Although Affino's Messaging doesn't do everything that tools such as Mail Chimp, Mandrill, Hub Spot, Eloqua, KISSmetrics and Scout do, it does a big part of it, and a whole load more.

It also does it at no additional cost, with easy-to-use tools, and with no code integration required.

The first big change with Affino's new messaging comes with the splitting off of the mailing list from the messages being sent. Affino now has Mailing Lists and Message Campaigns in place of Newsletters. Mailing Lists manage the actual subscribers, whilst Messages are sent out based on your Message Campaigns.

This means you can target your mailing lists in much more creative ways by running multiple messaging campaigns against individual mailing lists.

It also means you can do much more to target your subscribers effectively, whilst maintaining a unified unsubscribe and bounced subscriber list across multiple campaigns.

You can now run three distinct types of messaging campaigns. Premium messages act the same as the previous Newsletter messages. These are tailored messages which can have high design values and where the message content can be highly targeted, automated and personalised.

It is now also possible to send out bulk SMS messaged and Personal messages. Personal messages are instant messages which appear to be sent individually, but are in fact sent in bulk.

We have also made it much easier to send out individual messages and to test / preview those messages. You can now simply enter in the message content, and Title where they are being sent by email. You can then preview them, send test messages or simply dispatch your message

...

6 comments
|
permalink
|
email this
|

|





19 Apr 2013 12:43 AM

Popular

Comments

Profile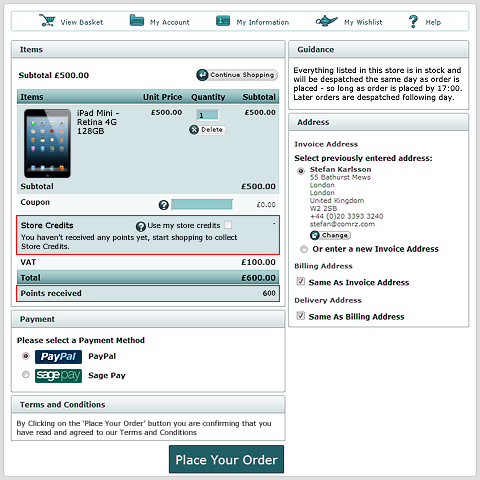 The most significant of the eCommerce introductions in the Affino 7.1 release is our new Store Credits system. This of course bolsters the existing Service Credits - where Consumers are rewarded for their onsite activities with access to premium features and functions. Store Credits of course give your website a fully monetised approach to incentives.
Customers can accrue Store Credits in three ways - by making a purchase, similar to the Boots / Frequent Flyer / Nectar / Tesco loyalty points schemes, secondly by triggering any of the circa 40 Conversion Events (various online activities), and finally - Credits can be assigned manually to Users - either for incentive purposes or for transactional refunds.
The Checkout Screen (top) makes customers aware of the Store Credits system (name it what you like!) and displays 'Total Points' accrued and 'Points received' for that specific transaction.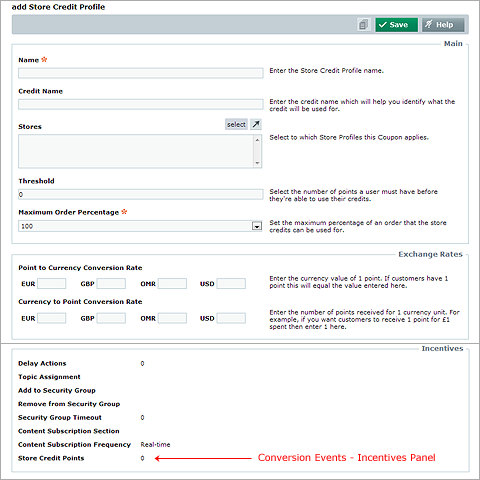 The above, second visual, is actually a composite of 2 different control-side screens - a 'Store Credit Profile' above and the 'Incentives' panel below - as appears on any of Affino's 40 Conversion Events. For the former, you set the Point limits - the Threshold / minimum points required for redemption, and the Maximum Order Percentage for which the points can be redeemed. There are two different conversion rates - the Points to Currency Conversion Rate - i.e. how many points to a penny/cent; then you have the Currency to Point Rate - which is how well you reward customers for their purchases. A typical rate for Points to Currency is 100 points = $1 in value, whilst $1 spent typically renders 1-5 points or up to $5 in credit for every $100 spent.

On each Catalogue Item you can activate the Credits via a 'Credit Scale' setting - default value is 1, but you can increase multiplier up to 10 meaning 10x points for that Item - a '0' value means the Item is exempt from Credits.

The bottom panel in the visual shows how you can assign 'Store Credit Points' for each of the 40 Conversion Events - so that you can monetarily reward loyal participants on your site - i.e. Customers who post reviews, ratings, recommendations and other useful editorial or social content / media.

The final component of how Store Credits incentivise is

...

Add Comments
|
permalink
|
email this
|

|





14 Jan 2013 1:24 PM

Popular

Comments

Profile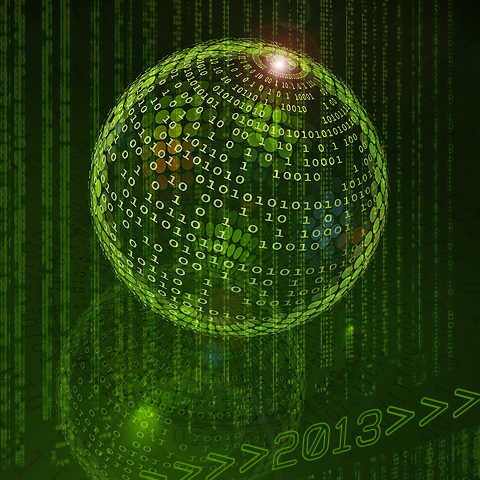 Ecommerce is speeding up, and no one is safe if they're not fully committed to meeting the evolving market head on. 2013 will see big winners and losers as more shopping goes digital.
Here are some of the key trends for the coming year.
Nothing comes close in importance to being able to tailor the buying experience for each and every one of the shoppers who comes to you, whether it's online, on mobile devices, kiosks, in-store or via television.
The starting point for personalisation is the unified user account. This means offering a single login for the user across all devices, with instant syncing of user data across all different sales interfaces, or preferably using a single client-facing commercial engine across all platforms.
Product listings, product searches, recommendations, emailers and community engagement should all be tailored to the individual user. This should be done on recently viewed products, identified interests, and increasingly by using game mechanics to automatically identify and guide users' buying preferences.
The economics, scale and distribution of Cloud setups mean that companies must embrace cloud services in 2013. Even though there are still occasional headline stories on cloud provider down-time, cloud services are maturing rapidly, and in real-world scenarios downtime is becoming increasingly rare.

On the other hand the cloud costs keep on coming down, and the service levels are rising dramatically each year. It means the cost / performance / scale / reliability equation has now firmly swung in favour of cloud setups rather than in-house infrastructure for ecommerce.

Being able to deliver a rapid response, at scale, globally, is best delivered via cloud platforms. Solutions such as Scalr mean that it is now possible to automatically scale up and down your infrastructure. This means that you only pay for what you use, and can run much fewer servers as a baseline, even within the same day as demand scales up and down. It also means that you can address peak demand with the best response times.

Using Content Delivery Networks means that your media and static files are delivered locally, globally, with much faster response times. Using cloud-based storage networks with offsite backup networks means

...

1 comment
|
permalink
|
email this
|

|





15 Nov 2012 1:38 AM

Popular

Comments

Profile
Tags:
community
,
publish
,
Aido
,
Social
,
Comrz
,
ecommerce
,
social commerce
,
Filmutea
,
Affino
,
Eric Prydz
,
Ask My Community
,
SecondsOut
,
recruitment
,
Broadbean
,
Affino 7
,
Consumer Electronics
,
Lifestyle Brands
,
Lifestyle Portals
,
VIP Sites
,
Gill & Macmillan
,
Human Kinetics
,
Procurement Leaders
,
Bathroom and Showers Direct
,
Flower Innovations
,
Digital Doughnut
,
Investigo
,
Fillow
,
website monetisations
,
website revenue streams
,
online revenue generation
,
hybrid online retail
,
online recruitment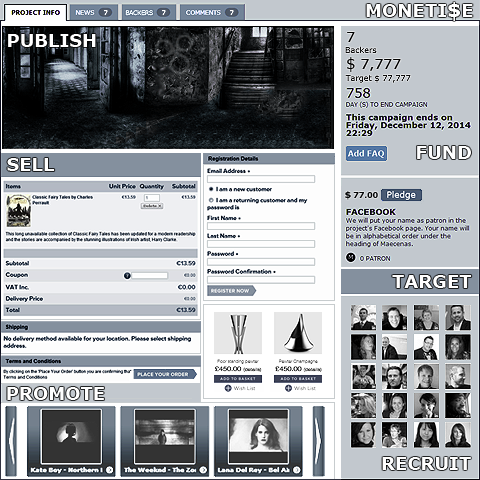 Affino 7 is one of the most versatile of the full-featured website systems and can be adapted for pretty much any means, there are certain scenarios though that Affino is already optimised for - high-impact out-of-the box performance.

Affino really is the complete Social Commerce Solution, so it is quite evident that in hybdrid retail and community deployments - Affino makes for a perfect choice - yet there are other less obvious permutations where Affino has significant pedigree and therefore eminent suitability too:

Publishing
There are a number of International flagship Publishing sites running on Affino, including Human Kinetics in the USA, Gill & Macmillan in Ireland and Procurement Leaders in the UK. All these publishers capitalise on the full spectrum of Affino functionality and utilise a myriad of targeted microsites using the best of Affino's commercial and social features. The scope of what all these organisations have already achieved - each running off just a single Multi-Site Affino Licence - is already impressive, and they are all still growing.

Social Commerce and Hybrid Online Retail
Whilst there are millions of ecommerce sites out there on the web, there are very few that combine multiple varieities of retail - digital, packaged goods, subscriptions and memberships - alongside social promotion and community support. Retail sites which allow their consumers to champion and support the products and services they consume are a breed apart and have many more revenue streams open to them - Affino proponents at the forefront of online retail include Aido, Bathroom and Showers Direct and Flower Innovations.

Commercial Communities and Professional Networks
Affino's version of community is one which generates revenues for the site owners by as many means possible - through fully servicing the community's members. Both Filmutea and Digital Doughnut have capitalised on Affino's capabilities for connecting and rewarding site owners and site users alike. Filmutea for instance offers a number of professional subscription and bulletin board facilities alongside an Affino-powered funding platform and auxiliary services - to provide the complete professional film maker's resource - a one-stop utility for anyone wanting to make films in Spain - seek out cast and crew, equip, fund, produce and

...

Add Comments
|
permalink
|
email this
|

|





05 Oct 2012 1:35 PM

Popular

Comments

Profile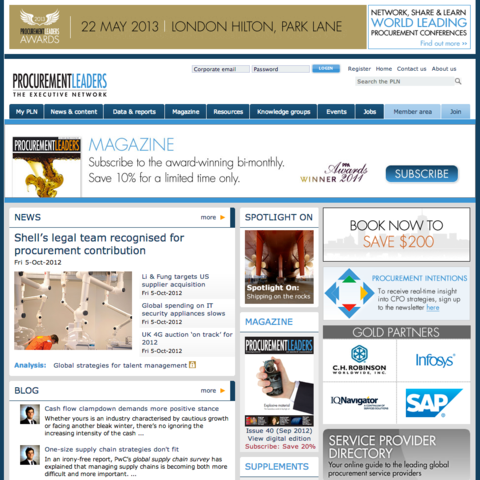 I spent a year as a Buyer (procurement executive) back in my early twenties, and the experience shaped a lot of the decisions I've made since career-wise and as the chief architect of Affino. My twin goals of making it easier to get information out to companies, and making it easier to buy for the client were largely shaped by the pressure which came from having to buy 10,000s of different products during the course of the year.
It's a great thing then that we're working with Procurement Leaders (PL) who do a top job of giving you the inside spin on the key trends and events which affect procurement professionals. I originally signed up to the weekly alerts to make sure that everything worked well and looked good, but increasingly I find myself reading the articles, many of which are excellent.
Procurement Leaders really innovate in how the deliver their content, and are always working great new approaches. As soon as each new delivery is out there, the next one is being worked on. If as a Publisher you want to see what's possible online then you won't go wrong taking a look at what they're doing (although expect it all to change soon enough).
There's a great deal of automation behind the scenes which makes the PL team more productive, especially useful is the Taxonomy / Key Word engine which allows for great drill-downs, searches and organisation of content by Topic as well as automated recommendations and Topic Channels.
We're looking forward to see how the site evolves next, whilst keeping me entertained with great content in the meantime. Although the site is run by the entire PL team, the Tech team who build and maintain the Affino site behind the scenes are first class and a pleasure to work with.

Add Comments
|
permalink
|
email this
|

|





05 Oct 2012 10:58 AM

Popular

Comments

Profile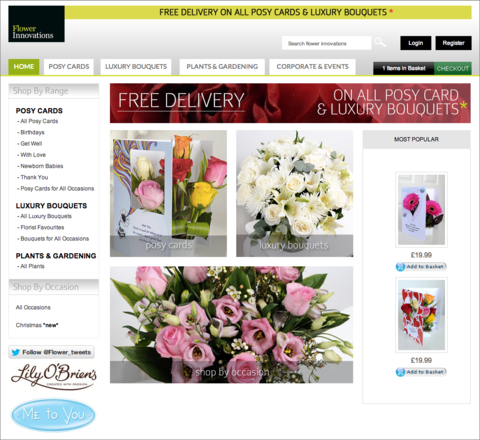 Another favourite Affino etailer is Flower Innovations. Their original, and direct approach to selling flowers works exceptionally well.
Great products, nicely presented, with a simple checkout which allows different types of messages to be sent along with the flowers.
We had to evolve Affino's checkout quite a bit to deliver for Flower Innovations, since almost every purchase made is for someone else. Everything else just works nicely. It's another Hex Digital production.
Next time you buy flowers for someone in the UK, get them here.

2 comments
|
permalink
|
email this
|

|





05 Oct 2012 7:27 AM

Popular

Comments

Profile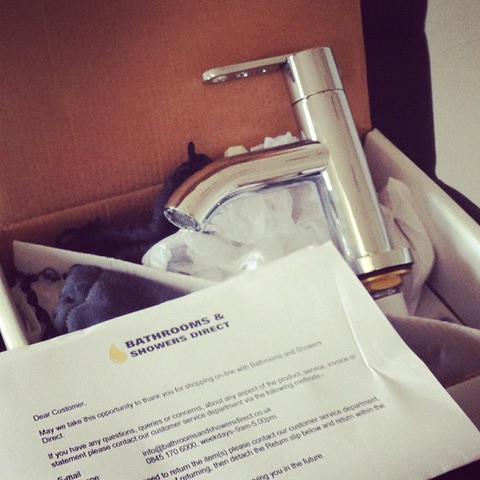 I just had a great experience with Bathrooms and Showers Direct (BASD), one of the best Affino ecommerce sites out there. Although there are many great Affino sites, it's not every day that I have cause to use them. In this case, one of the bath taps in my new place disintegrated when I turned it earlier this week.

We did the usual searches in the usual places: Amazon and John Lewis. Amazon's search is just terrible for things like bath taps, millions of results but no easy way to filter or organise or present the results effectively. John Lewis was just plain expensive for what we're looking for which is 'temporary taps' until we update our bathroom.

BASD on the other hand was simply excellent. The product search (below) is incredibly useful, it only took us a minute or so to find something we could agree on (normally the longest part of any search) which looked good and fitted our budget. The checkout was then quick and efficient, and best of all the taps arrived at 8:00 the next morning, nicely wrapped and looking great.

We've had to order a lot of stuff online lately since we're now officially living in the sticks (South Somerset) and it is normally 5 minutes online versus minimum 1 hour for any alternative for most purchases means online shopping is now our default way of buying things.

It's extremely rare that we get the service level we got from BASD, not one in 10 purchases arrives the next day, only half of them arrive within the stated timeframe (here's looking at you John Lewis) and most of the sites we buy from look terrible and somewhat off-putting so you're never sure you'll get the goods until they arrive.

The BASD team are doing a great job and providing an excellent service, and it's great to have them using Affino. A lot of the quality feel of the BASD site is also down to Hex Digital, one of our Affino Partners who have done a great job designing, implementing and supporting it.

I know where my first port of call will be the next time I need to get something for our bathroom.

...

2 comments
|
permalink
|
email this
|

|





16 Jul 2012 10:02 PM

Popular

Comments

Profile
Tags:
analysis
,
analytics
,
blogs
,
Channel
,
contacts
,
Control
,
control centre
,
design
,
events
,
Flash
,
Images
,
jobs
,
Media
,
polls
,
promotion
,
publish
,
publishing
,
registration
,
Search
,
Security
,
Video Player
,
Dynamic Forms
,
Upgrade
,
Comrz
,
Guide
,
News
,
Company
,
Access
,
Action
,
Projects
,
Display
,
ecommerce
,
help
,
Pricing
,
Support
,
Smart
,
Design Scripts
,
Settings
,
Section
,
Item
,
Forum
,
Affino
,
Zone
,
Menus
,
job
,
Starting
,
statistics
,
project management
,
A to Z
,
Skin
,
eCards
,
Image
,
Layout
,
eTests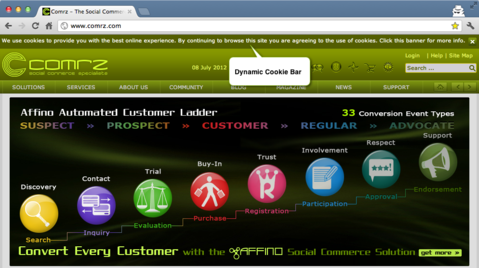 Affino 6.0.16 is the final significant Affino 6 release. It's the culmination of a greatly improved Affino user experience where almost every interface has been enhanced during the course of the last couple of years. We've focused on smoothing out the remaining rough edges in Affino 6 and it's now a whole level easier than it's ever been.

This release sees the introduction of Cookie Policies to meet the EU Privacy Directive. These are smart and geo-targeted so that only users from the relevant countries are presented with the policy dialogue. Additionally continued browsing is registered as implied consent so as to minimise any disruption to the user.

Affino ecommerce makes yet another big step forward. In this release we've significantly improved shopping baskets which are now editable, can be taken over and handed back to customers, or created from scratch and assigned to customers. The baskets also have greatly improved audit tracking and styling. There are also dozens of significant updates throughout the shopping experience which mean that buying is now more engaging than ever in Affino.

There are some major usability improvements in this release, in particular the new Guest Browsing Mode which allows you to instantly switch to the customer's point of view when managing the site. It is now much easier to navigate through the Control Centre with better browser tab naming and highlighted drill-down links throughout the Control Centre.

As with all Affino releases, we have upgraded the integrations with a number of 3rd parties to reflect their changed APIs. We also integrate with Broadbean for the first time for incoming job briefs. The integration updates with Facebook, LinkedIn, PayPal, Metacafe and Google Merchant Centre are critical if you integrate with any of them.

The improvements we have also made to: the checkout, publishing workflows, recruitment, funding platform, geo blocking / targeting, and user export make this an essential update if you're using any of those elements.

This is also going to be the best tested, most polished Affino release to-date, as we further evolve our quality assurance processes and build up our core project management team. We've added a whole new layer of QA in this release so that you can have the best possible

...

5 comments
|
permalink
|
email this
|

|


| | |
| --- | --- |
| Found: 61 Displaying: 1-20 | |

Subscribe to feed

Subscribe by email
Recent Visitors