04 Nov 2014 5:02 PM

Popular

Comments

Profile
Tags:
ecommerce
,
Affino
,
IMRG
,
e-Retail Sales Index
,
eCommerce Industry Benchmarking
,
IMRG Automated e-Retail Benchmarking System
,
Retail Benchmarking
,
Automated Retail Benchmarking
,
Affino Social Commerce Platform
,
Graeme Howe
,
Phil Clark
,
Fillip Media
,
Digenie Productions
,
e-Retail Benchmarking System
,
e-Retail
,
Ecommerce Industry
Circa 10 minute video interview of Graeme Howe, Joint Managing Director of IMRG by Phil Clark, Director of Fillip Media.
Phil Clark questions Graeme on IMRG's Member Services, the state of the e-Retailing Industry, and the background to the e-Retail Benchmarking System, its benefits to retailers, and the 9 month collaboration with Affino to develop this new service.
Highlights include:
"Since 2009 e-retailing has achieved double digit growth every year, this year we are forecasting a growth of just over 14%"
"Our e-Retail Sales Index now collects over 44 KPIs"
"A retailer might think they are doing extremely well, but how does that compare to their competitors"
"Affino, one of IMRG's supply members, came up with the idea of sampling, and suddenly the lightbulb went on"
"We needed the dashboard to work across all platforms, wherever that retailer was located..."
Video production and editing by Digenie Productions

1 comment
|
permalink
|
email this
|

|





29 Oct 2014 6:09 PM

Popular

Comments

Profile
Tags:
social commerce
,
Affino
,
IMRG
,
Digital Business
,
IMRG e-Retail Index
,
IMRG e-Retail Benchmarking System
,
IMRG Automated e-Retail Benchmarking System
,
Retail Benchmarking
,
Retail Performance Benchmarking
,
Automated Benchmarking
,
Automated Retail Benchmarking
,
Automated Digital Business
,
Affino Social Commerce Platform
,
Affino Digital Business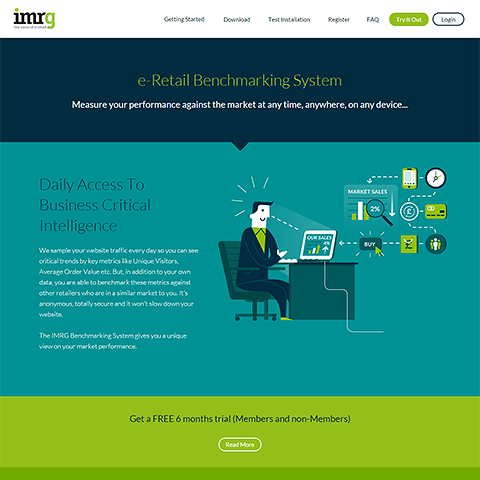 We at Affino are very proud to share the culmination of a 9 month collaboration with IMRG. The fruits of our labours have brought forth a truly smart, automated web-enabled service for retailers, powered by our own Affino Social Commerce Platform. The full details are set out in the following recently minted press release:

London, 27 October 2014: IMRG – the UK association for e-retail – is pleased to announce the launch of the e-Retail Benchmarking System, powered by the social commerce specialists, Affino.

The first of its kind, this automated system allows online retailers to measure their performance against a quorum of similar retailers (for example, young fast fashion retailers) on a daily basis (the day after the data has been submitted) from a PC, tablet or smartphone.

Offering instant access to business critical KPIs such as average basket value, unique visitors, checkout abandonment and conversion rates on a unique personalised dashboard, the IMRG e-Retail Benchmarking System makes it easy for online retailers to measure up to 12 months' user behaviour, traffic and overall performance and then make a comparison against the rest of the e-retail market. Benchmarks can be filtered to suit the company and each KPI is displayed as an interactive and user-friendly graph.

As the e-Retail Benchmarking System uses just a simple line of JavaScript (similar to Google Analytics) to automatically track all the KPIs and provide measurable data, this clever system will not slow the website down. The core of the system is a highly secure, smart asynchronous sampling engine.


With over 1,000 retail members, IMRG feel they are well-placed to launch the e-Retail Benchmarking System as an addition to the series of monthly and quarterly Indexes (e-Retail, m-Retail, Quarterly Benchmarking and Delivery) for the e-retail industry. Having handled data securely for over 14 years, IMRG has ensured that all information provided by online retailers who join the IMRG e-Retail Benchmarking System is completely anonymous and totally secure.

Graeme Howe, Managing Director of IMRG, comments: "IMRG have been providing the e-Retail Industry with benchmarking information for over 14 years and this new system represents a significant leap in the service we can provide to our retail members. Retailers will be

...

2 comments
|
permalink
|
email this
|

|





22 Oct 2014 4:36 PM

Popular

Comments

Profile
Tags:
social commerce
,
Affino
,
Social Commerce Platform
,
social commerce solution
,
Affino Social Commerce
,
Digital Business
,
More Successful Digital Business
,
Social Commerce Specialist
,
Social Commerce Expertise
,
Digital Business Expertise
,
Affino Social Commerce Soluction
,
Digital Business Plaform
,
Digital Business Front-end
,
Digtial Business Audit
,
Digital Business Transformation Plan
,
Transformation Plan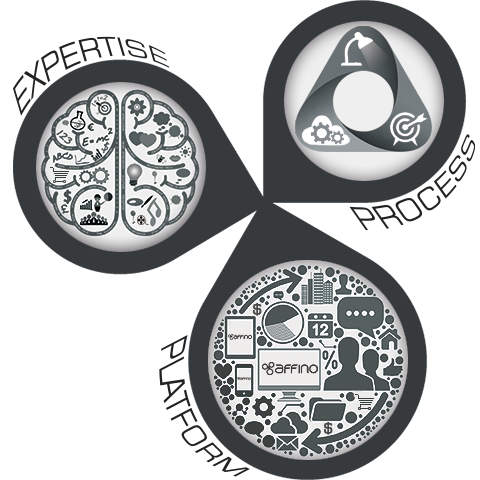 One of the trickiest questions I get asked regularly is - "What exactly does your company do?". This is not for reasons of difficulty in explaining everything that we do, rather the difficulty of summarising what we do into a sufficiently short format. When I was in Iceland on vacation in September I had the additional challenge of trying to accurately translate some of those technical terms and concepts into everyday vernacular. I decided then and there that I would compose as concise an article as possible to act as a crib-sheet for anyone needing to explain or understand our modus operandi.
The shortform elevator pitch is as follows:
"Affino is a London-based multinational Social Commerce Specialist with its own in-house-developed Affino Social Commerce Platform. Affino works with companies and organisations to evolve business plans in order to create successful automated digital businesses, which are powered by the Affino Social Commerce Engine. Affino Social Commerce covers key industries, ranging from Retail to Publishing / Media, Professional Communities and Performing Arts."
There are 3 key aspects to Affino
1. Expertise
The core to every successful business is the high calibre of individuals who make up that business, and how well they work together. Although small in number, Team Affino is composed of some of the very best creative-problem-solving and hard-working talent found anywhere in the world. All team members are expert in their own area - whether Systems Architecture, Applications and Software Development, Project Management, Design and Branding, Technology and Operations.
2. Process
We have a unique process for drawing out the very best from everyone involved. The process is highly collaborative, and is centered on two or more partners gaining a full understanding of each other's goals and challenges. Broadly speaking, there are three stages to the process:
Digital Business Audit - a deep and broad-ranging on-site organisational audit - consisting of a series of structured discovery conversations with leading stakeholders - with a view to investigating the current standing of a company, and evaluating its ability to capitalise on its full digital potential.
Transformation Plan - evolving from the Audit, the Transformation Plan sets out what a business or organisation needs to do to
...

3 comments
|
permalink
|
email this
|

|





18 Jul 2014 2:31 AM

Popular

Comments

Profile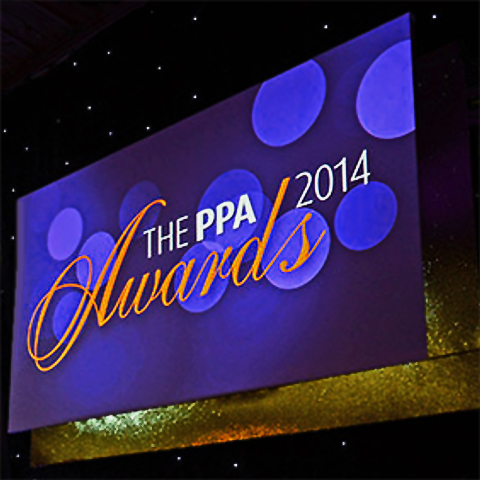 Congratulations to Procurement Leaders on a very impressive back-to-back win of PPA Business Media Brand of the Year. Few companies have won this award even once, but twice in a row is quite the accomplishment.
There's a reason Procurement Leaders keeps picking up awards, and how it can take the same award many years running. Alex, Quang and the team at Procurement Leaders never let up on innovating and improving the site. From the very first day Affino started collaborating with Procurement Leaders, it's been a continuous process of growth and advancement. The Procurement Leaders website is already way ahead of the competition, and with new services being launched all the time, there is no sign of any slow-down.
If you have not yet taken the time to browse through this excellent website and experience the numerous quality services members can avail themselves of, we encourage you to do it now - to witness first-hand what all the fuss is about:
3 comments
|
permalink
|
email this
|

|





09 Jul 2014 1:24 PM

Popular

Comments

Profile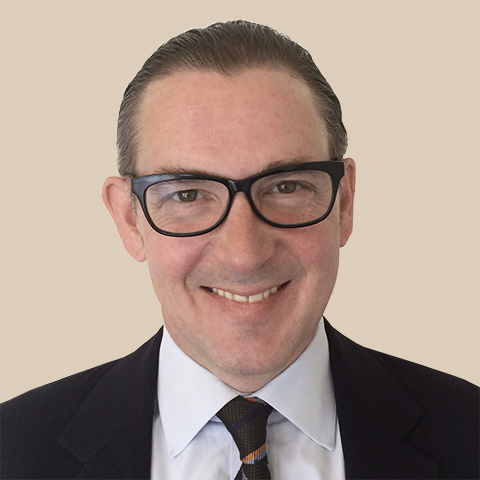 Both Affino and Jonathan Collins & Associates (JCA) have a long standing and successful working history with publishing companies and agencies. Affino from a solutions / technical architecture standpoint, while JCA has considerable industry insider knowledge as its key personnel have worked with and for many of the largest publishers at the highest level, and for the greater part of their careers.
The intention of the Partnership is to pool resources, knowledge and experience with a view to providing publishers with the very best consultancy and solutions for monetising the digital side of their business and achieving enduring success online.
To assuage any fears for existing customers, this is to be a working partnership where both companies remain entirely independent. Affino's existing publishing clients can avail themselves of JCA's expertise and insights. For customers active in other sectors, there will be no discernible changes at all.
Affino and JCA are dedicated to creating the very best online experiences for customers and service providers alike. Both partners share an ethos of close and collaborative relationships working towards common goals. We firmly believe this partnership will be invaluable for publishing companies wanting to transform their businesses to succeed in this digital age.
You can contact Jonathan Collins of JCA on +44 (0)20 3393 3240 or by sending an email to jonathan.collins@affino.com
Add Comments
|
permalink
|
email this
|

|





19 Jun 2014 9:07 AM

Popular

Comments

Profile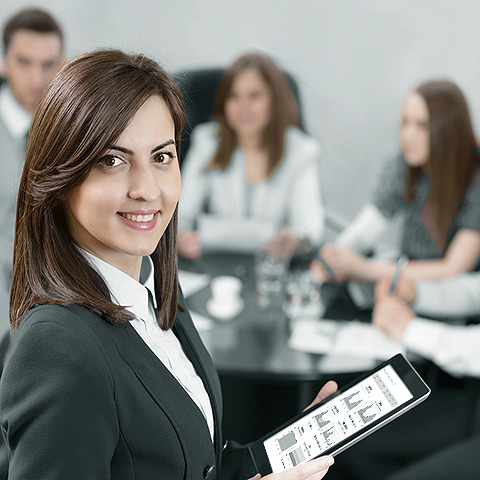 IMRG and Affino have been working together since the turn of the year to produce an Ecommerce benchmarking system that will allow for a fully-automated data collection and analysis process.

The new service will be embedded on a client's website, using a smart code and revolutionary sampling algorithms driven through the Affino Social Commerce platform.

Retailers will be able to compare performance with their sector peers - including metrics such as conversion rates, average order values and checkout abandonment – in order to improve their business.

Users of the service will be able to access the daily index at any time, a process that will become the barometer for the Ecommerce industry and measuring sector performance.

Graeme Howe, Managing Director of IMRG, said: "This new dynamic benchmarking service will be revolutionary for our members, and we're really excited to see them get so closely involved. Beta testing has been going really well."

The smart sampling provides accurate trends without affecting the performance of a client's website.

The official launch date for the new service will be announced in due course.
Add Comments
|
permalink
|
email this
|

|





11 Jun 2014 1:42 PM

Popular

Comments

Profile
Tags:
publishing
,
Affino
,
Member Services
,
Social Interaction
,
Affino Social Commerce Solution
,
PPA Awards
,
Social Engagement
,
Future of Publishing
,
Vertical Lifestyle Membership Portals
,
Online Clubs
,
Online Member Clubs
,
Vertical Portals
,
Procurment Leaders
,
Networking Clubs
,
Membership Clubs
,
Beyond Content
,
Membership Services
,
Interactive Member Services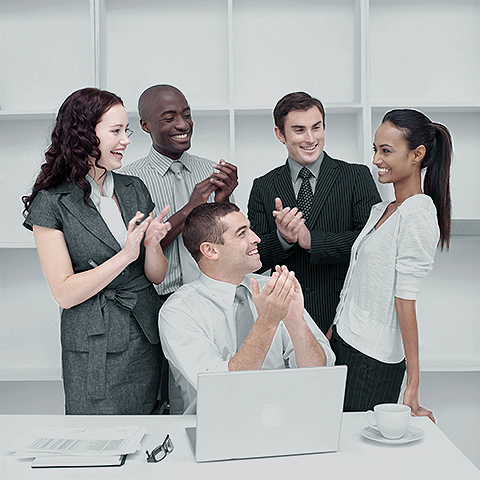 You should have already read that publishers' traditional revenue streams of advertising and subscription are not really translating into online success - there's too much free stuff online, so subscriptions and connected advertising revenues are turning out to be relatively low yield. Some publishers are pinning their hopes on Native Advertising - i.e. Advertorials by another name - but most savvy consumers have already learnt to spot and avoid clicking on those also. In my previous blog post I pointed to smart brand advocacy - Endorsement and Product Placement as being the most likely future for advertising. So what is left to publishers - what does the future of publishing hold?

As I see it, pushed content has limited scope for delivering revenues on its own, or in tandem with any kind of advertising - even in conjunction with smart endorsements and product placements. Publishers need to be thinking more about their subscribers as members, and start providing connected member services - to service the entire vertical space for that membership. A key component to any modern business is 'Engagement' - i.e. how businesses connect with and make themselves relevant to their customers on an ongoing basis - this will ongoingly mean delivering interactive member services.

You pretty much need to think on an almost cradle-to-grave progression when targeting say a professional sector / vertical. Starting with your likely members' education needs, then career / recruitment, category intelligence and training, seminars and events, marketplace, networking and collaboration. The intended audience must feel that they are joining a professional members club which will forward their lifestyle experiences / career opportunities and thus significantly improve their quality of life. People go to well-connected schools and join highly-networked member clubs to ensure better jobs and brighter, more successful futures.

It's easy to find professional analogies and examples, one of the very best examples is triple PPA award-winner Procurement Leaders, which dominates the Chief Procurement Officers vertical. Procurement Leaders' unique combination of interactive membership services puts them in an almost unassailable position. At its heart, Procurement Leaders is a publishing business - delivering news alerts,

...

Add Comments
|
permalink
|
email this
|

|





30 Apr 2014 12:18 PM

Popular

Comments

Profile
Tags:
analysis
,
community
,
events
,
publishing
,
social marketplace
,
social commerce
,
Affino
,
research
,
Member Services
,
education
,
networking
,
recruitment
,
Data
,
elearning
,
Personalisation
,
Procurement Leaders
,
PPA
,
Seminars
,
Big Data
,
Collaboration
,
Webinars
,
Industry Directory
,
Industry Benchmarking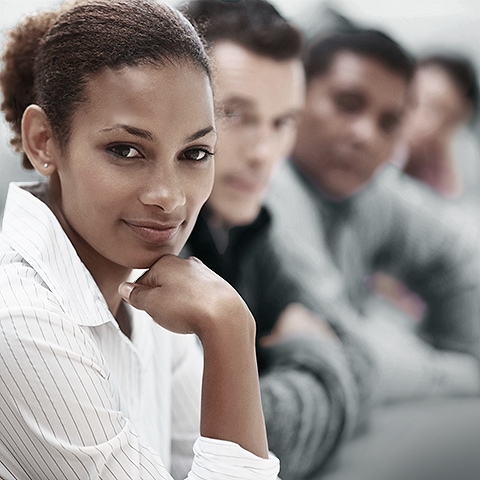 The demise of traditional publishing media is well documented, and barely a month goes by without another title disappearing from the news-stand. The move to digital is now quite a few generations old, and it's quite evident that for most publishers, simple subscription and advertising alone do not generate sufficient revenues online.
Publishers have to look for other sources of revenue, and the more successful ones are more and more reliant on value-added member services. Much of this involves increased granularity in personalisation, and the ability to offer up additional content and services at a very highly targeted level. The very best sites can now offer unique customer journeys on a per-user basis, where each member's individual needs are fully catered for in a single seamless experience.
Most Publishers need to be thinking a lot smarter, and on more holistic terms - as to what sort of experience they can provide to their membership / readership. The following list details the key services / potential sources of revenue available:
Collaboration
Community
Education / Elearning
Events
Industry Analysis / Intelligence / Trends
Industry Benchmarking Data
Industry / Supplier Directories
Marketplace
Networking
Personalised Content / News Alerts
Recruitment
Research
Seminars / Webinars
A great example of a Publisher which is already pursuing such an agenda is triple PPA award winner Procurement Leaders. The ever-evolving Procurement Leaders website is the new industry standard in 360° personalised member services - already providing all of the above and continuously striving to improve its offerings.

Much of Procurement Leaders' success is to do with their great vision of what is possible, but also the empowering nature of the Affino Social Commerce Solution which enables and powers their ambitions.

...

2 comments
|
permalink
|
email this
|

|





07 Apr 2014 10:29 AM

Popular

Comments

Profile
Tags:
publishing
,
Affino
,
Publishing Industry
,
Digital Publishing
,
Publishing Trends
,
PPA
,
Professional Publishers Association
,
Digital Leaders Network
,
PPA Digital Leaders Network
,
Suppliers to Publishing Industry
,
Digital Publishing Monetisation
,
Digital Content
,
Digital Platform
,
Publishing Platform
,
Publishing Digital Platform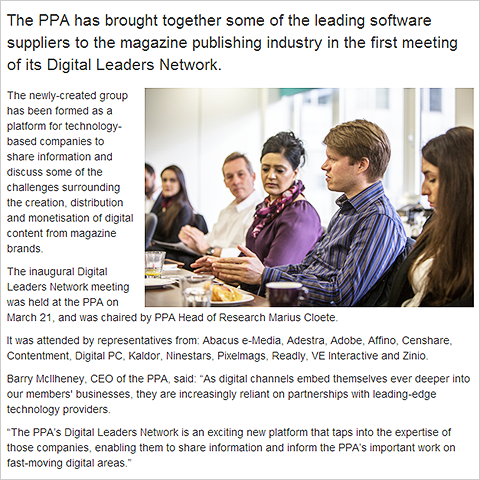 On March 21, the Professional Publishers Association (PPA) brought together a panel of leading-edge technology providers to discuss the challenges, opportunities and trends - chiefly on the subject of how best to monetize digital content. The Digital Leaders Network will be convened periodically to confer on the best way forward for the publishing industry.
After helping Procurement Leaders win 3 PPA awards last year, including 'PPA Independent Publisher Digital Product of the Year'- Markus had plenty to share with the panel on how we at Affino help publishing companies achieve their online potential.
Which digital platform you choose to run your online business on, and how flexible and capable that platform is, is obviously a key concern for future success.
Publishing is still in the throes of a major step-change in the move to digital technologies, and most publishing companies' futures are at stake - the right choice of approach and platform to the forthcoming challenges will decide which companies thrive, and which wither and fade away...
1 comment
|
permalink
|
email this
|

|





25 Feb 2014 12:21 AM

Popular

Comments

Profile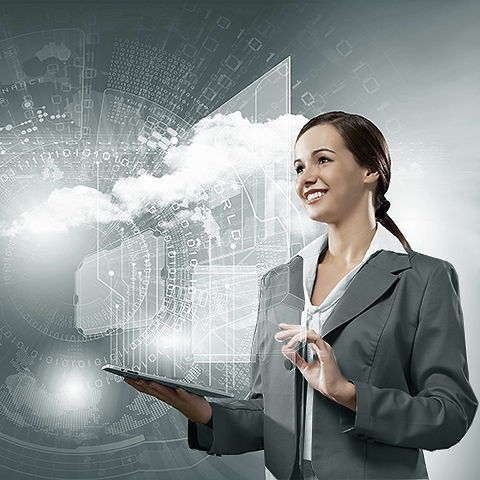 A recent Econsultancy feature discussed the challenges Integration poses for business growth. No matter what type of website / online business you run, there's likely some need for Integration to provide you with the full solution you require. Ecommerce websites typically have a large number of Integration requirements - I have listed the key areas below. Integration is often a costly and time-consuming activity, and one which needs to be maintained in perpetuity. There are of course a number of different Integration strategies, and consumers should be well aware that not all systems are created equal. Here below, I outline the 4 key considerations for businesses to think about before starting down the long road of Integration.

Key Integration Areas:
Analytics and SEO
Mailing Lists and Sales & Marketing Automation
Social Media
Ratings and Reviews
Customer Relationship Management (CRM)
Content Management System (CMS)
Digital Asset Management (DAM)
Enterprise Resource Management / Planning (ERM / ERP)
Payment Gateways
Warehouse Management System
Product Information Management
Search and Merchandising
Fraud Management
Carrier Management / Order Management

Need for Integration
It pays dividend to have full oversight of your business requirements at the start of your project process. There are some very different systems in the marketplace, and some will be far better tailored to your needs than others. It almost goes without saying that some degree of Integration will be required, but the more holistic a core solution is, the lesser the up-front cost. With a solution like the Affino Social Commerce Platform, most of the key Integration Areas are already catered for. For instance, you may not choose to use the Affino CRM Component in the longer-term, but you can make use of it in the first phases of your roll-out while you build up your business. Having more elements of your overall solution included in the core system greatly reduces costs and overheads - and makes for a simpler owneship experience.

Speed of Deployment
Many companies we deal with are tempted to do too much, too soon - that is to say, to fit too much into phase one of their project - this can be both a costly and risky strategy - as well as being time-consuming. With a solution like Affino though - where there's a large

...

Add Comments
|
permalink
|
email this
|

|





03 Feb 2014 12:00 PM

Popular

Comments

Profile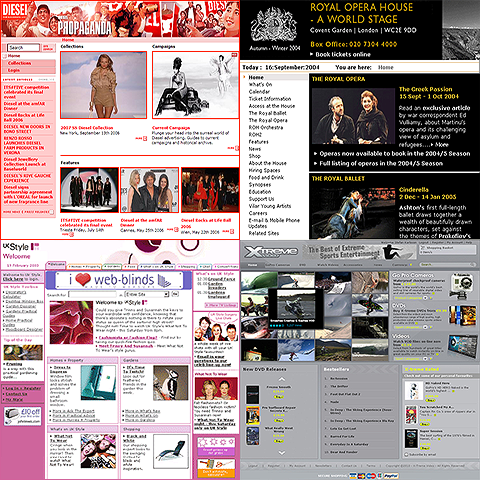 Our Affino Social Commerce Solution - soon to be version 7.5, has been around for a lot longer than many realise, and has quite an illustrious history. This article is intended to illuminate some of the highlights from Affino's past evolution - especially for those who have not yet had the pleasure of experiencing Affino.

The roots of Affino go back to Markus's (Affino CEO) consultancy years of 1997/8 where Affino evolved out of the somewhat more rigid 'Sunrise' Platform, which Markus developed to run websites for Audi, Casio and Carrera Technology. The original Carrera Technology implementation has continued to influence the development of Affino, as it really was a state-of-the-art Ecommerce experience of that time, with a series of advanced specifier steps in the checkout process, and real-time inventory integration and delivery management - pretty state-of-the-art for 1998.

The company Emojo (a precursor to Comrz, with several of the same staff) was founded in 1998 with a view to developing 'Sunrise' into a more modular platform that would be easier to implement, and most importantly - be easy to manage by customers. Right from the offset, the intention was to build the best system for selling online. There was always a long term goal of creating a full-featured modular hub, with essential plug-and-play functionality at its core, and simultaneously empowering site owners to take full control of their entire online business and to maximise their revenues through the Internet.

A key cornerstone to doing business online is the ability to sustain complex, long-term dialogues and interactions with customers. This is why, right from the start, Affino came fully loaded with social-interaction capabilities. In the early years, Ecommerce took a bit of a back seat, while the social engagement core of the system was being finessed.

Flash has largely come and gone, as has Affino IPTV and numerous other innovations of their time, which have since been replaced with ever-evolving contemporary technologies like Responsive Design and the Automated Customer Ladder. The future direction for Affino is always guided by finding the best balance between empowerment, total technical ability, seamlessness, learnability and simplicity. Affino has always been developed with the intention of delivering the

...

Add Comments
|
permalink
|
email this
|

|





28 Jan 2014 2:59 PM

Popular

Comments

Profile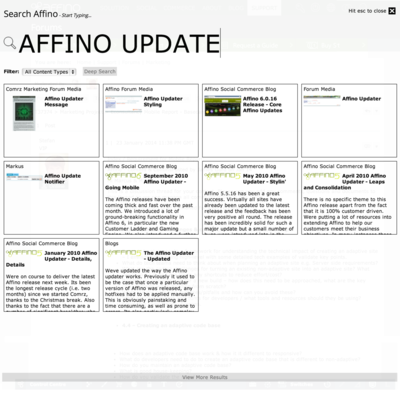 Affino 7.4 is very much a usability focused release which includes six months' worth of usability improvements and bug fixes. There are key usability improvements throughout Affino and the CRM in particular has been transformed in its day-to-day usability with this release.
Affino 7.4 also introduces two new significant behind the scenes changes. The first is that everything now points to affino.com, the second is the shift for the Design Centre to be the Classic Design Centre. You should not notice any changes with these two introductions except they're pointing at different locations.
This release also prepares much of the groundwork for Affino 7.5 which sees the introduction of the responsive design centre later this quarter.
Upgrade Guidance
The Affino 7.4 is very much a stability release and is an essential update for all Affino sites. It is an easy update, simply go through the standard update process. You will need a new licence key to access the updated Social CRM elements so please contact your account manager.
It is essential that you run through the complete update process starting with the Affino Updater, followed by the System Update, Re-Initialise Site, Design Element Update, Skin Update and finally Clear Guest Cache; all of which are available on the Settings > Update screen.
Key Enhancements
Social CRM

Affino's Social CRM has seen major improvements in this release with the focus on improving the sales workflows and productivity. It means it is now easier to work with prospects as they are created as non-members and then seamlessly transitioned to full members when they register, bringing along all the pre-registration contact history. A major focus has been on minimising the steps required to manage prospects, e.g. entering the details on the contact for a new Account will instantly create the account.

Finding contacts is now much easier as you can tag them to your 'My' list anywhere with simply a click. When searching and you select a user from the predictive drop-down you will be taken to them immediately.

We also introduced Contact Notes which let you easily track any correspondence with the contact. These are then instantly trackable to Accounts and to a centralised Contact Notes screen. Future upgrades will see

...

1 comment
|
permalink
|
email this
|

|





21 Jan 2014 9:30 AM

Popular

Comments

Profile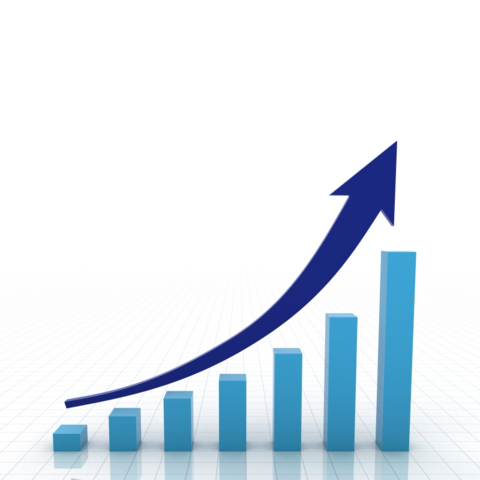 Increasingly Affino training involves conversations on how to get started with SEO, here's the Quick Start guide on SEO with Affino. SEO is one of the three key ways to promote your site.
This is Not an in-depth guide on how to use each of the Affino elements or on specific SEO strategies, rather it is to help you get started with the basics, i.e. a 'What to do' rather than a 'How to'. Some of which happens in Affino, and some of which happens externally.
Refresh your Brand Profile
The first thing you need to do is to create your brand profile, or update it to include the essentials outlined by Stefan in his great 'Creating the Perfect Brand Profile' article.
Based on your Brand Strategy identify the initial keywords you want to promote. These are based around your products, services and more importantly on what you would search for to find your products and services. Essentially these are your target customers' interests.
Build up a hierarchy of keywords (Topics) in a simple indented list, just starting off in a Word document, e.g.
Affino

eCommerce

Store
Shopping Basket
Checkout
Coupons
Discounts

eCommunity
eMedia
You'll use this to help identify the key word and terms you'll be promoting your site on.
The Essentials are: Personality, Unique Content and Currentsy, see my post here. If you don't get these right, forget about any of what I've outlined below. You'll just be wasting your time and money.
If you have them covered, and are committed to them, then they will be the cornerstone of a great site.
Zones
Update your Zone so you have the right site information and SEO settings. You can always change these, but get the basics set up straight away. Make certain your site Keywords are in place.

Turn on logging so that you have the essential data available to you in your Affino Analysis Centre. This will allow you to evaluate your future campaigns.

Update the Zone (your site information) to be as relevant as possible. Make sure you're using the best domain as your Zone Domain and

...

1 comment
|
permalink
|
email this
|

|





15 Jan 2014 6:13 AM

Popular

Comments

Profile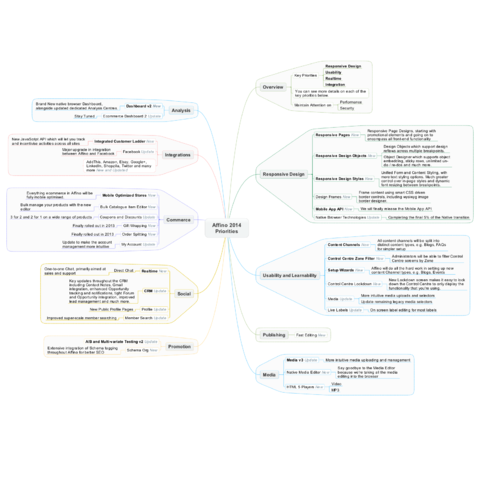 2014 is going to be an exciting year for Affino. Q1 will see the Affino 7.5 release, which introduces the new Responsive Page Designs. These have been a long time coming, but the wait will be worth it. To provide the best experience we went right back to the drawing board for how we serve live pages in Affino so that we could produce the very best responsive interfaces.
In fact Responsive Design is the main priority for the first 6 months of 2014 and everyone should look to be rolling out fully responsive sites on Affino by the end of 2014. We will continue to support the Classic Designs, and you will be able to run the Classic Design Centre alongside the new one until Affino 8.
As usual note that the priorities are subject to change, however we do anticipate a significant pick up in the rollout of new updates once the new Responsive Design Centre is complete. It will be the culmination of a four year plan we've been working through to delivering ultimate cross-platform social commerce experience.
Responsive Design
The new responsive page rendering engine is being written entirely scratch using an object oriented approach which is seeing page generation times up to 10 times faster. The pages themselves also render dramatically faster on the browsers, and we are optimising every part of the process to ensure the fastest mobile experience possible.
The new Object Designer allows you to design and preview designs across multiple form factors with unlimited undo and redo whilst designing. Updated Design Styles now incorporate Form Styles and have been greatly extended to allow for very tightly styled sites including auto-scaling of fonts.
Every single Design Element, Template and application interface is optimised around responsive resizing and cross device usability.
To get the new Responsive Design Centre to you as soon as possible we will be staging the introduction of responsive elements. Phase One sees the roll out of the promotional elements so that you can design and roll out promotional sites (including most social elements), this will be followed by the ecommerce elements and then the remainder.
Usability and Learnability
2013 saw the Control Centre consolidated around the new Affino 7 interface, which is both very usable and presentable. 2014 will see a major focus

...

Add Comments
|
permalink
|
email this
|

|





12 Jan 2014 5:01 PM

Popular

Comments

Profile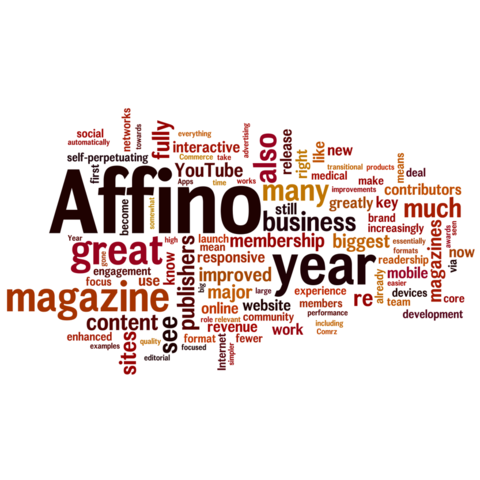 2013 was a year of two halves for Affino development. The first half was primarily focused on the Affino user experience and the second half has been focused on creating a new Responsive Design front-end for Affino which is due for launch in Q1 this year. Along the way Affino saw some great improvements.
1) Performance
We built Affino to scale this year, and to scale at speed without needing any human intervention. This meant major architectural changes where we changed virtually every platform that Affino was running on, or where we kept the same platform we moved to the latest generation.
We also focused on optimising many key aspects of Affino so that it is faster across the board. We have carried on in the second half of the year, and Affino's upcoming responsive design pages are stunningly fast. We know you appreciate the speed improvements you already see, so be prepared to be delighted when you move to responsive.
2) Uptime
Prior to 2013 our focus on uptime had been to make Affino run as effectively as possible on fixed hardware. The reality is that approach is not the best way to develop for the Internet. There are simply too many opportunities for systems to be 'shocked'. Moving to the new generation auto-failover and auto-scaling architecture, and focusing on up-time for the user versus up-time for individual systems has made all the difference.
For high performance Affino sites there has been precisely 0% downtime since the launch of the new architecture. For entry-level Affino sites the uptime has been as high as 99.98%. In fact from the human interaction standpoint in almost all down-time events since the transition a new system has been in place by the time the user hits the re-load button on the browser.
When taken together, the great performance improvements and incredible uptime, it means that Affino is now always there to deliver a fast and effective experience to all users.
3) Messaging
Messaging saw a complete overhaul with new Message Campaigns for mass, personal and SMS campaigns. We split up the old newsletter system to separate out the mailing lists and the message campaigns, and it has transformed how you can communicate with your community through Affino.

Message Campaigns can now be used not only to send occasional manual

...

Add Comments
|
permalink
|
email this
|

|





05 Jan 2014 11:59 PM

Popular

Comments

Profile
Tags:
online retail
,
publishing
,
seo
,
ecommerce
,
social commerce
,
Affino
,
Affino 7
,
Online Incentives
,
responsive design
,
Affino Social Commerce
,
Affino Social Commerce Solution
,
Multi-domain
,
Multi-domain Delivery
,
Replatforming
,
Enabling Platform
,
Online Engagement
,
Easy Back-end Integration
,
SEO Structure
,
Content Personalisation
,
Web Personalisation
,
Instant Anlytics
,
Web ROI
,
Web Business ROI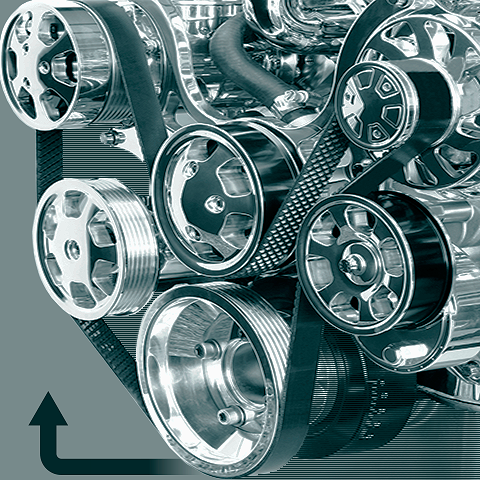 Over the last 12 months, we have heard a lot about the need for replatforming, owing to game changers and paradigm shifts in the online retail industry. The chiefest of these is the increasing consumer shift to mobile devices and the need to provide a seamless high-level customer experience across all channels of involvement. Responsive Design will of course be essential, but there are several other key criteria which will need to be seriously considered too.
Here follows a quick checklist vs your current platform as to whether you need to change-up to a more powerful engine to grow your business effectively in 2014:

Current Platform is not Responsive
According to IMRG, in 2013 it was mobile devices that were responsible for the net growth in eCommerce - you need Responsive Design to be able to provide your customers with a seamless experience across all their chosen touchpoints.
Current Platform is not Enabling
Can you update content. structure. layout, design and campaigns without agency assistance? Speed of reaction is critical of course to maintaining a healthy competitive advantage, and if you can do more yourself you save on overheads...
Current Platform is not Engaging
Are your customers actively engaged on your sites - by means of social and participative functionalities? Customers need a platform for communication and participation, they want a voice, and are no longer content to just pass silently through checkout.
Current Platform does not support Multi-Domain Delivery
It is essential for marketing effectiveness to be able to target each customer demographic with their perfect experience on a dedicated and relevant domain. Failure to provide a high-level dedicated experience will mean customers look elsewhere for satisfaction.
Current Platform does not support easy Back-End-Integration
It is inevitable that the website front-end will need to be integrated with key back-office technologies, for many platforms this can be a very high-level overhead experience. Indeed, for many platforms this can be the chief bugbear and often means the web team spends more time managing the system than developing and evolving the customer experience.
Current Platform does not offer Customer Incentives
A successful retail platform requires ongoing customer incentivisation and activity triggers, relatively

...

2 comments
|
permalink
|
email this
|

|





03 Jan 2014 7:50 AM

Popular

Comments

Profile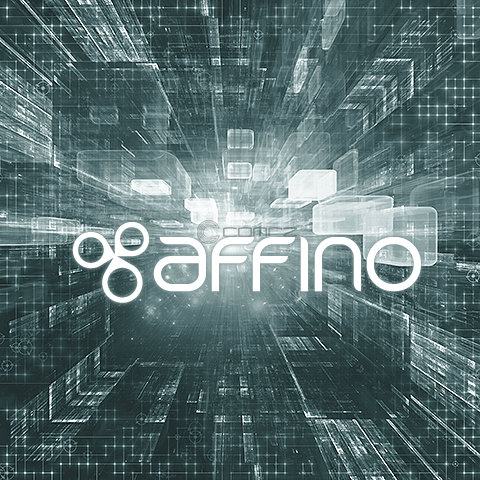 You will have noticed that we're fully embracing the Affino brand. Up until now we have had Comrz front and centre and Affino has very much been the product brand.
To make everything simpler and more effective we will now be focusing on just the Affino brand, and all of our engagement will be through Affino and affino.com. The company will remain as Comrz Ltd, but will be trading as Affino.
It will take most of January for the switch to be completed, but it is already well under way. Let us know what you think.
Add Comments
|
permalink
|
email this
|

|





20 Dec 2013 9:54 AM

Popular

Comments

Profile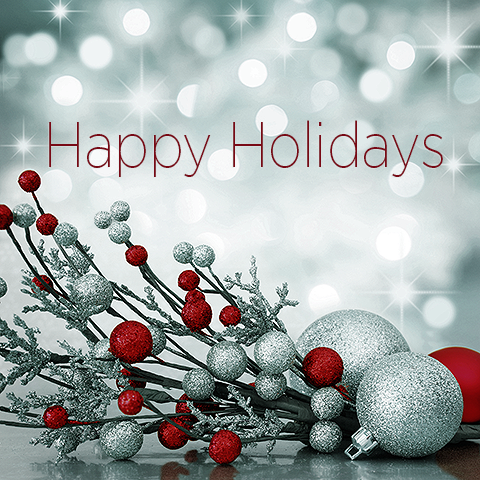 We would like to thank everyone for a great 2013. We welcome on board splendid new Affino users, and celebrate the amazing success that so many of you are seeing with your online engagement and revenue growth.
It has been a year when we've seen some great site evolutions and have started to see Affino sites win major awards. In particular Procurement Leaders with three PPA awards (the UK publishing Oscars). We continue to see Affino sites evolve towards their potential and we'll work with you to help you get the maximum benefit from your online presence over the coming year.
A Year in Transition
This year has been a great transitional year for Affino with the first half of the year focused on the Big Bang move to the new super scaling high availability version of Affino. From your feedback we know that you're appreciating the solid improvements in uptime and performance.
Online business has been evolving more gradually over the year and the improved stability in the ecosystem means that for the first time we've been able to slow down the release cycle somewhat, something that we know many of you appreciate. Looking ahead we're aiming to bring out just three to four major release each year, compared to the 6+ we have been historically.
There have been a number of key enhancements to Affino this year including the greatly enhanced Analysis Centre with the updated Customer Ladder, Ecommerce Dashboards and greatly increased timeframes for all analytics. Messaging had the biggest evolution to-date with greatly improved messaging campaigns, SMS integration and improved auto-responders.
Invites and relationship management have both been transformed this year, in fact it is now easier to look up, select and connect throughout Affino. Affino's look and feel also improved considerably with more refined styling options, Design Panels and greater ability to use custom CSS.
The second half of this year has been all about developing Affino into being a cutting edge responsive design platform that works seamlessly across all devices. Like many good things it's taking longer than we had hoped to bring you the first responsive release, but the long baking period will be worth the wait.
The Internet in 2013
This year has been very much a transitional

...

1 comment
|
permalink
|
email this
|

|





10 Dec 2013 10:34 AM

Popular

Comments

Profile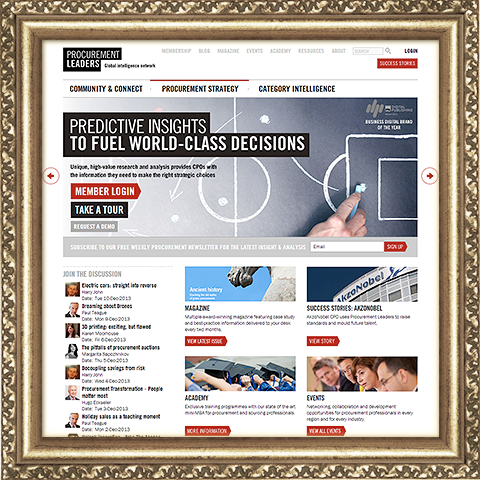 Hearty Congratulations to Procurement Leaders on winning their third PPA award in a year - 'PPA Independent Publisher Digital Product of the Year'.
The Affino-run site has now garnered 3 major awards since September:
2013 - PPA Digital Brand of the Year - Business Media - Winner
2013 - PPA Business Media Brand of the Year - Winner
2013 - PPA Independent Publisher Digital Product of the Year - Winner
The core web team, including Web Manager Quang Luong and Web Developer Sebastian Salcedo deserve high praise for all the hard work and diligence that's gone into making Procurement Leaders the Digital Product of the Year. Quang Luong kindly acknowledges Affino's part in their success:
"Affino provides us with a set of tools and platform enabling us to deliver our award-winning website - recently winning the PPA Independent Publisher Digital Product of the Year 2013"
Get further insights on the road to success by reading the 'Procurement Leaders Case Study'.
5 comments
|
permalink
|
email this
|

|





27 Nov 2013 12:46 AM

Popular

Comments

Profile
Tags:
apple
,
downloads
,
Google
,
ecommerce
,
Affino
,
Amazon
,
Mobile Commerce
,
Product Placement
,
Affino 7
,
website revenue streams
,
Store Credits
,
Affino Social Commerce Solution
,
Maximising Revenue
,
Total Monetization
,
Customer Journey
,
Online Presence
,
Derive Revenues Online
,
Make money through site
,
Make money online
,
Online Revenue Streams
,
Digital Commerce
,
Online Funding Platform
,
Online Services Platform
,
Advertising Online
,
Online Sponsorship
,
Charging for content
,
On-demand services
,
Online Membership
,
Uploads
,
Content Subscription
,
Content Syndication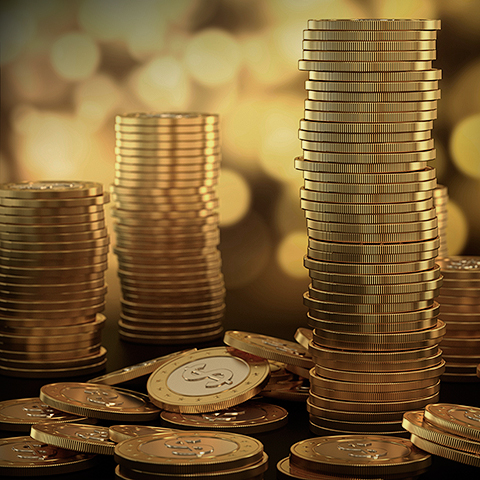 Many people don't realise quite how many ways you can have to derive revenues through your online presence. In this article we focus on generating revenues from and through a website and its associated online activities. There are other ancillary monetizing streams like App creation and merchandising, but these typically require additional resources and expertise so they are omitted on this occasion.
We always encourage our solution customers to consider their own consumers' onsite journeys. Obviously you have several different types of consumer: Suspect > Prospect > Customer > Regular > Advocate - and each will use the website in their own different variety of ways. Early stage consumers are more interested in prospecting, research and validation, whilst latter stage consumers require their own voice and a dialogue / input with the site owners and other site members.
It's fascinating to see how Amazon, Apple and Google have evolved their offerings and ramped up their customer bases. If we take Amazon as an example - with its gradual evolution from hard copy to digital formats (eBooks, Music & Video) and the creation of devices (Kindle) to consume those services. Apple and Google have always been digital players so their evolution was much more straight-lined. Although each has come from the opposite side of the spectrum - Apple moving from digital devices (computers initially) into digital services, whilst Google evolved the other way round - from services into devices. All three companies though are highly proficient at monetizing different touchpoints and activity centres.
All website owners should be tuned into a similar mindset - if you are a solid products player, you need to evolve digital offerings as the marketplace is becoming more and more 'mobile-oriented'. As a digital services provider - which category all websites fall into now, you cannot get away from focusing on the mobile devices with which consumers will increasingly consume your products and services.
Most people think of monetizing in terms of either straightforward ecommerce or advertising sponsorship. There are however many more ways to accrue revenues if you have the correct type of website platform. Here are some of the key examples:
Charge for site / area access / membership - e.g. access to
...

2 comments
|
permalink
|
email this
|

|


| | |
| --- | --- |
| Found: 136 Displaying: 1-20 | |

Subscribe to feed

Subscribe by email
Recent Visitors