06 Mar 2014 11:19 PM

Popular

Comments

Profile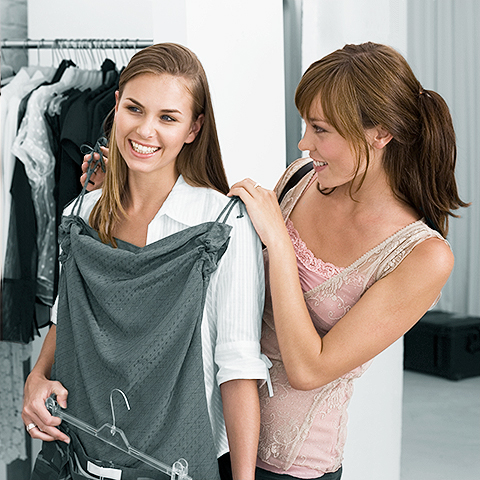 First we need to define 'Social Retail' and detail how it is different to what most companies consider Social Commerce to be. In its simplest form, Social Retail derives from an Integrated Community Space - with proper Facebook-like User Profiles and multiple channels of communication and participation for consumers. Most Social Commerce which you see on the web today is in the form of rather superficial social plugins, most typically - Social Media Sharing and Comments and Ratings.
Social Retail creates a vibrant community hub with relevant incentives - to encourage consumers to own and promote their own space within that brand's larger retail community. The retailers get much better records and understanding of their consumers' increased activities - as well as more word-of-mouth recommendations, and the consumers in turn get a much more rewarding experience from the retailer. Social Retail is a connected experience - bridging the onlne store with the local stores and local communities.

Here follows what we believe to be the key components of Social Retail.

The Bridge
On an Ecommerce website, the emphasis has to be on adding to basket and checkout - you cannot disrupt or distract from that process, or the retailer is likely to suffer diminished returns / conversion rates. Thus the best way to connect with the consumer is from the Sales Confirmation Screen. They have just made a purchase, and the screen presents them with sharing options - 'I just bought Red Coat from B-Boutique' etc. much like Amazon does. On the same screen you would see links / buttons to Community Registration - with a list of incentives. A key part of Social Retail is rewarding consumers for their various online activities - so you present a brief case for how consumers accumulate reward points / store credits from their purchases and online social activities.

Registration
A Social Registration needs a few more details than the regular Ecommerce Registration, which is why it is important that the incentives listed on the Sales Confirmation Screen are repeated on the Registration Screen. It works well to have a rolling ticker of 'Recently registered members' too for added motivation - try and keep it simple though. Successful Communties need Profile Pics and user Nicknames, so these features

...

Add Comments
|
permalink
|
email this
|

|





03 Mar 2014 8:48 PM

Popular

Comments

Profile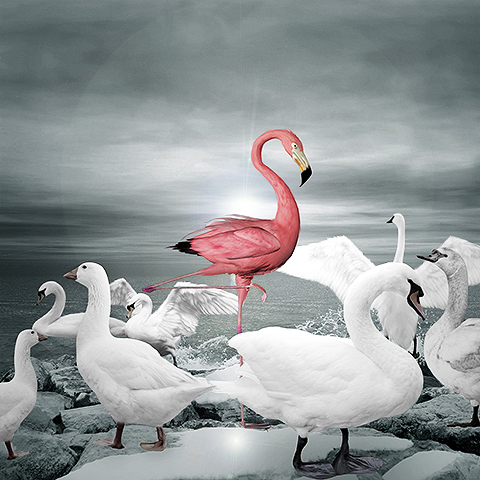 As business moves increasingly online, there is ever more competition - way beyond traditional local / national / continental borders. For many businesses - being online means you are competing for customers against diverse businesses located far far away from your own. There are numerous ways in which you can forge a stronger market position; way before you start thinking about promotional activities, SEO keywords and PPC campaigns, you should be thinking about the ideal brand experience you need to create for your intended customers.
Nearly all companies will have numerous competitors - both direct and related - all competing for overlapping budget allocations. In this modern age, budget boundaries are fluid, whilst overall budget limits are fixed. This means you are often competing in related categories which you might not consider to be strictly competitive but end up being so. In any scenario, you need to make your company stand out, be relevant to intended customers, and be memorable - so that prospective and actual customers can easily find their way back to you again and again in a meaningful and easily replicable manner.
The key and most immediate means by which businesses can define themselves are brand logos and their associated attributes. Get the logo treatment correct, and you already have a leg up on most of your competitors. Where you are competing with businesses with strong brand propositions, you need to use additional attributes in order to elevate and differentiate your brand.

Key components of brand identity

Name
Unique - Meaningful - Relatable - Memorable - Traceable.

What's in a name? Quite a lot actually - there's an added reason why Amazon, Apple, eBay, Facebook, Google, Flickr, Twitter et al. are so easily successful and others less so, and it's quite a bit to do with their names. Twitter in particular follows a great naming convention - Twitter / Tweets is entirely understandable, relatable and relevant. It often helps to have a shortish moniker as this aids memorability and relatability. For a customer to understand what a new business is about largely from their name, means there is less work for the logo / brand mark to do. Brevity also is key to memorability - the shorter the name is, the easier it is to reproduce and type into a browser. There's a

...

Add Comments
|
permalink
|
email this
|

|





25 Feb 2014 12:21 AM

Popular

Comments

Profile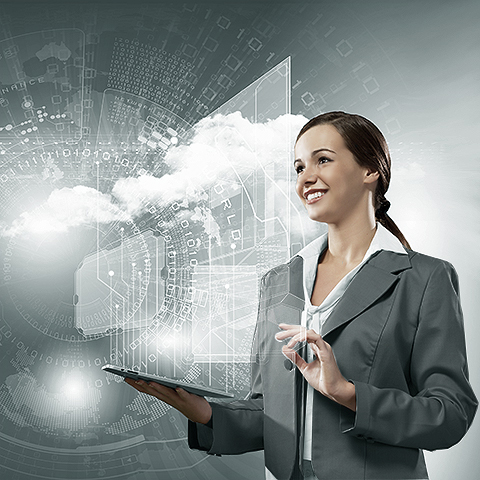 A recent Econsultancy feature discussed the challenges Integration poses for business growth. No matter what type of website / online business you run, there's likely some need for Integration to provide you with the full solution you require. Ecommerce websites typically have a large number of Integration requirements - I have listed the key areas below. Integration is often a costly and time-consuming activity, and one which needs to be maintained in perpetuity. There are of course a number of different Integration strategies, and consumers should be well aware that not all systems are created equal. Here below, I outline the 4 key considerations for businesses to think about before starting down the long road of Integration.

Key Integration Areas:
Analytics and SEO
Mailing Lists and Sales & Marketing Automation
Social Media
Ratings and Reviews
Customer Relationship Management (CRM)
Content Management System (CMS)
Digital Asset Management (DAM)
Enterprise Resource Management / Planning (ERM / ERP)
Payment Gateways
Warehouse Management System
Product Information Management
Search and Merchandising
Fraud Management
Carrier Management / Order Management

Need for Integration
It pays dividend to have full oversight of your business requirements at the start of your project process. There are some very different systems in the marketplace, and some will be far better tailored to your needs than others. It almost goes without saying that some degree of Integration will be required, but the more holistic a core solution is, the lesser the up-front cost. With a solution like the Affino Social Commerce Platform, most of the key Integration Areas are already catered for. For instance, you may not choose to use the Affino CRM Component in the longer-term, but you can make use of it in the first phases of your roll-out while you build up your business. Having more elements of your overall solution included in the core system greatly reduces costs and overheads - and makes for a simpler owneship experience.

Speed of Deployment
Many companies we deal with are tempted to do too much, too soon - that is to say, to fit too much into phase one of their project - this can be both a costly and risky strategy - as well as being time-consuming. With a solution like Affino though - where there's a large

...

Add Comments
|
permalink
|
email this
|

|





21 Feb 2014 10:01 AM

Popular

Comments

Profile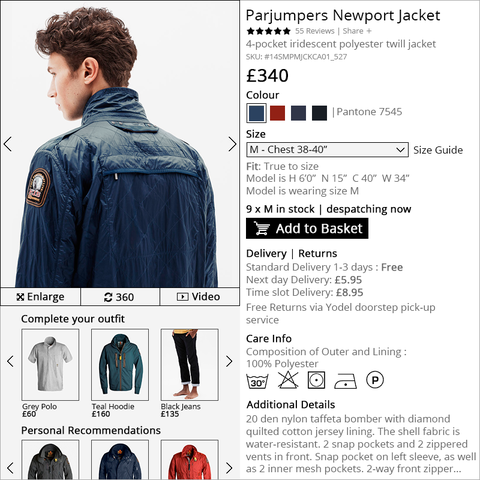 Retail is increasingly moving online, although there will always be some forms of shopping more suitable for a personal hands-on experience. When I buy clothing, I always try to bear in mind the following five criteria (The 5 F's):
Fabric - What is the garment made of? Is it machine-washable? How does the fabric drape? Is the fabric water resistant and breathable? How will it stand the crumple test?
Fit - Exactly what size and shape is the garment? How well will it fit me - is it slim / loose? Is the garment true-to-size or larger / smaller than advertised?
Finish - How well is the garment put together? How tight / defined is the stitching? What little details elevate the quality of the garment?
Form - What is the garment's overall styling - colour, shape etc.?
Function - I like all my jackets to have minimum 4 sealable pockets. I love 2-way zips. Special functions include overall purpose of garment - e.g. athletic garments need to enable free movement, wick away sweat etc.
So when I buy something in-store, I can run my fingers along the stitching and seams to ascertain quality, I can also obviously try on the garment to ascertain how good the fit is, how well it suits my frame etc. - all people are different shapes and sizes and not all brands will suit.
When buying online, as you cannot easily apply all the 5 criteria, there will obviously be a fair degree of returns, so for Fashion Retail, the returns process is an essential component. Overall though, you are trying to overcome various barriers to sale - to put the shopper's mind at ease and remove all doubts they may have. I devised the above template to include all the necessary details to give a shopper full confidence to buy from you. I buy a fair amount of clothing online, and have distilled best practices from the leading fashion retail sites, as well as extrapolated some finer nuances which appeal to my own discerning nature.
NOTE - that I was limited by space (800 x 800 pixel visual) and that the above concept is obviously a little cramped for space - the final implementation would of course have a more spread-out layout.
The key purposes of the included elements are as follows:

Ratings | Reviews | Share +
Social elements are key to encouraging purchases onsite (Ratings + Reviews) as well as through distributed social media

...

1 comment
|
permalink
|
email this
|

|





18 Feb 2014 9:26 AM

Popular

Comments

Profile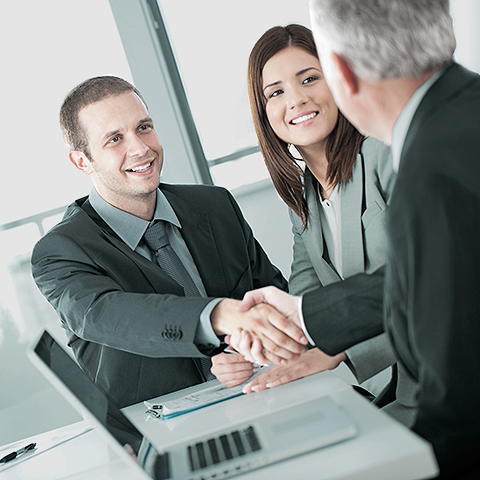 Society is going through a key step change at the moment - we're still in the throes of a major global move to urbanisation - prices are sky-rocketing and living space is shrinking. What with wage levels largely frozen since 2008 - your typical householder has less disposable income and less space to stow their goods.

Several rental-type businesses are already into maturity through technical innovation - most people rent or subscribe to music and video now - via iTunes / Google Play / Spotify / Netflix / Hulu / Sky and the like, and people mostly subscribe to literature now too via Kindle / eBooks.

As the new social / eco-conscious economy looks to cut down on wastage and the various different types of pollution, consumers are increasingly looking away from materialism towards more responsible means of accessing products and services. There's not just a change in consumption / consumerism, but also a change in how we utlise existing resources. A few of my neighbours for instance make use of Airbnb to get additional income via renting out a spare room. It's also getting fairly common in Reykjavik that several young professional couples are sharing a house - for the sake of more affordable rents.

Many retailers need to face up to these new challenges and find new means of delivering their services. What with the growing success of eBook monthly subscription service 'Scribd' I'm surprised that none of the publishing giants have really taken this to heart. I would be all for paying a £9.99 monthly fee for unlimited Kindle eBooks access (a la Spotify) - why hasn't Amazon done something about this - they already sell, and rent out videos. It's a no-brainer for media companies to offer different means of accessing / acquiring content - from short-term rental to longer term subscription and yes - outright purchase. The truth is most media buyers don't realise that when they buy a digital version of something (Kindle, iTunes) it is actually a long-term subscription, they don't really ever actually own the media (it's more of a licencing model). I'm really surprised that a major player like Amazon has not yet given its customers similar options with Music and Literature as to what it already provides for Video.

The car rental / traditional taxi business

...

Add Comments
|
permalink
|
email this
|

|





13 Feb 2014 8:42 AM

Popular

Comments

Profile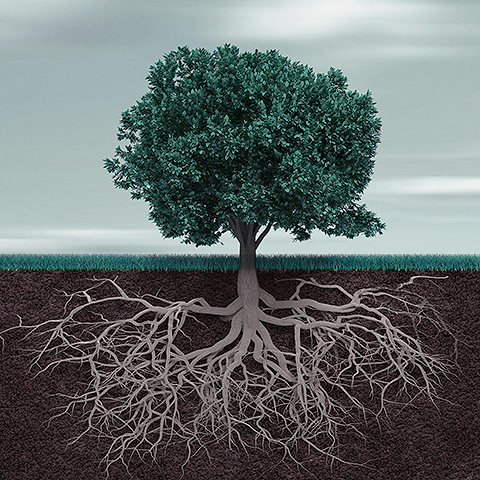 There's a huge amount of processes and procedures that go into building a business online it would be very difficult to cover absolutely everything in a single article. Instead I have tried to distil some of the key considerations which get you into the right mindset and help you maintain good habits for growing your site in an organic fashion. There's another promotional layer which overlaps with this, and is often called 'Growth Hacking', which we will be covering in a later article ...

Target Audience
The first rule of growing your business is 'Know your customers' - to be able to successfully target prospective customers, you need to know exactly who you are going for and what their motivations are. You need to be able to put yourself into your customers' mindset and see the world from their perspective - to properly identify their needs and how to meet them. You need the strength of mind to be able to filter out your own personal bias and preferences - as your personality can easily get in the way of objectivity! The customer acquistion cycle is a staged / iterative process - one which we often call 'The Customer Ladder'; to successfully acquire and retain customers you need to understand their motivations and behaviour at each step in the cycle, so that you know how to engage them. I recall a professional and serious news / reportage site which was styled in screaming pink - a preference of the site owner, but something which somewhat undermined the gravitas of the news, and alienated certain prospective readers...

Relevant Content + Products + Services
This is essentially the second rule of business - 'Serve your cusomers'. There's actually several subdivisions to this, and different categories of content which need to appeal to prospects as well as existing customers. At the simplest level we are talking about 3 categories of content / products here - what you are actually selling is the core, but then you have supporting materials and facilities - some of which will need to appeal to prospective customers and some to existing customers - each will have a different degree of scope and depth. You need to be able to consitently and regularly provide supporting materials to ongoingly engage your audience. For prospects, and in advertising, we

...

Add Comments
|
permalink
|
email this
|

|





13 Feb 2014 7:36 AM

Popular

Comments

Profile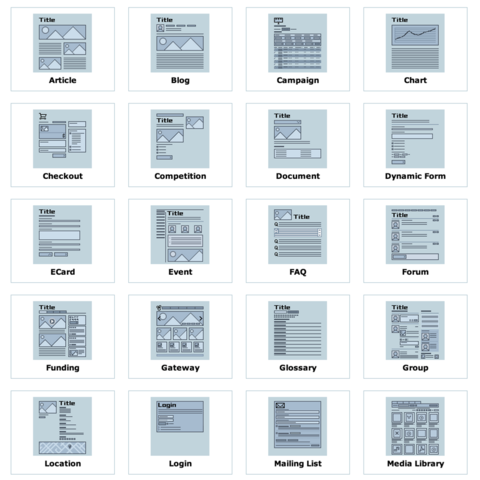 We've got some great usability enhancements coming in Affino 7.5. One of the best is going to be the new interface when you add Channels. It will answer hundreds of questions all by itself and make the process of adding new aspects to your online business that much easier.
Usability First
Channels are at the heart of Affino, they allow you to create dedicated areas on your site for the key activities you will be doing online such as blogs, forums, forms, product listings, checkouts etc. You only set them up when you need them, and because that is a fairly rare activity in Affino the process hasn't been made as usable as it should be.
We know from our conversations that the more you use Affino the more you love it, so we're committed to making it as easy to explore all Affino has to offer. The new Channel adding process does just that, inviting you to explore new areas and making it much easier to do so.
Looking Back
A few years ago we introduced Standard content channels to Affino. The idea behind the new standardised approach was that we could provide a single interface for managing all the 'pure' content ranging from news articles, through to FAQs, Presentations and Glossaries. It allowed us to quickly roll out publishing workflows for all content, unified tagging (taxonomies), live editing and much more.
The downside was that it became more complicated to set up new aspects from scratch and Affino's performance took a hit since we now processed a great deal more for each and every standard content page.
Over the years we have made adding channels considerably easier by improving the initial Affino build to include all the key channel types, meaning that for the first site everything is ready to be tweaked. We introduced the jump lookups which allow you to instantly do a detailed lookup or add new settings where they are required when adding channels. We also improved the performance over the years through multiple optimisation rounds.
The issue remained though that when you came to add new channels or new sites the process was needlessly complicated and the performance issues have never fully gone away. That all changes with the upcoming release.
The Way Ahead
The new Channel type selector (see above) is a great evolution from

...

3 comments
|
permalink
|
email this
|

|





10 Feb 2014 9:11 AM

Popular

Comments

Profile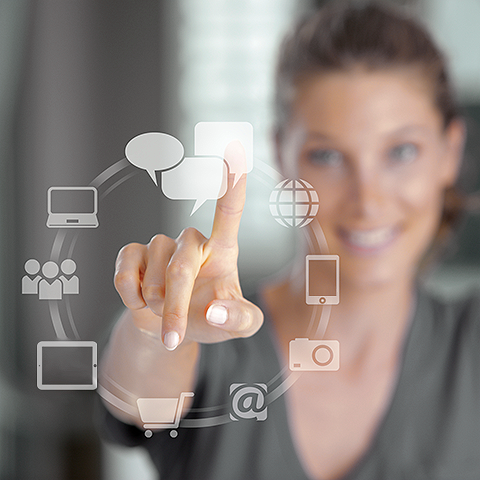 Not only am I an Ecommerce Specialist for Affino, I am also an avid International Internet shopper. I buy goods from pretty much every part of the civilised world - from USA to Hong Kong and Japan and all the major states of Europe in between (20+ countries). I have bought all manner of goods at all manner of prices / currencies and dealt with various returns processes, goods forwarding services and general customer services - including advanced goods and customs / imports handling. My day-to-day trifecta are Amazon, Ebay and Ocado, but I also have a love for Juno.co.uk (Vinyl) Wiggle.co.uk (Sportswear) and Parajumpers.it (Sportswear) - getting next day delivery from Italy for £22 is seriously good! Generally I love fast and efficient service best - and I love that Amazon uses Yodel to arrange doorstep pick-ups for returns - everyone should do this!
Here follow my recommendations for how everyone could sell better online:

1: Full Disclosure
Too many sites still get this wrong - not telling you everything you need to know to check-out with confidence. The bare minimum info you need is whether an item is actually in stock and ready for despatch, and EXACTLY how much it is likely to cost. Details need to be something like this:
9 in Stock, despatching now
Price £10.00
Standard 1-3 day delivery from £3.00
The above is clear and to the point, and has no ambiguity - many sites that don't display stock levels, don't actually have the items that they are listing 'in stock' - this should always be made clear to the consumer. I still see sites that don't include pricing on listings, and have no reference to delivery costs until you are in the final stages of checkout - all these are major cases for shopping basket abandonment.

2: Compact Info
Grouping all the essential order data together in one compact location makes it easier for customers to see what they're in for, and therefore better predisposed to actually making an order. Many sites hide essential information behind tabs, or locate it in different areas of the page. A single at-a-glance box with everything you need to know compactly contained within it is the ideal here.

3: Reassurance
You will often hear me talking about 'Post Purchase Dissonance' i.e. the doubts a consumer

...

Add Comments
|
permalink
|
email this
|

|





03 Feb 2014 12:19 PM

Popular

Comments

Profile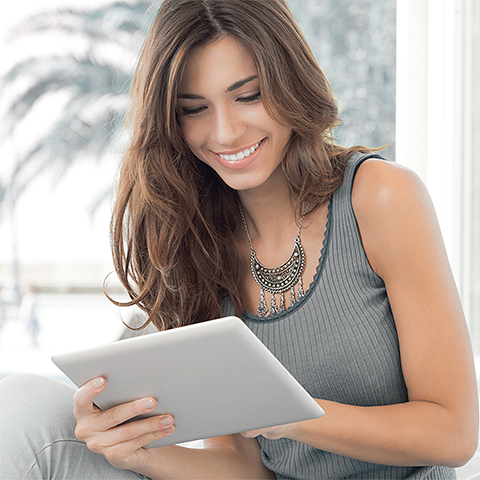 As part of our marketing campaign this year, we've reviewed a heck of a lot of publisher / magazine / book retailer websites, and while a lot of them are taking positive steps; as a whole, the industry is still a little bit off the pace for what the Internet can truly deliver. Most publishers are still faced with dwindling book sales overall, particularly since the slow-down of the '50 Shades of Grey' phenomenon which briefly invigorated the industry.
There's been an obvious transition from traditional books to ebooks and electronic formats, but still the general public reads far too few books each year as a whole. The publishing industry has somewhat forgotten that they are part of the Entertainment Industry and are competing with clever innovations in Television like Netflix, Spotify for Music and 3D + Atmos sound at the Cinema. Publishing needs to get more innovative and produce a richer, more immersive experience. Publishers need to engage their customers better, give them more ways to access and interact with their published works, and a deeper, more affecting long-term relationship.

Social Engagement
The typical book-selling websites simply just list books, with generic descriptions, ISBN codes and one or two prices. The more clever add industry reviews and author details, but relatively few enable proper interaction via commenting, forums, recommendations and the like. Social Engagement is not just key to getting customers more involved with books and magazines, it's also essential for the promotion of the same.
Social Participation
This has been done before, but not nearly enough - letting readers become an active part in the writing / direction of the narrative. I'm not talking about succumbing to a mob mentality, but more about creating an ongoing and active means for readers to get involved in their favourite works. There's lots of examples of crowdsourcing for various creative endeavours - and this is just the kind of thing publishers can do to make themselves more relevant and more accessibly to their customers.

Taxonomy and Personalisation
Advanced hierarchical topic-tagging is essential for accurate recommendations of like works. In my article 'How Taxonomy and Recommendations are key to a successful Christmas Retail Season&

...

Add Comments
|
permalink
|
email this
|

|





03 Feb 2014 12:00 PM

Popular

Comments

Profile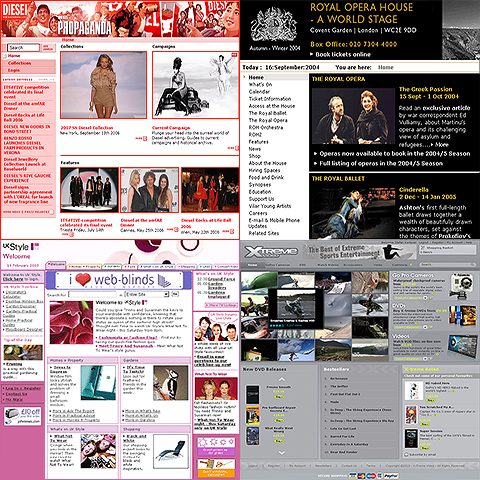 Our Affino Social Commerce Solution - soon to be version 7.5, has been around for a lot longer than many realise, and has quite an illustrious history. This article is intended to illuminate some of the highlights from Affino's past evolution - especially for those who have not yet had the pleasure of experiencing Affino.

The roots of Affino go back to Markus's (Affino CEO) consultancy years of 1997/8 where Affino evolved out of the somewhat more rigid 'Sunrise' Platform, which Markus developed to run websites for Audi, Casio and Carrera Technology. The original Carrera Technology implementation has continued to influence the development of Affino, as it really was a state-of-the-art Ecommerce experience of that time, with a series of advanced specifier steps in the checkout process, and real-time inventory integration and delivery management - pretty state-of-the-art for 1998.

The company Emojo (a precursor to Comrz, with several of the same staff) was founded in 1998 with a view to developing 'Sunrise' into a more modular platform that would be easier to implement, and most importantly - be easy to manage by customers. Right from the offset, the intention was to build the best system for selling online. There was always a long term goal of creating a full-featured modular hub, with essential plug-and-play functionality at its core, and simultaneously empowering site owners to take full control of their entire online business and to maximise their revenues through the Internet.

A key cornerstone to doing business online is the ability to sustain complex, long-term dialogues and interactions with customers. This is why, right from the start, Affino came fully loaded with social-interaction capabilities. In the early years, Ecommerce took a bit of a back seat, while the social engagement core of the system was being finessed.

Flash has largely come and gone, as has Affino IPTV and numerous other innovations of their time, which have since been replaced with ever-evolving contemporary technologies like Responsive Design and the Automated Customer Ladder. The future direction for Affino is always guided by finding the best balance between empowerment, total technical ability, seamlessness, learnability and simplicity. Affino has always been developed with the intention of delivering the

...

Add Comments
|
permalink
|
email this
|

|





28 Jan 2014 2:59 PM

Popular

Comments

Profile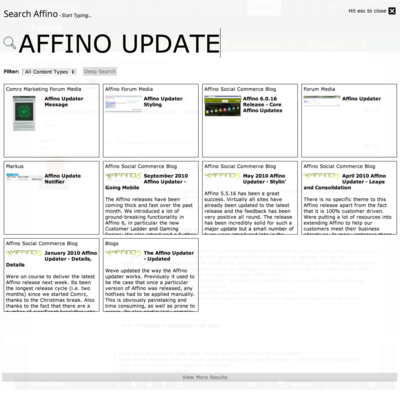 Affino 7.4 is very much a usability focused release which includes six months' worth of usability improvements and bug fixes. There are key usability improvements throughout Affino and the CRM in particular has been transformed in its day-to-day usability with this release.
Affino 7.4 also introduces two new significant behind the scenes changes. The first is that everything now points to affino.com, the second is the shift for the Design Centre to be the Classic Design Centre. You should not notice any changes with these two introductions except they're pointing at different locations.
This release also prepares much of the groundwork for Affino 7.5 which sees the introduction of the responsive design centre later this quarter.
Upgrade Guidance
The Affino 7.4 is very much a stability release and is an essential update for all Affino sites. It is an easy update, simply go through the standard update process. You will need a new licence key to access the updated Social CRM elements so please contact your account manager.
It is essential that you run through the complete update process starting with the Affino Updater, followed by the System Update, Re-Initialise Site, Design Element Update, Skin Update and finally Clear Guest Cache; all of which are available on the Settings > Update screen.
Key Enhancements
Social CRM

Affino's Social CRM has seen major improvements in this release with the focus on improving the sales workflows and productivity. It means it is now easier to work with prospects as they are created as non-members and then seamlessly transitioned to full members when they register, bringing along all the pre-registration contact history. A major focus has been on minimising the steps required to manage prospects, e.g. entering the details on the contact for a new Account will instantly create the account.

Finding contacts is now much easier as you can tag them to your 'My' list anywhere with simply a click. When searching and you select a user from the predictive drop-down you will be taken to them immediately.

We also introduced Contact Notes which let you easily track any correspondence with the contact. These are then instantly trackable to Accounts and to a centralised Contact Notes screen. Future upgrades will see

...

1 comment
|
permalink
|
email this
|

|





21 Jan 2014 9:30 AM

Popular

Comments

Profile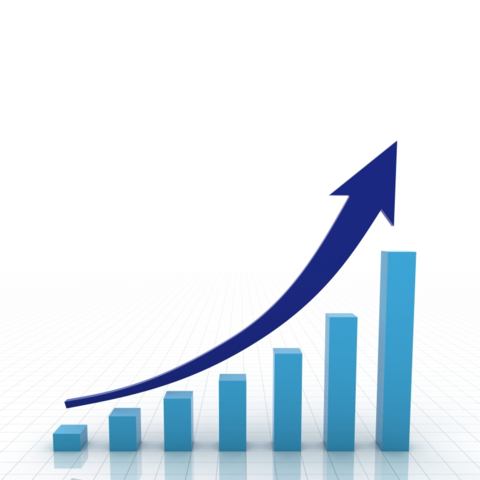 Increasingly Affino training involves conversations on how to get started with SEO, here's the Quick Start guide on SEO with Affino. SEO is one of the three key ways to promote your site.
This is Not an in-depth guide on how to use each of the Affino elements or on specific SEO strategies, rather it is to help you get started with the basics, i.e. a 'What to do' rather than a 'How to'. Some of which happens in Affino, and some of which happens externally.
Refresh your Brand Profile
The first thing you need to do is to create your brand profile, or update it to include the essentials outlined by Stefan in his great 'Creating the Perfect Brand Profile' article.
Based on your Brand Strategy identify the initial keywords you want to promote. These are based around your products, services and more importantly on what you would search for to find your products and services. Essentially these are your target customers' interests.
Build up a hierarchy of keywords (Topics) in a simple indented list, just starting off in a Word document, e.g.
Affino

eCommerce

Store
Shopping Basket
Checkout
Coupons
Discounts

eCommunity
eMedia
You'll use this to help identify the key word and terms you'll be promoting your site on.
The Essentials are: Personality, Unique Content and Currentsy, see my post here. If you don't get these right, forget about any of what I've outlined below. You'll just be wasting your time and money.
If you have them covered, and are committed to them, then they will be the cornerstone of a great site.
Zones
Update your Zone so you have the right site information and SEO settings. You can always change these, but get the basics set up straight away. Make certain your site Keywords are in place.

Turn on logging so that you have the essential data available to you in your Affino Analysis Centre. This will allow you to evaluate your future campaigns.

Update the Zone (your site information) to be as relevant as possible. Make sure you're using the best domain as your Zone Domain and

...

1 comment
|
permalink
|
email this
|

|





15 Jan 2014 10:41 PM

Popular

Comments

Profile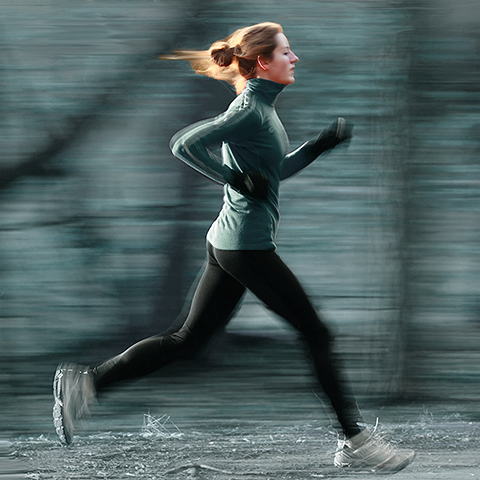 All marketeers are well aware that the start of the marketing calendar is wholly focused on recovering from the excesses of the Christmas holiday season - Finance, Fitness and Diet are splashed across all media in high concentration from January through to Easter. More than that though, January is about setting up for the year ahead - building towards goals, and trying to hit the ground running. I have extrapolated 3 derivations for each topic term for you to apply to how you might best oversee a successful online business.

FINANCE = ASSETS | INVESTMENT | CASH FLOW MANAGEMENT

ASSETS
This is about making the most of your existing business assets - getting the most effective participation and output from your human resources, how you bolster the value of your Intellectual Property and Brandmarks. This is obviously a review and enhancement exercise - seeing where you can extract more value and impact from what you've already got. Our company used to have two brands - Comrz (company) and Affino (Solution), and to increase the impact of our marketing and extract more value and efficiency, for 2014 we decided to put everything (company + solution) onto the same Affino brand.

INVESTMENT
As part of planning the year ahead, you need to figure out which areas of your business need investment - where is the most opportunity for growth, and what resources (human? technical? supplies?) need to be acquired to support that growth. You have to balance investment with profitability, as ideally one leads to the other, although initially the investment is likely to put a strain on resources.

CASH FLOW MANAGEMENT
This is the essence of most business management - balancing the flow of payments over the whole year, and having sufficient reserves, backup plans and / or other financial facilities to draw on to ride out the off-season / lean times.

FITNESS = RESILIENCE | AGILITY | ADAPTABILITY

RESILIENCE
This is the Core Strength of the business - how well set-up and how good you are at handling pressure and coping with stress points. A key part of this is Rate-of-Recovery too - in terms of tackling heavy projects at high intensity, and being able to recover quickly to deal with other matters. For smaller businesses this is particularly important, as there is a lot of multi-tasking that needs to happen to render a similar degree of service which larger companies can

...

Add Comments
|
permalink
|
email this
|

|





15 Jan 2014 6:13 AM

Popular

Comments

Profile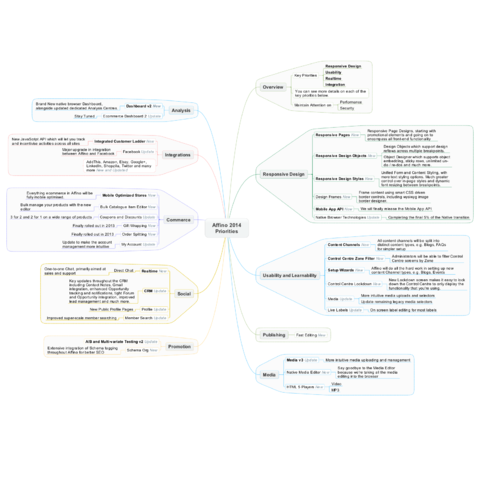 2014 is going to be an exciting year for Affino. Q1 will see the Affino 7.5 release, which introduces the new Responsive Page Designs. These have been a long time coming, but the wait will be worth it. To provide the best experience we went right back to the drawing board for how we serve live pages in Affino so that we could produce the very best responsive interfaces.
In fact Responsive Design is the main priority for the first 6 months of 2014 and everyone should look to be rolling out fully responsive sites on Affino by the end of 2014. We will continue to support the Classic Designs, and you will be able to run the Classic Design Centre alongside the new one until Affino 8.
As usual note that the priorities are subject to change, however we do anticipate a significant pick up in the rollout of new updates once the new Responsive Design Centre is complete. It will be the culmination of a four year plan we've been working through to delivering ultimate cross-platform social commerce experience.
Responsive Design
The new responsive page rendering engine is being written entirely scratch using an object oriented approach which is seeing page generation times up to 10 times faster. The pages themselves also render dramatically faster on the browsers, and we are optimising every part of the process to ensure the fastest mobile experience possible.
The new Object Designer allows you to design and preview designs across multiple form factors with unlimited undo and redo whilst designing. Updated Design Styles now incorporate Form Styles and have been greatly extended to allow for very tightly styled sites including auto-scaling of fonts.
Every single Design Element, Template and application interface is optimised around responsive resizing and cross device usability.
To get the new Responsive Design Centre to you as soon as possible we will be staging the introduction of responsive elements. Phase One sees the roll out of the promotional elements so that you can design and roll out promotional sites (including most social elements), this will be followed by the ecommerce elements and then the remainder.
Usability and Learnability
2013 saw the Control Centre consolidated around the new Affino 7 interface, which is both very usable and presentable. 2014 will see a major focus

...

Add Comments
|
permalink
|
email this
|

|





12 Jan 2014 5:01 PM

Popular

Comments

Profile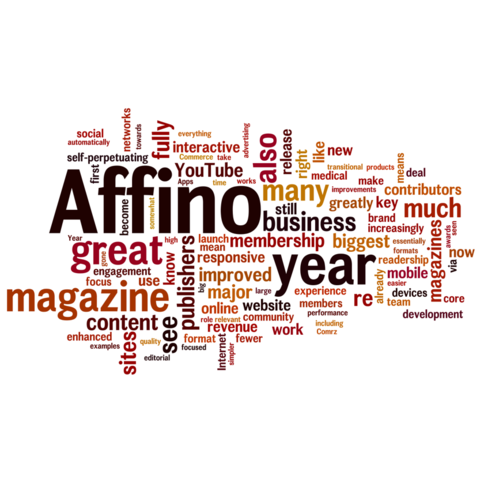 2013 was a year of two halves for Affino development. The first half was primarily focused on the Affino user experience and the second half has been focused on creating a new Responsive Design front-end for Affino which is due for launch in Q1 this year. Along the way Affino saw some great improvements.
1) Performance
We built Affino to scale this year, and to scale at speed without needing any human intervention. This meant major architectural changes where we changed virtually every platform that Affino was running on, or where we kept the same platform we moved to the latest generation.
We also focused on optimising many key aspects of Affino so that it is faster across the board. We have carried on in the second half of the year, and Affino's upcoming responsive design pages are stunningly fast. We know you appreciate the speed improvements you already see, so be prepared to be delighted when you move to responsive.
2) Uptime
Prior to 2013 our focus on uptime had been to make Affino run as effectively as possible on fixed hardware. The reality is that approach is not the best way to develop for the Internet. There are simply too many opportunities for systems to be 'shocked'. Moving to the new generation auto-failover and auto-scaling architecture, and focusing on up-time for the user versus up-time for individual systems has made all the difference.
For high performance Affino sites there has been precisely 0% downtime since the launch of the new architecture. For entry-level Affino sites the uptime has been as high as 99.98%. In fact from the human interaction standpoint in almost all down-time events since the transition a new system has been in place by the time the user hits the re-load button on the browser.
When taken together, the great performance improvements and incredible uptime, it means that Affino is now always there to deliver a fast and effective experience to all users.
3) Messaging
Messaging saw a complete overhaul with new Message Campaigns for mass, personal and SMS campaigns. We split up the old newsletter system to separate out the mailing lists and the message campaigns, and it has transformed how you can communicate with your community through Affino.

Message Campaigns can now be used not only to send occasional manual

...

Add Comments
|
permalink
|
email this
|

|





10 Jan 2014 12:22 PM

Popular

Comments

Profile
Tags:
publishing
,
social commerce
,
responsive design
,
eCommerce Trends
,
Retail Trends
,
2014 eCommerce Trends
,
2014 Retail Trends
,
2014 Online Retail Trends
,
Online Retail Trends
,
Mobile Transactions
,
Tablet Commerce
,
Mobile Checkout Terminals
,
In-store to Online
,
mWallet Transactions
,
mWallet
,
Social Engagement
,
Indoor Location Identification
,
iBeacons
,
Click and Collect
,
Online Deliveries
,
Delivery Options
,
Dark Space Retail
,
eCommerce Industry Benchmarking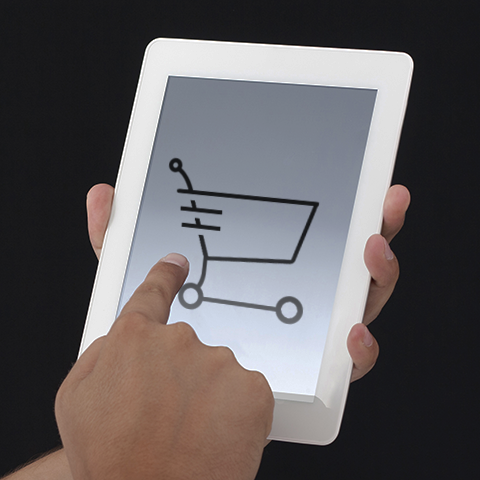 Picking up from some of the key activities of 2013 and extrapolating forward for the next 12 months - some things, like the Amazon drone deliveries are still in the world of the fantastical. Fortunately, most of what's coming up in 2014 is on a more practical plane. Most of what's up and coming was initiated last year - and whilst some of these elements are in their infancy, many too are accelerating rapidly and reaching maturity ...

Responsive Design focused principally on the Tablet format will become the norm
Even though the majority of the Black Friday, Cyber Monday and Christmas Sale transactions were conducted via PC and Laptop - the real growth was very specifically on Tablets. Where websites used to be designed from the largest resolution size of the PC and adapted down the formats to Tablet and Mobile, the new paradigm is to focus on the strongest growth area. We can see from the surge in Tablet sales vs PCs and Laptops that this is where computing devices are headed. Even though Tablets may not be the lead format in many sectors yet, they undoubtedly will be and soon. Responsive Design is the ideal means to provide an optimal interface across all touchpoints - only now the starting point and key focus is likely to be on the Tablet format.

Mobile transactions will take an even bigger share of online transactions
Over Christmas 2013, BBC iPlayer requests were running neck-and-neck between PCs / Laptops and Tablets - on boxing day, Tablets just pipped the other formats as the most used means of accessing BBC iPlayer. In certain sectors Smartphone Apps can work particularly well, as Dominos Pizza has shown. The smaller form factor is suitable for more basic retail and ticketing, whilst catalogue browsing is not really comfortable at the smaller resolution. The domestic computing device of choice is more and more becoming the Tablet, and this is where online retail will grow the most.

More stores will start using mobile checkout terminals similar to Apple's
Oasis was one of the first UK high street stores to follow Apple into the area of the roving mobile checkout - in this case by utilising iPads. Knowing how - long queues at the tills can be a deterrent - more retailers will be introducing mobile checkout points. There are obviously certain types of retail that this format of checkout is more suitable for, but in the long term

...

3 comments
|
permalink
|
email this
|

|





05 Jan 2014 11:59 PM

Popular

Comments

Profile
Tags:
online retail
,
publishing
,
seo
,
ecommerce
,
social commerce
,
Affino
,
Affino 7
,
Online Incentives
,
responsive design
,
Affino Social Commerce
,
Affino Social Commerce Solution
,
Multi-domain
,
Multi-domain Delivery
,
Replatforming
,
Enabling Platform
,
Online Engagement
,
Easy Back-end Integration
,
SEO Structure
,
Content Personalisation
,
Web Personalisation
,
Instant Anlytics
,
Web ROI
,
Web Business ROI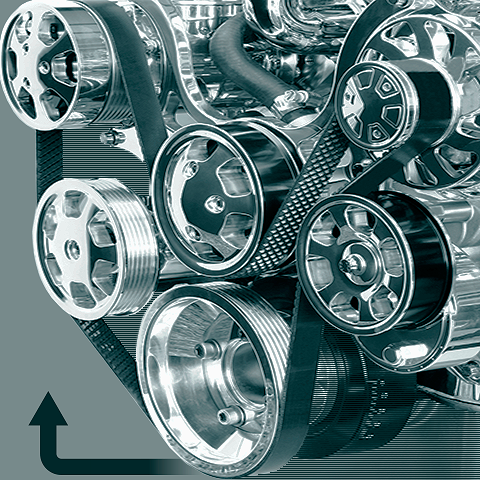 Over the last 12 months, we have heard a lot about the need for replatforming, owing to game changers and paradigm shifts in the online retail industry. The chiefest of these is the increasing consumer shift to mobile devices and the need to provide a seamless high-level customer experience across all channels of involvement. Responsive Design will of course be essential, but there are several other key criteria which will need to be seriously considered too.
Here follows a quick checklist vs your current platform as to whether you need to change-up to a more powerful engine to grow your business effectively in 2014:

Current Platform is not Responsive
According to IMRG, in 2013 it was mobile devices that were responsible for the net growth in eCommerce - you need Responsive Design to be able to provide your customers with a seamless experience across all their chosen touchpoints.
Current Platform is not Enabling
Can you update content. structure. layout, design and campaigns without agency assistance? Speed of reaction is critical of course to maintaining a healthy competitive advantage, and if you can do more yourself you save on overheads...
Current Platform is not Engaging
Are your customers actively engaged on your sites - by means of social and participative functionalities? Customers need a platform for communication and participation, they want a voice, and are no longer content to just pass silently through checkout.
Current Platform does not support Multi-Domain Delivery
It is essential for marketing effectiveness to be able to target each customer demographic with their perfect experience on a dedicated and relevant domain. Failure to provide a high-level dedicated experience will mean customers look elsewhere for satisfaction.
Current Platform does not support easy Back-End-Integration
It is inevitable that the website front-end will need to be integrated with key back-office technologies, for many platforms this can be a very high-level overhead experience. Indeed, for many platforms this can be the chief bugbear and often means the web team spends more time managing the system than developing and evolving the customer experience.
Current Platform does not offer Customer Incentives
A successful retail platform requires ongoing customer incentivisation and activity triggers, relatively

...

2 comments
|
permalink
|
email this
|

|





03 Jan 2014 10:24 PM

Popular

Comments

Profile
Tags:
Beyoncé
,
Future of Music
,
2014 Album Release Schedule
,
2014 Musical Trends
,
FKA Twigs
,
Emika
,
Sam Smith
,
Tinashe
,
Sophie
,
iTunes Radio
,
Video Album
,
Visual Album
,
Interactive Album
,
Future of Music Online
,
Future of Music Online 2014
,
Multimedia Extravaganza
,
Interactive Music Videos
,
Instant Album Release
,
Banks
,
George Ezra
,
Kelela
,
Luke Sital-Singh
,
Mø
,
Sampha
,
Tove Lo
,
R&B
,
Urban House Music
,
Synth Pop
,
Old School Hip Hop
,
Daisy Age
,
Cinematronica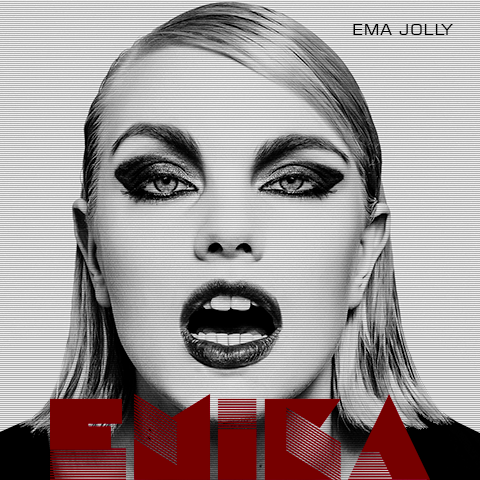 2013 was actually a pretty good year for music - highly prolific, and eclectic, and thanks to Beyoncé, it also offered up a couple of firsts vs the old school record industry. British electronica artist Emika / Ema Jolly produced my favourite long player for 2013, and as you can see from the other entries - hip hop, R&B, percussive indie and electronica also feature strongly.
NOTE - this blog post will be updated throughout the year with album release details ...
)
)
My Top 10 Albums of 2013
DVA - Emika
Body Music - AlunaGeorge
The Bones of What You Believe - Chvrches
Shulamith - Poliça
Reflektor - Arcade Fire
Zeitgeist - Camo & Krooked
After Dark 2 - Italians Do It Better
Old - Danny Brown
Cut 4 Me - Kelela
Yeezus - Kanye West

5 Musical Trends for 2014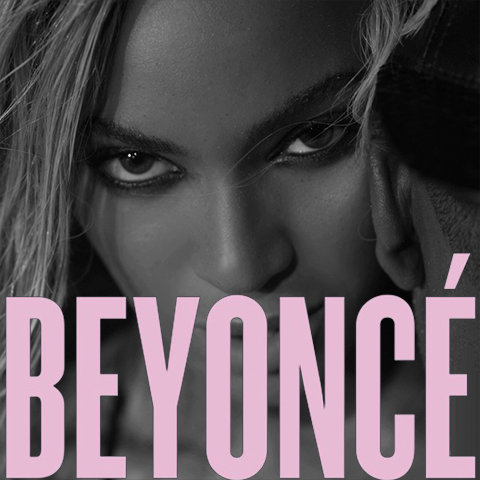 )

UK etc. Launch of iTunes Radio - iTunes's Spotify competitor is now very imminent - it has appeared very briefly each time I reset my iPhone to factory settings recently - Americans have had it since September (you get it ad-free with iTunes Match), we're just waiting for someone to hit the switch over here - as a Spotify fan though will it offer me anything different / better? - is Apple a little late to this party?

Instant Album Release - 'A la Beyoncé' - Beyoncé is an absolute heroine for doing this, can only really apply to big established artists - creates instant hype and demand - great way to sell whole album of tracks and avoid piracy - need to know someone at iTunes ideally for maximum instant exposure and need big fan network to promote on your behalf

Video Album Release - I had already predicted this trend a couple of years ago - so thank you Beyoncé for leading the way. Next we will see more of a linear narrative - something much more like a movie / soundtrack. Soundtrack albums have always done quite well as they tie emotion to a specific arc of narrative events - this is also what can make all the tracks on an album relevant - rather than just a few standout cuts ...

Multimedia Extravaganza - I predicted this last year, following on from Björk's Biophila App affair. No one though has really as yet taken up the reins on this. Metric had an interactive Synthetica App which I got bored with fairly quickly. I am expecting more of an

...

Add Comments
|
permalink
|
email this
|

|





03 Jan 2014 7:50 AM

Popular

Comments

Profile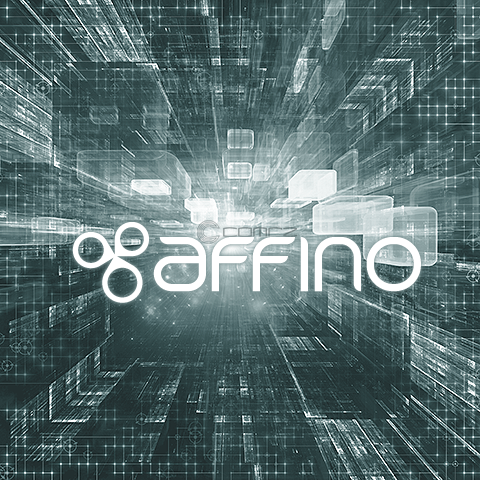 You will have noticed that we're fully embracing the Affino brand. Up until now we have had Comrz front and centre and Affino has very much been the product brand.
To make everything simpler and more effective we will now be focusing on just the Affino brand, and all of our engagement will be through Affino and affino.com. The company will remain as Comrz Ltd, but will be trading as Affino.
It will take most of January for the switch to be completed, but it is already well under way. Let us know what you think.
Add Comments
|
permalink
|
email this
|

|





02 Jan 2014 5:03 PM

Popular

Comments

Profile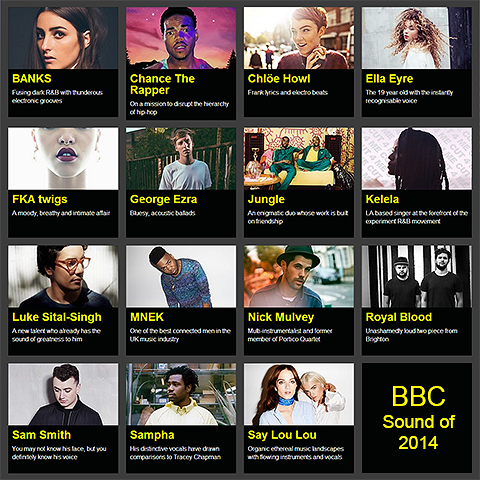 It's that time again when musos try to predict the breaktrough acts of 2014. In the past I've always led on 'BBC's Sound of ...', but this year I have decided to do an aggregate listing of everyone recommended by BBC, GlobalGrind, iTunes, MTV, Spotify and others. The first is the entire long-list, followed by 'Most Hyped' (most mentions) and finally my 5 top picks - should be something for everyone here!:
Alphabetical:
Banks - Fusing dark R&B with thunderous electronic grooves (BBC, MTV, iTunes, Spotify)
Betty Who - Effervescent synth-pop (Spotify)
Bipolar Sunshine - Rhythmic, soulful indie pop (Spotify)
Chance the Rapper - On a mission to disrupt the hierarchy of hip-hop (BBC, GlobalGrind)
Chlöe Howl - Frank lyrics and electro beats (BBC, iTunes)
Circa Waves - Liverpool garage rock revivlalists (Spotify)
Dan Croll - Charming melody-led electro-folk (iTunes, Spotify)
Ella Eyre - Rudimental vocalist goes solo (BBC. MTV)
Elyar Fox - Prodigious YouTube talent (MTV)
FKA Twigs - Mesmerizing haunting electronica (BBC, Spotify)
G-Eazy - Poppy Hip Hop from New Orleans (Spotify)
George Ezra - Bluesy, accoustic ballads (BBC, MTV, iTunes)
Glass Animals - Electronic Alt-folkish quartet from Oxford (Spotify)
Hozier - Moody / soulful Irish singer-songwriter (Spotify)
Isaiah Rashad - Soulful Tennessee emcee (GlobaGrind)
Joel Compass - Male singer-songwriter with contemporary appeal (MTV)
Joey Bada$$ - Gruff 18 year old Brooklyn rapper (Spotify)
Josh Record - Acoustic guitar combined with heavenly vocals (iTunes)
Jungle - Enigmatic urban duo (BBC, Spotify)
Kelela - LA-based singer at forefront of experimental R&B (BBC, GlobalGrind)
Kwabs - 'Electro-synthesized soul' (MTV)
Laura Welsh - Stripped-down soul-pop (iTunes)
Lil Bibby - Youthful Chicago Hip Hop (GlobalGrind)
Luke Sital-Singh - Dreamy singer-songwriter (BBC, iTunes, Spotify)
Mapei - Swedish princess of Hip Hop Soul (GlobalGrind)
Marie Naffah - Witty singer-songwriter, winner of MTV unsigned (MTV)
Migos - Georgia trap trio (GlobalGrind)
MNEK - Hardest working collaborator in UK urban (BBC)
Mø - Entrancing Danish electropopper (iTunes, Spotify)
Nick Mulvey - Portico Quarted member goes solo (BBC)
PARTYNEXTDOOR - Modern urban R&B in the mold of The Weeknd (GlobalGrind)
Royal Blood - Riff-heavy power
...

4 comments
|
permalink
|
email this
|

|


| | |
| --- | --- |
| Found: 379 Displaying: 1-20 | |

Subscribe to feed

Subscribe by email